If you've ever encountered a stalker, you know the importance of social media security. If you've ever seen another account on Facebook posing as you, again, social media security becomes essential.
The bad news is that sites like Facebook, Twitter, Instagram, and Tik Tok (big-time security issues) have reputations for failing to protect their users' profiles and data. The good news is that walking through the best practices of social media security once can prevent the majority of safety risks in the future.
From protecting your children online to making sure companies don't sell your data, we'll walk through all security steps to take to protect yourself, and loved ones, on each popular social network.
Potential security risks with social media
For the most part, encountering a security risk on a site like Facebook or Instagram involves simple solutions. Most of us wouldn't have our reputations tarnished or anything dangerous happen to us if data was breached or accounts hacked. However, some risks are not worth taking a chance with.
Here are a few issues that could happen due to security risks.
Identity theft, where someone poses as you for their own gain or steals information to use against you.
A hacked social profile, resulting in troubling posts that you have no control over.
Hackers that use links on social media for gaining access to your computer.
Stalkers who bother or threaten you by barraging you with messages or using personal information against you.
Letting the world know about your home address and when you go on vacation, leading to burglary.
Advertisements that share/track your information or install malware after you click.
Threats of strangers reaching out to children.
Relaxed security settings when signing up for a new social account (this is very common).
Old pictures or posts painting you in a bad light when looking for jobs.
An essential list of security best practices for all social media
Businesses and individuals should follow similar rules when it comes to posting content and configuring settings on social media. This way, you protect your brand and make sure no one causes damage to your personal life.
We'll cover the security specifics for the major social sites, but you can start by working through the best practices listed here.
Configure all privacy settings for social networks
Security settings are hiding somewhere.
You may not notice them while scrolling through Facebook or when you configure an account on Twitter. That's most likely because they aren't advertised much.
Luckily, legislation, and cries from the community, have pushed social networks like Facebook to be a bit more transparent with security and privacy.
It's still not easy to find security settings on Facebook, but it's not nearly as complicated as it was before.
Regardless, start by making a list of all social media profiles you own.
Open each individually and locate the Settings. After that, go to Security. The security settings provide options for many of the following:
Adjusting a profile so personal information isn't displayed.
Viewing logs on when you, or someone else, accesses your account.
Selecting friends to contact if you get locked out of your account.
Changing your password and activating two-factor authentication.
Viewing and modifying third-party apps.
Activating alerts for suspicious logins.
Choosing who can see your posts.
Limiting publicity for past posts.
Excluding search functions for outside users and removing your profile from search engines.
Create strong passwords and store them in password managers
A password manager is installed on your computer to save and store all passwords you've created. This has several functions. To start, a password manager generates complex passwords that are hard to guess.
Next, it stores passwords so you don't have to remember them.
Finally, the software automatically logs you into websites.
Many of the password managers are free, and they make your life easier by juggling lengthy passwords for you.
Activate two-step authentication, especially for business accounts
A two-step authentication adds a second layer of security to your login page. It typically sends you a text message containing a code. The login module on your computer then asks for you to type in that code to complete the login.
All businesses on social media should have this. Try Google Authenticator to start.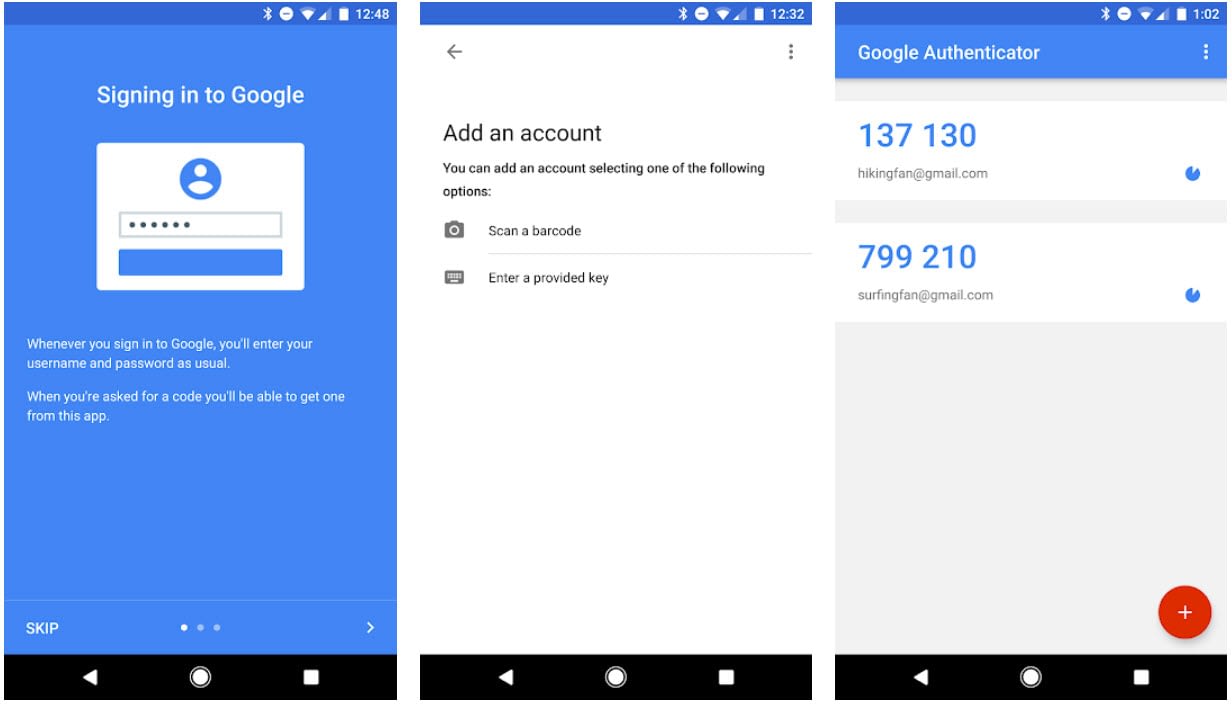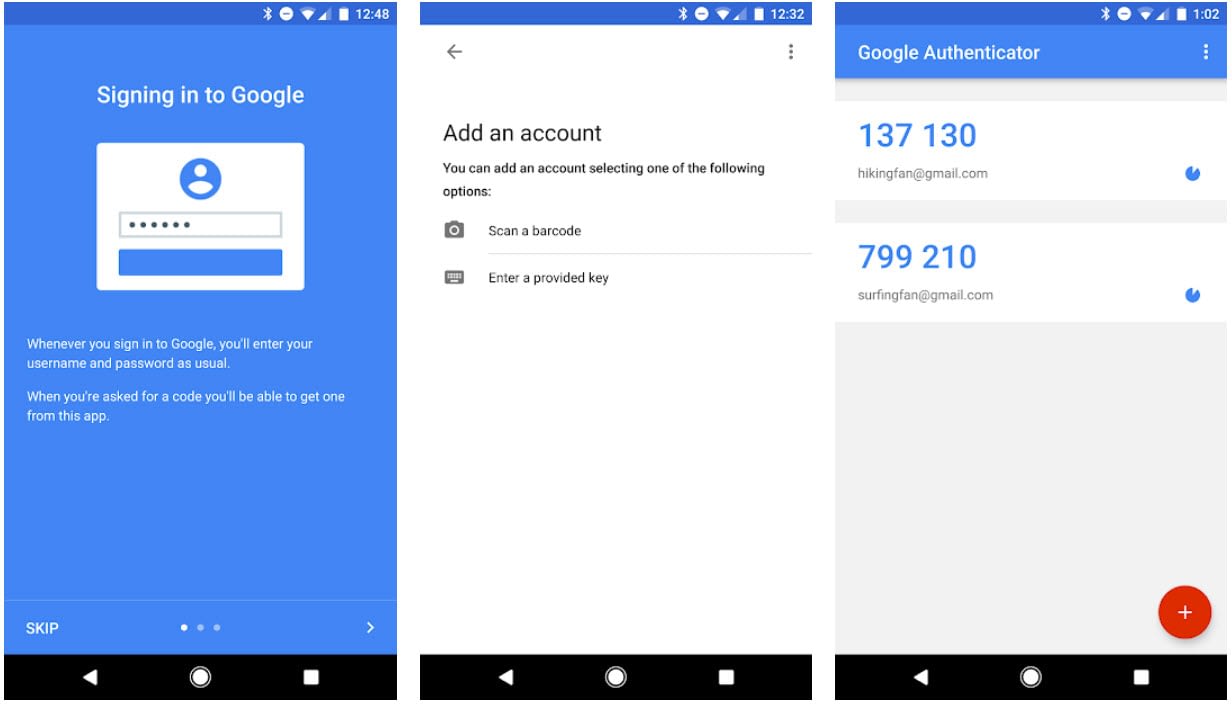 There's a good chance a hacker doesn't have your password and your phone. It's possible, but less likely.
Review your entire profile and past posts for problems
Facebook, and a few other social networks, have a tool for reviewing all old posts and items you're tagged in. Find the activity log in your accounts to figure out if anything is going to cause problems for you, like for a job interview.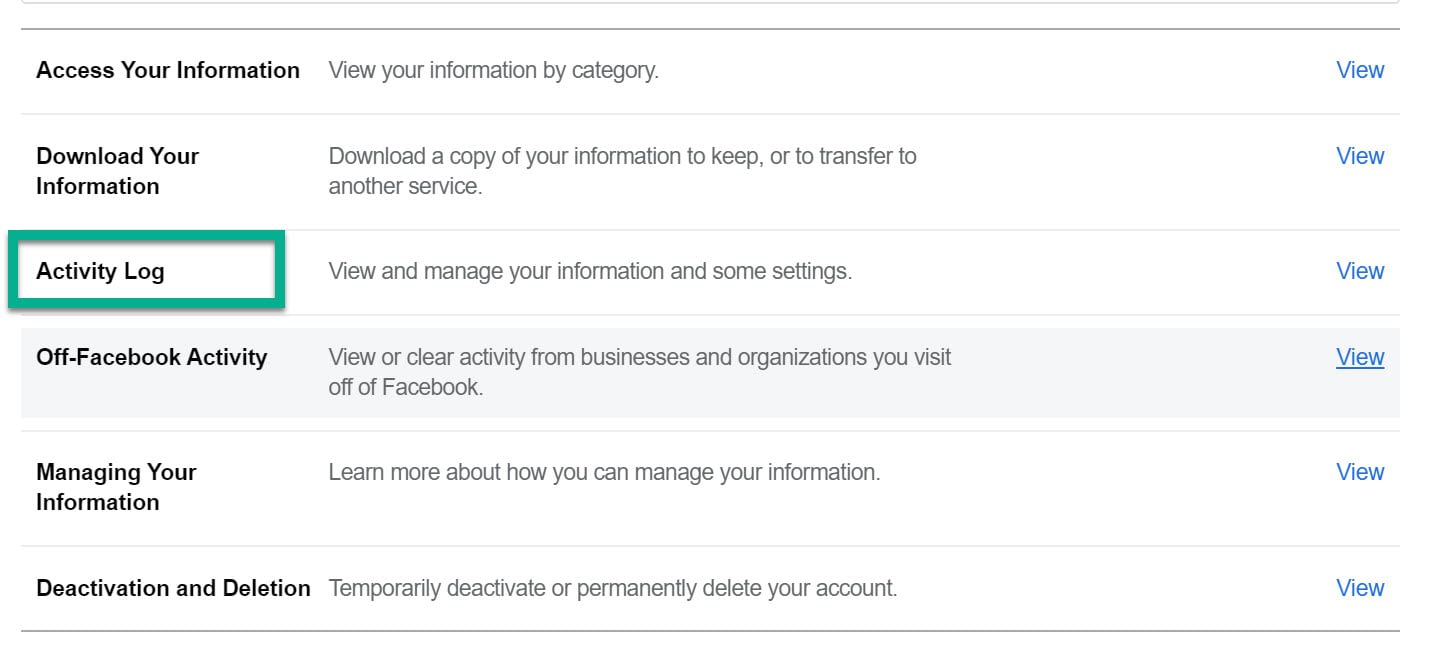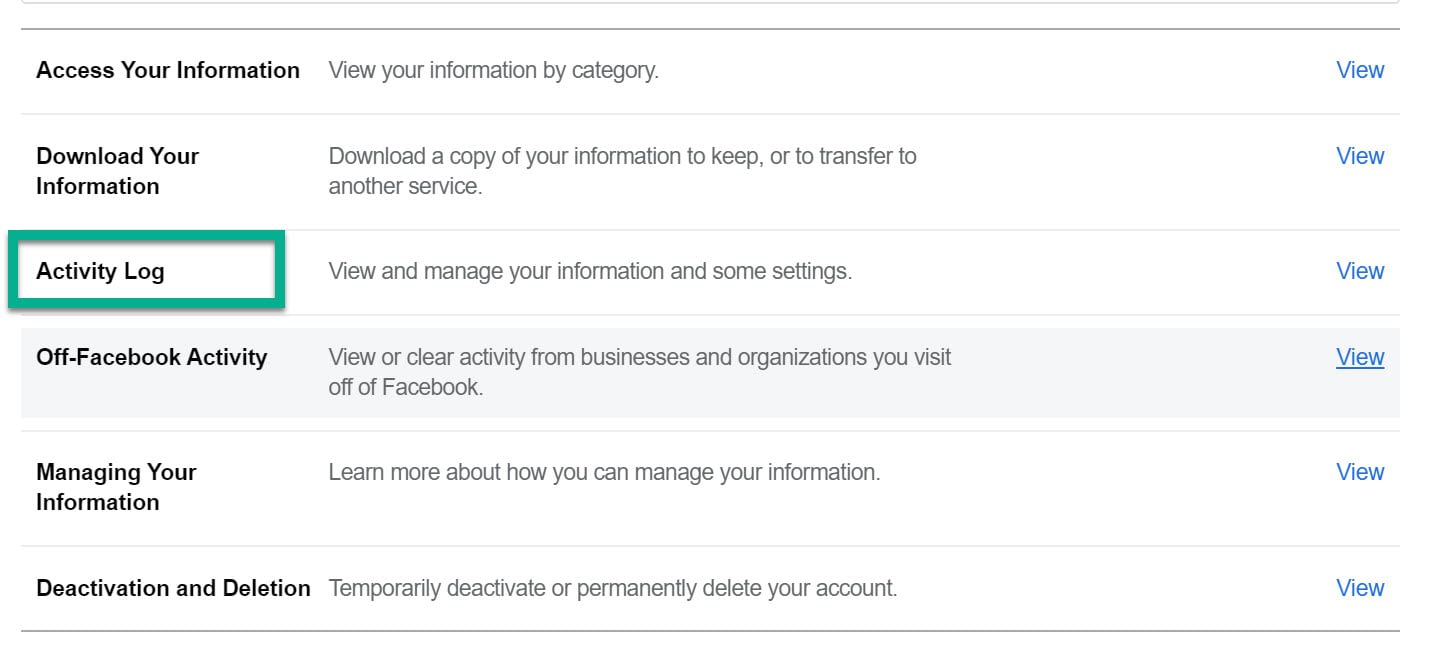 Another reason for viewing a log is to identify any moments you may have been hacked in the past and didn't notice.
Block all interactions from people you don't know
We've all seen them. Strange friend requests. Being tagged in photos or videos you aren't in. Messages from people you've never met.
Any request or messaging sent from a user you've never heard of is best handled by blocking the profile. This eliminates the possibility of them seeing your profile or contacting you again.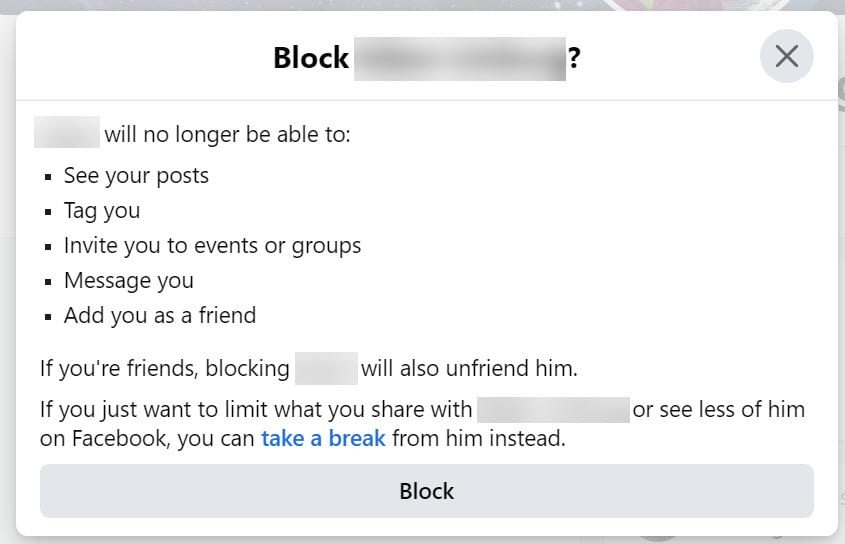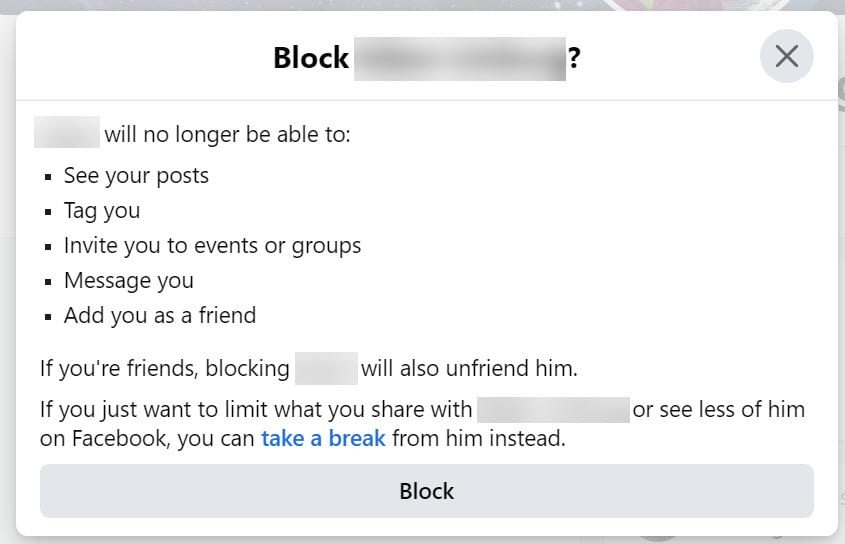 Keep all apps, browsers, and computers updated
Third-party apps are often fun and useful options for extending the functionality of a social network. Sometimes these apps use your social information to log you into their own website or app.
That's all fine, but third-party apps lack the security you receive from the social network itself. They're not developed or managed by the folks at Instagram or Facebook or Twitter, so there's a lack of oversight.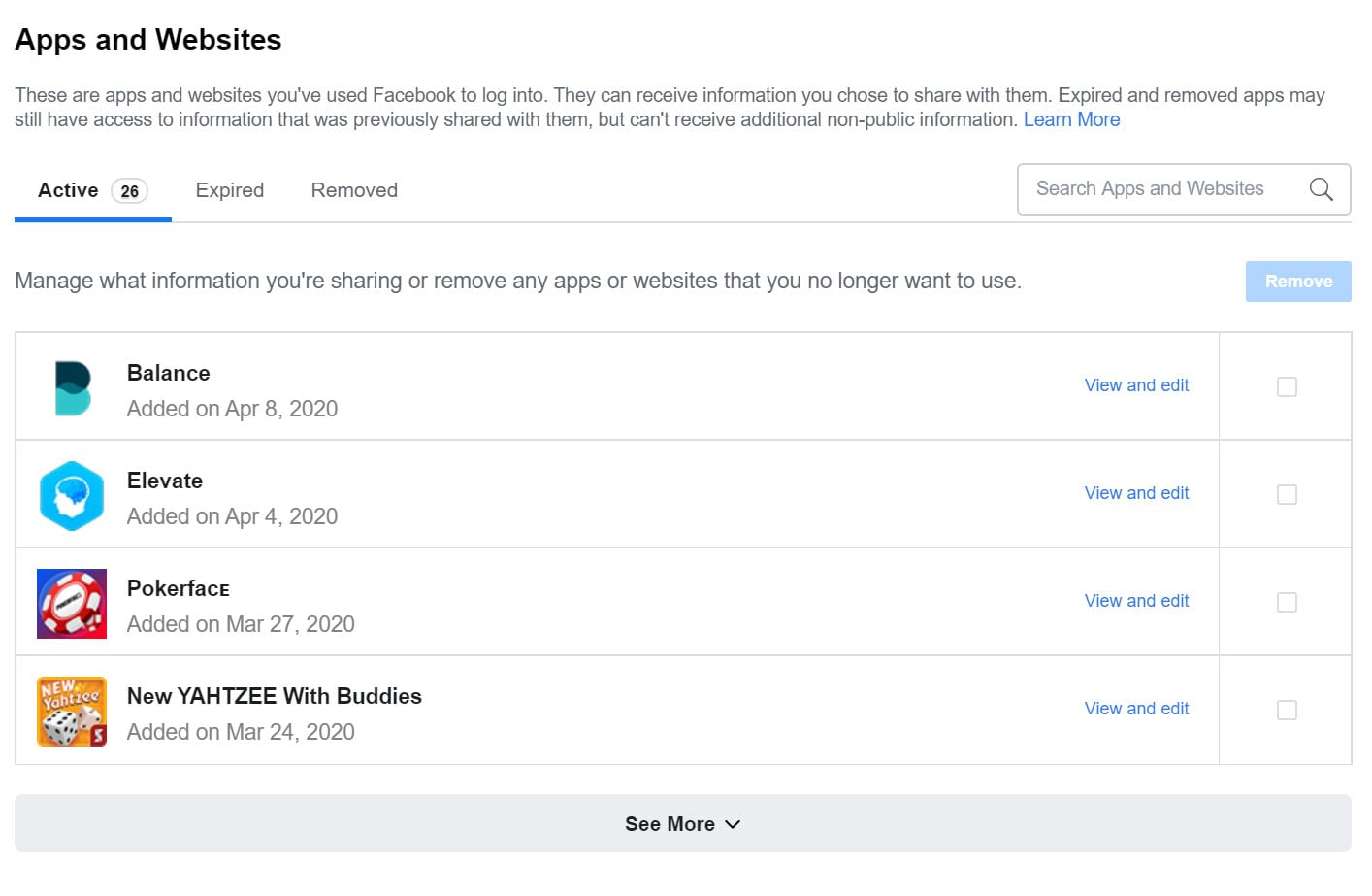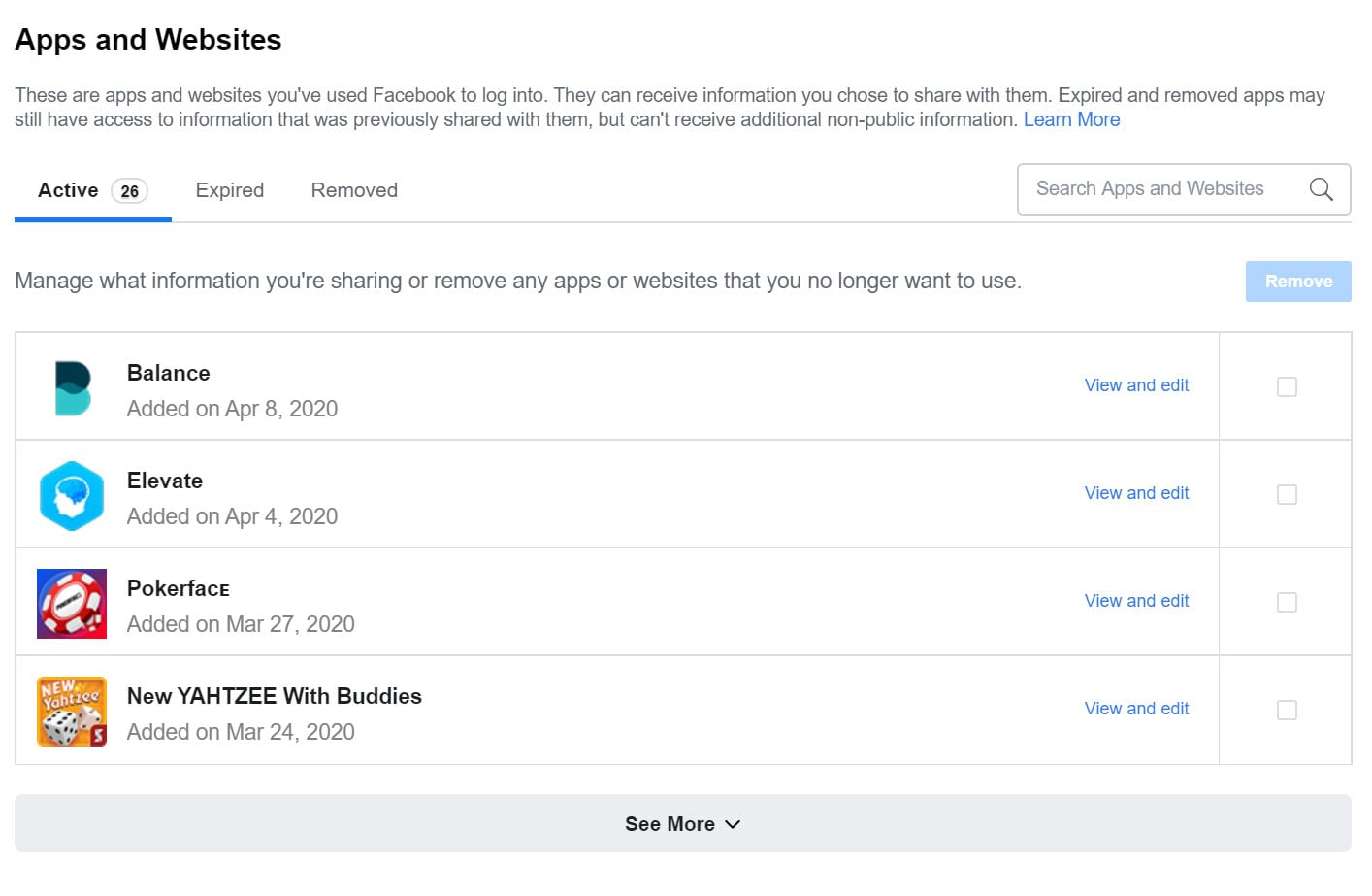 Not to mention, outdated third-party apps are known for having security holes.
Therefore, it's essential to remove unnecessary third-party apps and keep the good ones updated.
The same can be said about your browsers and computer software.
Use local security software like VPNs and antivirus
The end goal of many hackers is to gain access to your local computer for the chance to see financial or personal information. One way to prevent this is to have safeguards installed on your computers, like VPNs (virtual private networks) and antivirus software.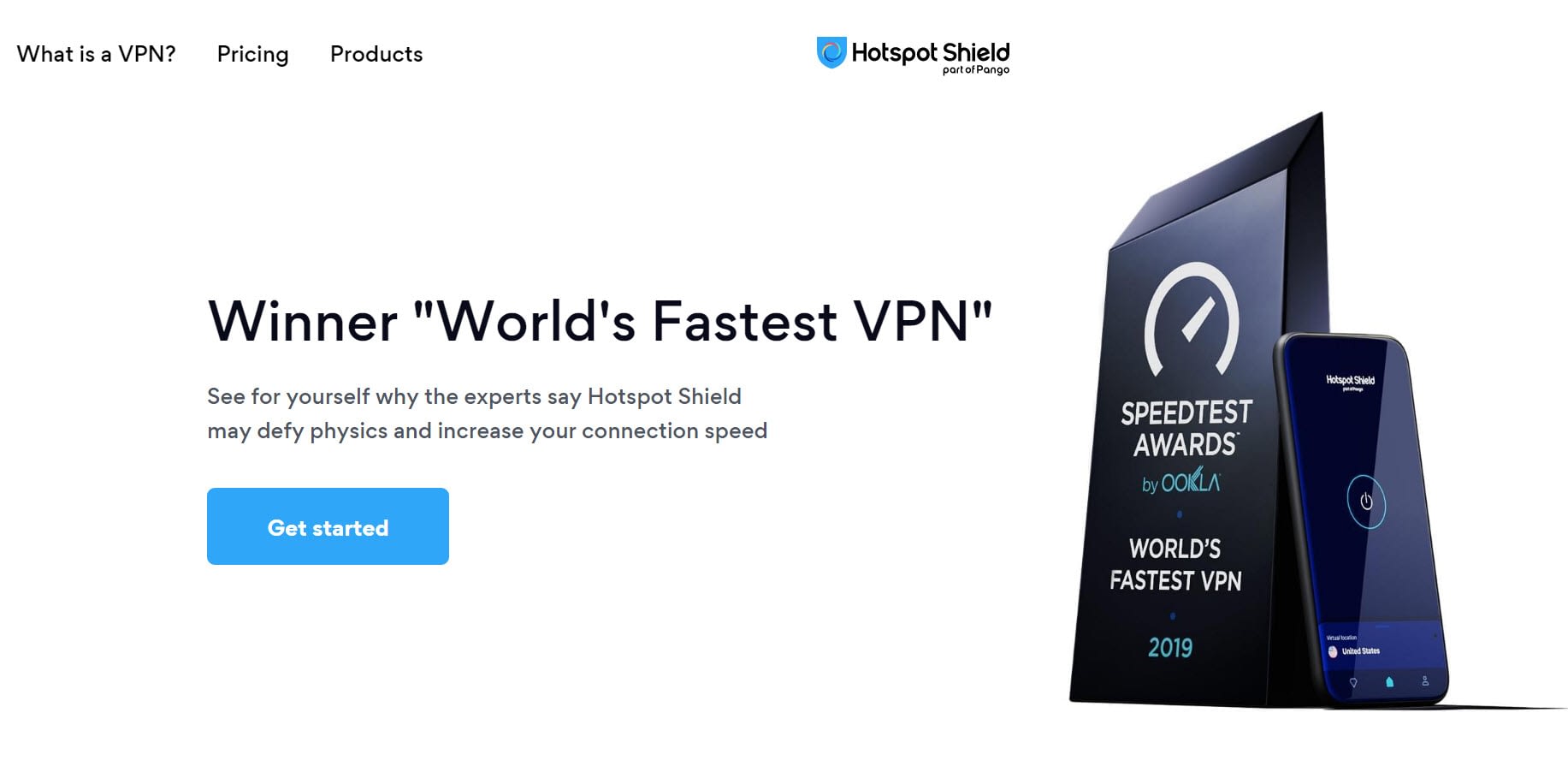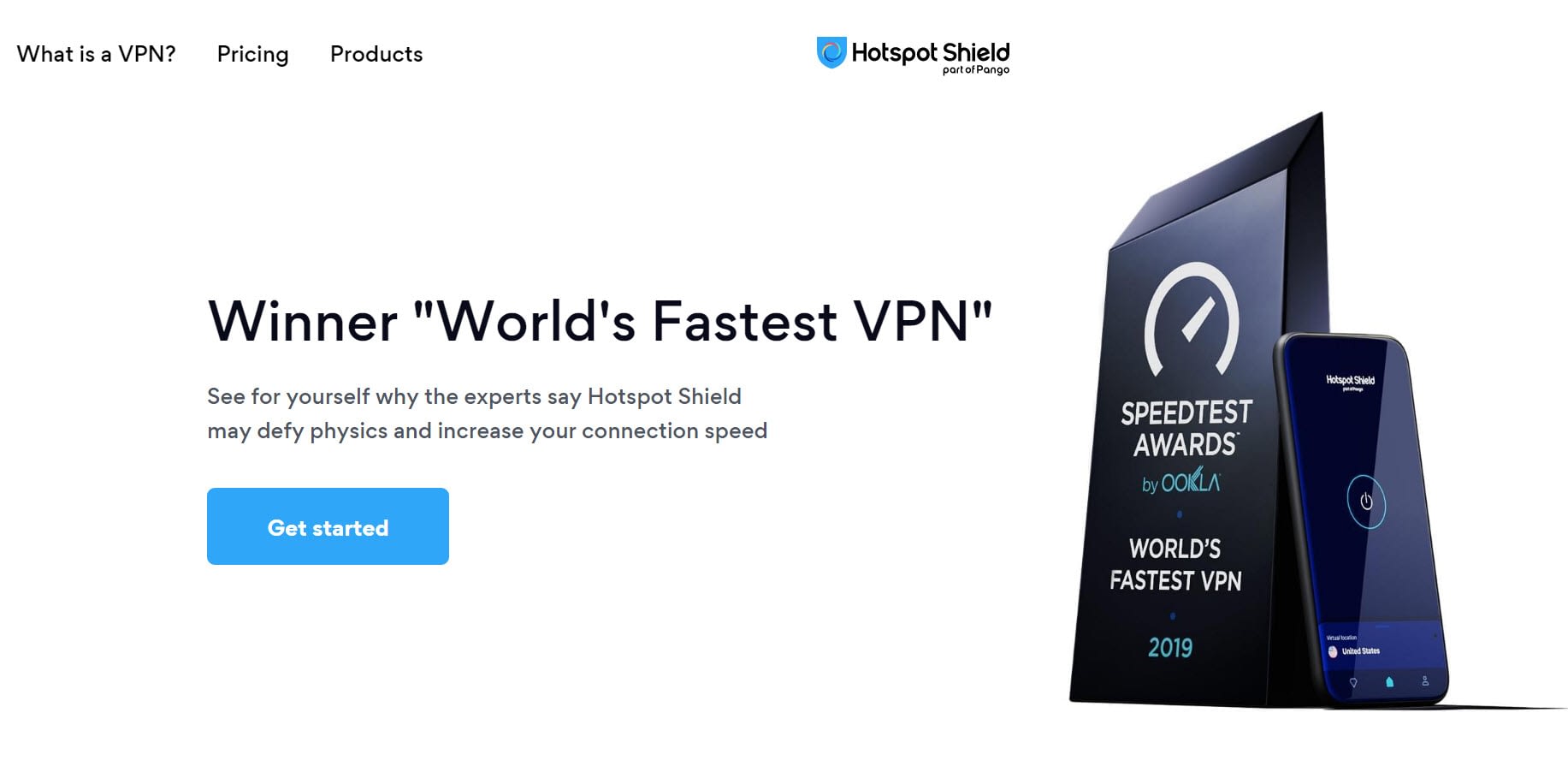 We'll cover our favorites in the Tools For Managing Social Media Security Section at the end of this article.
How to secure your private information on the most popular social networks
Each social network varies in its ability to protect your information. Although we can't cover them all, here are the step-by-step tips for handling security with the most popular social networks.
Facebook security
Go to your Facebook profile, then click on the triangle dropdown button in the upper right corner.
Click on the Settings and Privacy option.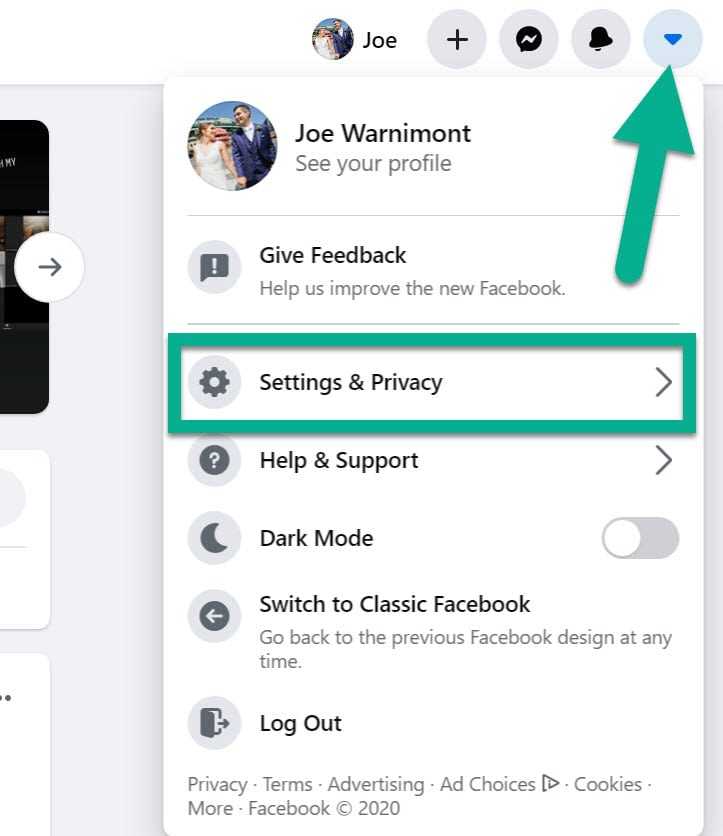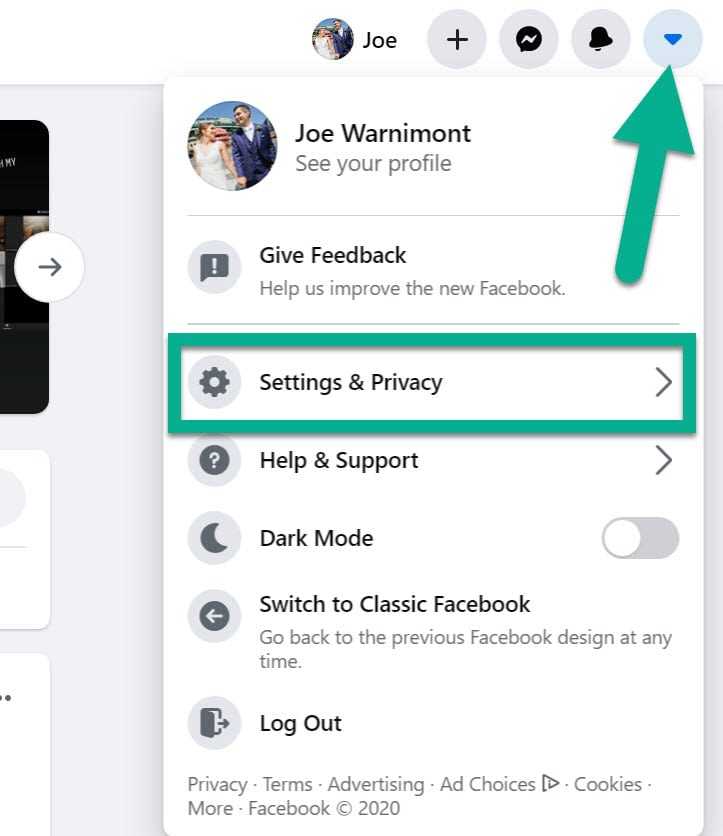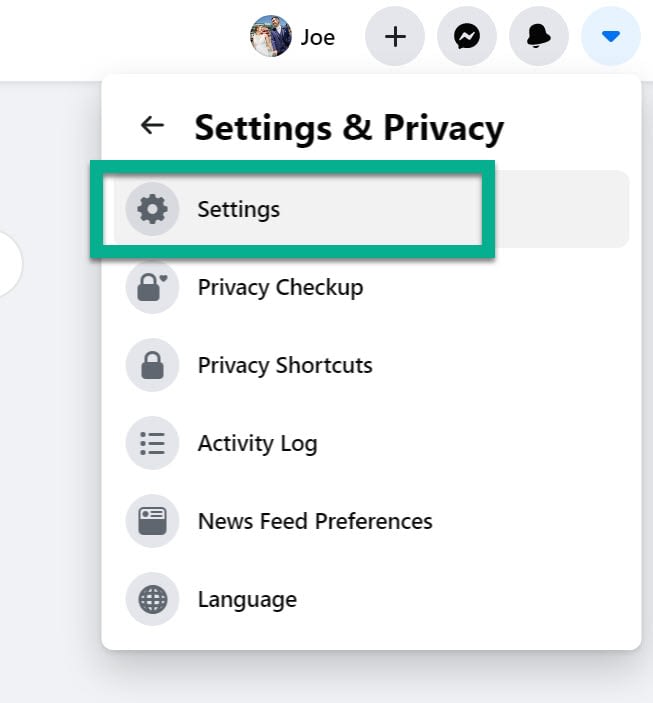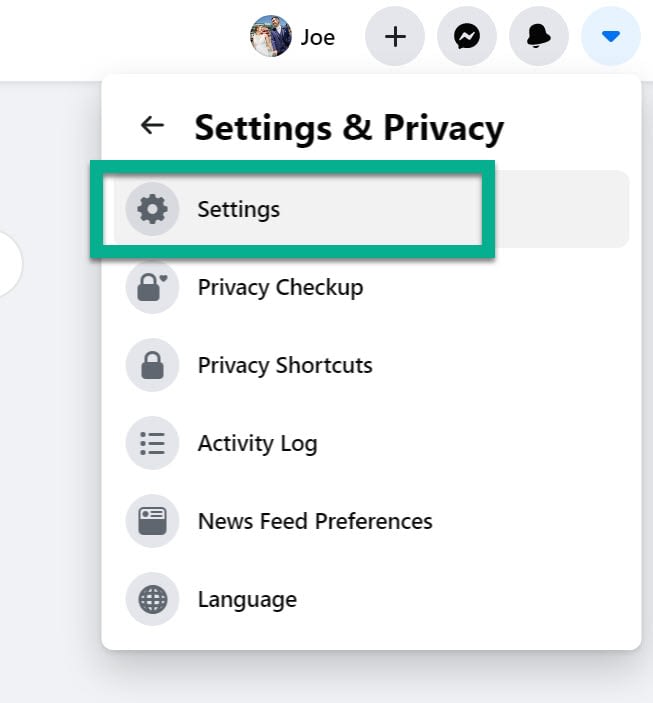 Click on the Security and Login tab.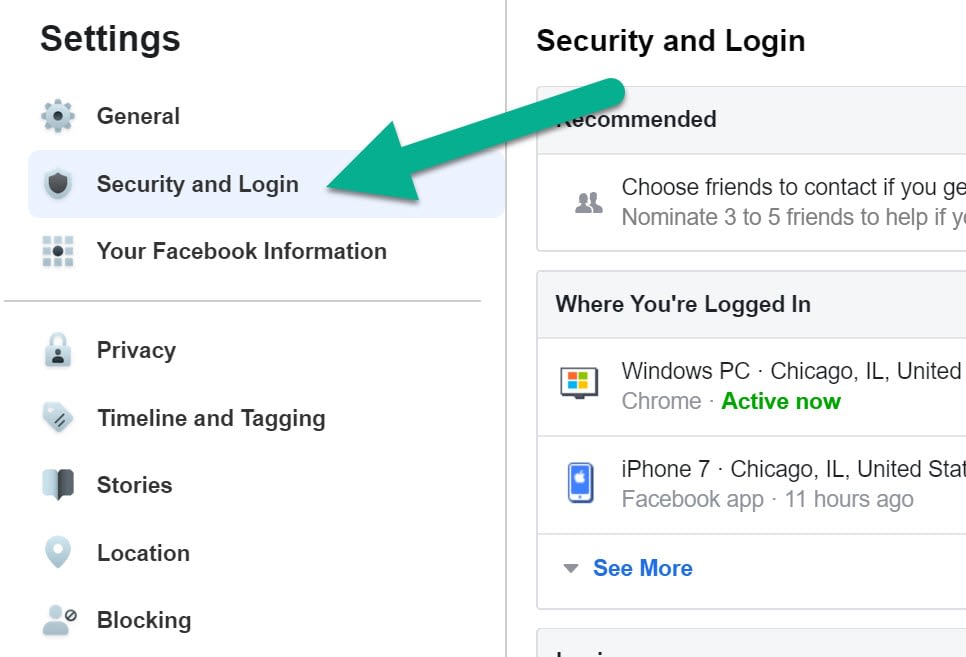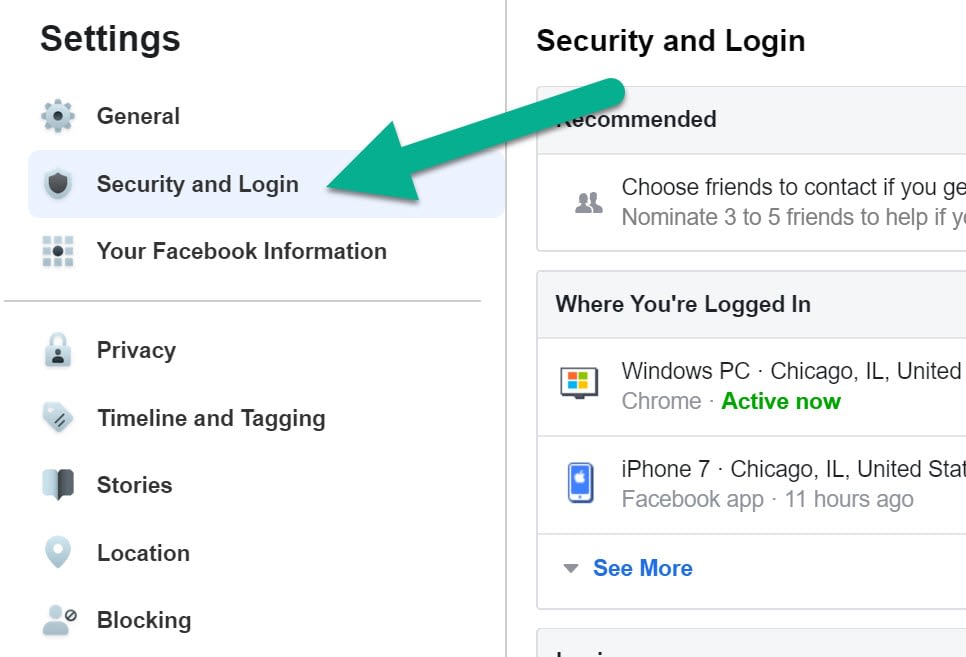 On this page, you're able to monitor your page security and set measures to keep intruders out. Here are some settings we recommend configuring:
Add the contact information of a few friends. This is important if a hacker locks you out of your account. You'd use your friend's contact information to reset the password.
Check which devices are logging into your account. If you notice a strange device or location (like if you live in Germany but see a login from India) change to a stronger password.
Under the Login section, check to see if your password is strong enough. Consider changing the password every now and then.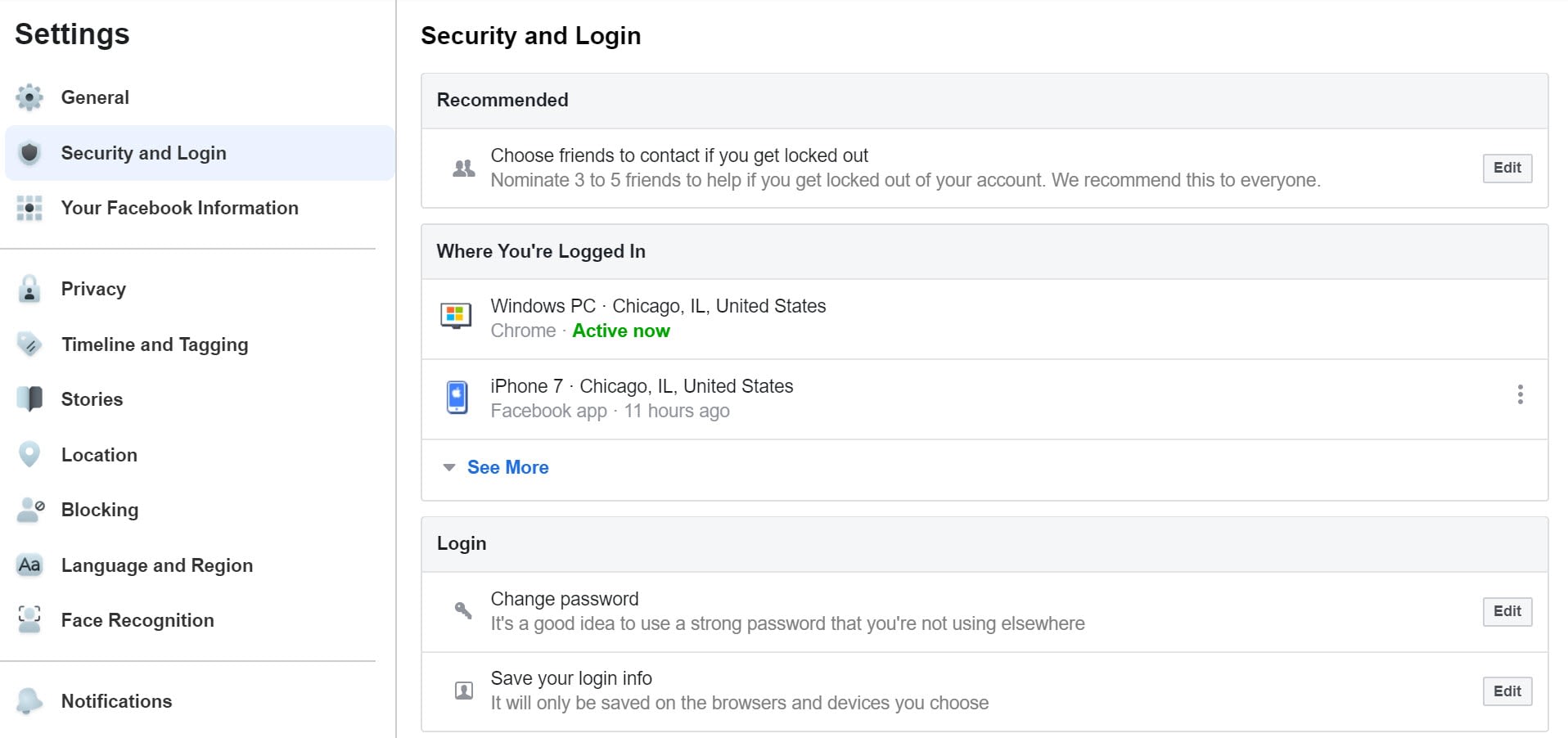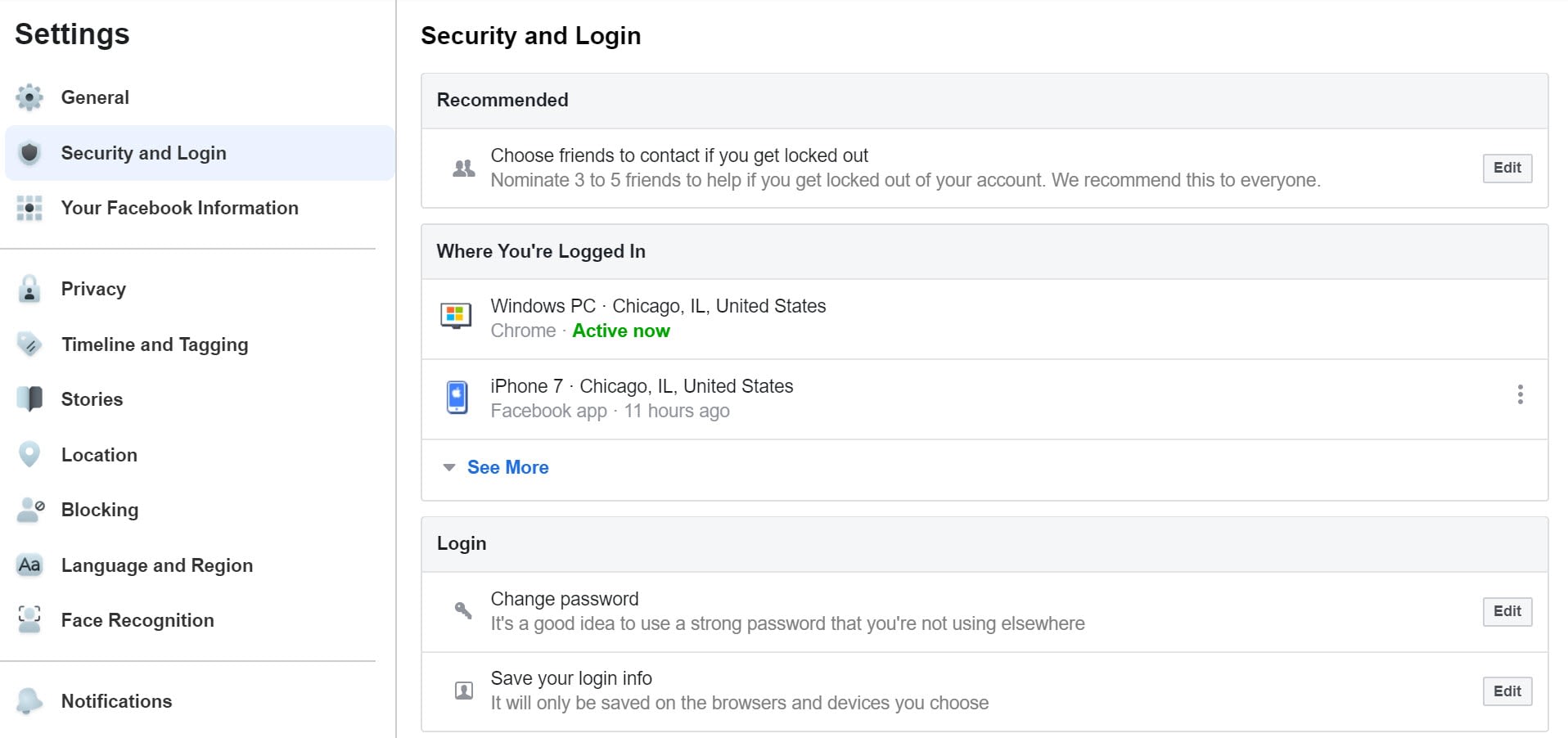 If you scroll down on this page, adjust the following settings:
Activate two-factor authentication, especially if you own a business page.
Consider adding authorized devices to your account.
Turn on alerts for unauthorized logins.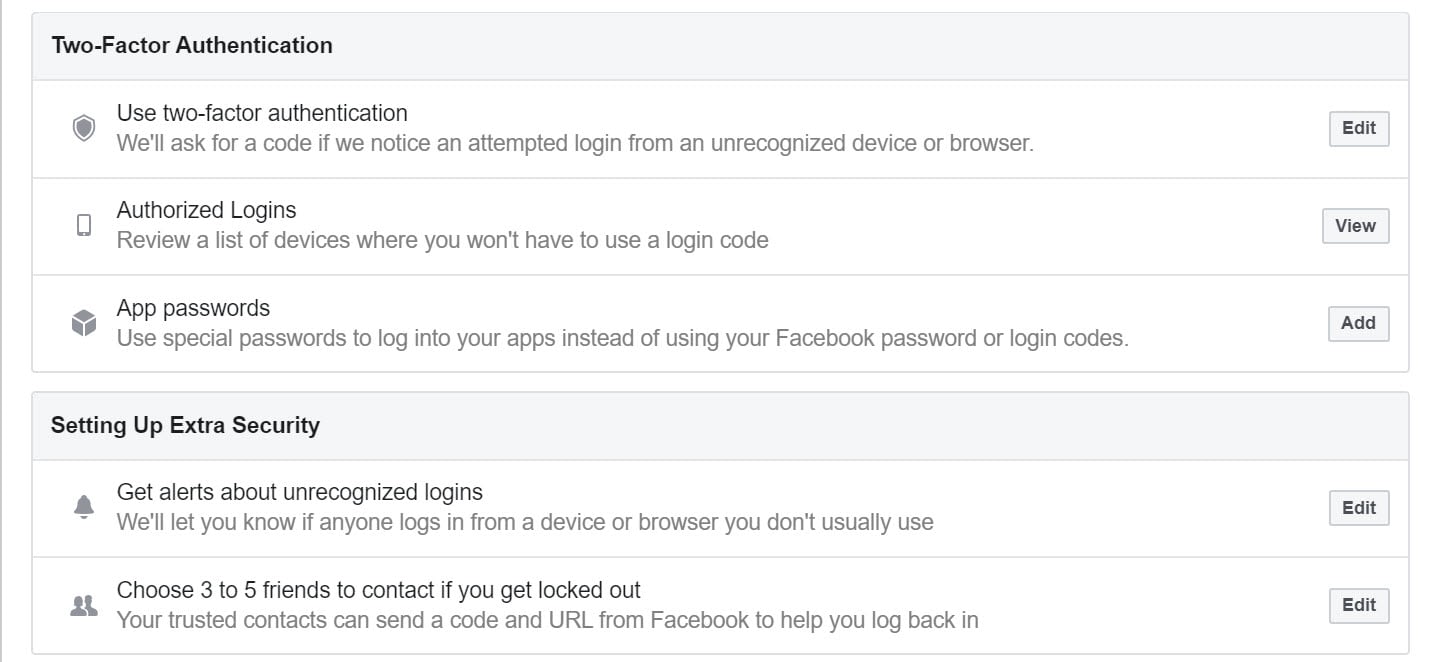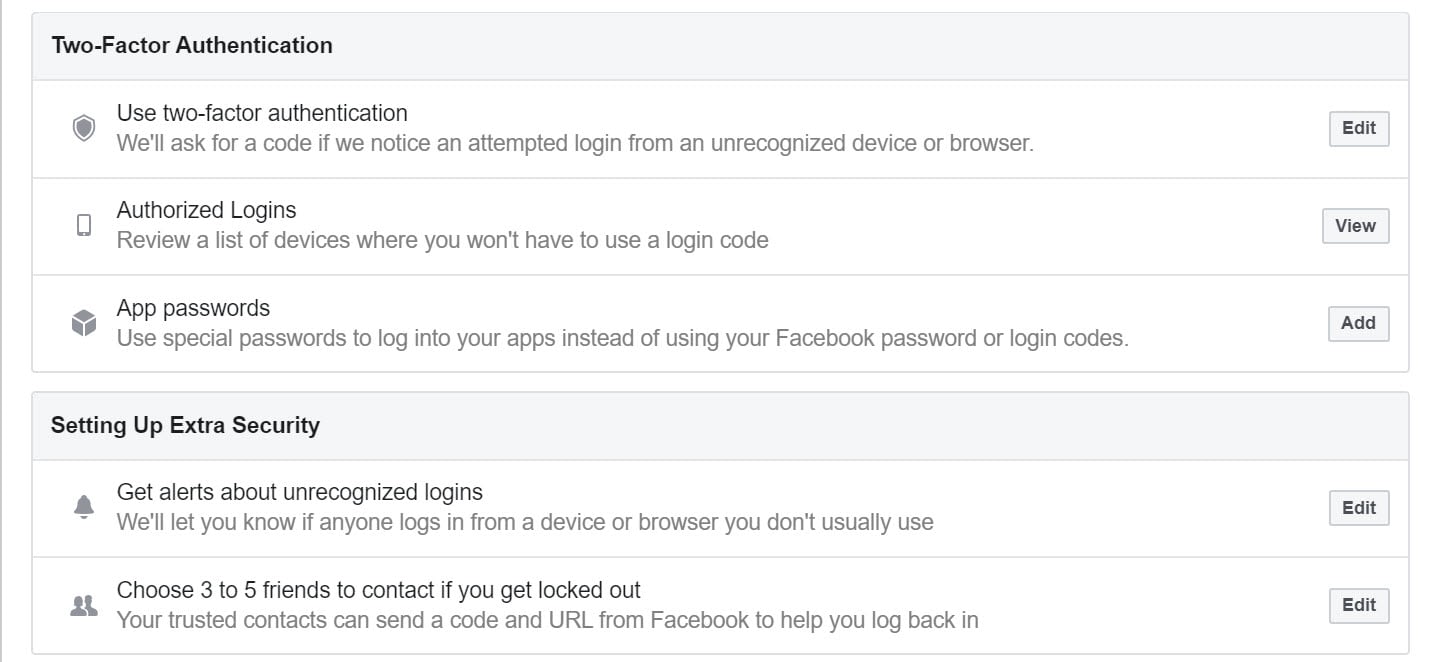 Make these changes under the Advanced section:
Activate encrypted notification emails so outsiders can't see the notifications.
Check the list of recent emails to make sure someone isn't already trying to hack you.


Next up, click on the Privacy tab.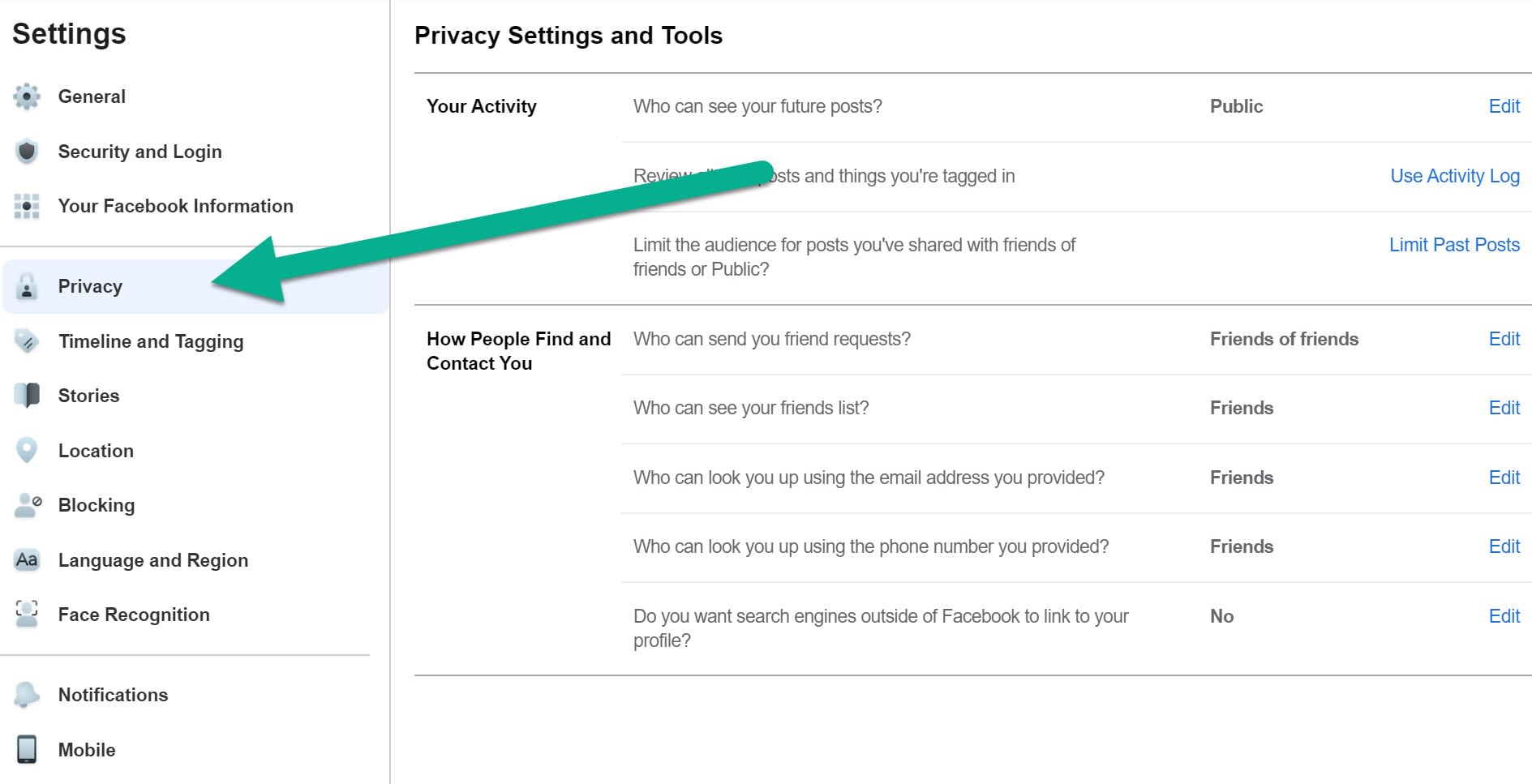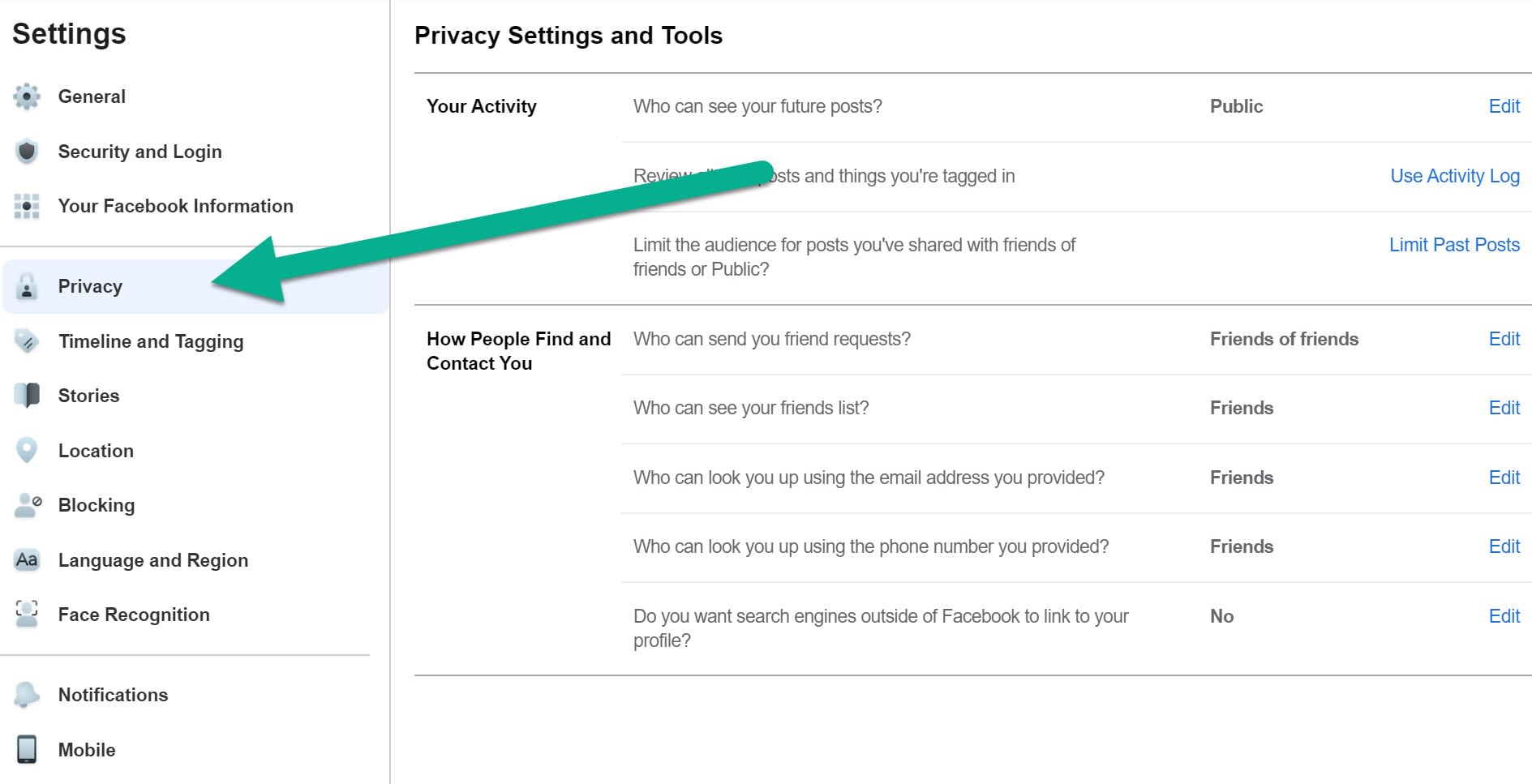 Here's what to do:
Change it so that only friends (or specific friends) see your Facebook activity.
Limit your past posts so that your entire history isn't available for everyone.
Make sure that only friends of friends can send you friend requests.
Change all settings to Friends under the How People Find and Contact You module.
Stop search engines from indexing your page. There's no need for this on personal pages.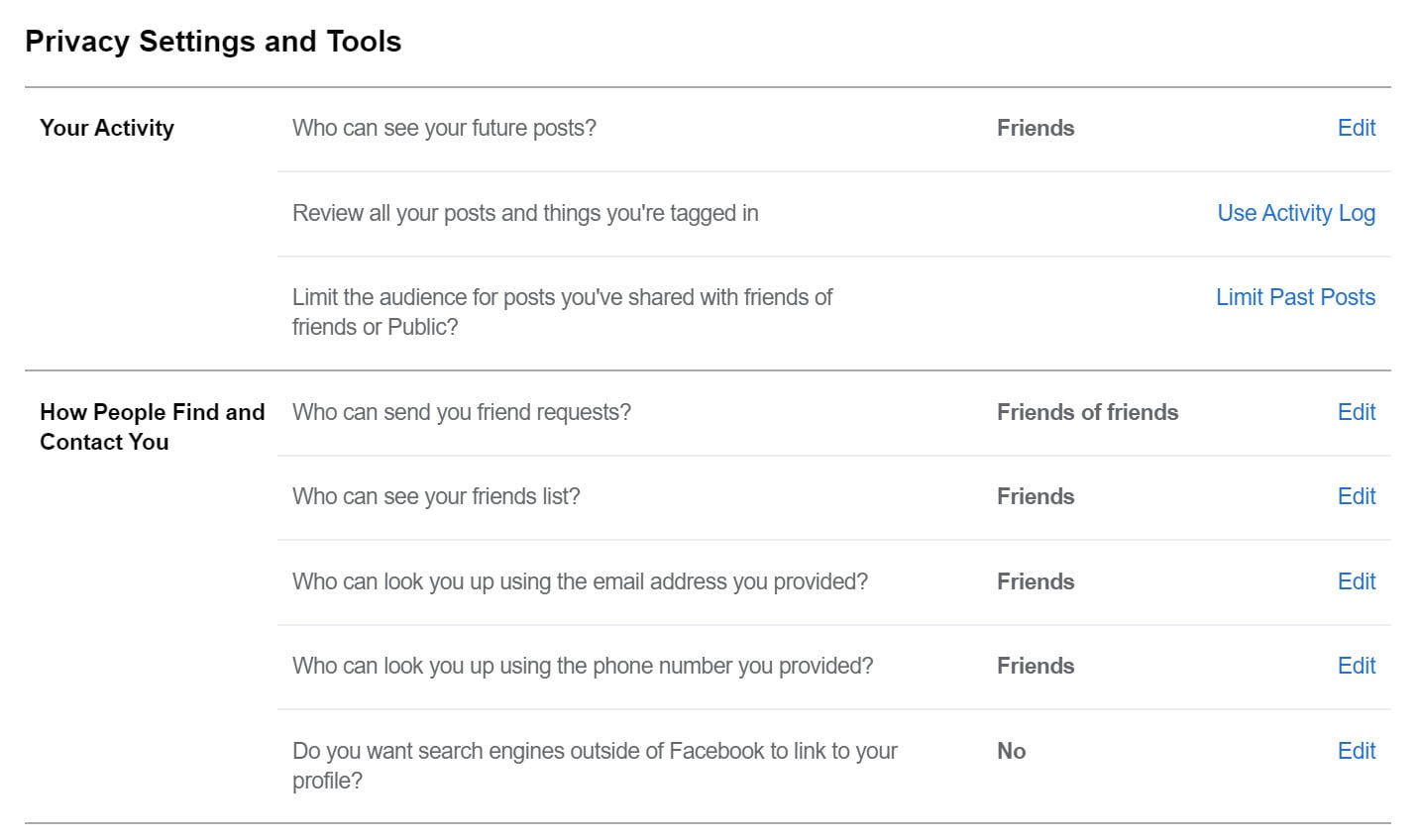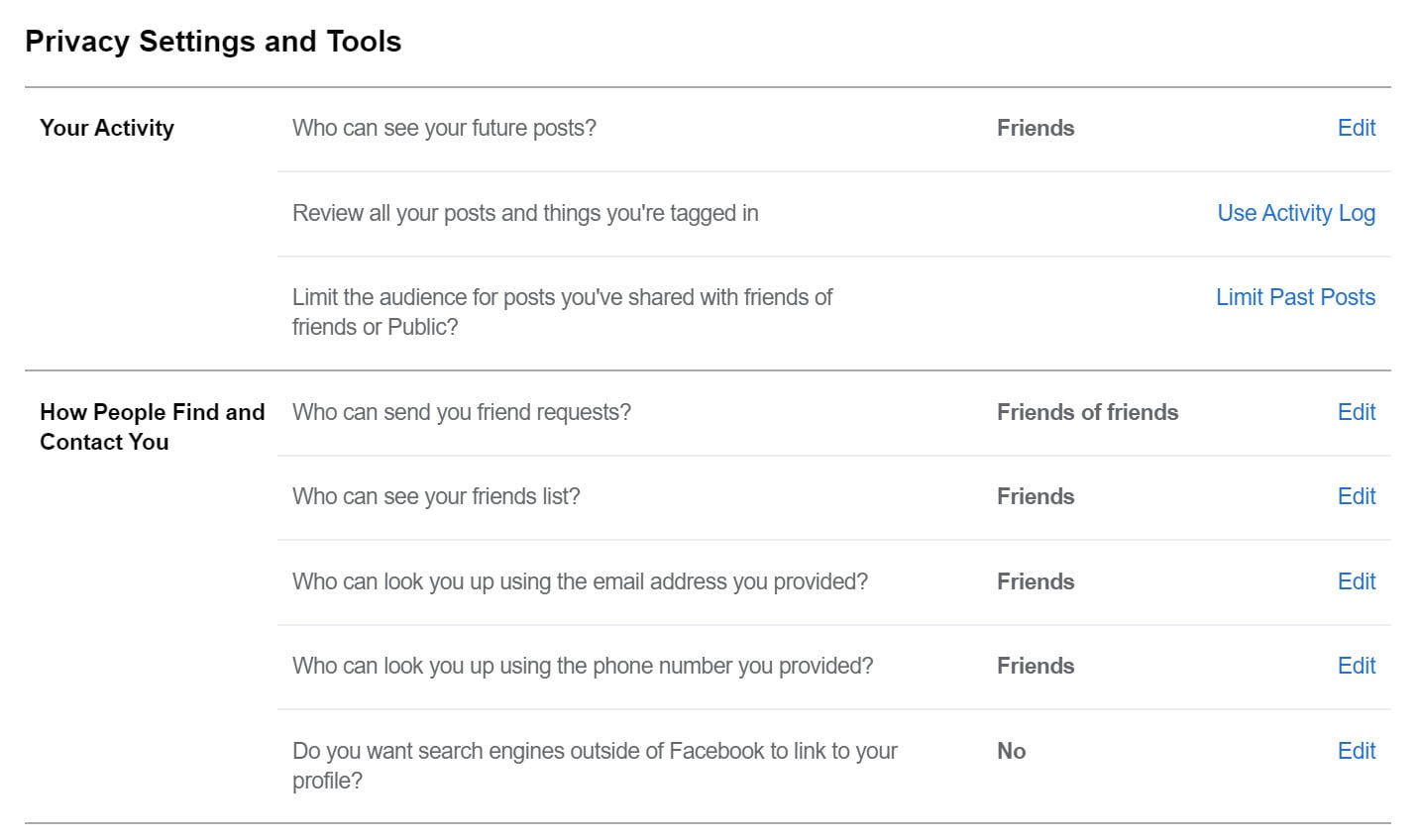 Moving on, click the Blocking tab.
This is a valuable area to prevent people like stalkers and spammers. If you receive unwanted messages or friend requests, go to this page and block those accounts.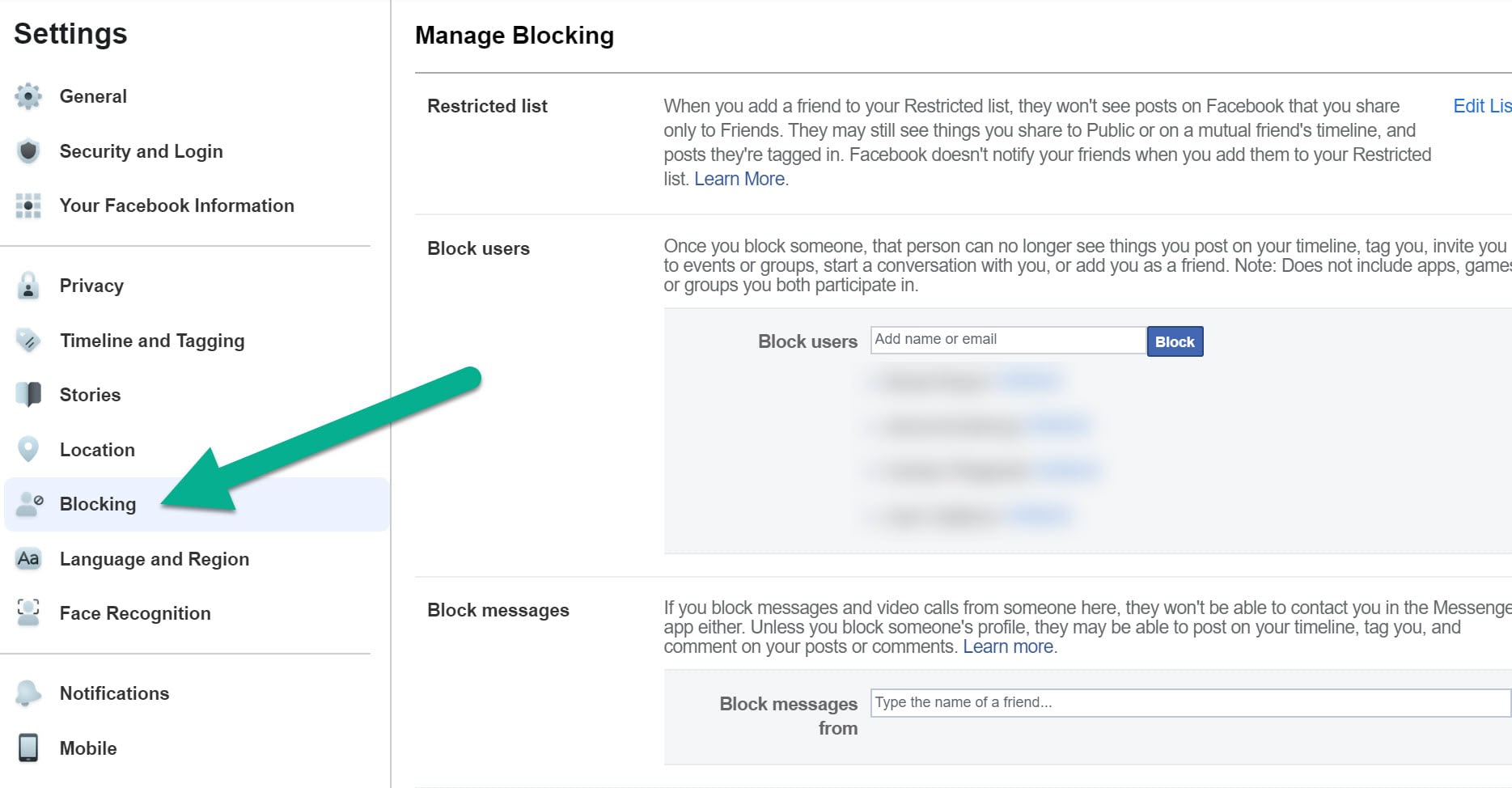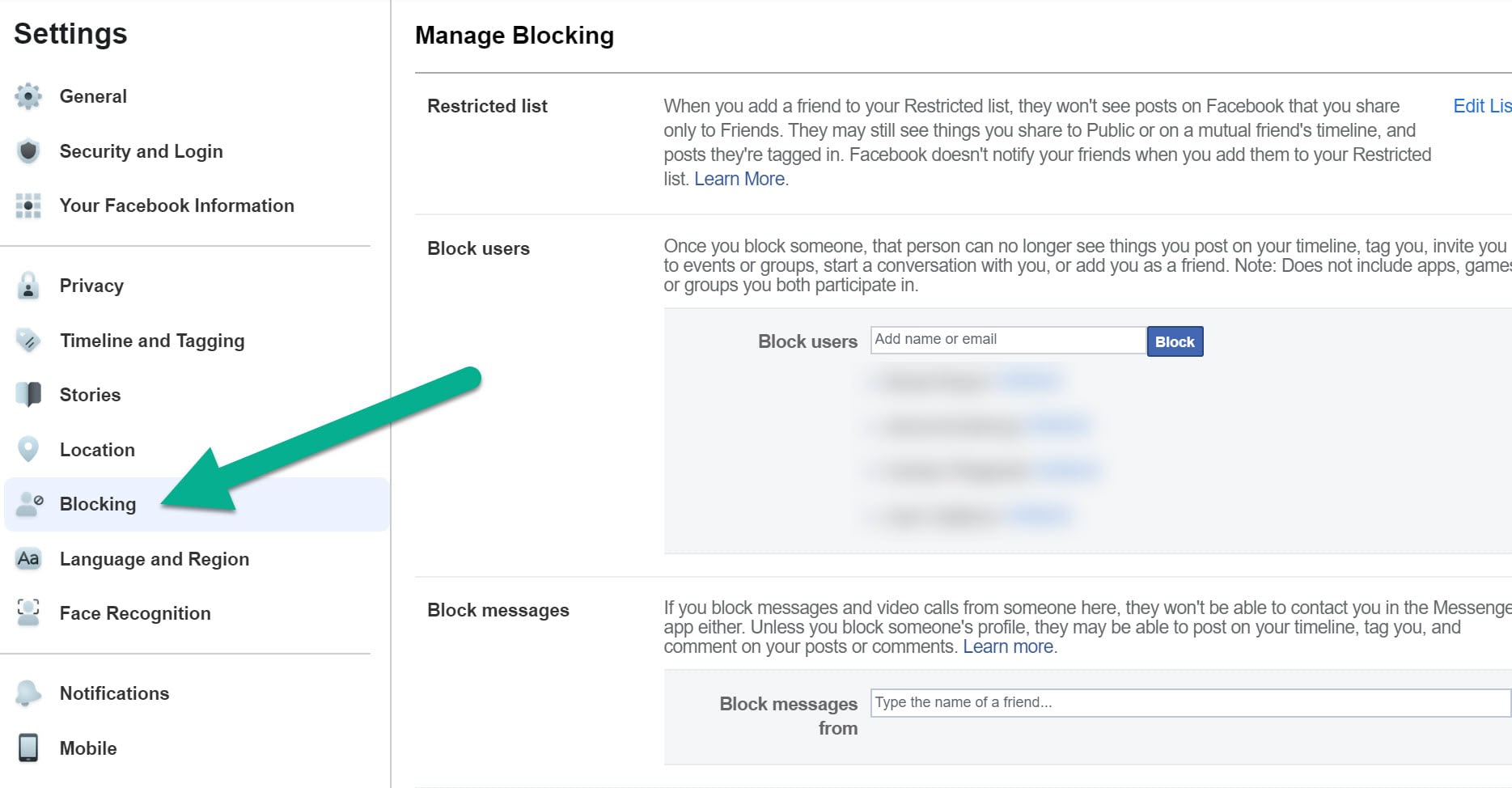 Instagram security
On your profile, click on the Settings button (the gear icon).


Select Privacy and Security.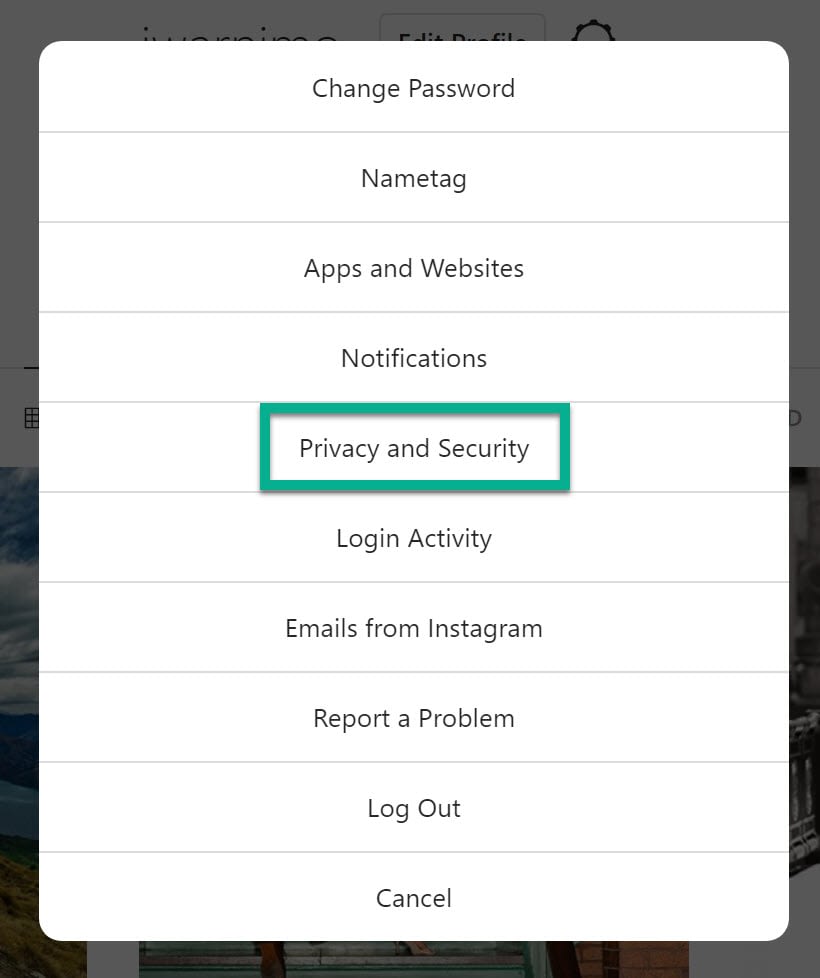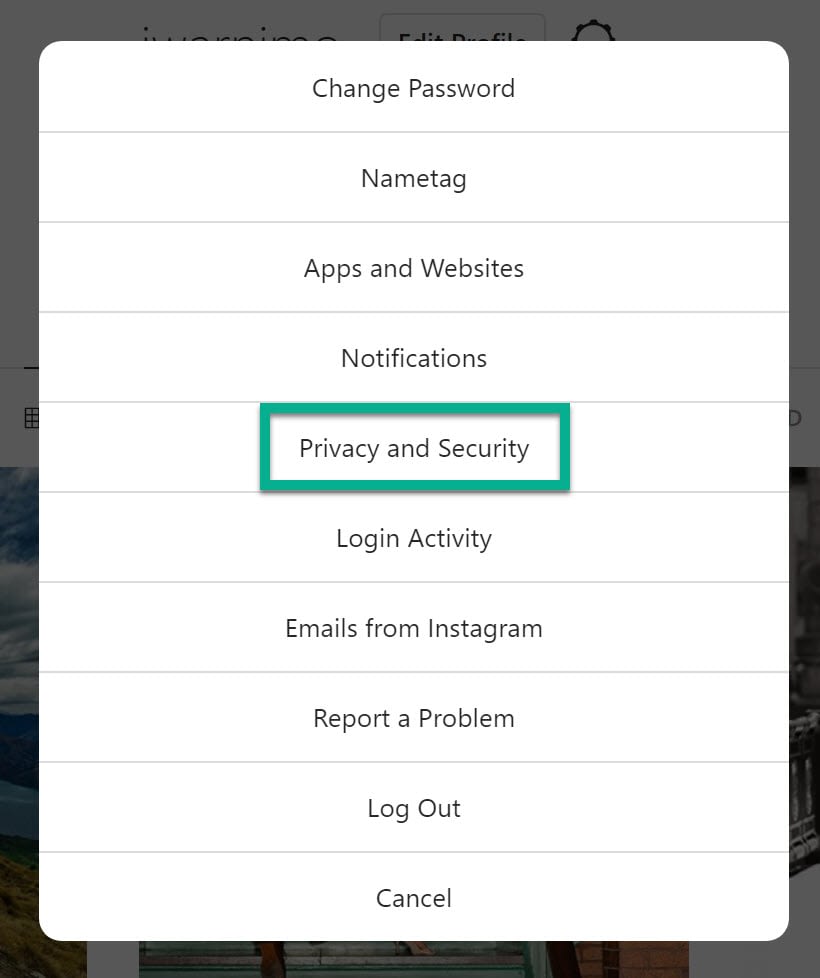 Most people should make their accounts private, preventing the billions of other people on Instagram from seeing posts. Business accounts should not check this box.
Other tips:
Uncheck Show Activity Status.
There's no issue with allowing story sharing, as long as you have a private account.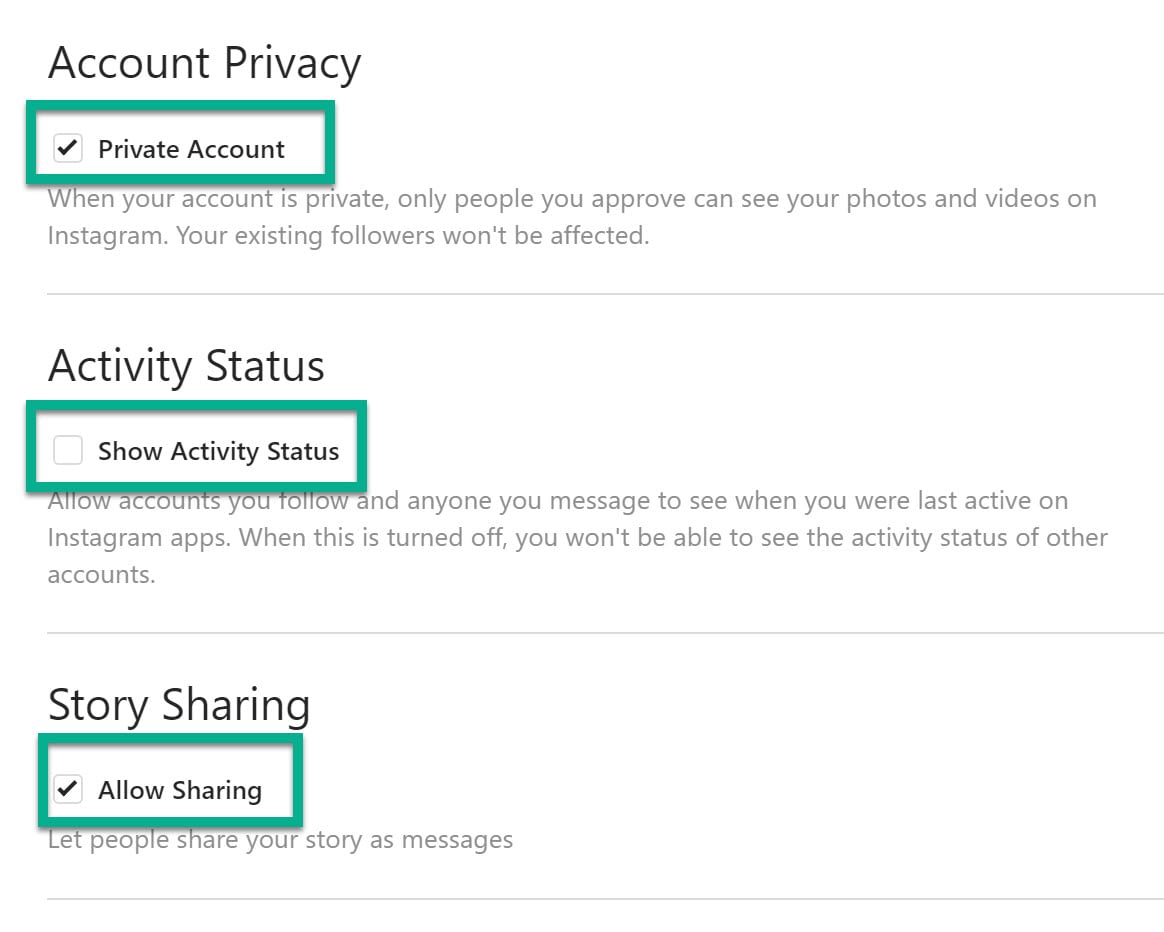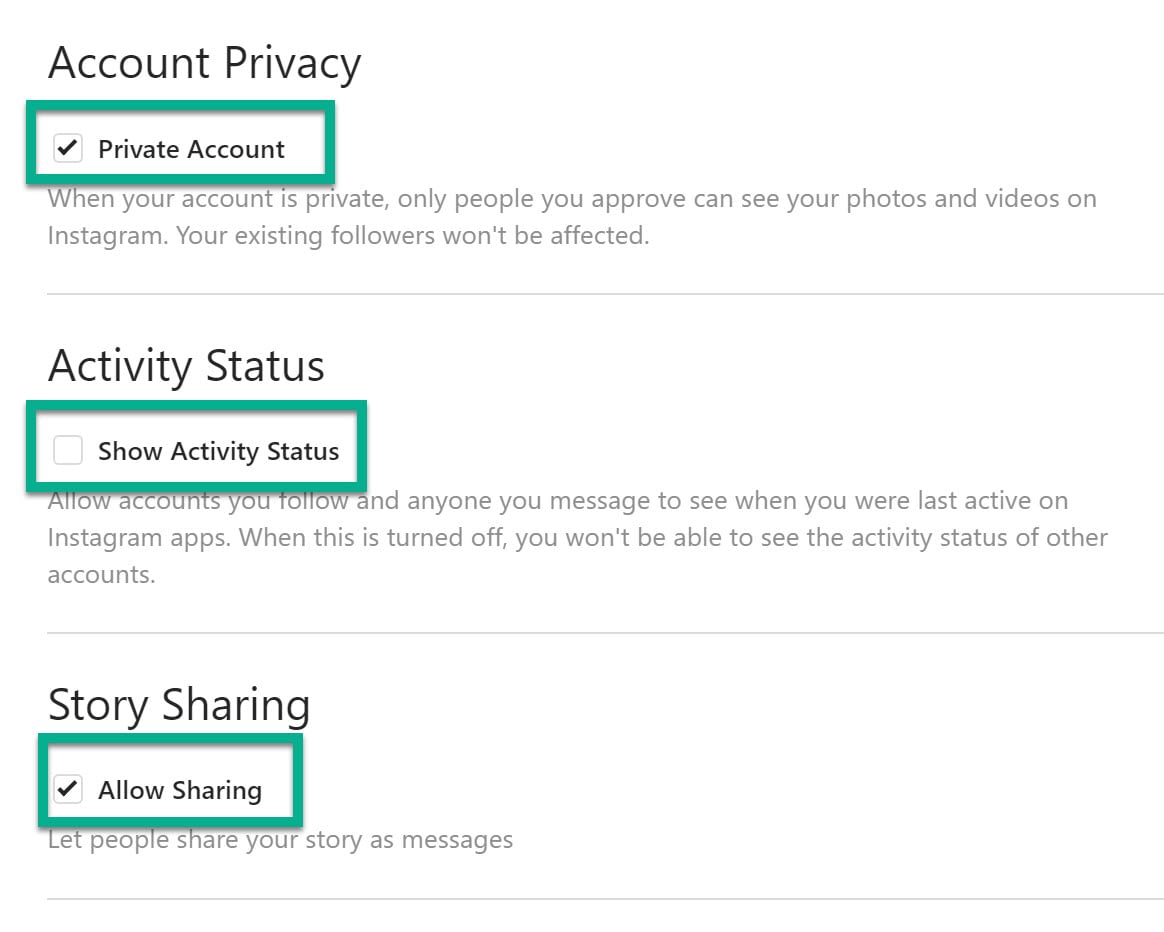 Click the Edit Comment Settings link.


This is particularly important for businesses. Check the box to Use Default Keywords and type in any other words you'd like to filter in comments.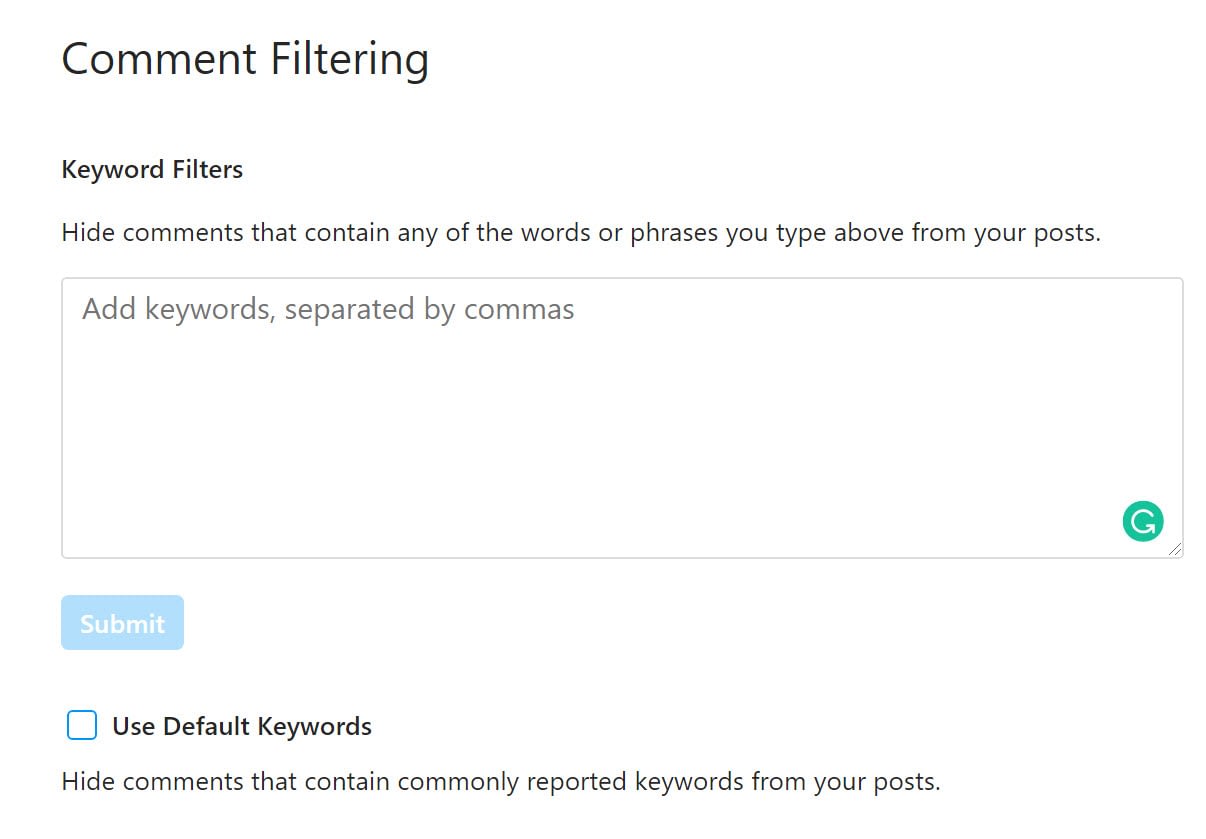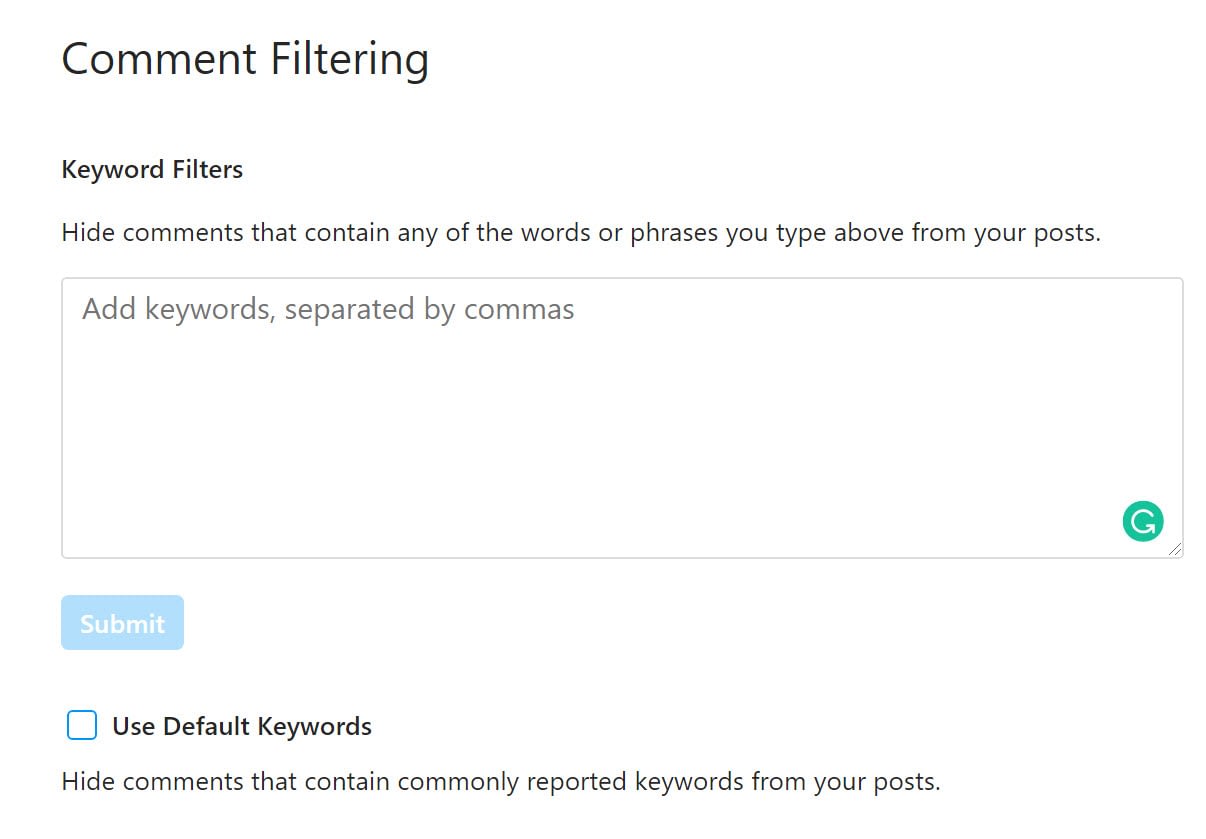 After that, click the Edit Two-Factor Authentication Setting link.


Choose whether you'd like to use a text message or authentication app for this important security measure.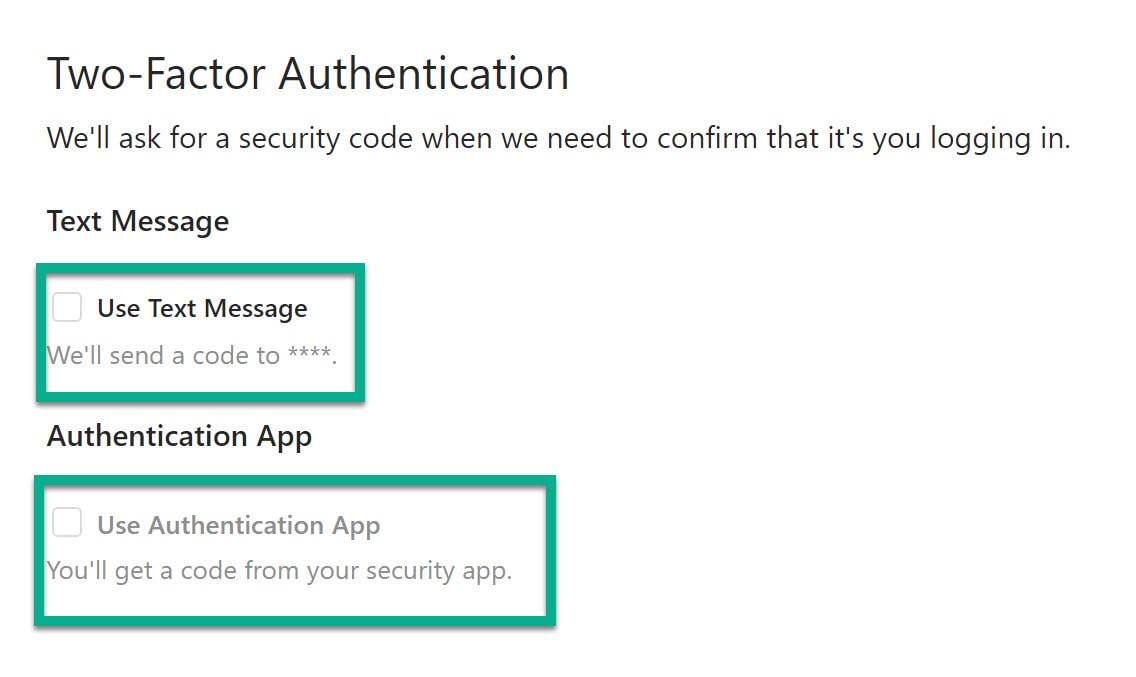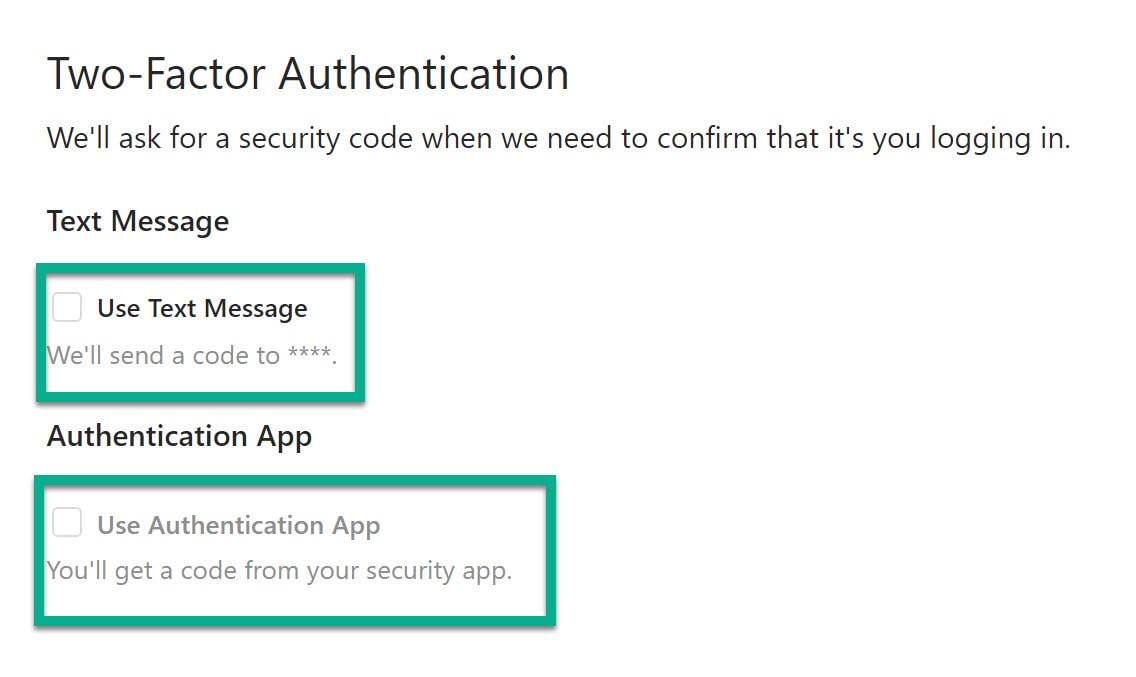 Select the Support link for all other security guidelines.


For instance, you can manage age requirements, location sharing, comment visibility, and more.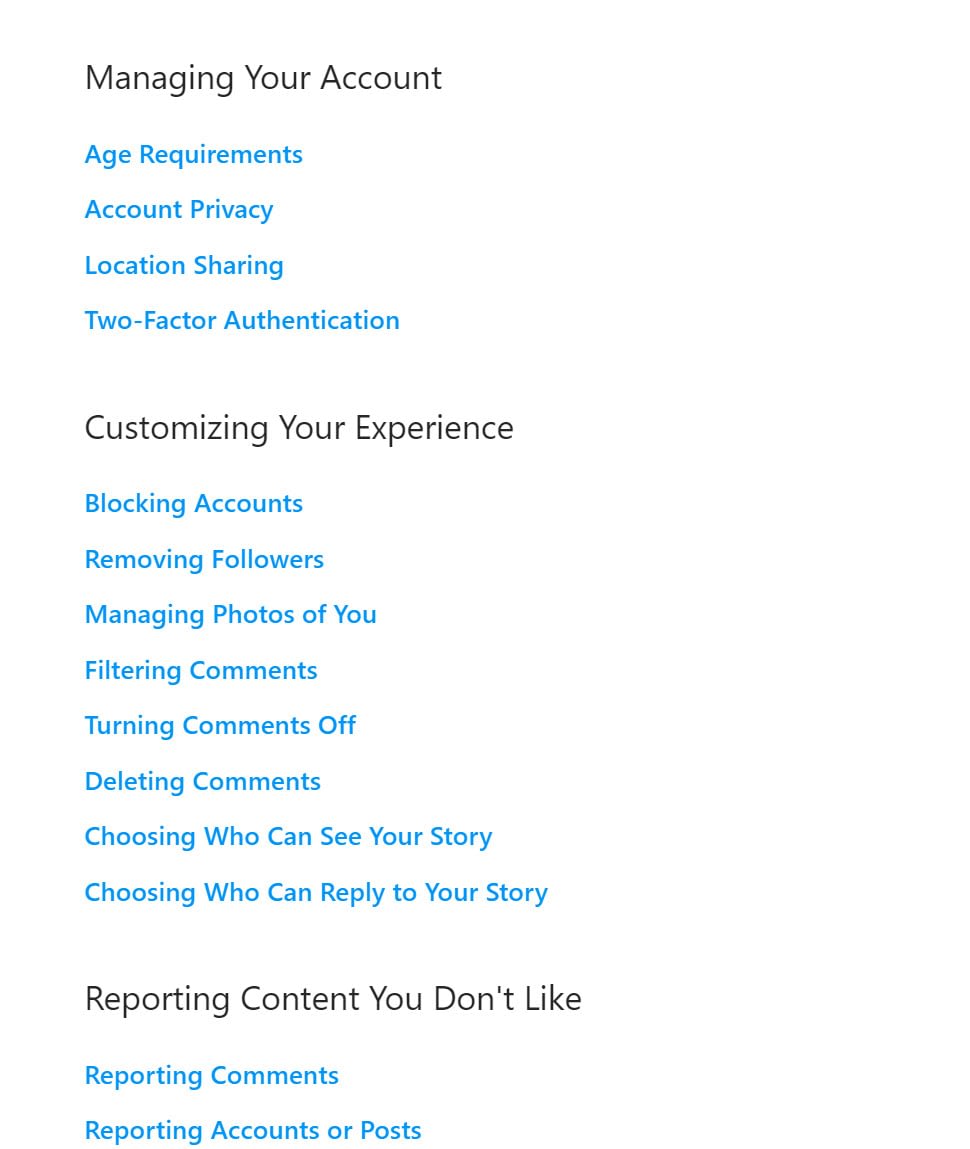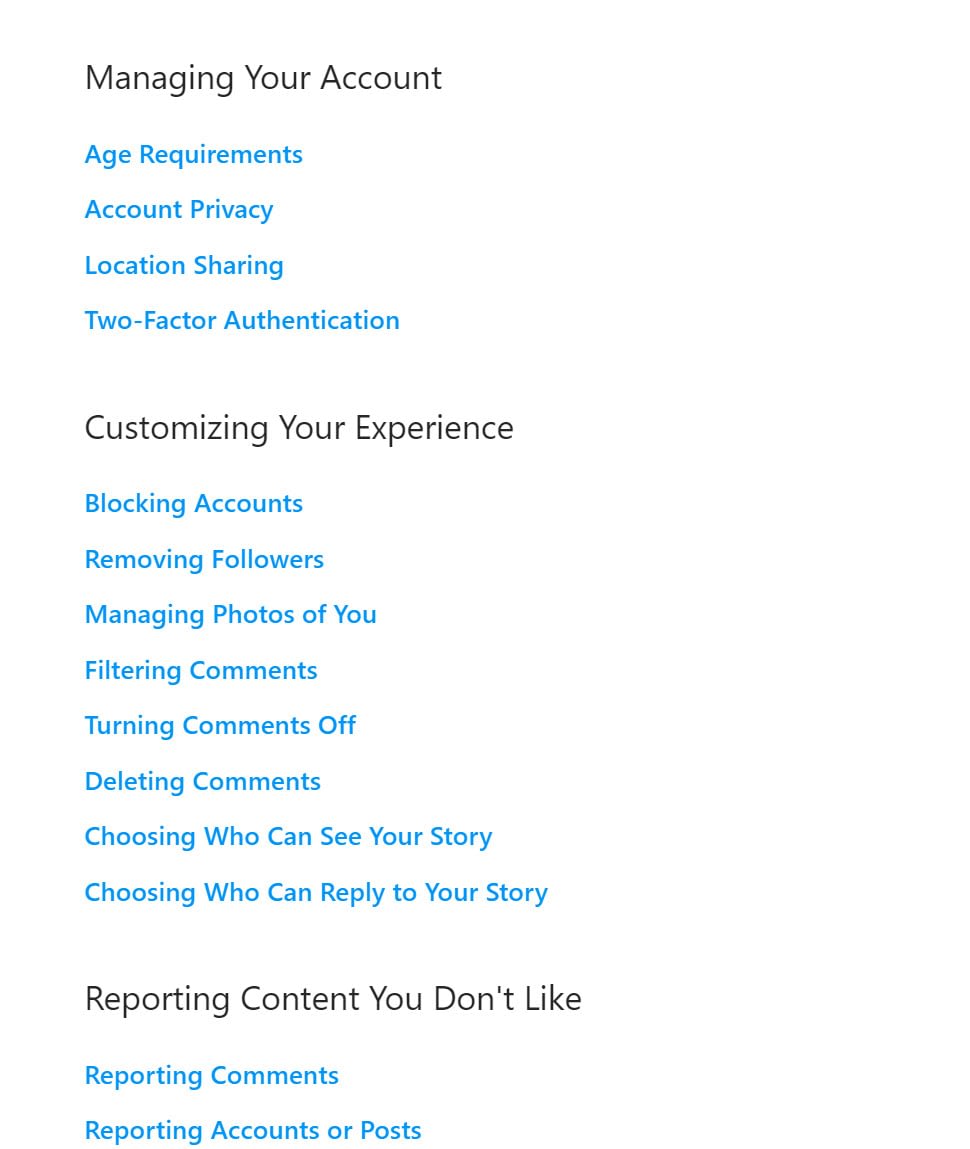 In order to block a spam account, or someone who's harassing you, go to their profile.
I really enjoy this comedian, but I'll use his profile as an example.
Click on the "…" button.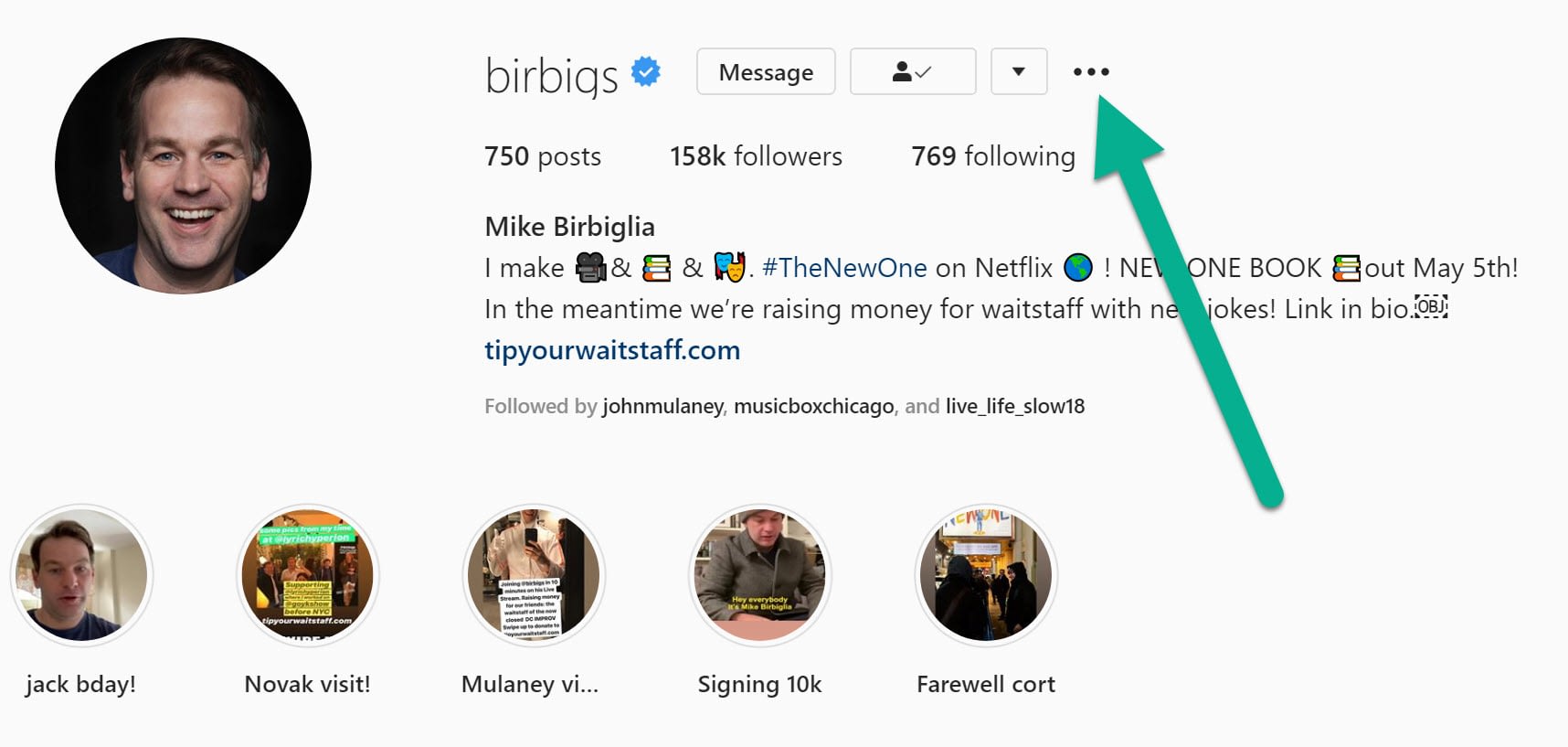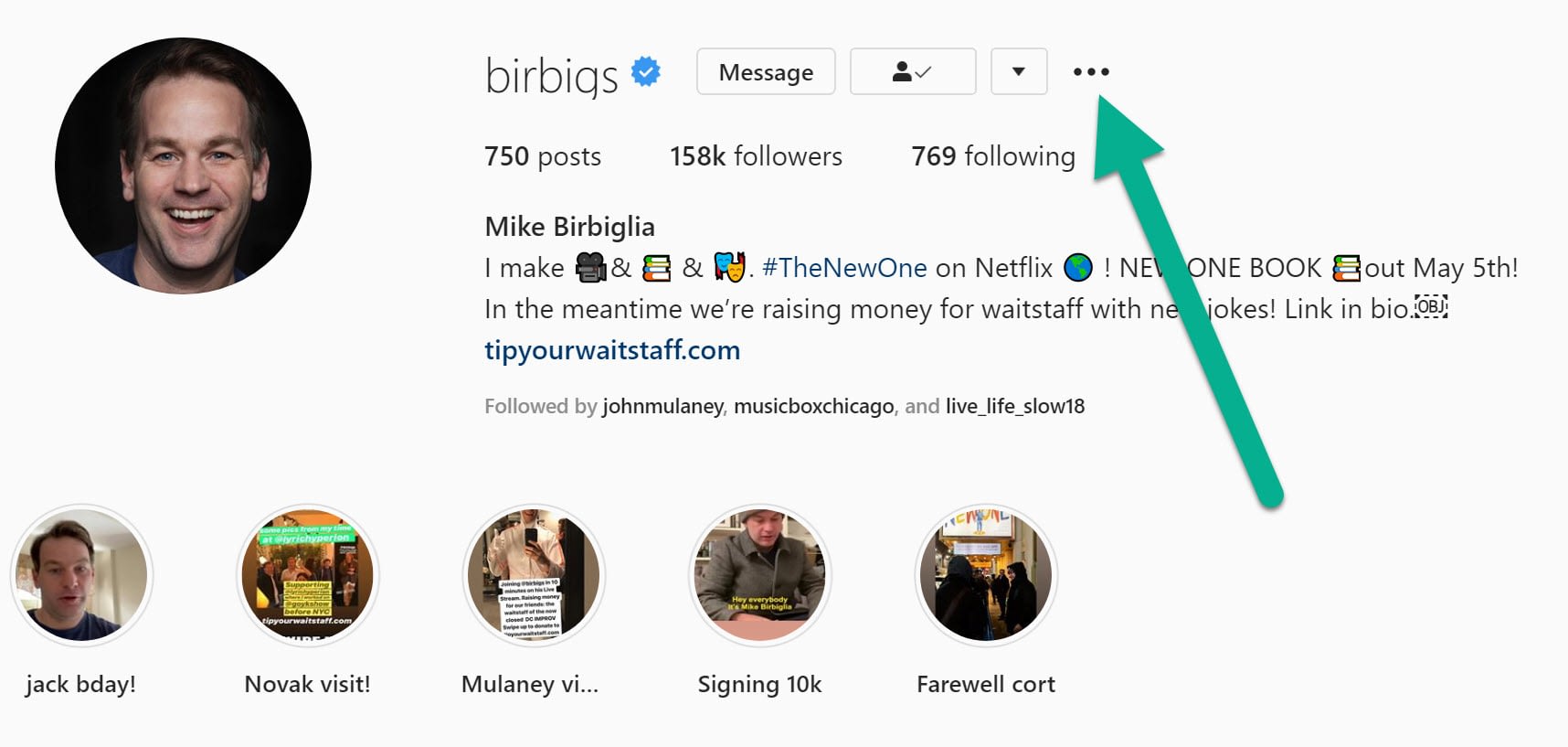 A small module appears to report or block the user. If they're harassing you, or posting inappropriate content, we recommend both actions.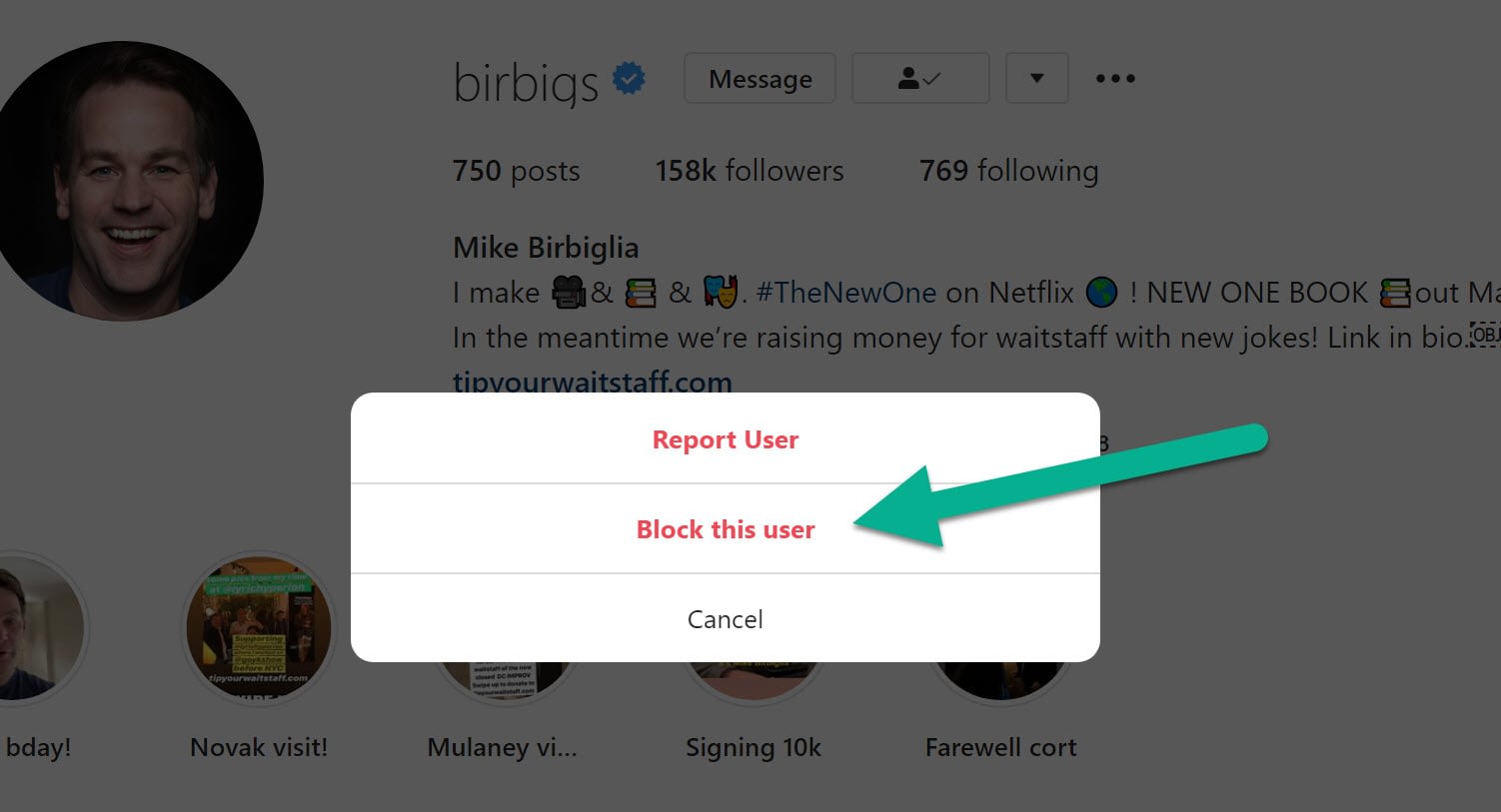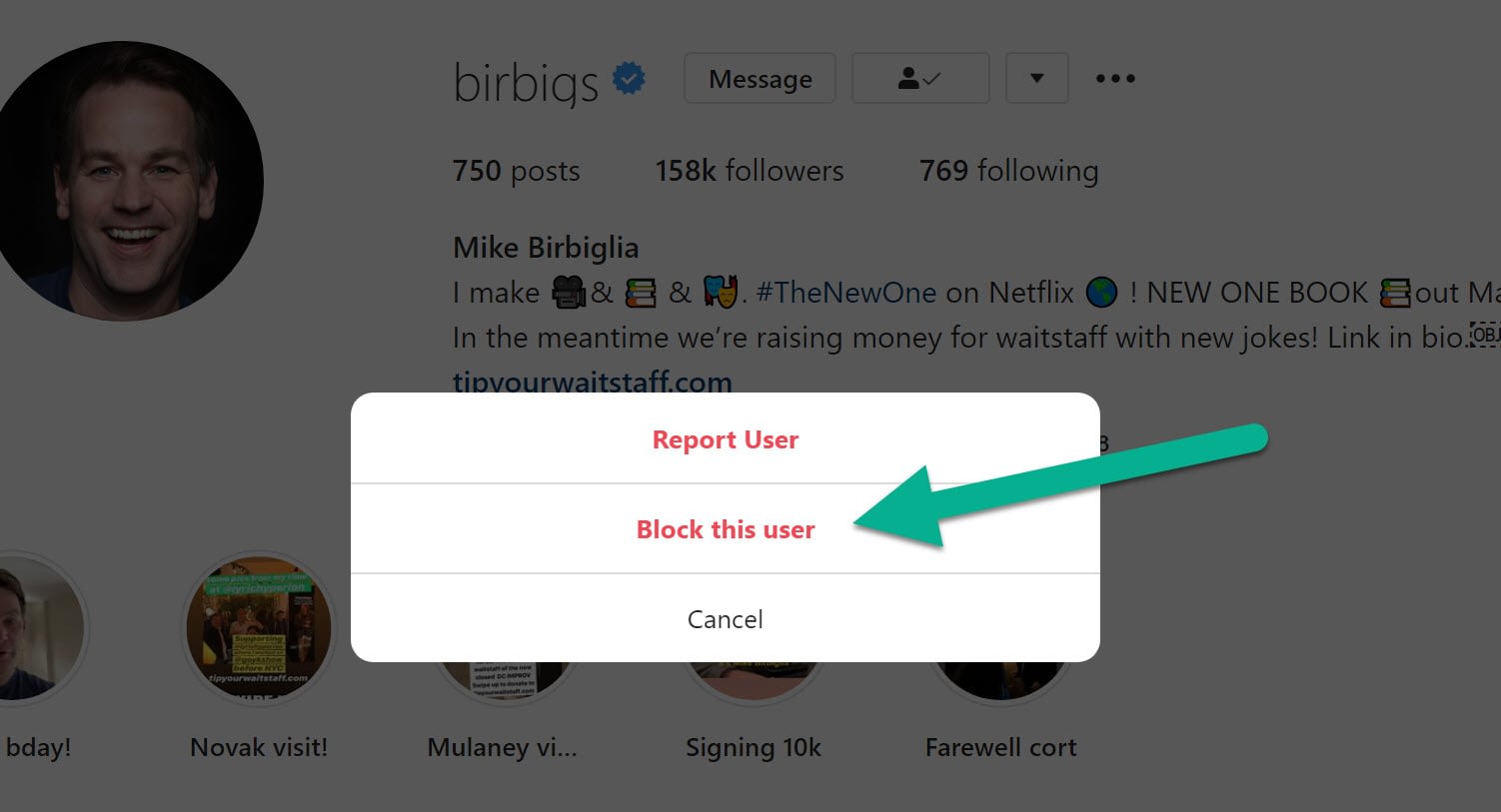 Twitter security
For Twitter, go to your profile.
Click the More button on the left side.
Select Settings and Privacy.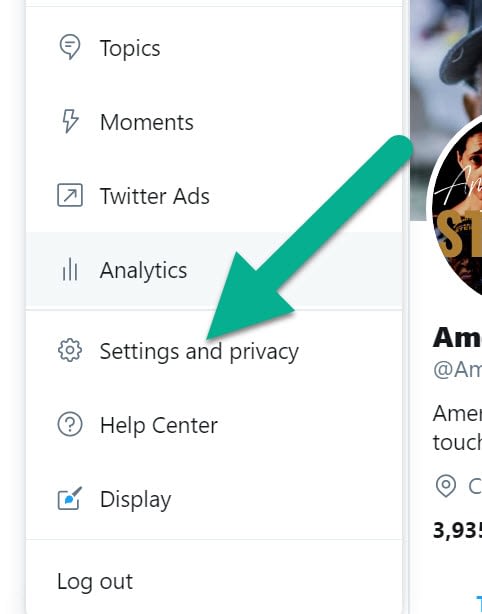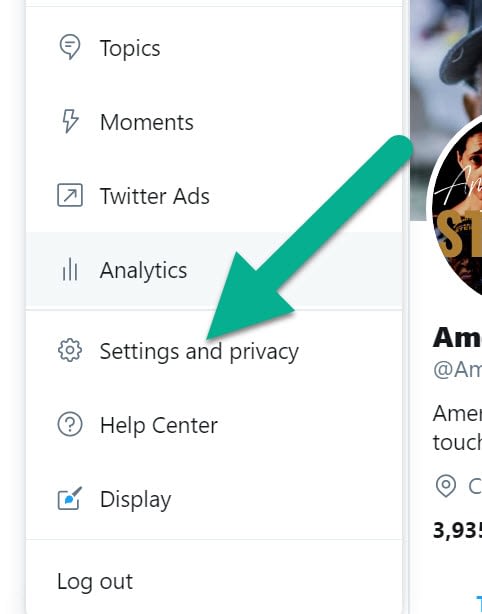 Choose Privacy and Safety.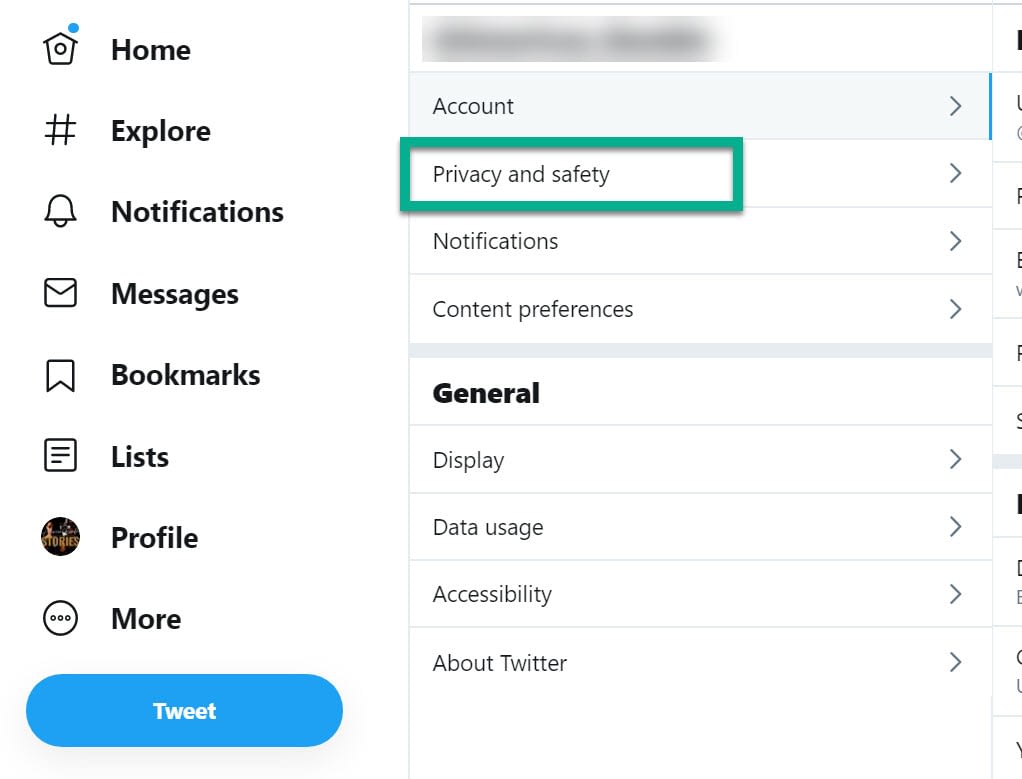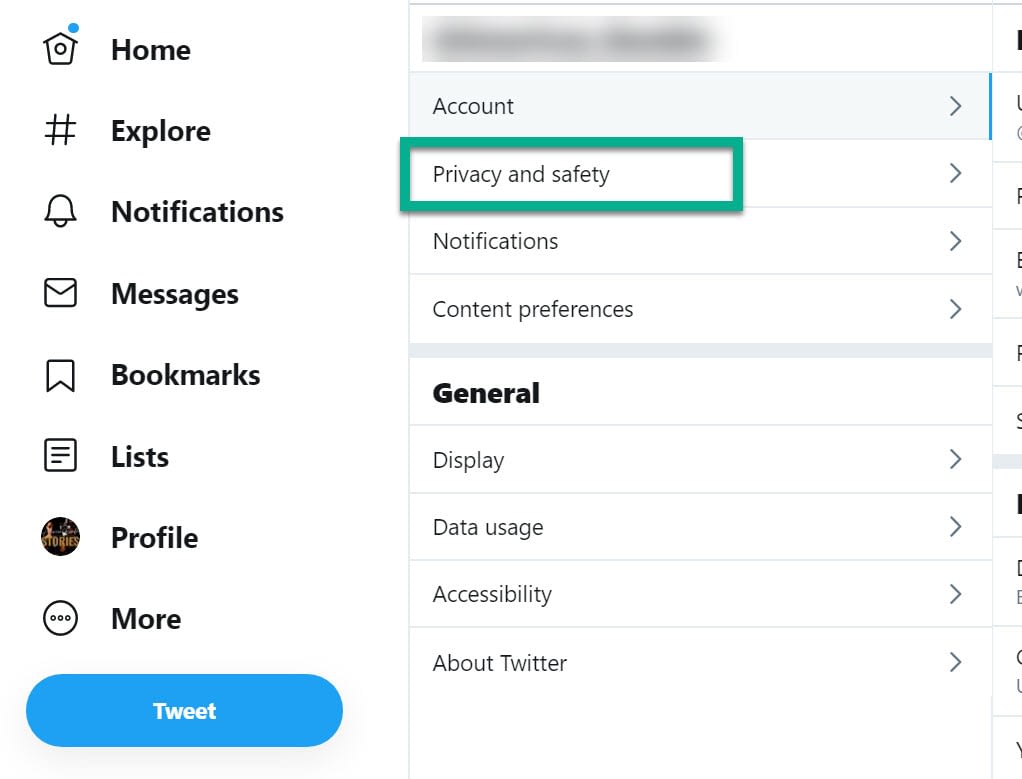 Here's what we recommend:
For a personal account, only show tweets to people who follow you. Business accounts can leave this unchecked.
Go into the Location Information tab and make sure your location isn't being shared.
Change photo tagging if you're worried about harassment.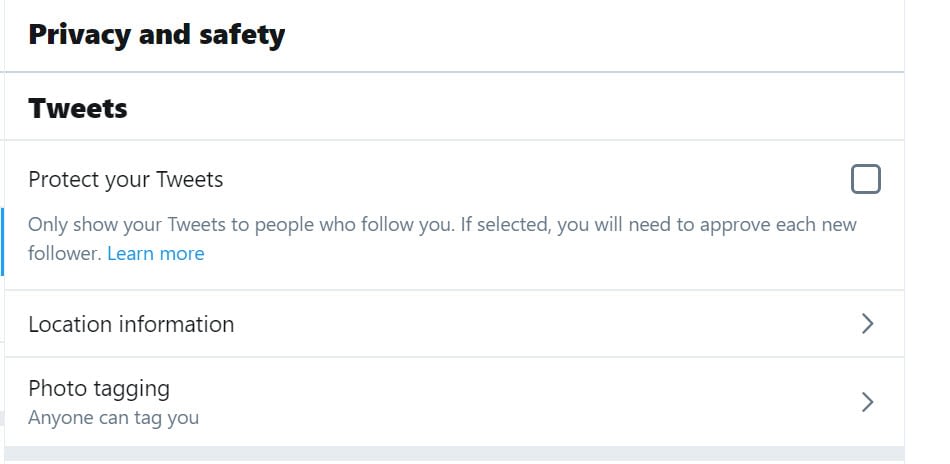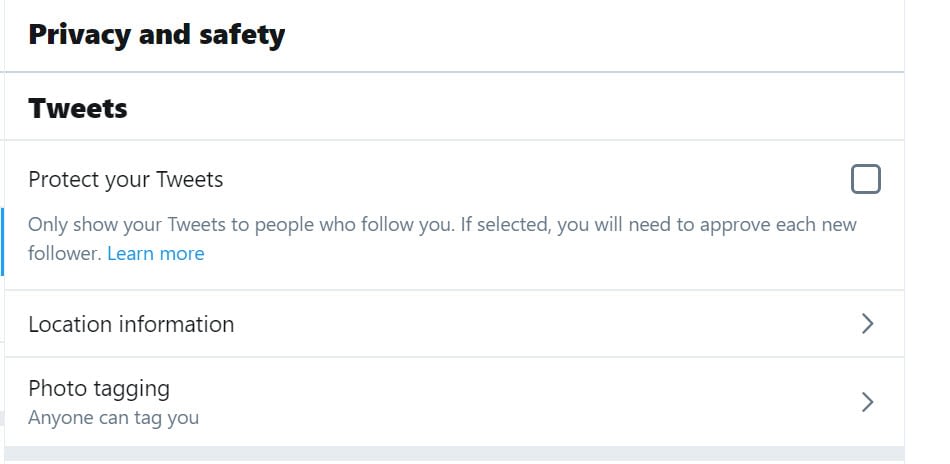 Under Direct Messages:
Block direct messages from strangers on a personal account. Accepting all direct messages could be beneficial for businesses.
There's really no reason to have read receipts on.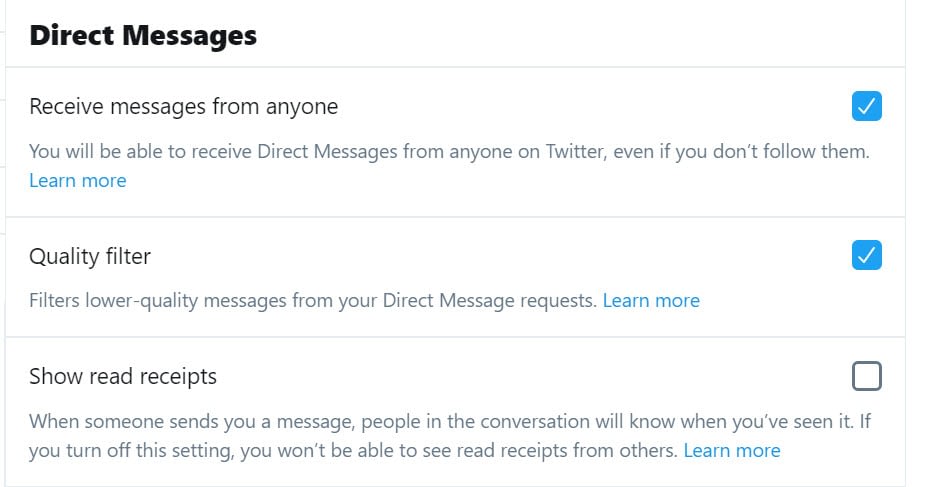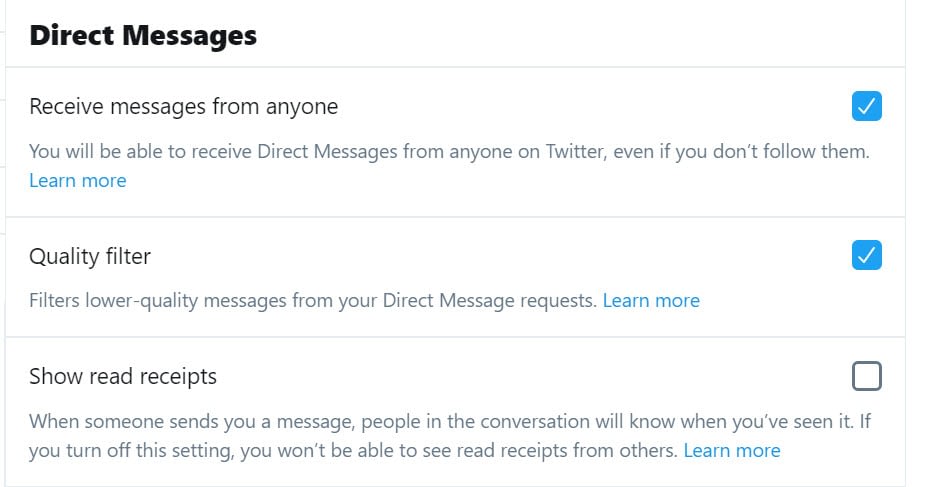 The Safety section is essential for protecting your children, blocking content that you're sensitive about, or blocking people who harass you on Twitter.
Consider hiding sensitive content.
This area also lets you view your blocked and muted accounts.
Configure notifications to mute messages from certain people.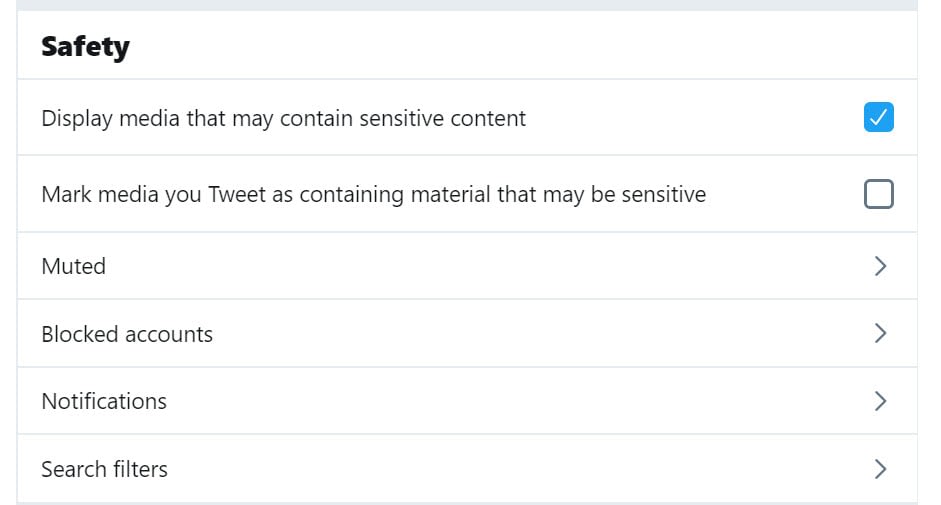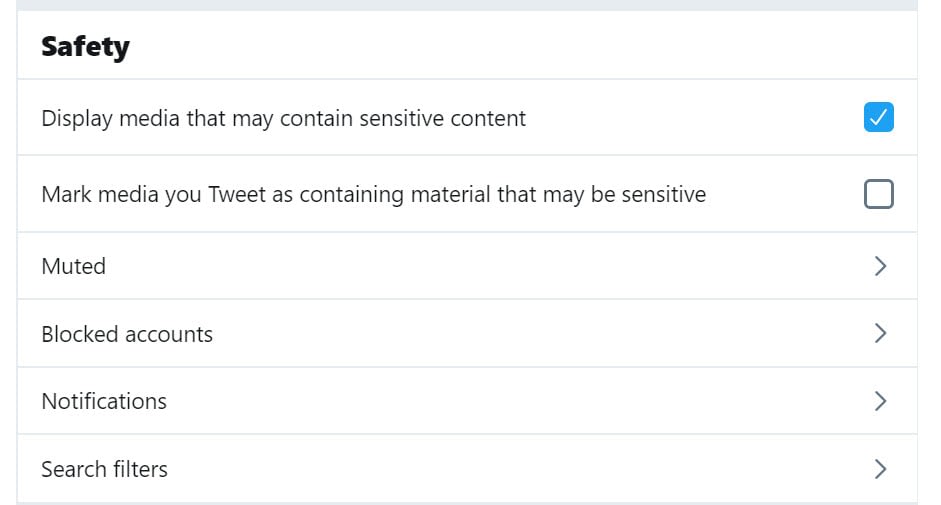 After that, look at the Personalization and Data section.


This is the all-important area that tells Twitter whether or not they can collect and share your data.
I personally think everyone should uncheck all boxes. The ads you see may end up being less relevant to you, but that's a small sacrifice to protect your personal data.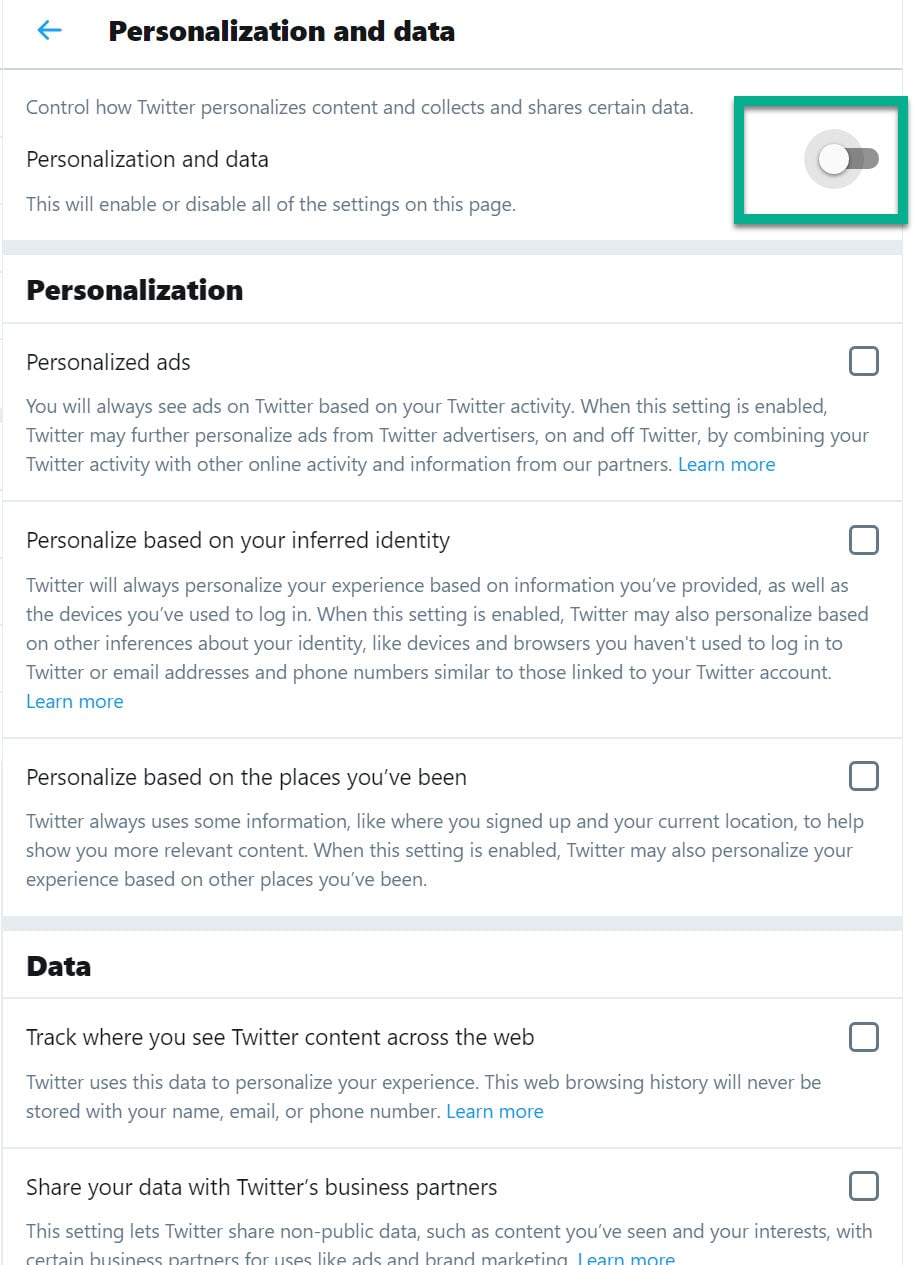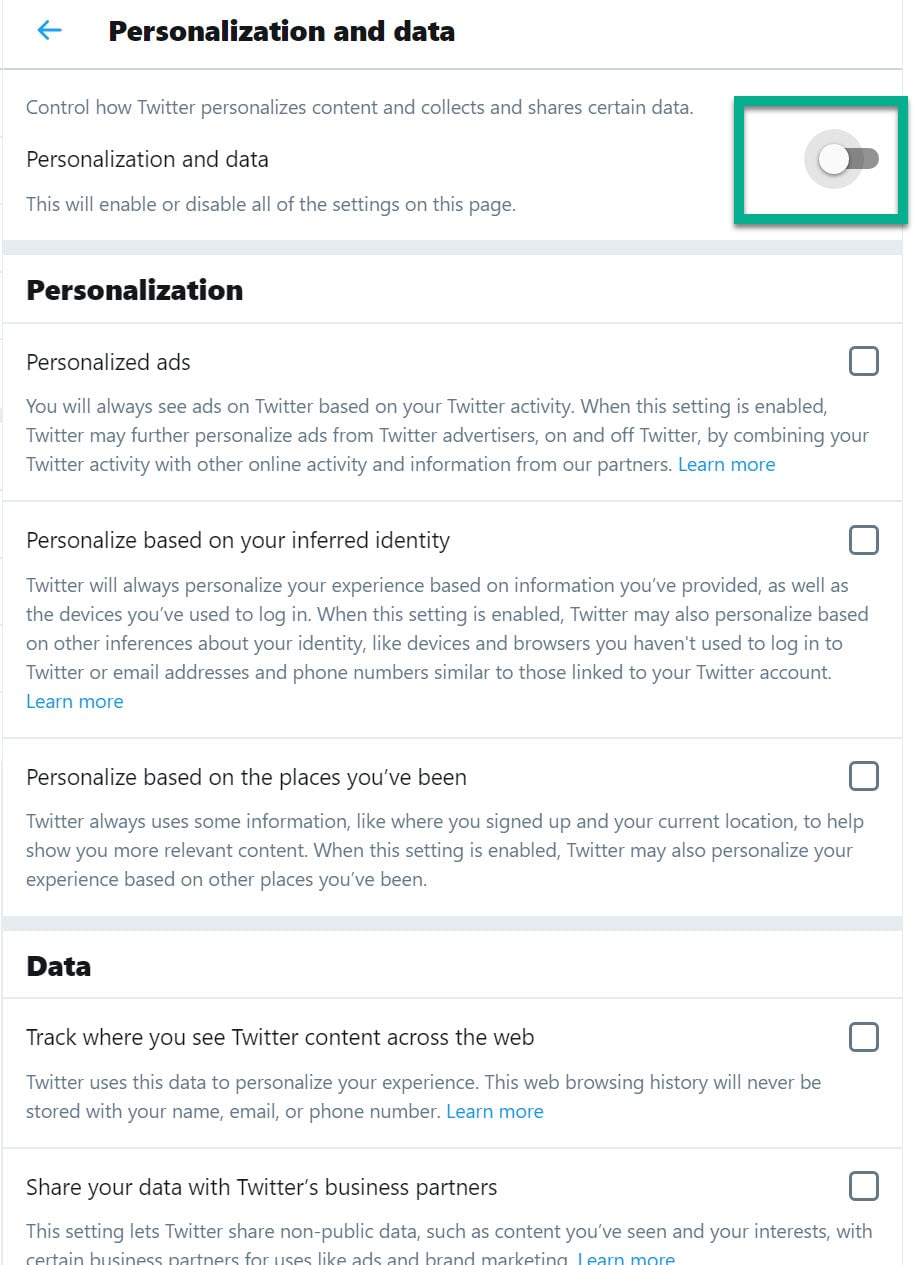 Now, let's say you'd like to block an account. Again, I don't have anything against TCL. This is simply a demonstration.
Go to the account you'd like to block.
Click the "…" button.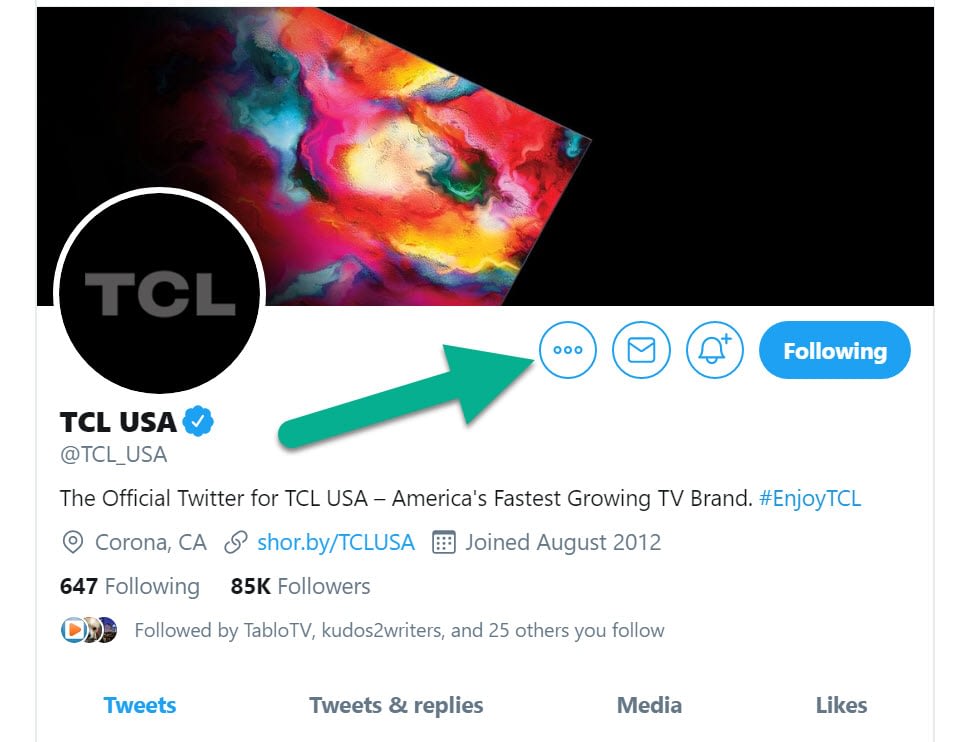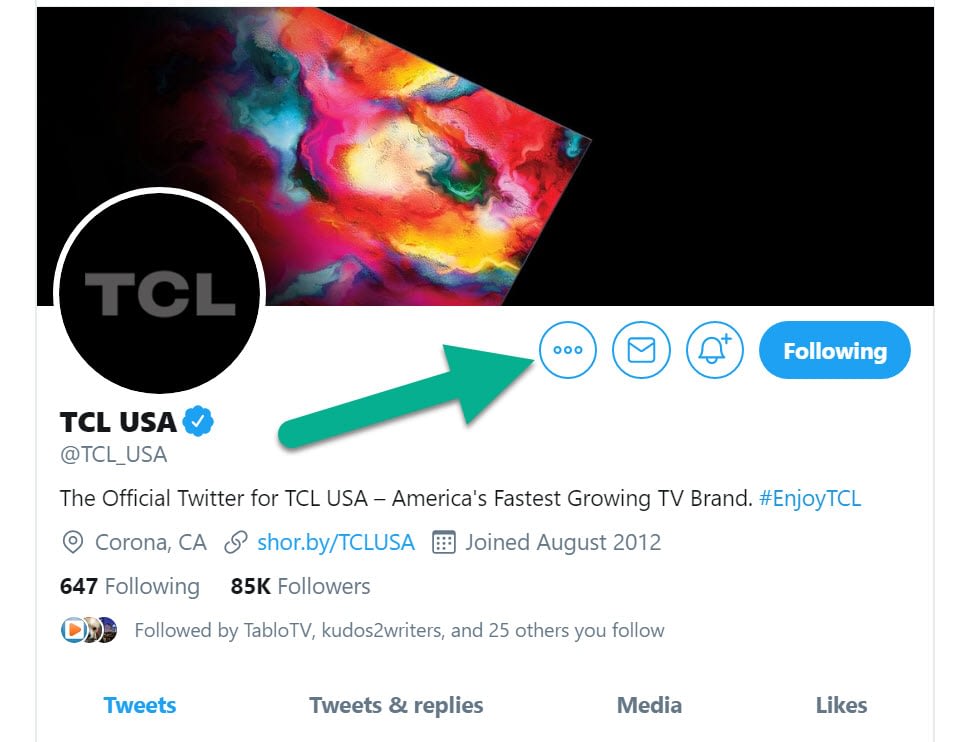 Choose to either block, mute, or report the account. In some cases, you'll block and report.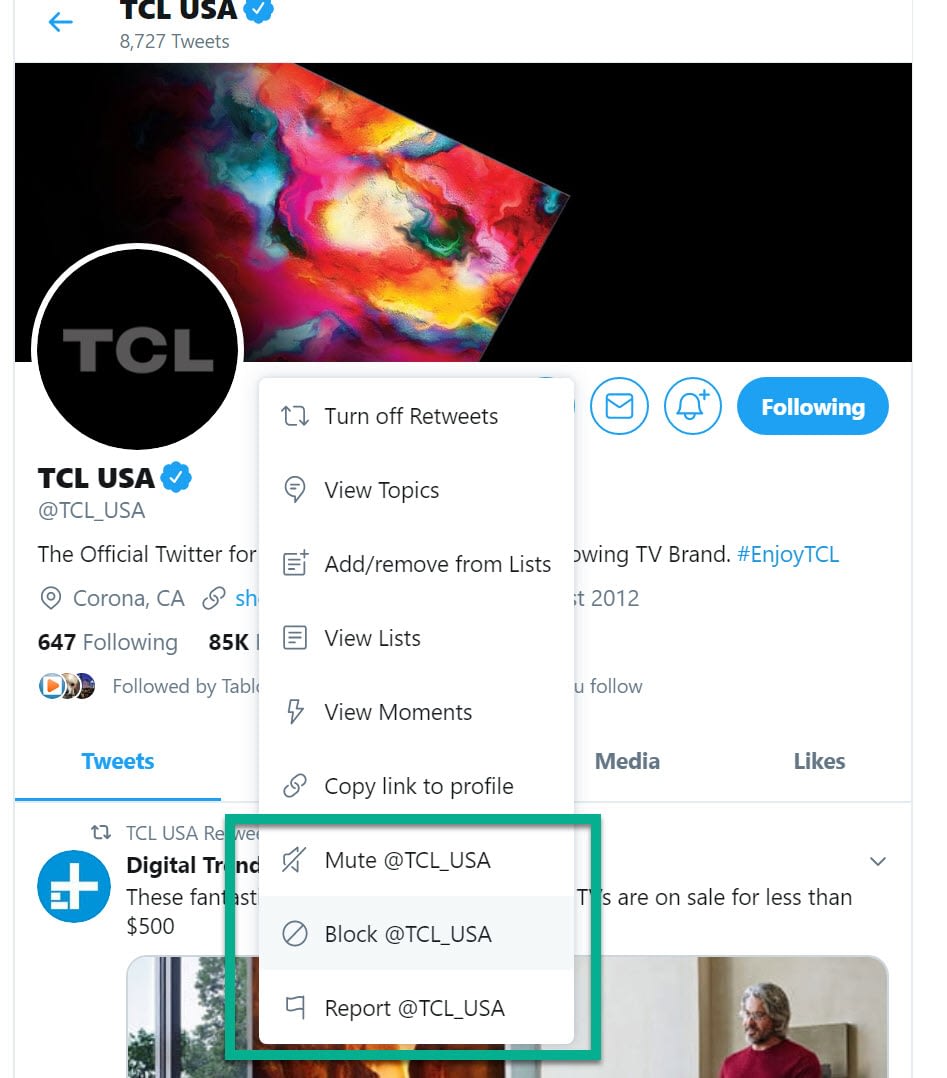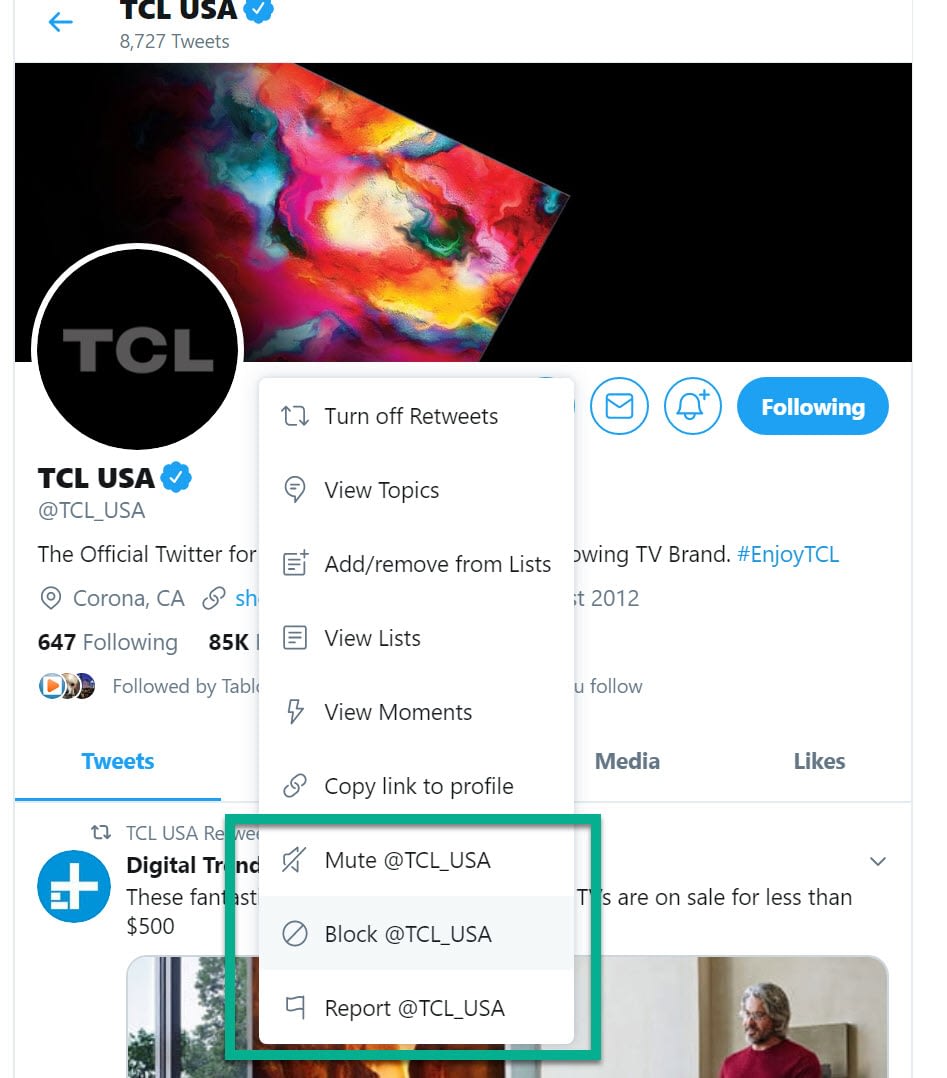 Pinterest, LinkedIn, YouTube, Google, WhatsApp, Tumblr, Snapchat, and many more…
The list goes on and on.
If you've walked through the previous steps of securing Facebook, Instagram, and Twitter, you may have noticed a trend.
Each one stores its security module under a Security or Settings tab.
Therefore, our recommendation is to visit all of these sites to find and modify the security, safety, privacy, and data collection options.
Tools for managing social media security
As promised, we want to quickly recommend the best social media security tools for your protection. You don't need all of them, but you can take your pick:
Which social media security practices do you need to work on?
Do you need to go back and make your social security settings stronger?
Some people don't care if the entire world sees their content. Others are more private. If you're being harassed online, that's a different story. Report those accounts and use the blocking tools to protect yourself.
Regardless of your views on this, you should at least take a moment to ensure that you secure the basics, like preventing people from hacking your profiles and restricting your posts to only people you know.
The post A Beginner's Guide to Social Media Security in 2020 appeared first on Revive Social.