On the surface, LinkedIn is all about networking and job hunting. However, tackled in the right way, blogging on LinkedIn can become a powerful form of networking.
With LinkedIn, you have the advantage of being able to target highly specific audiences within your field. It's a dream come true for Business-to-Business (B2B) marketing, which is why blogging on the platform can be so rewarding.
In this article, we'll talk about why you should start blogging on LinkedIn and how this affects your WordPress website. Then we'll discuss several tips to make sure your LinkedIn blog posts get the engagement they deserve. Let's get to it!
Why you should start blogging on LinkedIn
As far as social networks go, few are as highly specialized as LinkedIn. Hundreds of millions of professionals use it, but what you should care about is that over 30 million businesses are active there. This makes LinkedIn one of the most attractive spaces for B2B marketing online.
For example, 94% of B2B marketers use LinkedIn as one of their primary sources for leads. What's more, over the past few years, engagement on LinkedIn has risen steadily by about 50% per year.
Although LinkedIn enables you to purchase ads, it arguably not the best way to engage with businesses on the platform. Instead, users will more likely respond to value content, and the best way to achieve this is through content marketing or blogging.
How to publish a blog article on LinkedIn
Before we get into meatier subjects, let's quickly run through how to publish blog articles on LinkedIn. The platform incorporates a user-friendly editor that's a pleasure to work with. To access it, navigate to your LinkedIn feed and look for the Start a post widget at the top of the screen:


LinkedIn enables you to write status updates directly from the widget. However, for blog articles, you'll want access to the full editor – click on Write an article on LinkedIn to launch it. Here's a quick view of what the editor looks like:


Since you already have blogging experience with WordPress, using this editor should be a breeze. In a nutshell, the top menu includes formatting options, and you can add images, videos, slides, links, and code snippets within the body of your post:


When you hit the Publish button, LinkedIn will prompt you to include a brief description of your article. This description will show up on your contact's LinkedIn feed, and you can also use hashtags to help other people find your content:


Even a couple of minutes of using the LinkedIn editor is enough to realize it doesn't offer the same level of depth as WordPress. However, it more than hits the mark for writing and publishing simple blog posts, and is easy to use to boot.
Three tips to publish successful LinkedIn blog posts
If you're an experienced blogger, you'll probably know the basics of successful posts. However, there are a few considerations you need to keep in mind when using LinkedIn for blogging. Let's start by talking about the audience you'll be targeting.
1. Focus on B2B content
To maximize the number of leads you get from LinkedIn, you need a laser-focused content strategy. If you've been blogging for a while, chances are you already know what people in your field want to read about.
However, for LinkedIn content, it's crucial you lean on the B2B angle. Instead of writing for individuals, you're writing for companies. As such, you need to consider what kind of content can provide the most value to decision-makers. Some examples would include:
Opinion articles about key aspects of your field
Guides to cut operating costs or optimize processes
Information about upcoming networking events in your field
Perhaps the best way to maximize engagement with your content is to focus on the latest developments within the area you want to target. This means new technologies, approaches, major business deals, and other relevant topics.
If you're not sure what topics to target, start by following hashtags related to your business via LinkedIn. You'll quickly get a grasp on what other users and companies want to read about, and you can see what content performs well: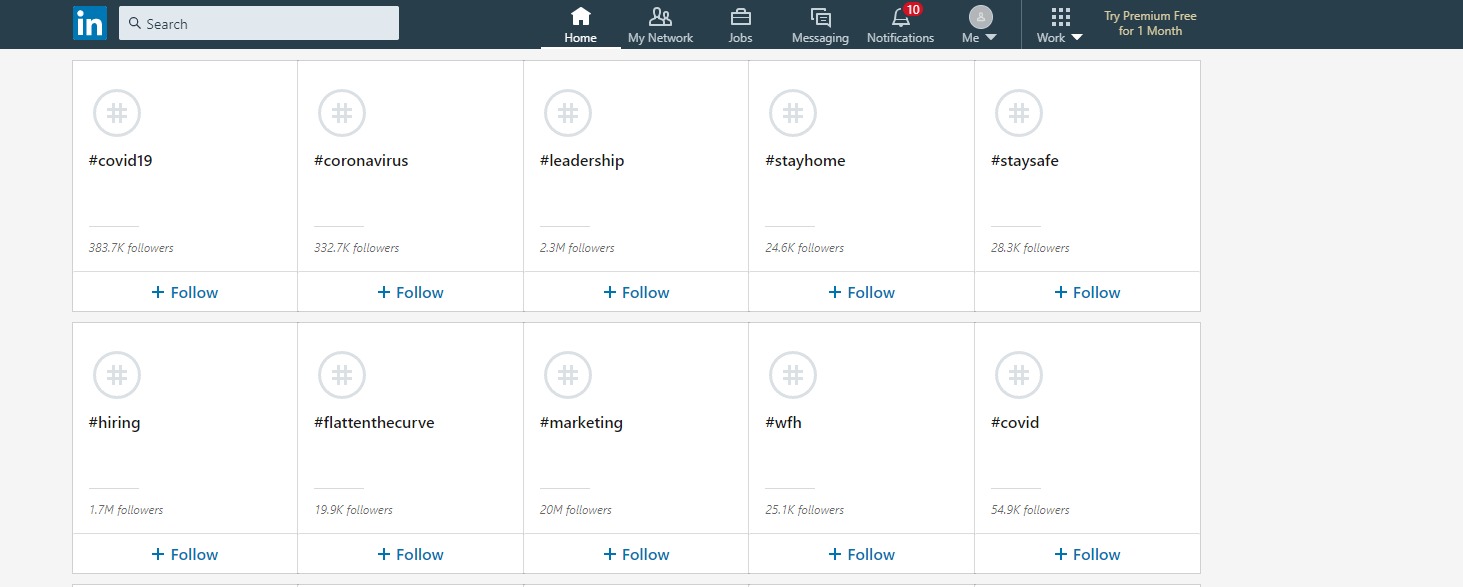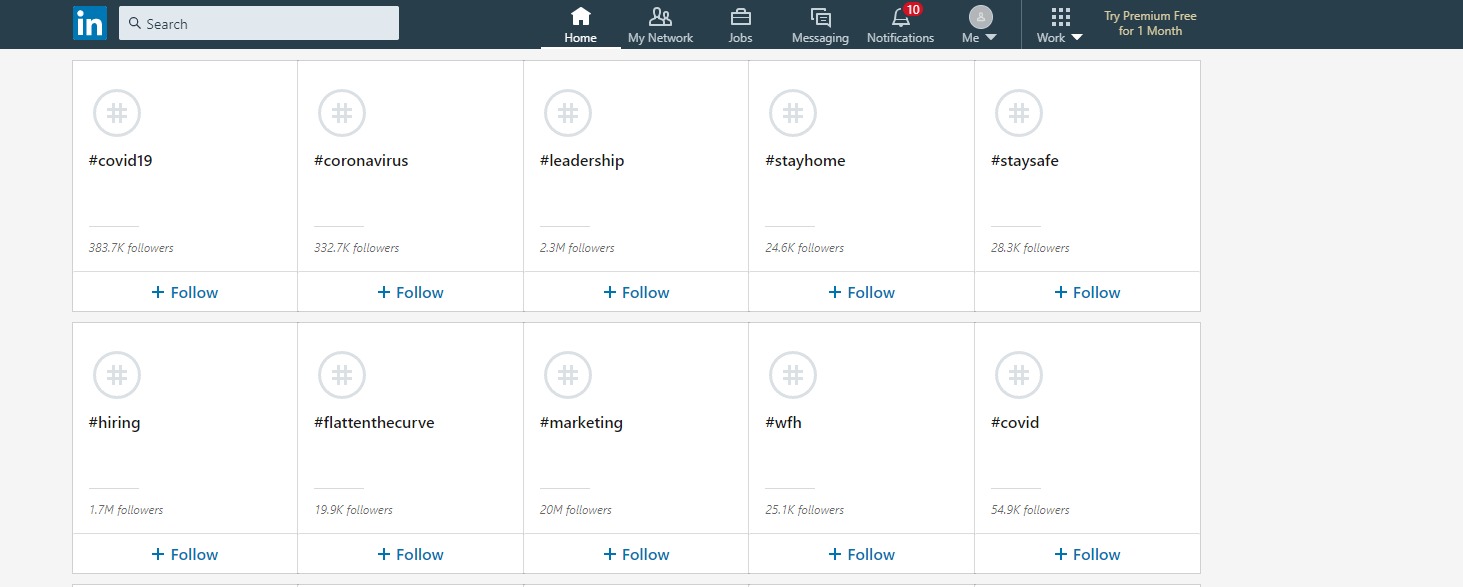 Keep in mind that while more popular tags can net you a broader audience, they're also harder to win attention in. You obviously want your content to be seen by as many businesses as possible, so try to include multiple related tags within your LinkedIn article's description.
Also, for any content that falls outside the realm of B2B, you have your WordPress blog. Using both platforms simultaneously is an excellent way to maximize your audience, and we'll cover this further later on.
2. Share other content through your feed to cultivate a following
New content you publish on LinkedIn automatically appears within your feed. However, if you want to cultivate a following on the platform, you'll also want to share content from other users.
The better you curate the content you share, the more likely it is that other users will come to see you as a trusted source within your field. As people become used to seeing you on their feed, they're more likely to want to connect with you, netting you additional leads.
Once more, hashtags come in handy here. If you follow multiple hashtags related to your field of business, you should have a lot of content available to share. However, one issue with LinkedIn is that the quality of published articles can be hit and miss. Of course, not everyone has your experience with content creation, so exercise high standards when both choosing which articles to share, and creating your own. Let's talk about the latter now.
3. Keep basic blog formatting guidelines in mind
Publishing articles on LinkedIn doesn't mean you get to ignore basic blogging formatting guidelines. In a nutshell, you want to set the bar very high when it comes to content quality, as this will help make sure your posts are go-to resources.
For the uninitiated, basic blogging formatting guidelines means:
Using subheadings throughout your articles to break them up into digestible sections.
Including images, videos, and other types of reference elements where needed.
Using lists whenever possible to convey information more effectively.
Overall, you want to make sure your LinkedIn articles aren't hard-to-read slabs of text. The LinkedIn editor provides you with all the formatting tools you need, so make sure you use them!
Blogging on LinkedIn vs WordPress: how the two platforms complement each other
Publishing content on LinkedIn is a great way to establish connections with other businesses. However, it's not a replacement for running a WordPress blog. With a blog of your own, you have full control over elements such as style, monetization, and more. Plus, you can potentially reach a much broader audience than with LinkedIn.
Fortunately, there's no reason why you can't leverage your own WordPress blog and LinkedIn to maximize your audience. The only limitation is your content output.
If you already have a busy blogging schedule on WordPress, there are two ways you can tackle also publishing articles on LinkedIn:
Focus on creating in-depth, unique articles for LinkedIn, to avoid duplicate content issues.
Automatically share your blog posts to LinkedIn so you don't have to publish articles on the platform manually.
The advantage of the second approach is that you can lead users from LinkedIn to your blog. Plus, you won't have to fiddle with two separate editors.
Our favorite tool for this job is the WP to LinkedIn Auto Publish plugin (but there are plenty of other options). As the name implies, this plugin enables you to publish links to your blog articles, including featured images, to LinkedIn:


Using the plugin, you can publish updates directly to your profile or to specific company pages. It gives you full control over which posts get shared on LinkedIn. Ideally, though, you won't share all your blog content to LinkedIn – only the articles you think may elicit interest from your contacts or other businesses.
Conclusion
Even if you're not job hunting or recruiting at the moment, LinkedIn can be a powerful platform to market to other businesses. Publishing thought-leading content in your field is an excellent way to promote your business and drive attention back to your blog. To achieve this, you can use LinkedIn to re-post content from your blog or create unique targeted posts.
If you want your LinkedIn blog posts to get noticed by the right people, here are four tips to keep in mind:
Focus on B2B content.
Share new content through your feed.
Curate the content that appears on your feed to cultivate a following.
Keep basic blog formatting guidelines in mind for LinkedIn posts.
The post A Comprehensive Guide to Blogging on LinkedIn in 2020 appeared first on Revive Social.