Music can soothe a heartache, get a football team pumped for their next game, and even has the potential to help people recover their ability to speak after a stroke. When you consider the power music can hold over a person, learning how to add music on Instagram Stories is a no-brainer.
In the summer of 2018, Instagram added the ability to add music to Instagram Stories in two ways: using the music sticker (which is applied after a photo or video is taken) or by playing the music as you record a video or take a photo by selecting it from the list of options above the record button.
No matter which method you use, you can search a vast selection of music by artist, music genres, or even mood. The awesome search options make it easy to find your favorite tunes for any situation.
The new music feature is a fun way to surprise your followers and highlight your brand's personality. More than 500 million people use Instagram Stories every day, which means it can be challenging to stand out with your Instagram marketing strategy. The music feature lets you add a little flair to your stories and share your amazing taste in music with all your followers.
It will be really exciting to see all the creative ways brands and people use this new feature!
Ready to add music to your Instagram stories? Here is everything you need to know, including how to add music to photos or videos, answers to frequently asked questions, best practices, and a quick video that walks you through the process. (Don't worry, it is easy!)
Adding music on Instagram story
As mentioned above, there are two ways to add music to your story: the "sticker" feature and the "music" feature that shows up when you take a photo or record a video.
The search features are the same for both; the main difference is the "sticker" lets you add music to a video or photo you have already taken and allows you to add lyrics as well.
Let's cover the steps to use both features, and then we will dig into the types of music and a few other FAQs.
How to add music on Instagram story using the sticker feature
The sticker feature is the simplest method, in my opinion, and it also lets you add music after you have taken a photo or video, which is nice. Here is how to do it.
After you open Instagram, tap the little "plus" sign next to your profile picture in the upper left-hand corner. This will open your Stories.
Take a photo or upload one from your camera roll, then click the "sticker" icon in the top navbar. It is a square smiley face with a turned corner, like this:
Now, tap the "music" sticker.
Once you select the sticker, you will see a search bar and list of music options. You can scroll up and down, use the search bar, or view genres or moods of music. There is a pretty wide selection of songs to choose from.
After you select your song, it will appear on your screen and begin to play. Use the new navbar that pops up to choose whether you want to display the lyrics of the song, album cover, and more.
Tap the sound bar at the bottom (those little tick marks at the very bottom of your screen) to trim the music clip, making your clip as long or as short as you want.
Finally, tap the "send" button to post it to your music on Instagram Story! Don't forget to add more photos and videos to your story to keep it interesting.
Here is a quick video that walks you through how to post music on Instagram Stories using the sticker function.
Keep in mind, the music sticker on Instagram was rolled out in waves, so it may not be available to all users worldwide quite yet.
How to add music on Instagram story while you record
Adding music to a live recording or photo on Instagram can be done by scrolling through the options from the live posting screen. Here is how to add, search, and select music on Instagram Stories while you record:
Open Instagram, then tap on the + sign next to your profile photo in the upper left corner to access Stories.
Scroll through the options above the record button at the bottom center of your screen. Options include Live, Normal, Boomerang, Super Zoom, Music, Focus, etc.
Select "Music," then scroll through the available options. You can search by artist, genre, or mood just like you can for the music sticker.
Drag to select the clip of music you want from the song using the tick marks at the bottom. Tap the center button to add the song. You can drag the song to any location in your post.
Add other stickers or filters to finish out your music on Instagram Story post.
Tap "Send to" to add your photo or video to your Instagram Story.
That's it! You can't add lyrics using this method, but Instagram does add the name of the song and the single or album cover and the artist's name to you your post.
What else you should know about music on Instagram Stories
What kind of music is available on Instagram Stories?
There is a huge selection of music to choose from, including popular songs by your favorite artists. You can search for songs by artist name, popular music, the genre of music, or even "mood" if you aren't quite sure what song fits your mood! Mood options include fun, upbeat, dreamy, romantic, bold, mellow, inspirational, and suspenseful.
So, whether you want to add "Baby Shark" or a SlipKnot song, Instagram's got you covered. The music selection may vary by country but overall seems to have an extensive selection of artists and songs to choose from.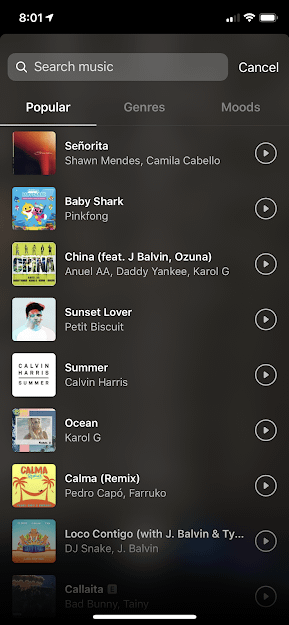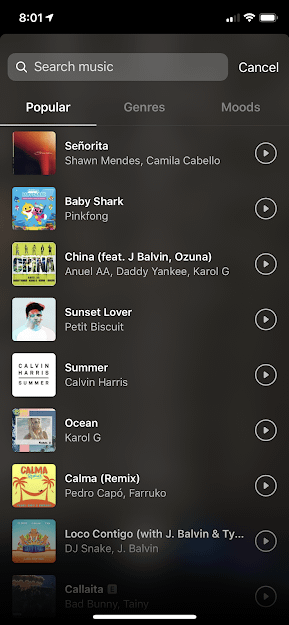 How to use the lyrics feature in Instagram Stories
The lyrics feature allows you to post the lyrics of the song you selected from the music sticker over your image or video. The coolest part is the lyrics scroll by as the song plays, much like a karaoke machine! There are four different options to choose from with different font sizes and lengths of lyrics.
To add lyrics, select the music sticker as outlined above, then scroll through the options located in the bottom center of your screen. Scroll through the options, then select the one that speaks to you!
Note that the lyrics feature is only available by using the music sticker.
Why can't I add music on Instagram stories?
The music feature seems to only be available in a few regions, including the US, UK, France, Sweden, Germany, and Australia. If you live outside of these areas, you may see a notification stating, "Instagram music isn't available in your region."
To get around this, can play a song on your phone on iTunes or Spotify as you record, though it won't have quite the same quality and you won't have access to the lyrics feature.
If you do think Instagram is available in your region, try updating your app or uninstalling and reinstalling.
Now that you know how to add music to your Instagram Story, let's cover a few ways to get creative with the music feature!
Tips for including music on your brand's Instagram Stories
Adding music on Instagram Stories can help it stand out, but it can also add a bit of flair to an otherwise bland story! Here are a few tips for when and how to include music.
1. Use music to show a mood
Did you just land a new client? Finishing up a huge project? Or, are you a little bummed after finishing your favorite television show? (Looking at you, GoT…) Search music by Mood and add a soundtrack to your post that highlights your mood.
2. Jazz up a product photo (or video)
Before you post your brand-spanking-new product to your story or run an ad or promotion, select a song that highlights your excitement! Skip the lyrics so the focus stays on your product instead of the scrolling words. Also, be sure to move the sticker so it doesn't overlap your product.
3. Share your favorite songs
Music preferences help create a sense of community, so try using stories to share your current favorite song. You can ask your audience what their current favorite song is, or if they like a new single by your favorite artist to drive engagement!
Remember, Instagram Stories tend to be pretty casual, so you don't need to stay focused on your products or services all the time. Let your audience get to know you and start a conversation.
4. Add a song lyric that speaks to you
Did you just land a huge promotion or launch a new product, or maybe you've got a sponsored post? You could choose a line from Beyonce's Run the World to highlight how powerful you feel. Or, if you just suffered a setback, you could add Gym Class Heroes The Fighter to highlight your commitment to fighting back.
This is a unique way to share the highs and lows of business or the entrepreneurial life
5. Add a soundtrack to a video you've already recorded
Reposting popular content is an effective way to get the most out of your content. Add a soundtrack to a video you have already recorded and posted can freshen up reposted material.
Best practices for adding music to Instagram
Now you know how to add music to your Instagram stories and have a few ideas on how to incorporate music into your brand's Instagram strategy, here are a few best practices help you get the most out of this feature.
Add a "sound on" sticker to let viewers know there is music in your story. To do this, go back to the sticker feature and tap the "sound on" sticker (looks a bit like a megaphone) and add it to your story.
Don't just choose any song from "mood" and slap it on your Story. Make sure you listen to the song clip all the way through before adding it and consider whether it is a good fit for your brand. You wouldn't want to add an NSFW song to a professional business Instagram account, for example.
Try to start the song at the beginning of the chorus, if you can. This tends to be the catchiest part of songs. Most people won't stay on your Story for long, so this makes the most of the time they watch.
Don't overuse the music feature! Much like exclamation points in writing, music on Instagram should be used to add emphasis. Overuse will feel gimmicky and forced. Add music only when it makes sense.
Don't add music over videos with audio. It is difficult to listen to both. Either add the video with no audio or add music to a still photo after the audio-video instead.
Finally, take the time to review your Instagram Story to make sure the song and lyrics give off the vibe you are going for. You can change songs, trim the clip, or even take the music off entirely if it doesn't feel right.
Final thoughts on music on Instagram Stories
Adding music to Instagram Stories is an awesome feature that can help you get more creative on Instagram stories. It is a fun way to stand out and showcase your impeccable musical tastes.
Is it going to change the way everyone uses this ultra-popular platform? Probably not, but it is fun and simple to use. Maybe it will even help you remember to be more consistent about posting on your Stories!
The post How to Add Music on Instagram Stories and Boost Audience Engagement appeared first on Revive Social.