A vanity phone number is a great way to reinforce your brand and make your customer service number memorable. This guide will show you how to buy a vanity phone number for your website.
What is a vanity phone number?
A vanity phone number is similar to a vanity license plate: you pay an extra fee to make the number say something specific. These numbers are usually purchased by companies who want to brand one or more of their department numbers. You can probably think of a few big brands that use vanity phone numbers.
Most vanity phone numbers are 800 numbers, but any customized phone number can be considered a vanity phone number.
Some examples of vanity phone numbers you might know:
1-800-PICK-UPS
1-800-BUY-MACY
1-800-STATE-FA
How to buy a vanity phone number
Vanity phone numbers typically use Voice over Internet Protocols (VoIP) instead of regular landlines. These services let you make and receive calls from any device with an internet connection. Many VoIP services allow for both video and audio calls.
You can buy a vanity phone number as an add-on when you purchase your VoIP plan. This is typically a one-time payment of $20-30.
Let's take a look at some of the most popular VoIP services.
1. RingCentral (www.ringcentral.com)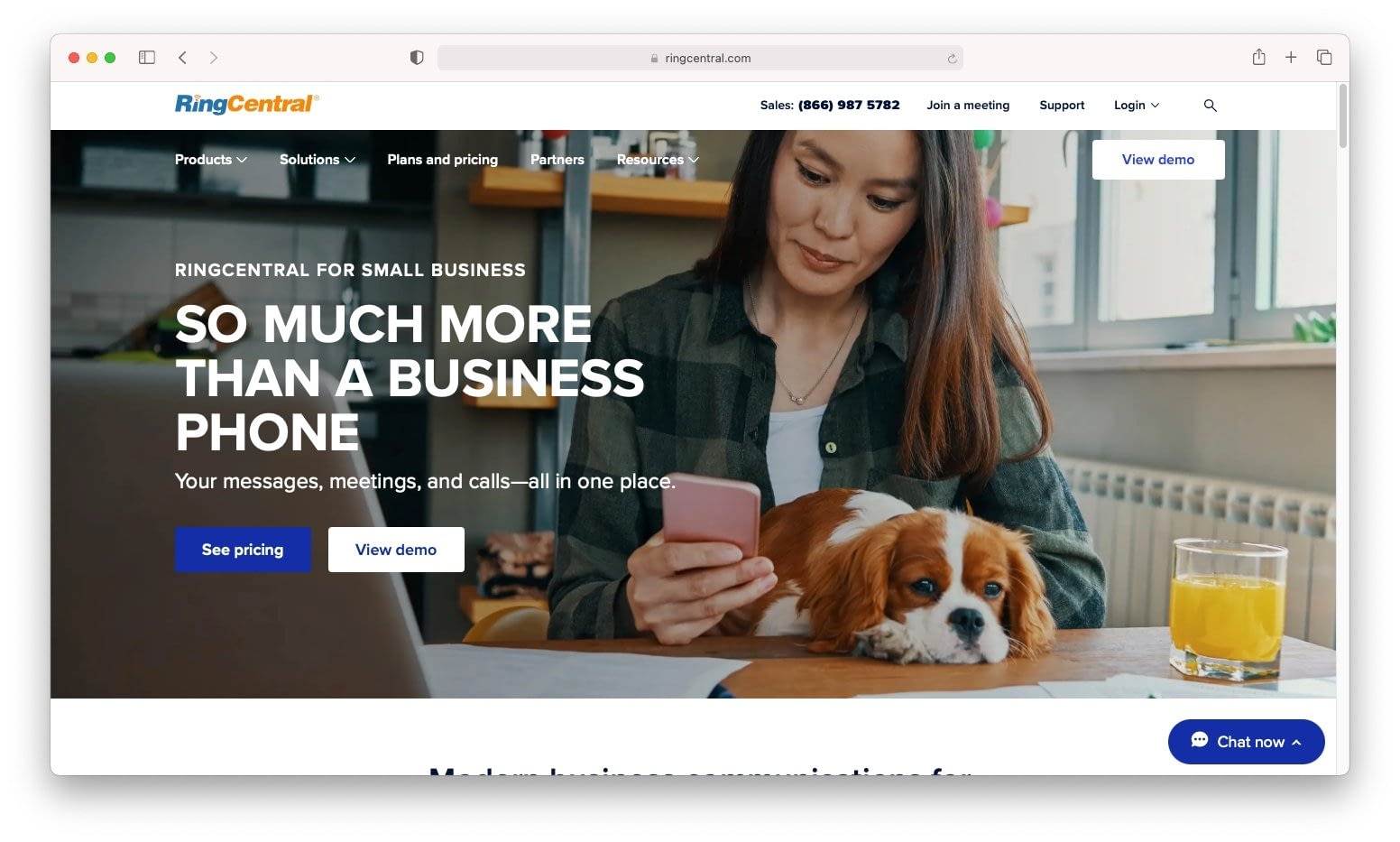 RingCentral is a robust business communications app built with teamwork in mind. The VoIP service comes with advanced call management features like answering rules, call screening, and call transfers.
RingCentral is more than a phone service, however. The base plan includes tools for team messaging and document sharing, simplifying internal communications. More advanced plans come with additional tools like video chat and an automated attendant.
You can add a vanity phone number to any RingCentral plan for a one-time fee of $30, paid upon activation. Note that while most RingCentral services can be set up in a few minutes, activating a vanity phone number can take a few days.
Features
The following features are available with the RingCentral Essentials plan:
Business phone or toll-free numbers for up to 20 users
100 toll-free minutes
Unlimited calling within the US and Canada
Unlimited SMS
Voicemail to text
Voicemail to email
Visual voicemail
Advanced call management
Team messaging
Document sharing
Mobile apps for Android and iOS
HD voice
Call logs
Phone rental options
Pricing: $19.99/month for the basic plan + a one-time fee of $30 for the vanity phone number. See full details and higher tier plans on the RingCentral pricing page.
2. UniTel Voice (www.unitelvoice.com)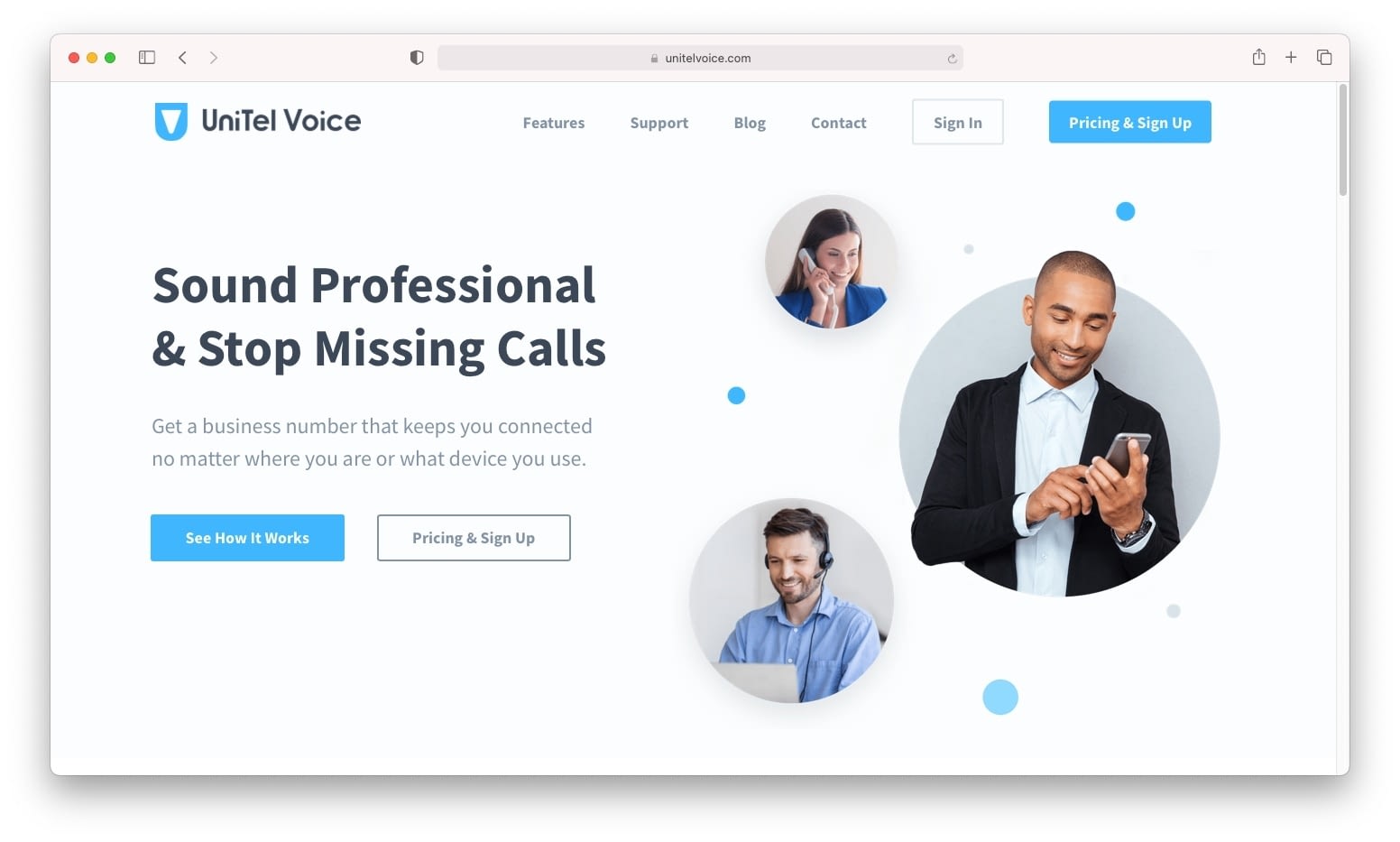 UniTel Voice is a browser-based VoIP service with complimentary iOS & Android apps. The program is easy to use and provides a variety of call management tools, such as call forwarding and voicemail to email.
What makes UniTel Voice stand out from other options is the access to voice talent. This is a network of creators who can be hired to record your custom greetings, including your after-hours greetings. The first recording is free with any UniTel Voice plan.
Another thing I like about UniTel Voice is the pricing structure. There are no feature restrictions based on plan. Instead, higher-tier plans offer more monthly minutes and allow for more users.
You can purchase a vanity number during the signup process by specifying "Custom Toll Free" as your number type. This costs a one-time setup fee of $15.
Features
The following features are available with the UniTel Voice Start-Up plan:
One phone number (can be toll-free or local)
500 monthly minutes
Up to three users
Virtual auto assistant
Hold music
Unlimited call handling
Department and employee extensions (number varies based on plan)
Call forwarding
Call scheduling
Voicemail to email
Call transferring
Custom greetings + after-hours greetings
Call log
iOS and Android apps
Pricing: The UniTel Voice Start Up plan is $9.99/month, with a one-time setup fee of $15 to use a vanity number. UniTel Voice also offers an Unlimited plan (unlimited minutes, unlimited users) for $29.99/month and an Office plan for $49.99/month. Check out the UniTel Voice pricing page for more details.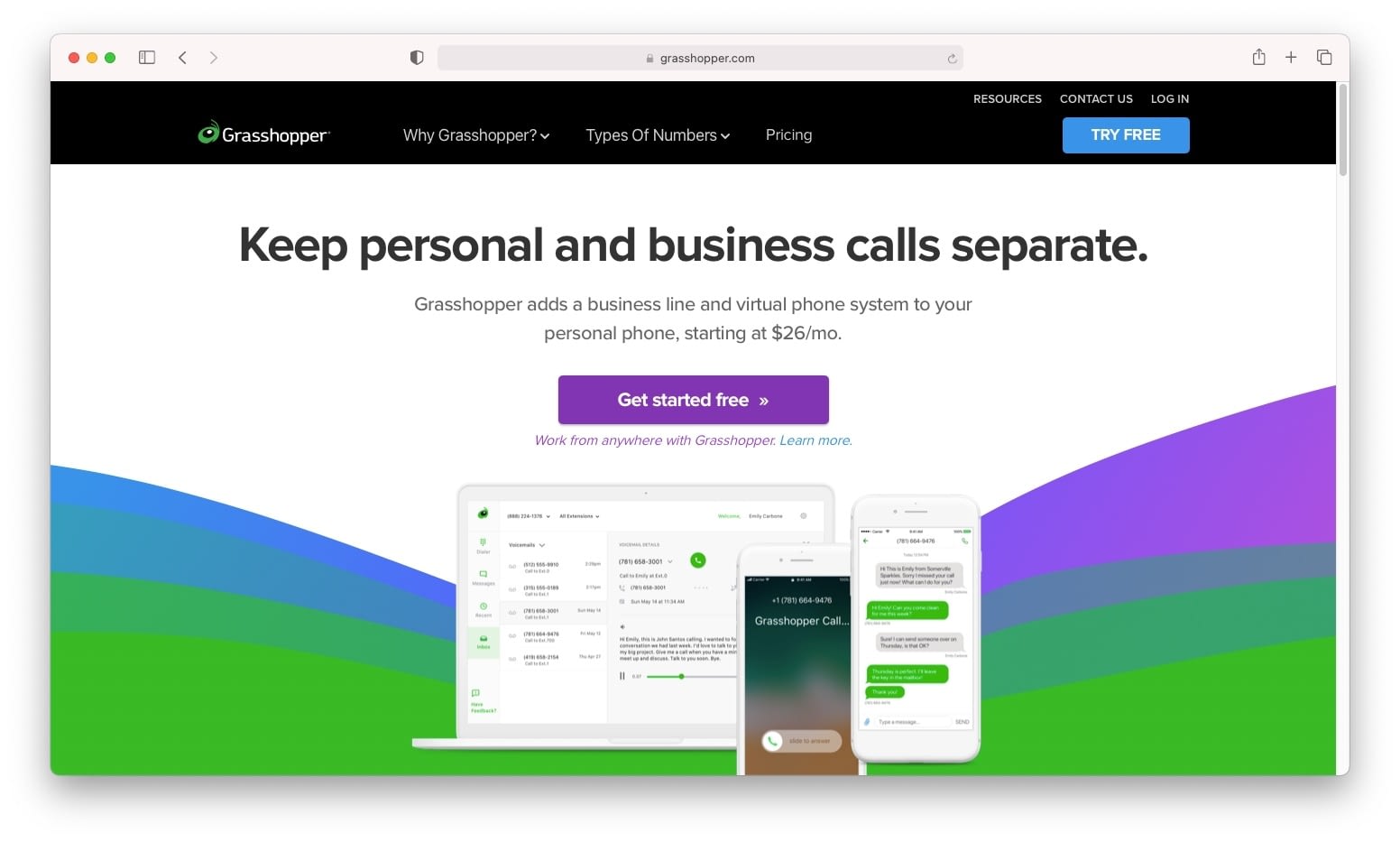 Grasshopper pitches itself as a VoIP tool for solopreneurs who want to separate their work line from their personal one. The app offers several advanced features for call management, including customizable call control protocols.
The major call management feature Grasshopper lacks is an auto attendant. Instead, Grasshopper users can access the Ruby virtual assistant service. This is a network of US-based receptionists who can answer calls, take messages, and forward important calls to you, available for extended business hours. This is purchased as a separate add-on.
On the other hand, choosing a vanity number is free with your Grasshopper plan, and all plans come with unlimited minutes. This can result in significant long-term savings if the phone is an important part of your business.
Features
The following features are available with Grasshopper:
Unlimited minutes
Business texting
Call forwarding
Virtual fax
Voicemail transcription
Incoming call control
Call transfers
Simultaneous call handling
Custom greetings
Detailed reporting
iOS and Android apps
Pricing: The Solo plan is available for $26/month, billed annually. They also offer a Partner plan for $44/month and a Small Business plan for $80/month. Find out more on the Grasshopper pricing page.
4. Phone.com (www.phone.com)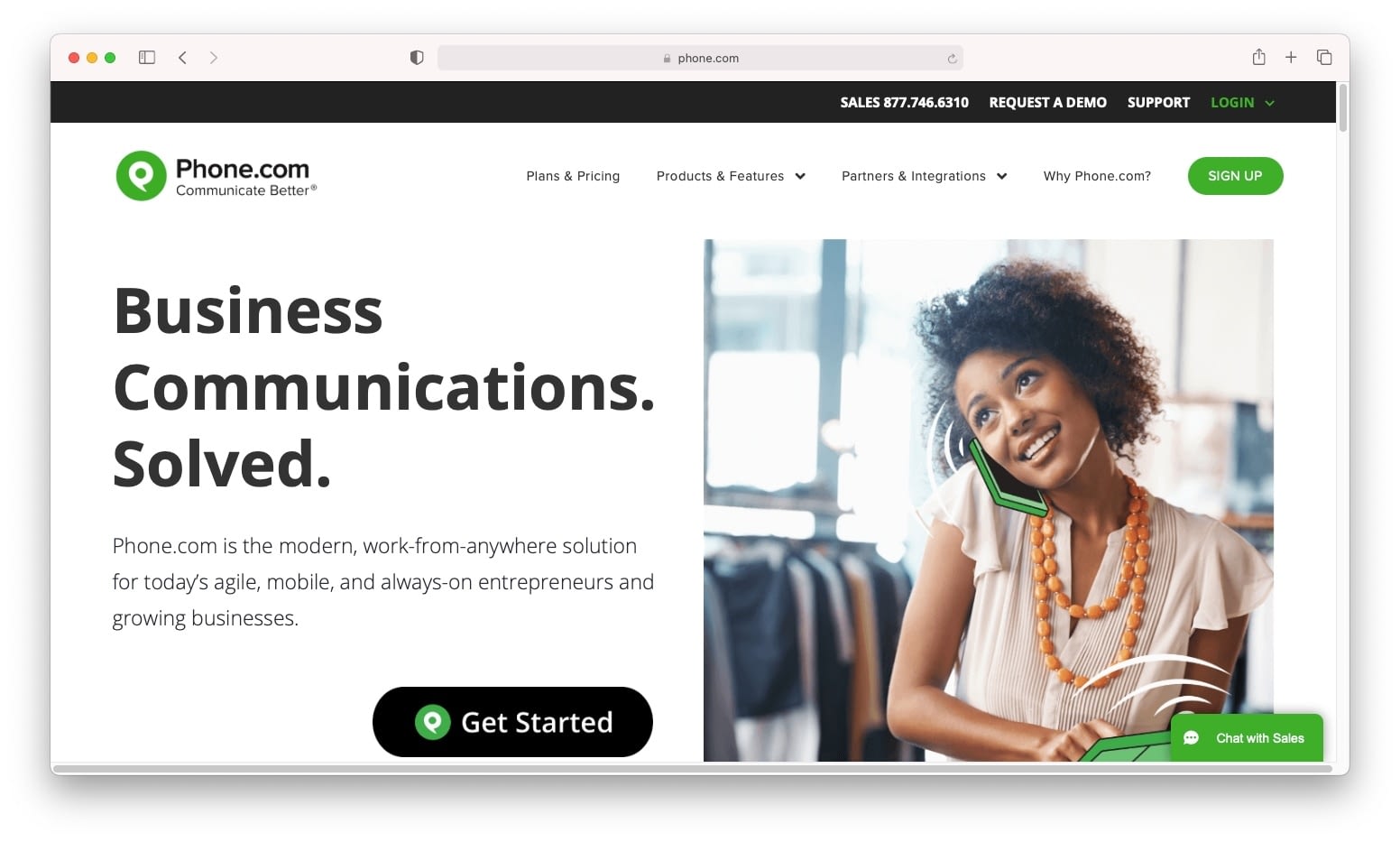 Phone.com provides a wide range of communication tools including audio calling and conferencing, video meetings, and business SMS. These tools are browser-based but can also be accessed through easy-to-use iOS and Android apps.
One great thing about Phone.com is the sheer number of additional services you can choose from. Some of the most notable add-ons are call recording, live receptionists, and international calling.
To buy a vanity number through Phone.com, choose "Custom Number" during the signup process. This will take you to a directory where you can search existing custom numbers. When you enter the word(s) and numbers you want to include, a list of relevant numbers will appear with prices beside them. Prices in the Phone.com marketplace range from under $100 to over $1,000.
Features
The following features are available on the Basic Users plan of Phone.com:
300 call minutes
Call routing
Call scheduling
Audio conferencing
Call queueing
Hold music
Click-to-call capacity
Dial-by-name directory
Business SMS
Video meetings with up to ten participants
Voicemail to email
Fax to email
Auto attendant
Unlimited extensions
Call logs
iOS and Android apps
Ability to connect with analog phones
Pricing: The Phone.com Basic Users plan is $10.99/month/user when purchased annually. Plus users can enjoy unlimited minutes for $15.99/month/user when purchased annually. There's also a Pro plan for $29.99/month/user. Learn more on the Phone.com pricing page.
Final thoughts on how to buy a vanity phone number
A vanity phone number is great for reinforcing your brand and making your customer service number memorable. They're also remarkably easy to set up: all you need to do is buy a vanity phone number add-on when signing up for a VoIP service. Some services, like Grasshopper, even include vanity phone numbers with their plans.
However, every VoIP service comes with different features. This means that the best option for you depends on your needs:
Are you going to buy a vanity phone number? Which is your preferred provider? We'd love to hear about it in the comments!
The post How to Buy a Vanity Phone Number for Your Website and Business appeared first on Revive Social.