If you're unaware of the power of LinkedIn articles, we're here to show you how effective they can be for building your network and bringing in lots of leads.
Some people write off LinkedIn as a place for job seekers, but it's so much more than that, especially when you begin engaging people with your own articles.
Knowing the difference between LinkedIn articles and posts
When you go to your LinkedIn page you may see a few places to add content. One of the most noticeable options is the LinkedIn post module.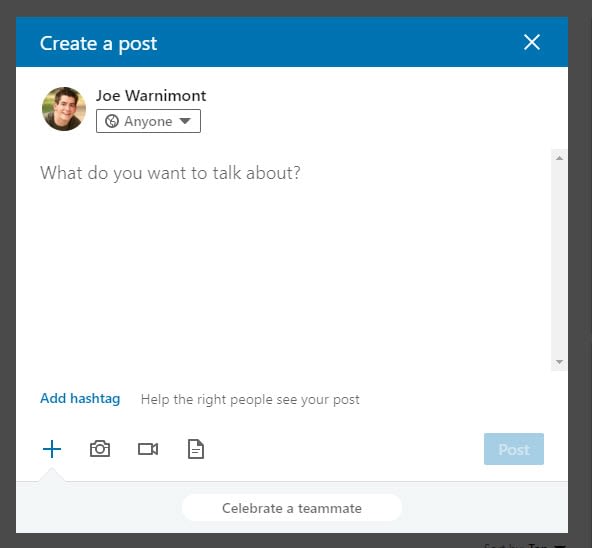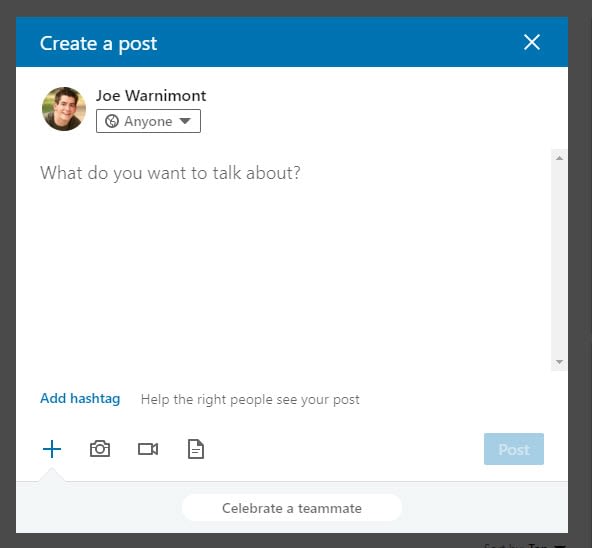 Although it's important to share posts on LinkedIn, these are not the same as LinkedIn articles.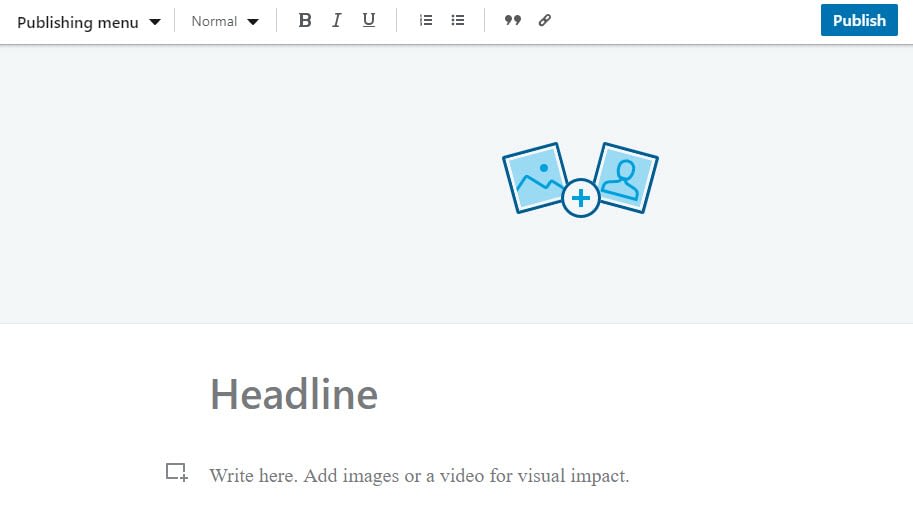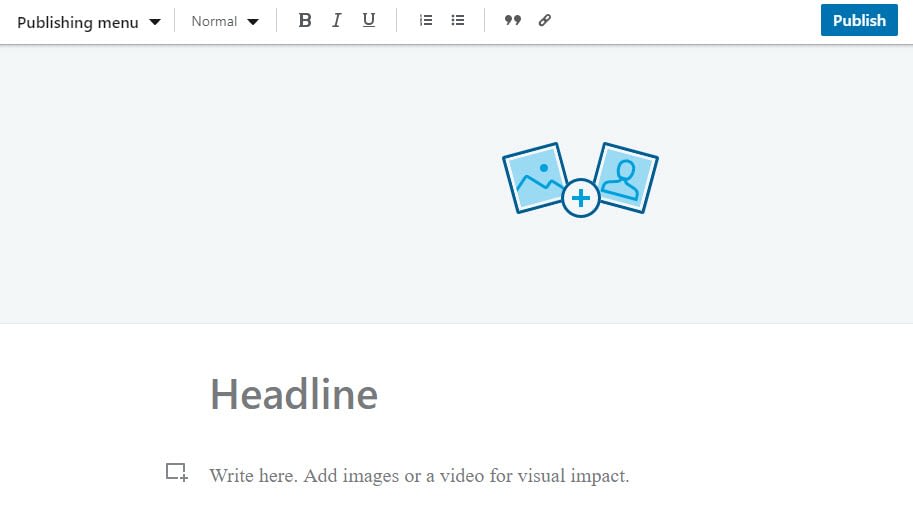 The length of the content, the way it's distributed, and other elements make them completely different. Therefore, all LinkedIn page owners should know those differences and why they matter.
Length
LinkedIn articles allow for up to 125,000 characters.
LinkedIn posts limit you to 1,300 characters.
Visibility
LinkedIn articles are shown towards the top of your profile, with recent posts highlighted, similar to a blog.
LinkedIn posts work more like Facebook, where they pop up on follower feeds but go away into the archives as time passes.
Content discovery and leads
LinkedIn articles show your byline and can be shared repeatedly to bring more interest to your page.
LinkedIn posts can be shared, but they don't have a byline and they don't have as long of a lifespan.
Why should you be making LinkedIn articles?
Writing an article for LinkedIn seems like a tedious task compared to short, quick posts. However, this type of longer-form content has many benefits for businesses and job seekers.
LinkedIn articles have longer lifespans than posts.
Article analytics are shown for up to two years, as opposed to post analytics, which last for two months.
You can reshare articles that you have posted in the past.
LinkedIn articles serve as blogs on an active platform, whereas building your own blog requires more audience building.
Articles that are written by you provide incredible value to connections and make you into an expert.
Each published article is shared with your LinkedIn connections.
All LinkedIn articles can be indexed on Google.
LinkedIn has excellent targeting tools, so you know that the people reading are actually interested in your content.
How to create LinkedIn articles
Both LinkedIn posts and articles are generated from the LinkedIn homepage.
Look towards the top of that page and click on the Write an Article link.


A new page opens up for you to write your article. This is similar to what you would see on WordPress.
Begin writing your article by creating a headline.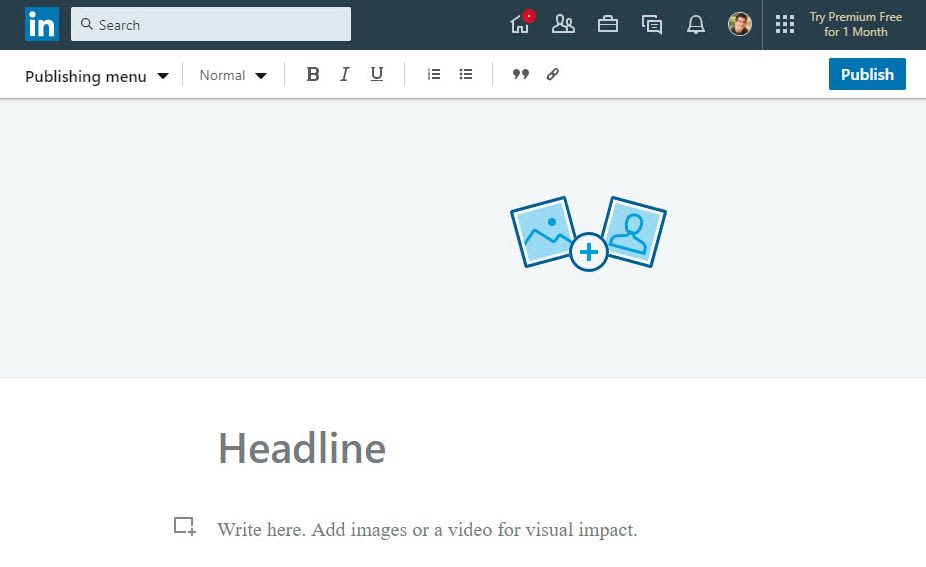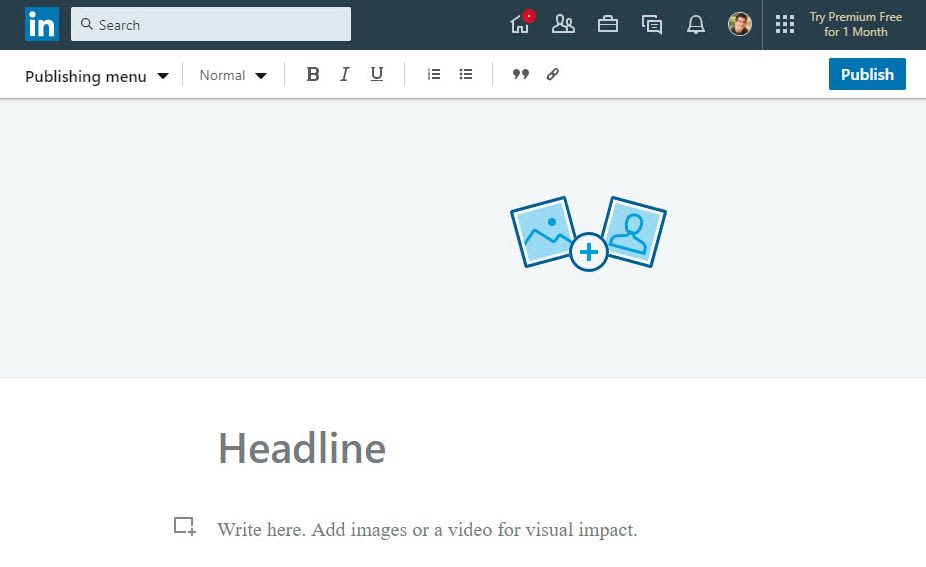 LinkedIn has a visual editor for making your articles. So, type in your title where it says "Title," and begin writing where it says "Write here."
After that, you have options for inserting images, videos, slides, links, and snippets.
As you can see, I added a title, text, and image. The rest of the content options remain at the bottom of the post for you to quickly add new items.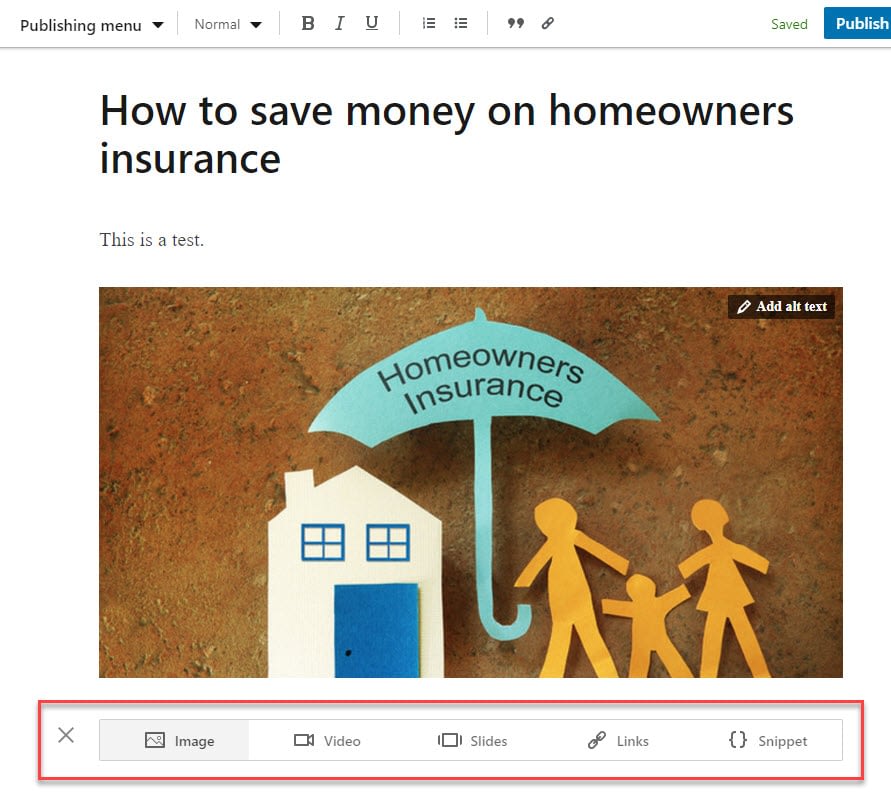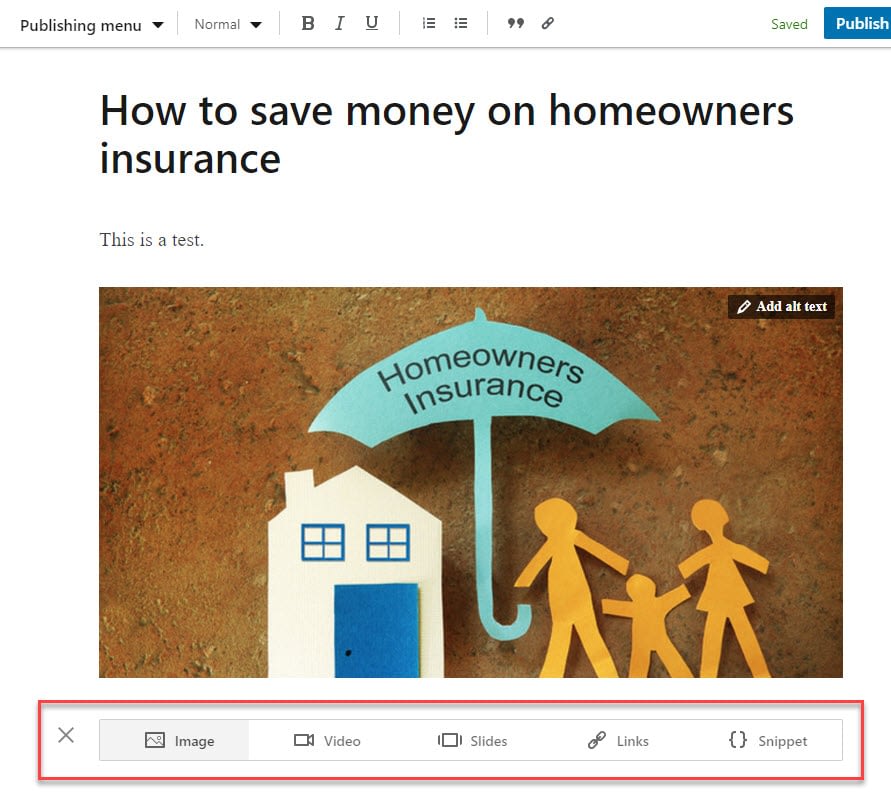 Adjust formatting towards the top of the page, using tools for headings, bullet points, and more.


Each media type has its own customization features. For instance, clicking on an image reveals an area to add alt text and modify the size of that image. It's an intuitive interface that's actually easier to use than many blogging platforms.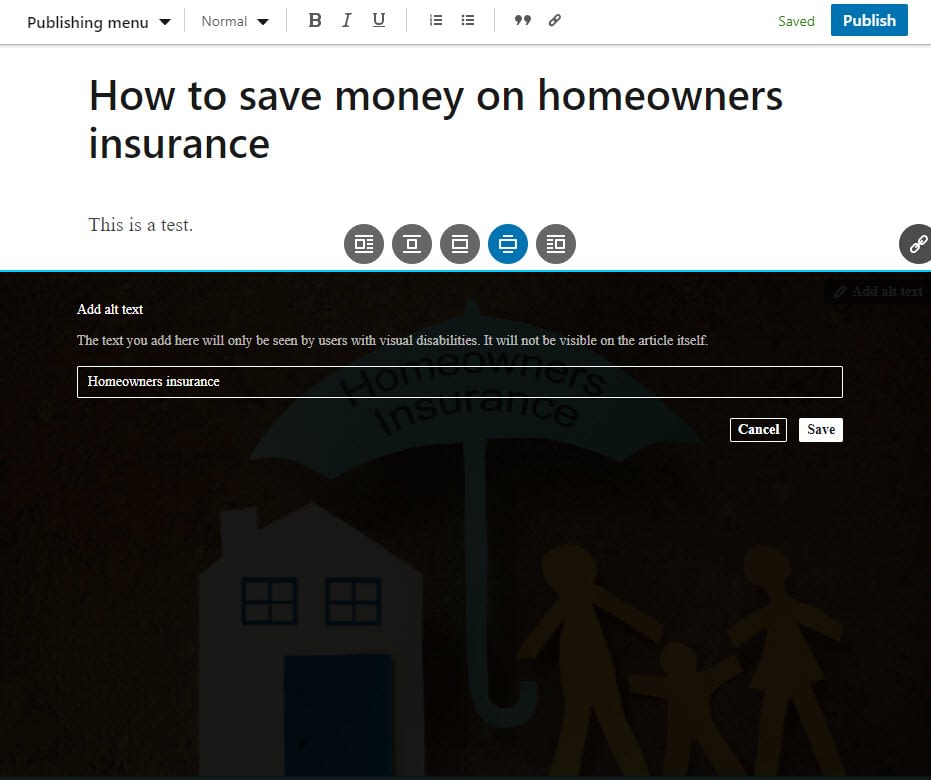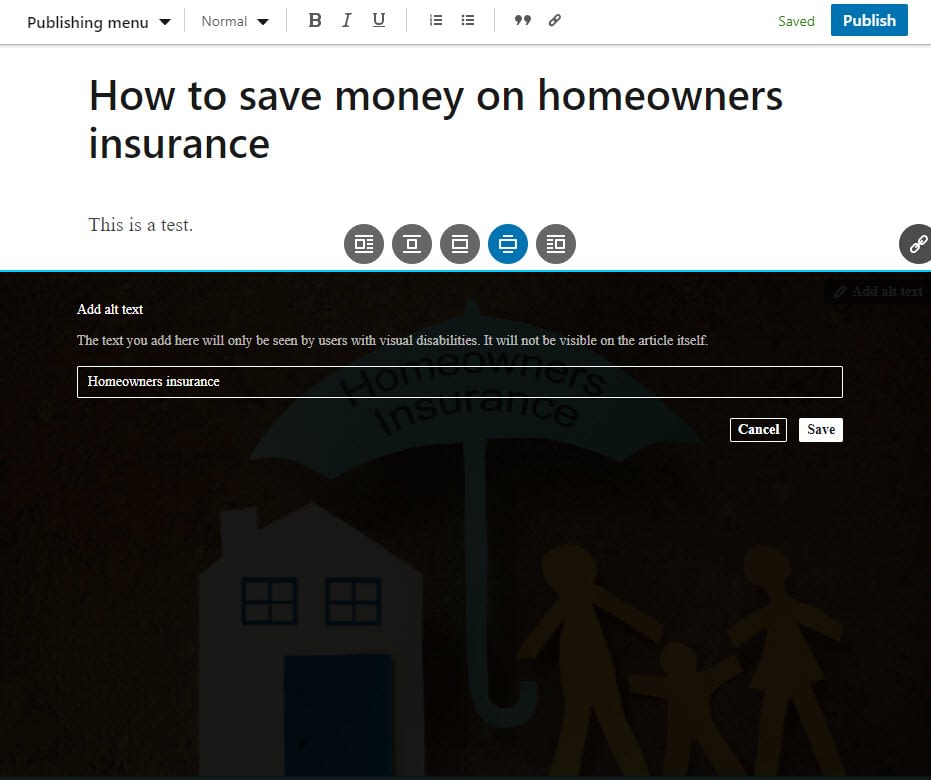 From blockquotes to links, and italics to custom code, most of the essentials for blogging are included when you create LinkedIn articles.
After the article is completed, click on the Publish button to share it with your connections.
All drafts are automatically saved, so if you'd like to hold off on publishing, go to the menu on the left to see all of your drafts and published articles.


Important
Keep in mind that you can't publish an article directly to a LinkedIn business page. This is reserved for personal profiles. However, it only takes a few moments to publish an article on your personal page, then share it on your business profile. With this technique, you can also connect with both business and personal contacts.
Elements that make people share LinkedIn articles
Here's where the meat of your content is really going to shine. Having a plan before you write your articles is a sure-fire way to minimize any frustration that typically comes with distributing content online.
It helps to have connections already, but the true reason people share articles on LinkedIn is because of attention-grabbing elements.
Consistency
The first step is to develop a publishing calendar for your LinkedIn articles. This way, you publish on a regular basis to remind people to check out your page.
This is no different from a blog or social media account. People are busy. It's easy for them to forget about you as a resource. That's why having a consistent publishing schedule is so important. That way, followers look forward to what you have to say every day or week or month.
Gary Vaynerchuk shares original articles on a regular basis, all of which cater to the people he connects with.
Because of this regular schedule, he gets the same VIP connections making comments and continuing conversations from previous articles. He's developed a community around all of his articles.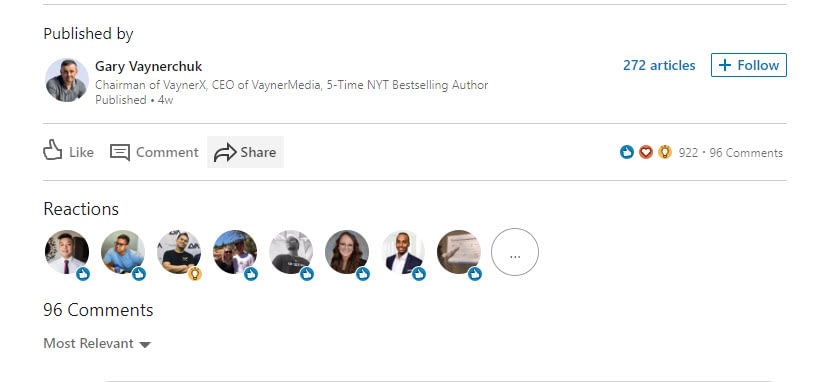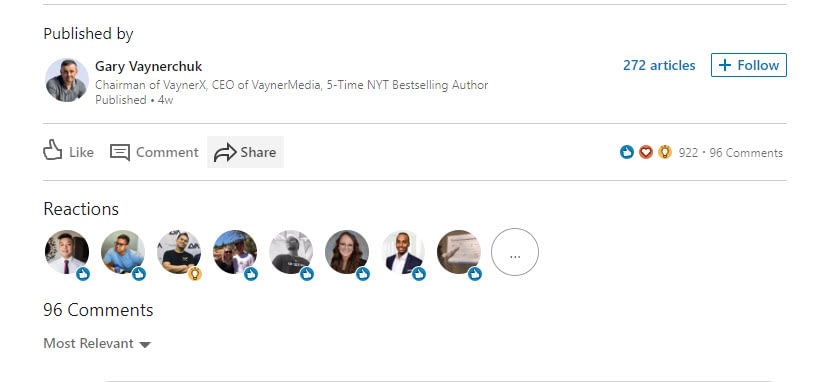 Use visuals throughout your articles
Using Gary Vaynerchuk as another example, he does an excellent job of utilizing visuals for all articles.
This starts with the featured image and extends into the article itself. Take the following post, for example. He uses large text over an image to add some visuals while also explaining something about his article. This could be a quote, question, or call-to-action.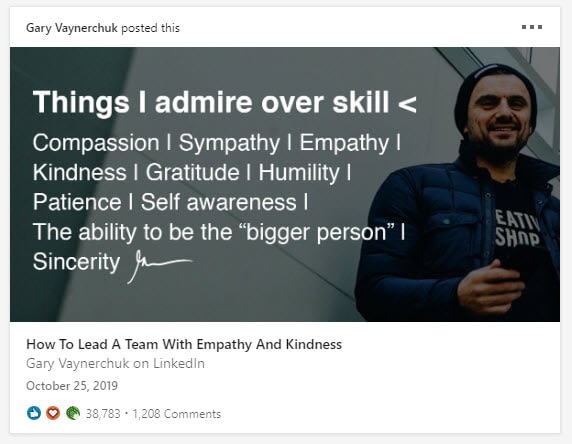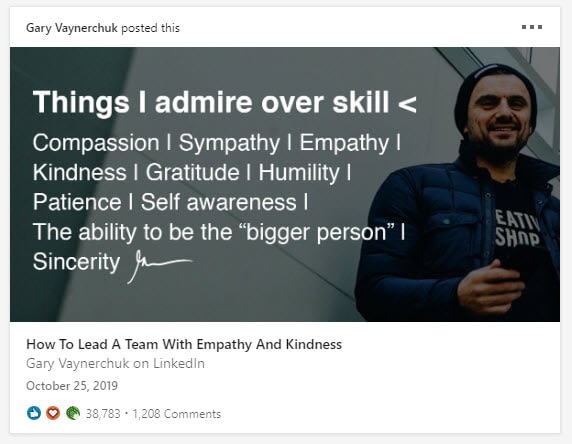 He then adds images throughout his article, with only one or two short paragraphs between each of the media items. This not only gives you a way to visualize data, but it breaks up your text to make the article easier to read.
A killer topic
Ask yourself two questions prior to starting an article:
Is this topic relevant to my network?
Does it solve a problem that my connections are having?
We recommend going through connections who also post articles in your industry. Are any of them successful? What types of posts are they sharing?
An excellent example of this is Bill Gates.
He made his fortune in computers and technology, but none of his articles focus on that.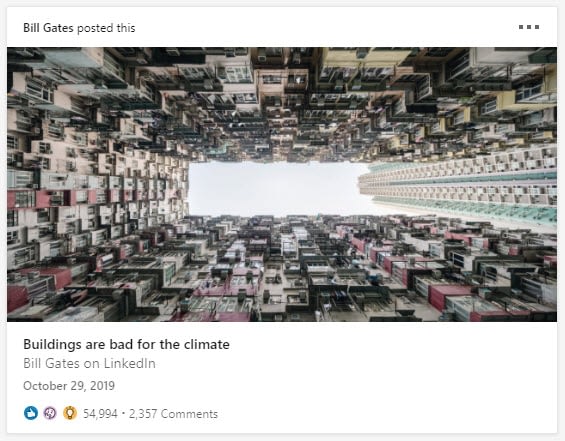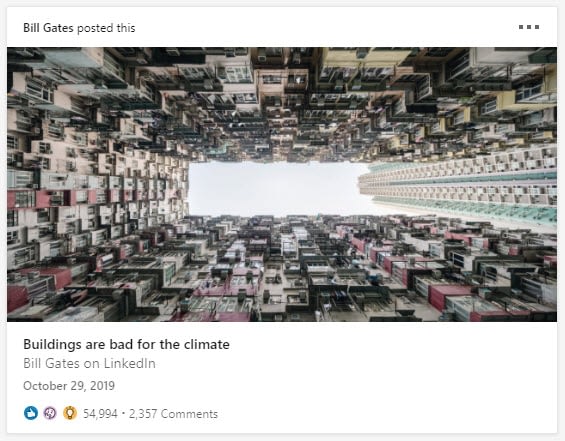 Why? Because he now runs the Bill and Melinda Gates Foundation. People who connect with him on LinkedIn are interested in solving problems about global warming, degenerative diseases, and many other topics that you would expect to see from philanthropists.
Of course, Bill Gates is on a different level when it comes to celebrity status, so don't compare your own share counts to his. Instead, take a look at how he mainly writes articles about the causes being tackled by his foundation.
Short, simple text
Neil Patel is yet another digital marketing expert who utilizes LinkedIn articles on a regular basis.
His content ranges from content marketing advice to lead nurturing.
Neil Patel is a master at formatting articles so that the paragraphs are short and informative. He also takes advantage of bullet points and lots of images.
This works because he understands that content on LinkedIn is meant for busy professionals who want quick bits of knowledge. And that's how you should approach LinkedIn articles!
Looking at one of Neil Patel's more popular articles, we see that he immediately grabs attention with an intriguing tagline. The first line is made into a header and there's not much in terms of text before we see the first image. This delivers information to connections within seconds of opening the article, instead of trying to make an introduction that's filled with fluff.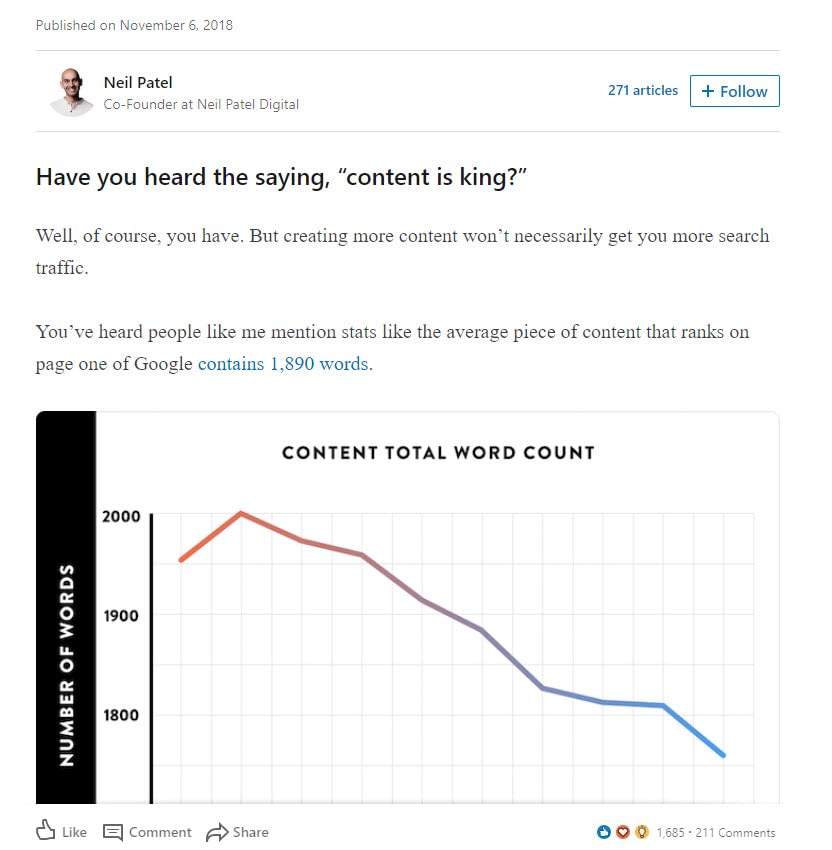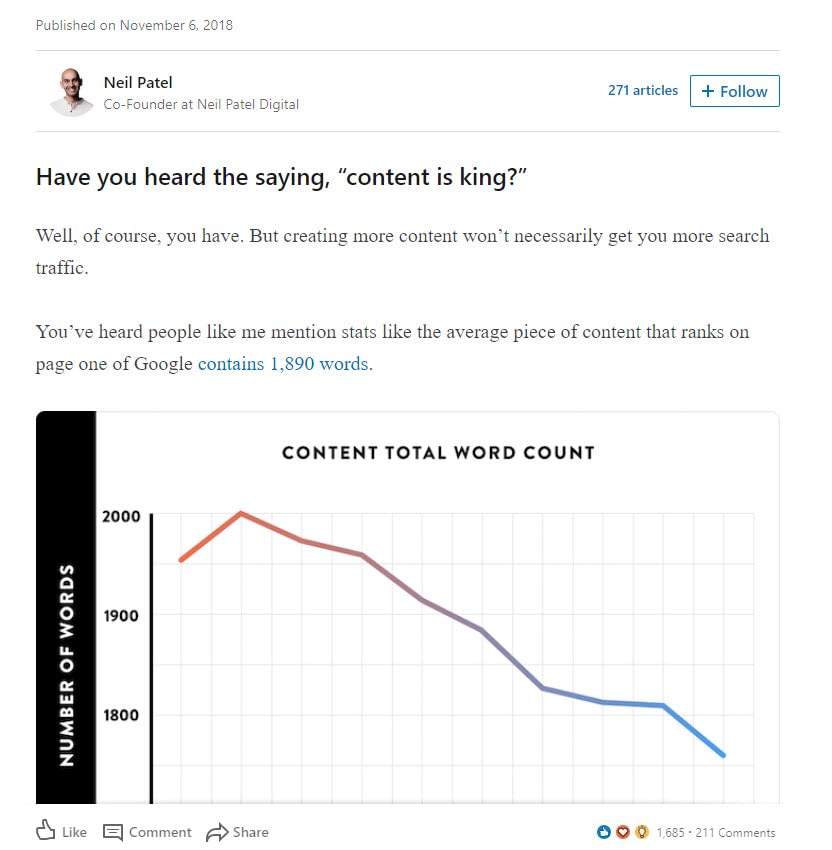 Most of this article has one or two small paragraphs, then an image to break up the text.
Yet, even when he gets longwinded, it seems to work out. Why is this the case?
It's because he formats the heck out of his text for easy reading.
The following screenshot is one of the longer chunks of text in this article. In it, we see blockquotes, headers, italicized items, and several links to other resources.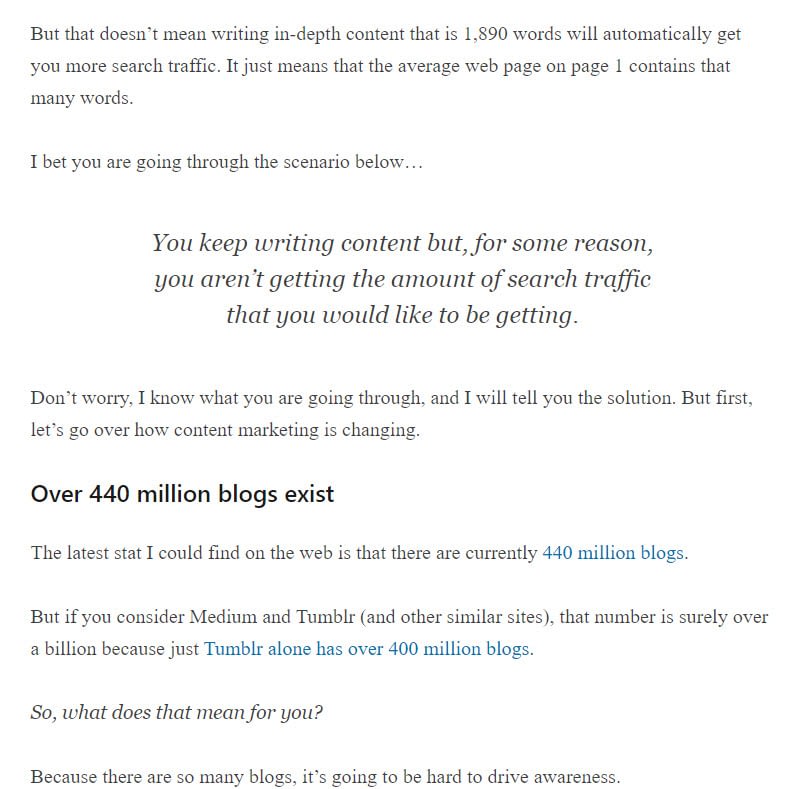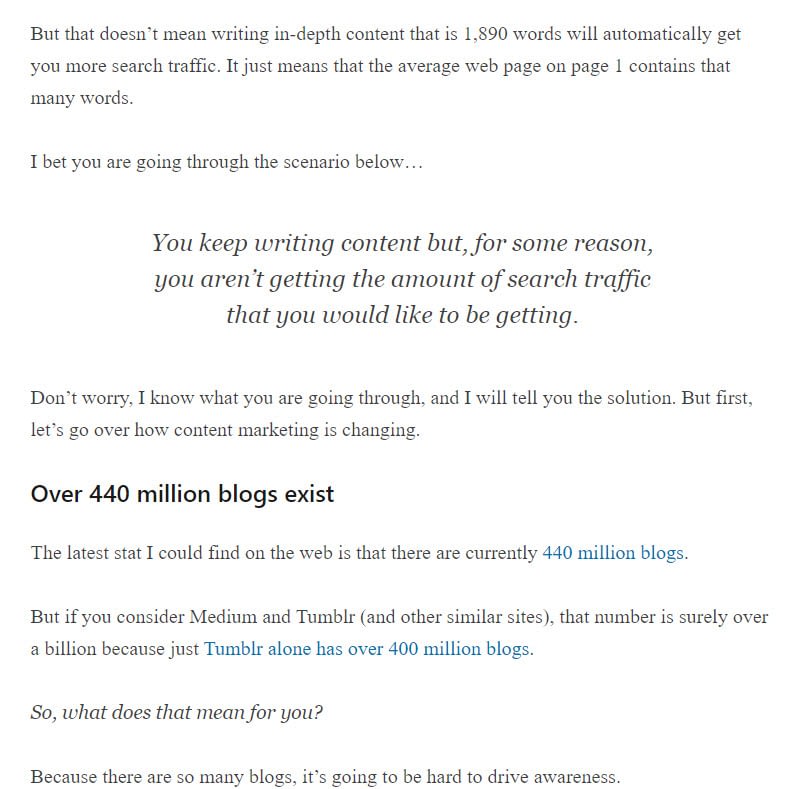 Focusing on influence, not numbers
Sramana Mitra is the CEO of an online incubator. She creates and shares many articles covering IPOs, business acquisitions, and more.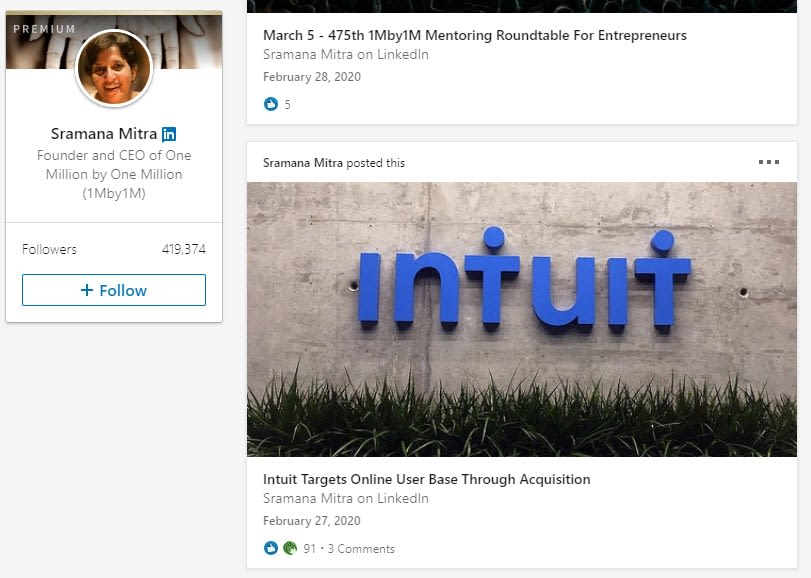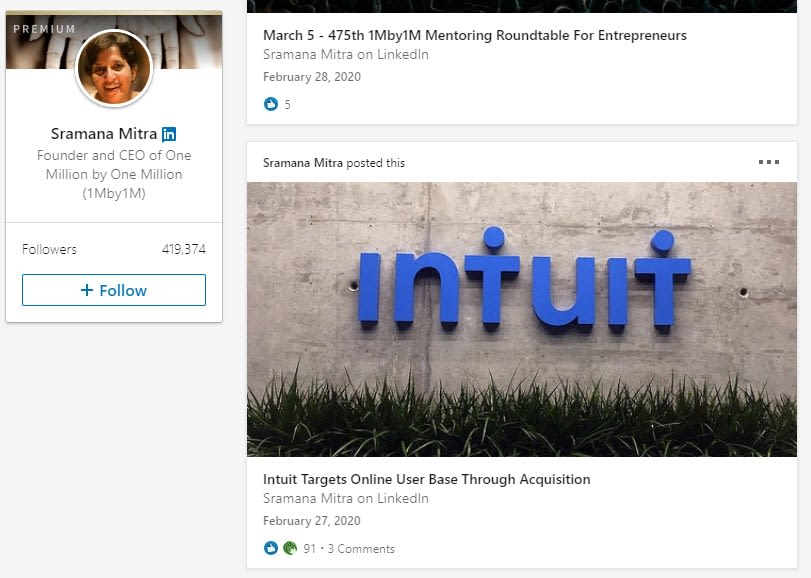 She's considered an influential expert in this space, even though you won't see nearly as many likes and shares compared to other people we've covered in this article.
She's a good example of how it doesn't matter how many followers or connections you have on LinkedIn. Those are just useless numbers. The real question is whether or not you have an impact on your network.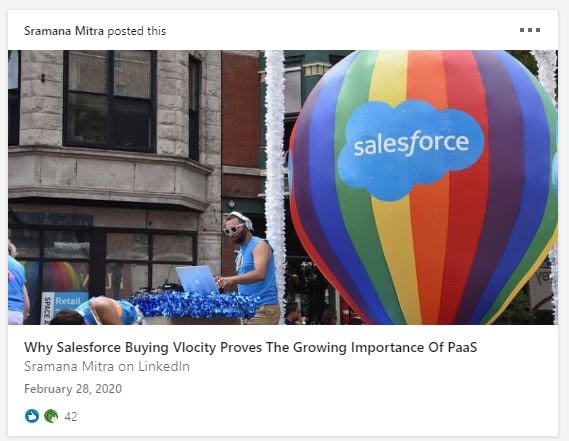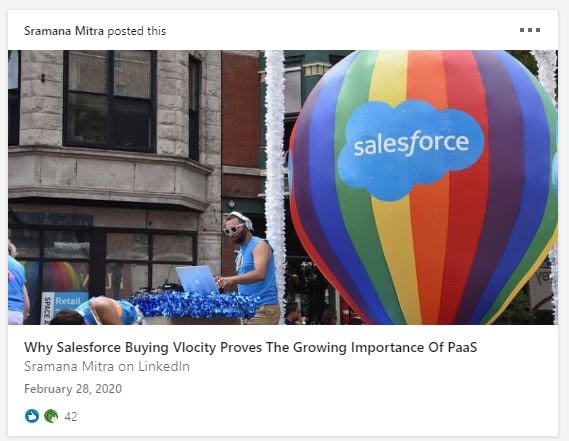 Keep in mind that your network includes more than your followers and connections. People who are 2nd or 3rd-degree connections can also see your articles.
Post your own articles, as opposed to sharing other people's content
You may wonder whether it's a good idea to repost articles you've found from other experts.
It's definitely not a bad idea, but you're bound to turn yourself into an expert quicker if you create completely original content.
Mina Radhakrishnan is the co-founder of a property management brand called :Different.
She shares posts and articles on LinkedIn, both of which are effective for establishing her brand and building community. However, the articles receive far more engagement than posts.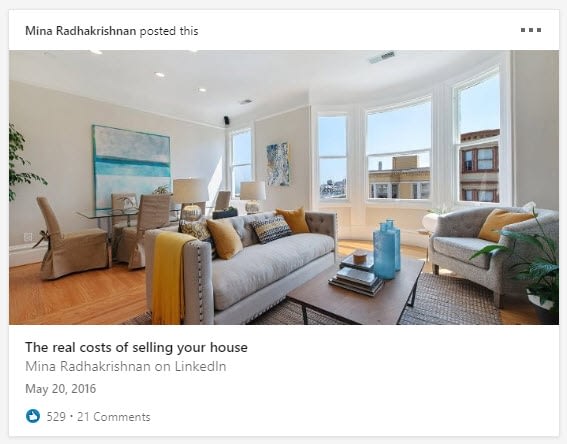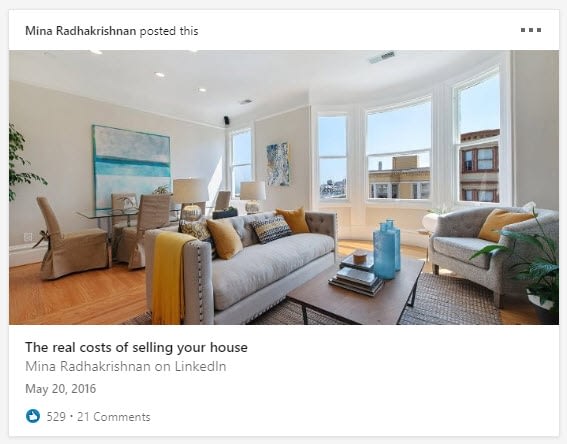 Hundreds of likes and comments roll in when she shares an original article about real estate.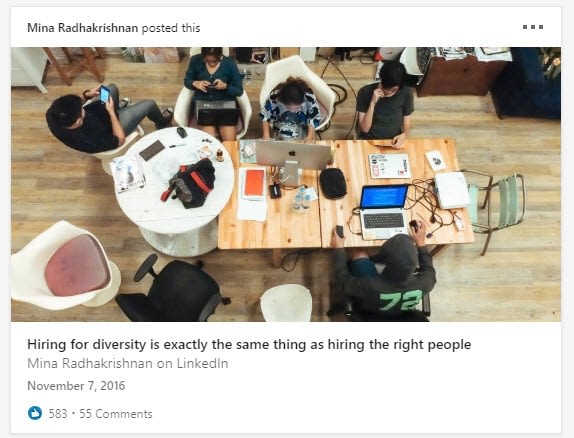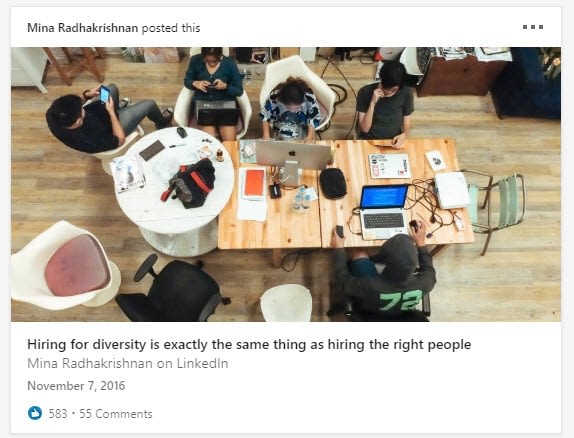 The posts, on the other hand, aren't bad, but it's clear that they aren't original.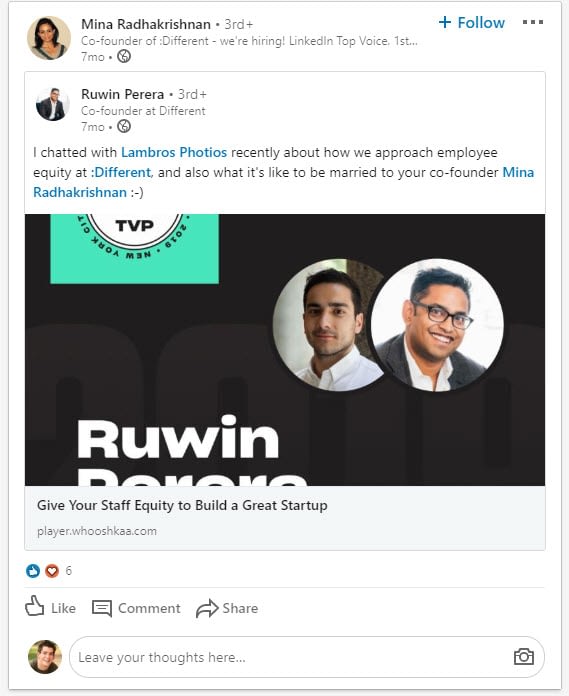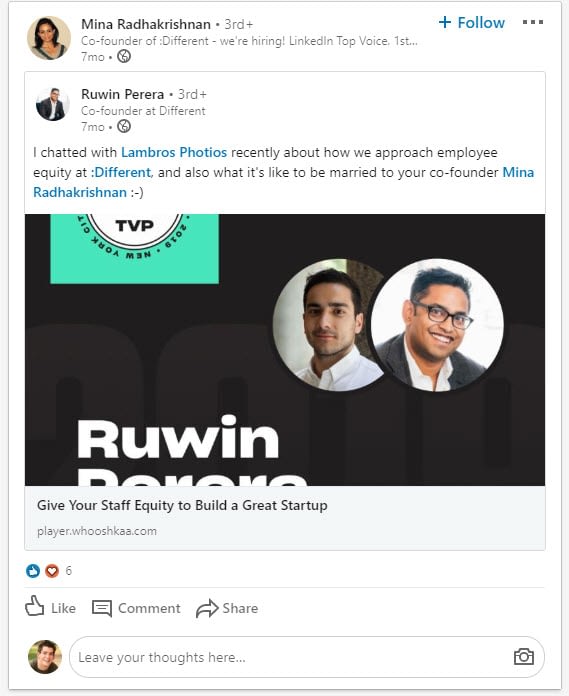 Many people start noticing this when posting on LinkedIn. Scheduling recycled content seems like a more efficient use of time while still getting posts out there. However, that extra time spent on an original article is often worth it.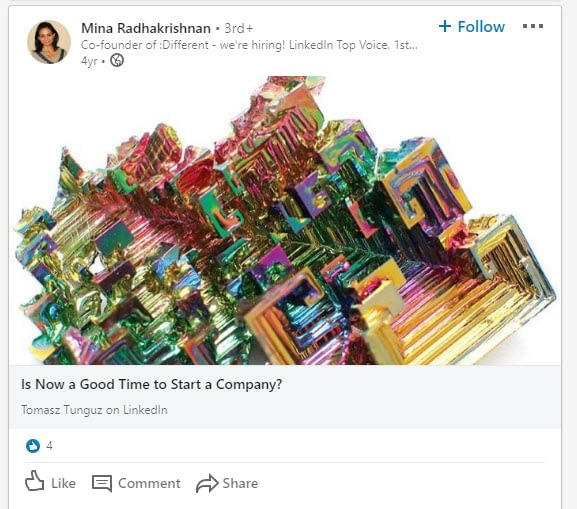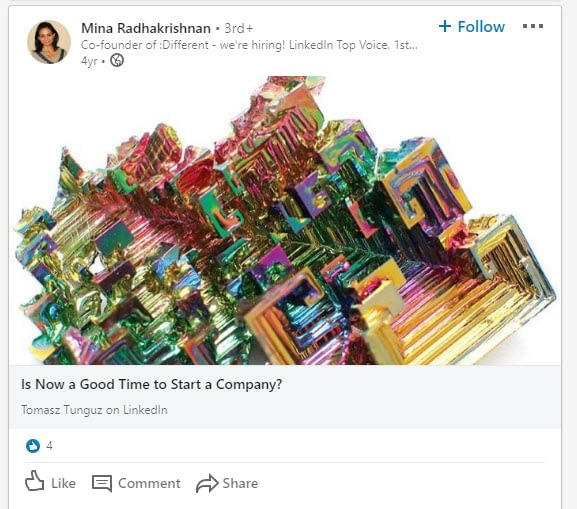 Spreading the word about LinkedIn articles
You've landed on a compelling topic, created your article, and included some media items to engage readers. What's next?
Luckily, LinkedIn does much of the "marketing" for you, seeing as how it notifies all connections when an article is published.
Make your profile and articles public
This may already be activated on your account, but it's worth checking to make sure your articles are getting the most exposure possible.
Click on your profile image and find the Settings and Privacy button. Click on that.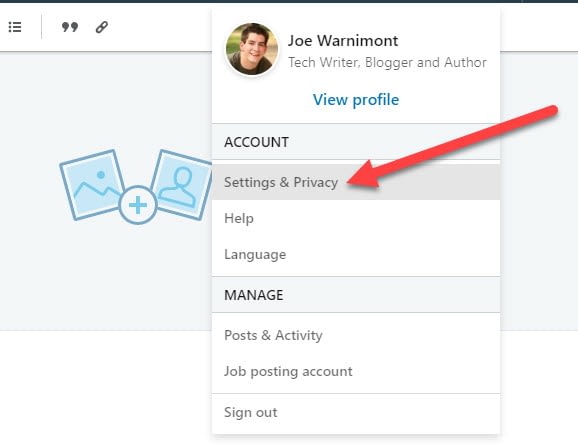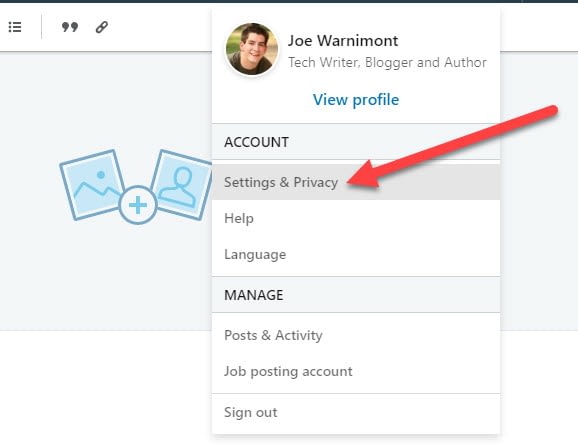 A few options are available for you to customize what is shown to the public. However, the most important one is the Edit Your Public Profile link.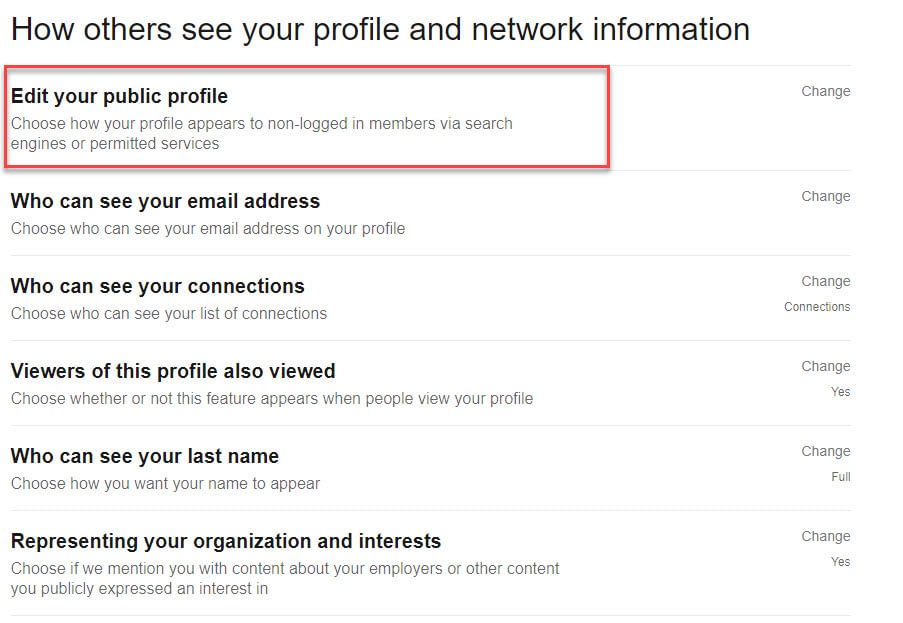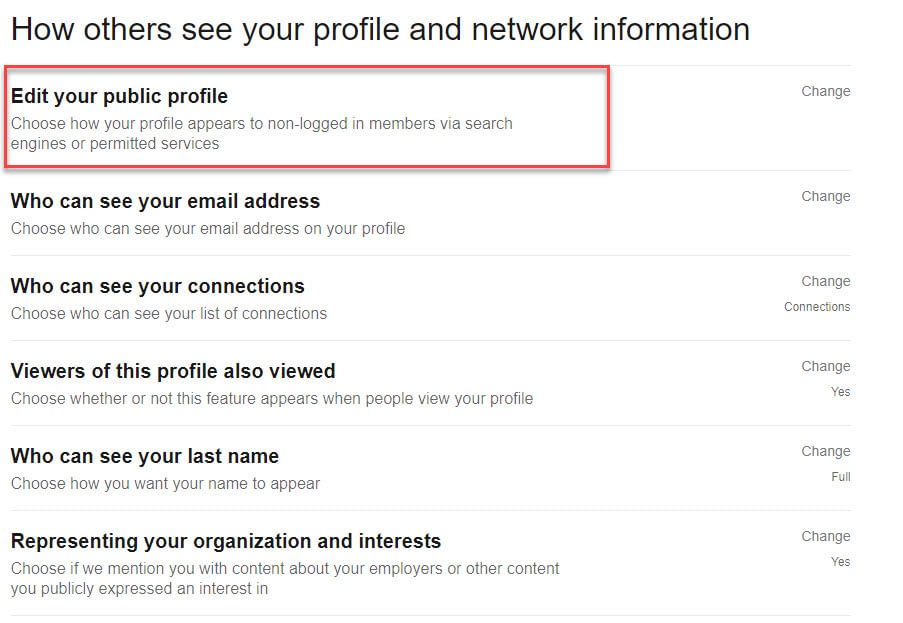 Set your profile's visibility to "On." It's also a good idea to show all of the other elements of your profile, from your profile photo to past experience.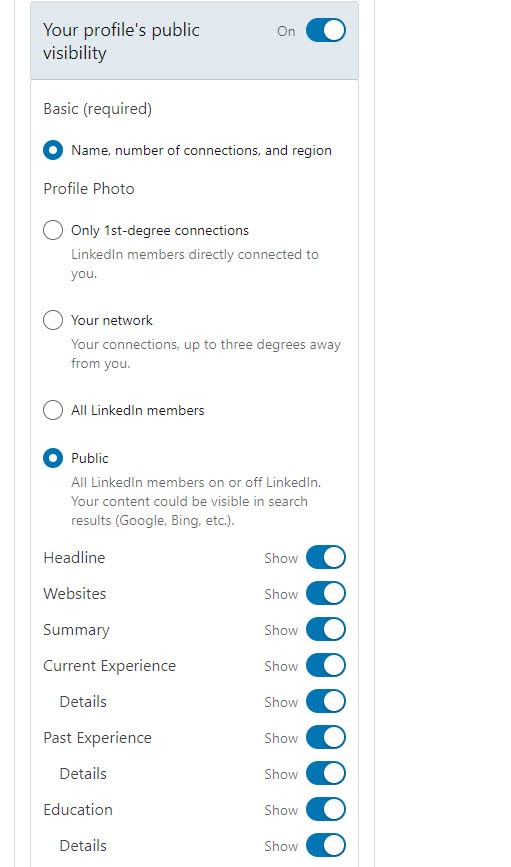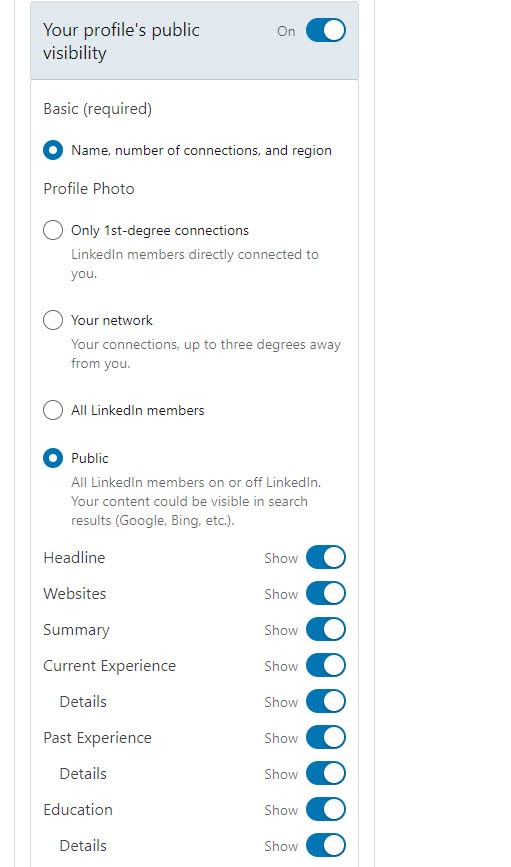 Sharing your article
Tools are provided for sharing your own post to other platforms.
For instance, you may want to post a new article on Facebook or Twitter.
In order to distribute your article more, go to the bottom of the published article to find all sharing buttons.
Click on the Share button to reveal a list of options.
One of them is for copying the link, and you have two other ones for sharing directly to Facebook and Twitter.
In addition, we like the idea of sharing in a new post or sending in a message.
A new post would be useful if you plan on referencing something you've talked about in the past. You can also link to other LinkedIn articles in your new posts. Finally, the "Send in Message" feature proves useful for directly sharing your articles with people who you absolutely know will enjoy them.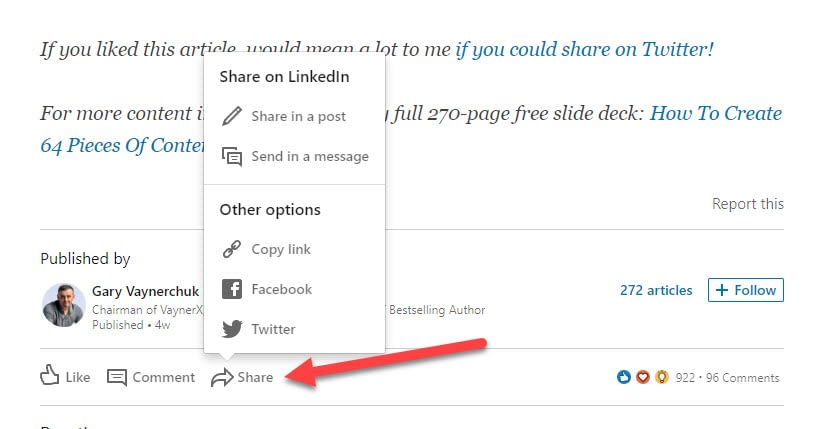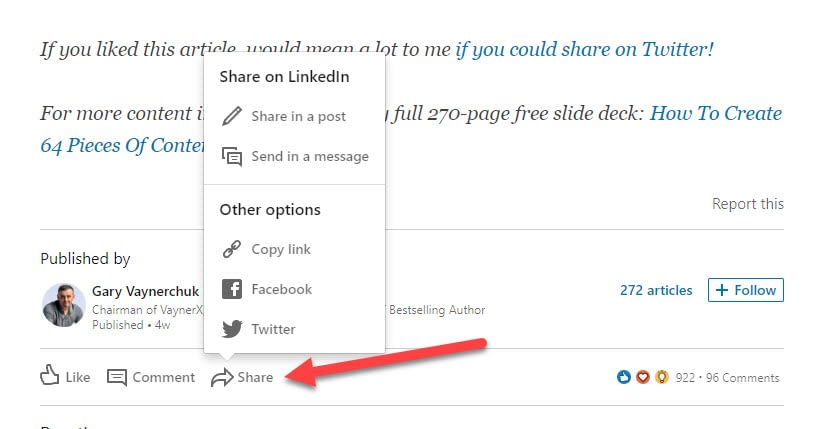 Take advantage of the connections made through articles
All LinkedIn articles have potential if you solve problems for the right people. Complete some tests and see what people are interested in. And don't get discouraged if your numbers aren't that high!
What has your experience been with writing and sharing LinkedIn articles? Let us know all about it in the comments section below!
The post How to Create Killer LinkedIn Articles to Get More Leads appeared first on Revive Social.