If you're already publishing on a WordPress blog, you probably know that winning traffic is not a walk in the park. Even after developing high-quality content, attracting the attention of your target audience can be quite challenging. Fortunately, blogging on Medium in addition to your own site can help you overcome this hurdle.
With over 100 million monthly active readers [1], Medium presents a large audience that you can easily tap into using the right strategy. The platform also boasts a domain authority of 95. This means that if you play your cards right, you can attract more organic traffic as well.
In this article, we'll first consider why blogging on Medium is an ideal way to grow a vibrant audience for your website. We'll then share seven tips you can use to achieve significant success on the platform. Let's get to it!
Why you might want to consider blogging on Medium to grow your audience
Before we dive into our tips for blogging on Medium, let's look at what makes this platform such a powerful tool for growth. First, it's a fantastic channel for driving organic traffic. Over 60 percent of its visitors [2] find it via search results.
Additionally, Medium's algorithm prioritizes quality and is aimed at helping you reach new audiences. Due to its social sharing features, built-in comments sections, and the ability to 'clap for' posts, the platform is fantastic for increasing engagement.
Plus, since it's well known and highly regarded, blogging on Medium can build credibility for your brand. Of course, none of this does much good if your target audience isn't on the platform. Here are some of the niches that do well on Medium:
Personal growth and development
Productivity
Writing
Marketing
Tech culture
Startups and entrepreneurship
There are many more, of course, but these tend to be the topics that attract the most attention.
Seven tactics for using Medium to grow your audience
Medium isn't just another blogging platform, or a social media site you can automate. It requires a thoughtful strategy if you want to be effective. These seven tactics should help you hit the ground running.
1. Use analytics to learn more about your audience
The first and most important step in engaging and growing an audience is knowing who that audience is. With this information, you can shape your content to your readers, making it more likely that they'll click on and share it.
Tools such as Google Analytics can provide a lot of information about who's visiting your website, reading your content, and purchasing your products. Most social media platforms also provide detailed analytics tools to help you learn about your followers, including Facebook Analytics and Twitter Analytics.
You can start by spending some time looking at who's visiting your site, and compile that data. Here are some key demographics to watch for:
Age
Gender
Annual income
Education level
Geographic location
With this information, you can start to build a general persona for the types of readers engaging with your content. It's also smart to do some searching for your brand on Google and various social channels, to get an idea of what people are saying about you.
The purpose of all of this research is to make sure you're writing for the people who are actually reading your content. Most of us have at least a general idea of who we want our audience to be, but sometimes who we think we're writing for and who's actually on the other end are very different. You'll see much higher growth and engagement metrics if you can match the two.
2. Prioritize the quality of your articles
Medium is not the place for throwaway articles designed to check off Search Engine Optimization (SEO) boxes. Readers want content that provides a return on their time investment. In fact, the Medium staff has gone on record as saying that people use the platform to "find worthwhile ideas they can apply in their lives".
That's a pretty clear statement, and it underscores the importance of substance and quality when blogging on Medium. To be successful, your content must provide value to your readers.
To make sure it's doing just that, consider using a content checklist or – even better – a full-blown style guide. This ensures that you're consistently creating articles to the same standards. If you have multiple writers on your team, a style guide also keeps everyone on the same page.
This is also an area where understanding your audience comes in handy. If you're familiar with who you're writing to, you can more easily produce content they'll find valuable, by addressing their known pain points.
3. Incorporate powerful images for better readability and engagement
Visuals are vital. Although Medium is a platform based on the written word, incorporating powerful and relevant images is still important for driving engagement.
Images also help break up the text, improving readability. Like many other platforms, the majority of Medium users are on mobile devices, and mobile users tend to have very specific reading habits. In particular, they don't appreciate long, unbroken walls of text.
Additionally, having an image at the top of your article ensures that it appears in previews when users are browsing the site:

A compelling image here can be the difference between a user clicking on your article or scrolling past it.
4. Participate actively in the Medium community
Medium isn't just a feed of articles – it's an online community. This means that active participation is important for success.
Medium is as much a social media platform as it is an online publication, and it offers a variety of ways to interact and engage with others, such as:
'Clapping for' posts, which is Medium's equivalent of 'liking' content
Leaving high-quality comments on articles you enjoyed reading
'Highlighting' particularly resonant quotes, which will be visible to followers who read the same posts
At the end of the day, all this works just like with many other social media platforms. In other words, it's crucial to take time to read the work of other Medium publishers and interact with their content. It's also important to respond to any comments you receive, and engage in conversation with your readers.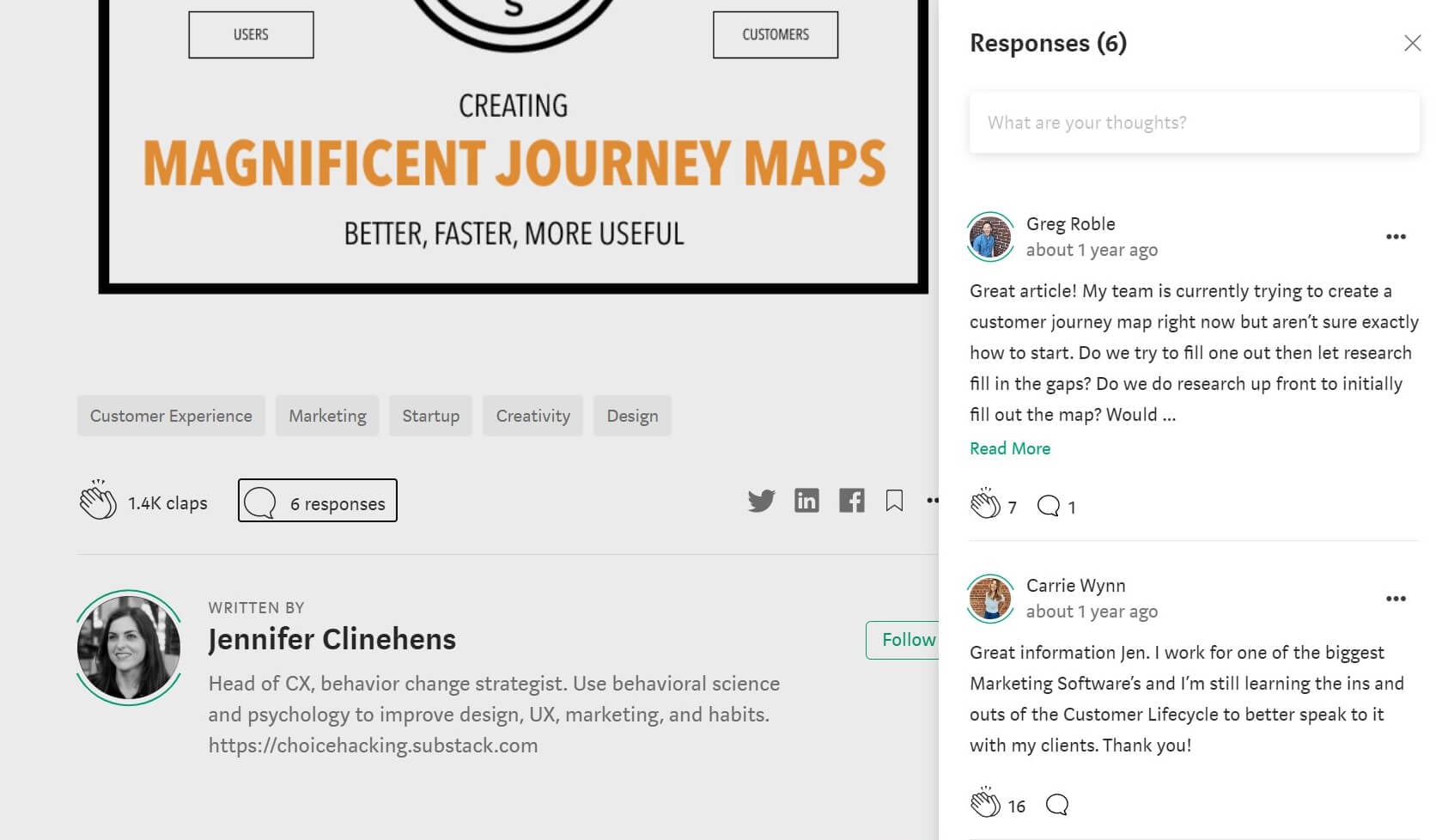 Doing this lets your readers know that there's a human being behind your articles who's interested in what they have to say. Plus, engaging with other authors can help get your content in front of their audiences, which can significantly expand your reach.
5. Submit content to popular Medium publications
While you can just publish your content to your own profile and be done, that makes it much harder to attract the attention of readers. Only people who already follow you will receive notifications about new pieces.
However, there are a number of publications on Medium that round up content and send it out to their subscribers. Some of these outlets have well over one hundred thousand subscribers. If the publication features your article, every one of them will see it and have a chance to read it.
Consider The Mission, for example. It's one of Medium's most popular publishers: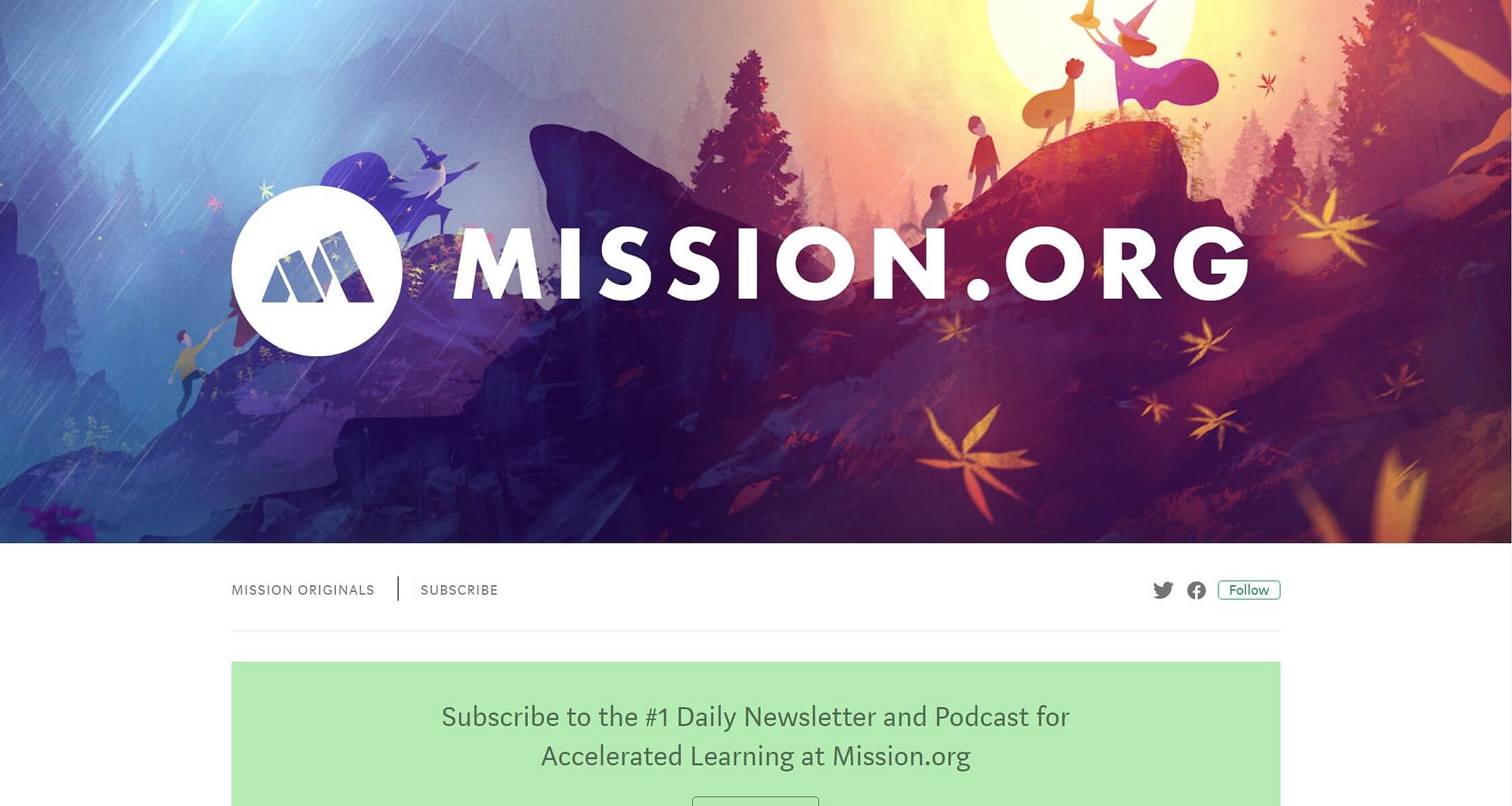 When The Mission publishes one of your posts, the content will be sent to all of its nearly 150,000 subscribers. That's a huge audience right out of the gate.
If even ten percent of those subscribers read and recommend your article to their own audiences, you can suddenly have your content in front of thousands of additional readers. If some of those readers do the same, the effect continues to snowball. It's these publications that make Medium such a powerful resource for growing your following.
6. Post consistently and be patient
Consistency is a key tenet in content marketing of any kind, and that includes blogging on Medium. The exact schedule you keep is often less important than simply sticking to one at all.
Consistently publishing content helps accomplish two important goals:
It establishes your content backlog. Once a reader is on your site, a large volume of content to link back to can keep them there, and move them towards whatever action you want them to take.
It builds credibility and trust in your brand. People like knowing what to expect, and when you publish on a consistent schedule, your audience knows when new content will be out.
Time is one of the most limited assets we have these days. If your audience knows when you publish, they can set aside time to read your content. If your schedule isn't consistent, on the other hand, they'll have to check for new articles when they have availability to do so. With all the competition out there, the reality is that they may never find that time.
As for patience, it can take time to build momentum on any new platform, and Medium is no different. Don't give up just because you're not seeing immediate results. Success in this area tends to compound over time.
7. Promote your best content on other channels
Finally, make sure you're promoting your best content on other channels. If your personal or company site has a blog, cross-post your articles to it, and share them on other social platforms such as Facebook, Twitter, and LinkedIn. Not only will this help you grow your Medium following, but you may also be able to gain followers on these other platforms at the same time.
Medium makes this process easy. At the bottom of every article is a social sharing widget with Twitter and Facebook links:
Additionally, you can highlight specific text in the article and share that as a 'Text Shot' to the same platforms.
Medium also enables you to connect your Facebook and Twitter profiles directly in the account settings panel. That way, you can easily import existing followers and let them know you're on the platform (as long as they also have Medium accounts).
Conclusion
Medium provides a robust opportunity for you to share your message with more readers.
Once you locate your target audience on the platform, you can use proven strategies to drive traffic to your content and increase engagement.
However, your success with blogging on Medium is closely related to how well you know your readers. Fortunately, you can use the platform's built-in analytics to discover their interests and develop engaging content. Also, it's important to always publish only your best writing, and to interact genuinely with the Medium community.
Is Medium an integral part of your content marketing strategy? Tell us about your strategies in the comments section below!
References:
[1] https://cheddar.com/media/ev-williams-medium-subscription
[2] https://www.similarweb.com/website/medium.com/#overview
The post How to Grow Your Audience With Blogging on Medium appeared first on Revive Social.