Instagram Reels provide an alternative way to make and share short videos. They also offer distinct discovery features for reaching out to all Instagram users.
Reels seem a bit like Instagram Stories, or even TikTok videos, but with some important differences:
You can record multiple video clips and combine them together into one.
You can include photos into those short videos for more of a presentation feel.
Each final video compilation is a maximum of 15 seconds.
Instagram Reels allow for filters, audio, effects, and other creative elements like timers.
Reels get distributed on the Instagram Discovery page, your company page, and follower feeds.
Instagram chooses some Reels to be "featured," pushing those videos to more users.
As you can see, these unique ingredients leave much to ponder as a business owner. Instagram Reels eliminate much of the editing work required for social media video. Reels also generate rapid videos with multiple clips, which sounds great for recaps, showcases, and tutorials.
Not to mention, the distribution model for a Reel seems to have an extended reach with a focus on making this a popular part of Instagram. In this article, we'll talk about how to produce your own Instagram Reels, where they show up for your followers, and what types of marketing opportunities you have when working with Reels.
How to configure Instagram Reels
An Instagram Reel functions somewhat like an Instagram Story, in that you can compile multiple clips into one stream of media elements. Yet whereas Stories are separated, Instagram Reels have features to rapidly take several videos or pictures and combine them into one video stream or slideshow type presentation.
In order to configure Instagram Reels, open your Instagram app. Reels are not available on the desktop version of Instagram.
On your company's homepage, you'll see the Instagram feed and stories from people and brands you follow towards the top. Swipe the screen to the right to reveal a new area for content creation.
This is also the section of Instagram for making Stories and Live broadcasts. However, Instagram incorporated the Reels tab in this module as well. All you have to do is find the Reels text at the bottom of the page and swipe over so that Reels is selected. If you're not seeing Reels, make sure that you have the most recent version of Instagram installed on your device.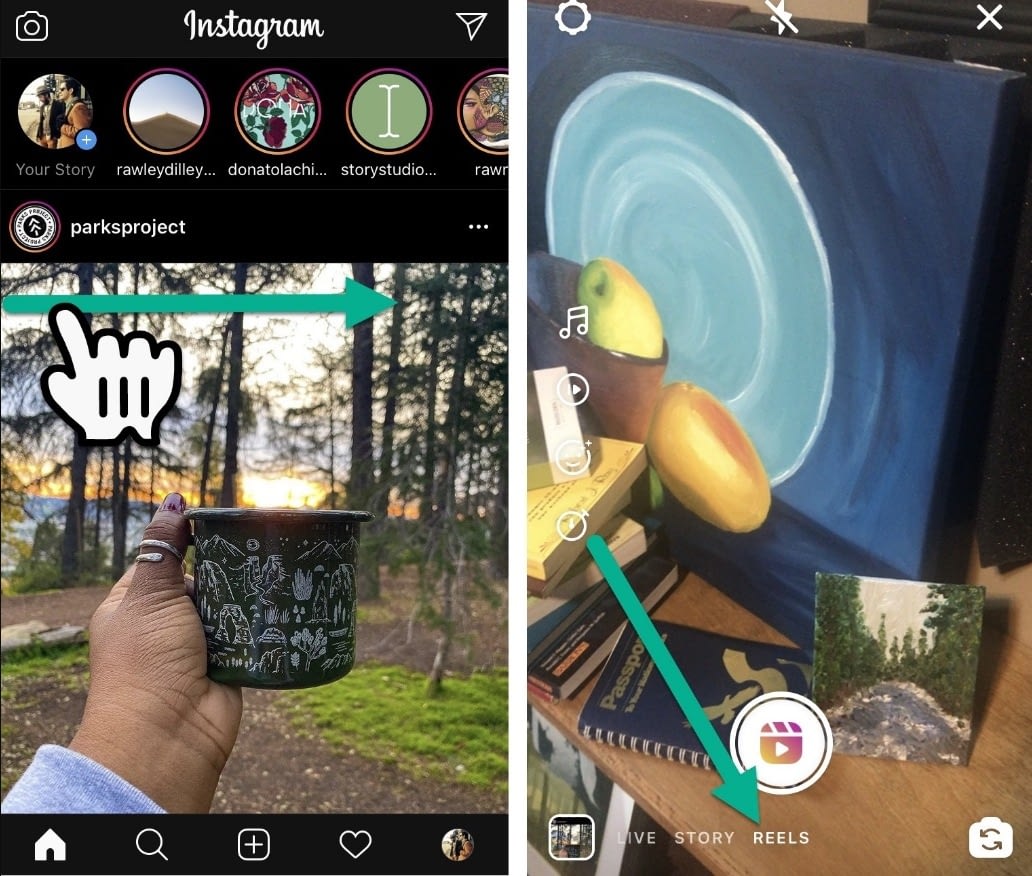 The Reels section works similarly to a regular Instagram post or story, where the circular Capture button can either be clicked on to take a photo or held down to make a video. You can also switch the perspective so that it uses your front or rear camera. I figure many people will want to utilize the front camera to take a selfie or personal video.
When you click on the Capture button – whether you take a photo or video – that first clip is added to the beginning of your Reel. A red line indicates the length of that clip and all of the following clips are added on next to it.
Therefore, if you see various red bars with white lines between them, that means you've automatically compiled several clips together – which later results in one fluid video.
Instagram also indicates the video length as you add new media. The maximum Reel is 15 seconds, with no limit on the number of smaller clips you use to complete that 15 seconds.
Note: Keep in mind that you can also upload videos and photos currently saved on your device. Recording clips is possible all at once or as multiple clips that get combined at the end.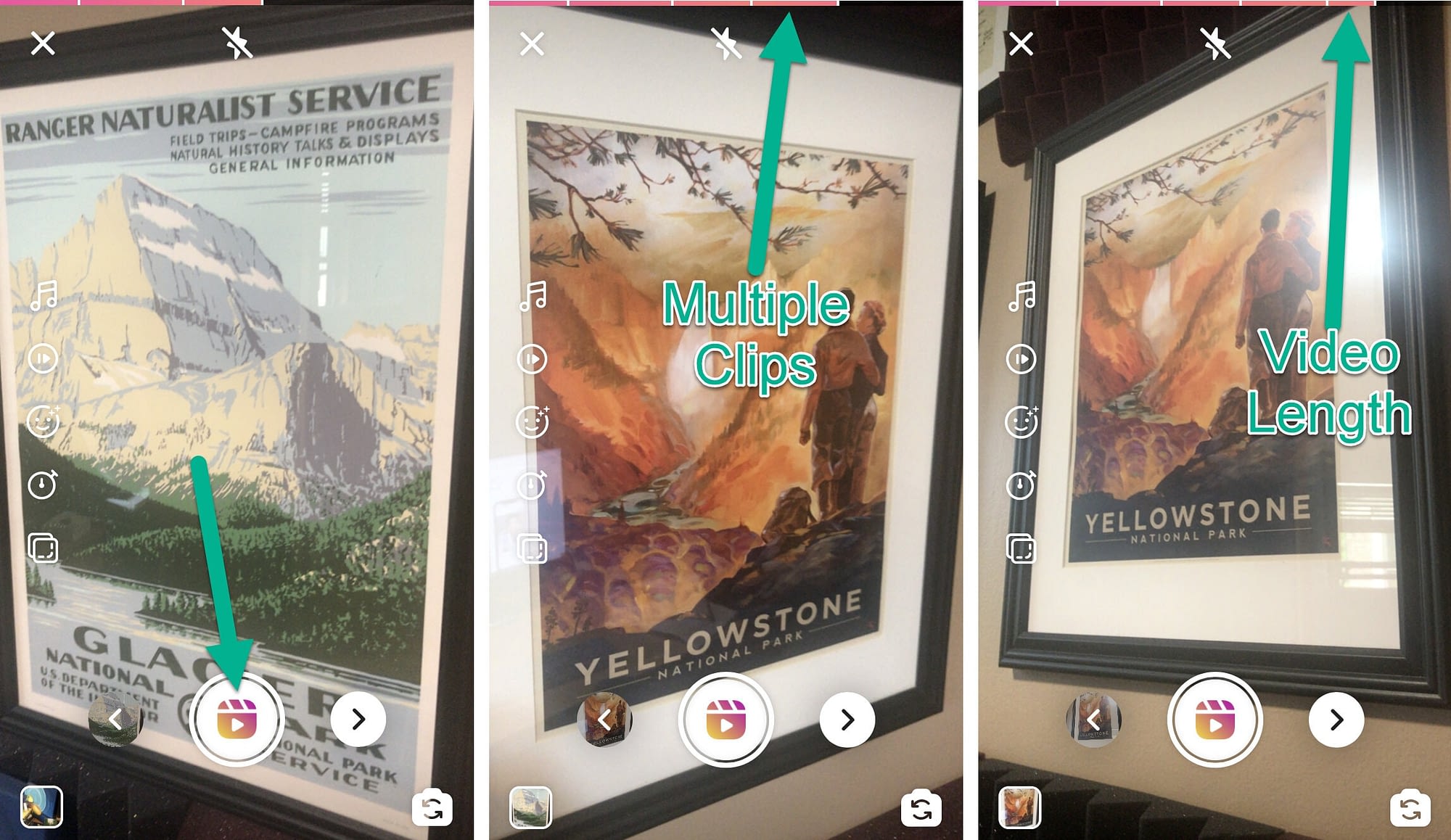 After saving a clip to the Reel, a few editing tools are available for you to add some fun and functionality to the Reel. These editing buttons appear on the left side of the screen. For instance, the first button lets you search for music clips. You can then add that music to your Instagram Reel and include lyrical overlays.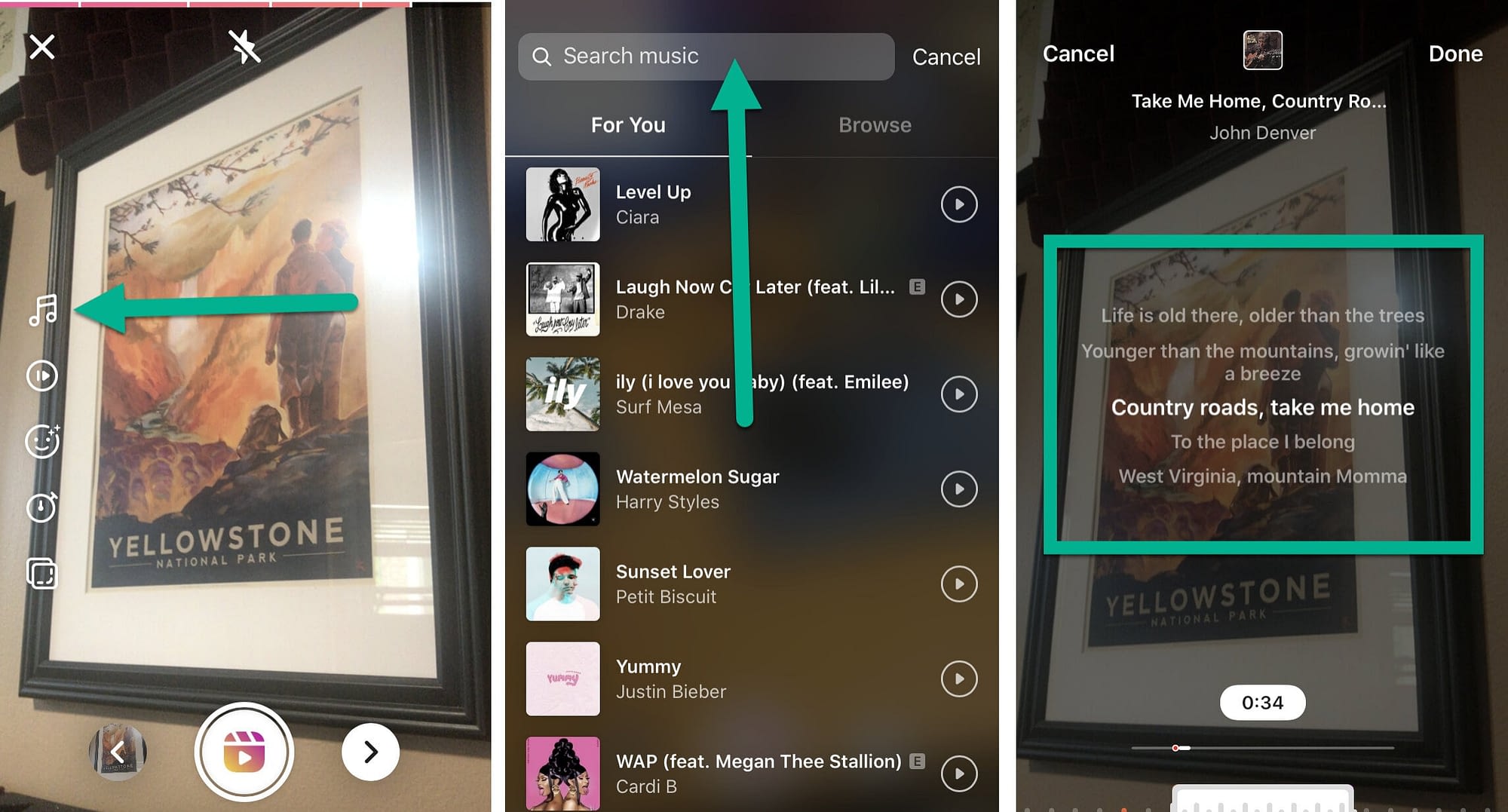 The next editing element either speeds up or slows down your video. We like this most for generating slow-motion videos – like for stunts or product highlights. The speeding up function may serve you well for rapidly going through a tutorial, like for a recipe. Several other editing options come in handy depending on how you're using Reels. The Filter button allows for media distortion and creative filters that may relate to your message. There's even a timer for cutting down the Reel, along with an overlay feature that puts multiple videos on top of each other.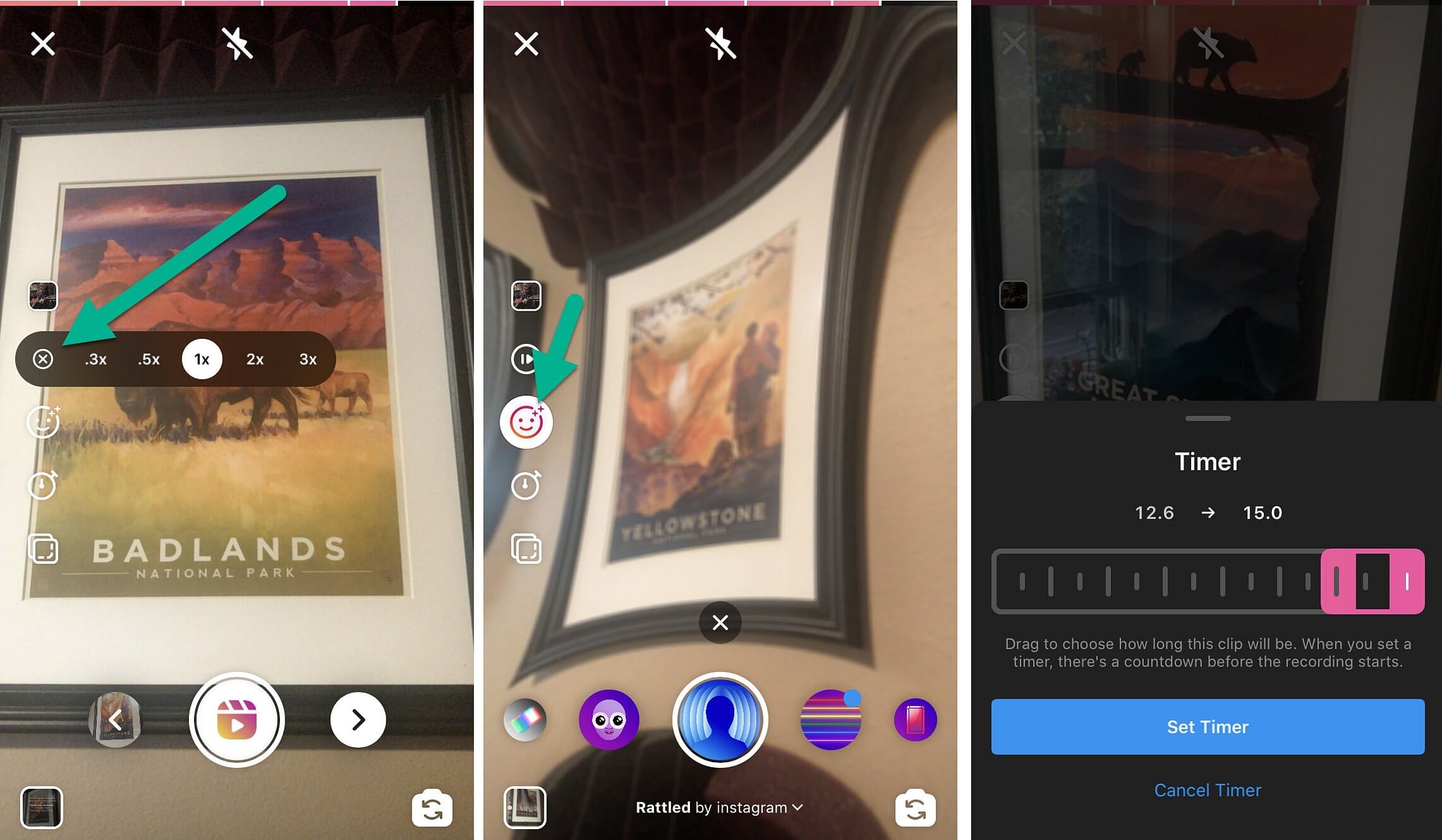 Once all filters and editing tasks are completed, move forward to preview the Reel. You can swipe through the video and see exactly how it appears for those watching your Instagram Reel. You can even decide to cut out some of the video or go back to make more edits if it doesn't look right.
The final page asks you to write a description and either save it as a draft for later or Share the Instagram Reel for all to see.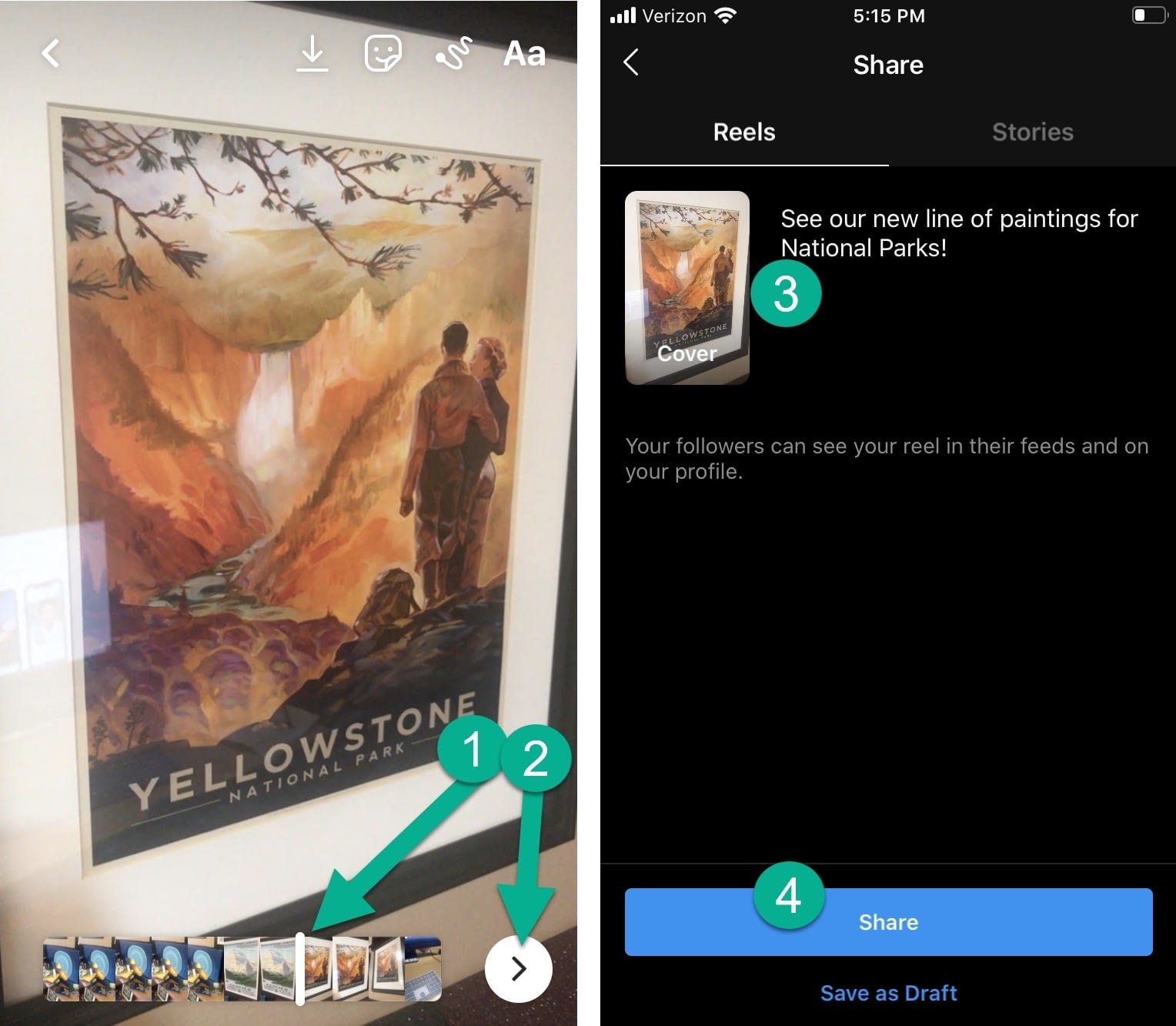 Where do followers find your Reels?
There are a few places for Instagram users to see your Reels:
By navigating to your Instagram page.
In their own Instagram Feed, if they already follow your page.
By looking at the Discovery page on Instagram. This can be found by clicking on the magnifying glass icon.
There are a few limitations and tips to consider so that you know exactly who sees your Instagram Reels and who doesn't.
If your account is set to public, anyone can view your Instagram Reels, like them, and comment on them. The public can go to your page and view the Discovery page and gain instant access to what you post through Instagram Reels.
If your account is set to private, only users following you can take a look at your Reels through their own feeds and the Discovery area. All privacy settings are different based on what you've set for your own account. So, Instagram follows all of those privacy settings for Reels as well. For instance, if you block one person for regular Instagram, they won't see your Reels either.
Some Reels get tagged with a "Featured" label. These are usually selected by Instagram as entertaining or relevant for certain users. It provides greater exposure for the Reel. You'll learn about it when you get featured, as Instagram sends you an email if it happens.
Marketing tactics with Instagram Reels
As with Instagram posts, stories, and just about any type of social media creation, the type of media delivery system dictates how you may use that particular feature. When it comes to Instagram Reels, they're unique in that you can quickly make videos, compile them together, and distribute them to your users or the public. Not to mention, Instagram Reels offer elements like filters, timers, and music.
Seeing as how this is similar to Instagram Stories, but still unique in its own way, we want to highlight best practices and marketing tactics you can use for your own brand with Instagram Reels.
Go behind-the-scenes with something fun or unique to your brand
Instagram Reels provide the ideal platform for offering that non-professional, behind-the-scenes look. Your company's content is coming from a phone, and your followers understand that. Since you always have that device on you, consider highlighting what it's like on a day-to-day basis. I've noticed artists piece together clips of them completing their creative process. Several companies show quick interviews or funny quotes from their employees, while it's also common to employ the services of company pets. These dogs, cats, and other animals offer friendly faces, and they pair well with actual information you may want to communicate to the masses. For example, a restaurant I follow pretends their dog is talking on the Reels for "now hiring" and "new menu item" messages.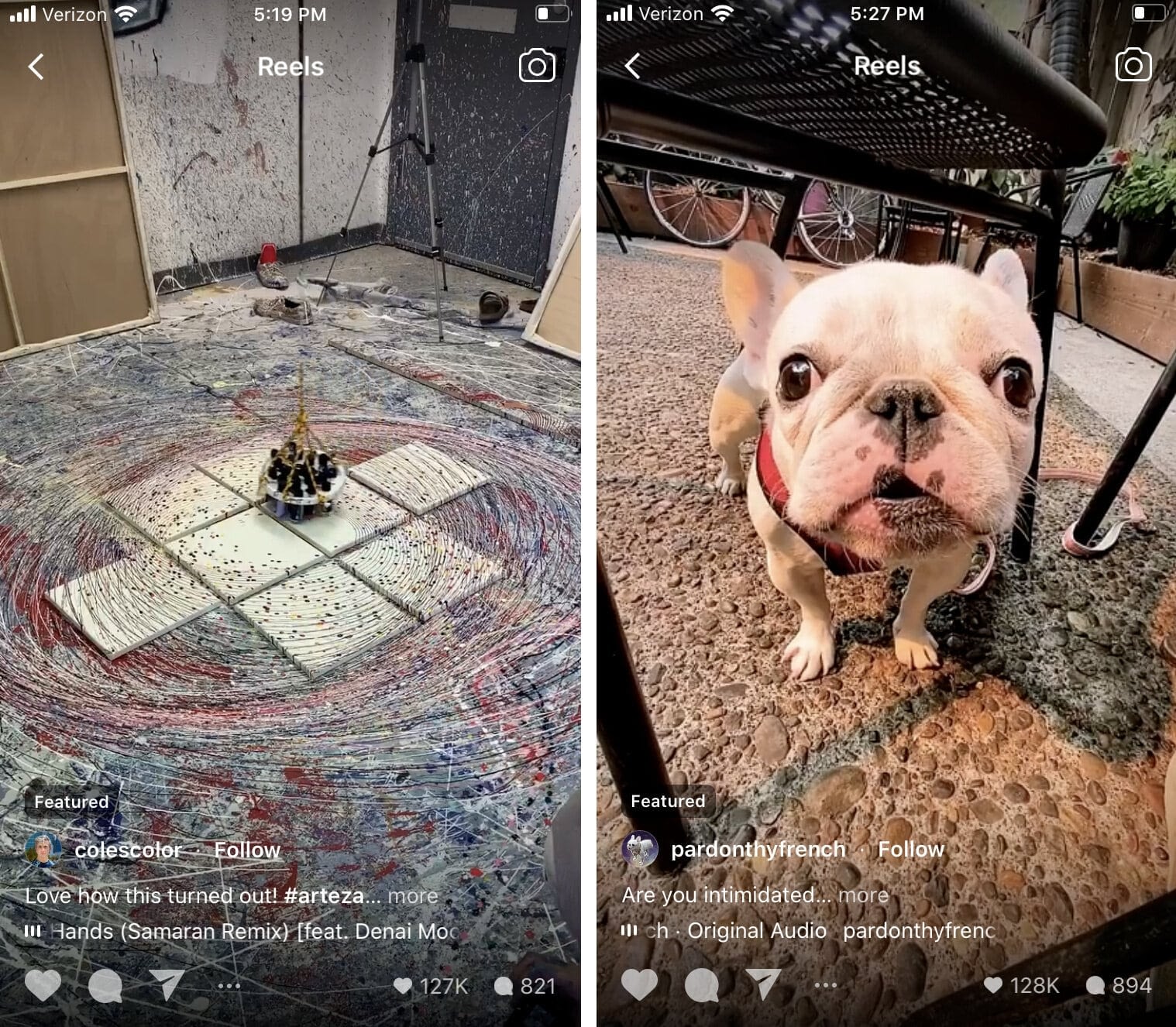 Ask questions for entertainment, or survey your followers to get legitimate responses
Interactivity is the lifeblood of Instagram, especially with Stories and Reels. Not only does the Instagram Reels feature allow for a beautiful media-sharing environment, but it's possible to add a quick question that everyone can then reply to in the comments.
Take Pixar, for example.
It's not uncommon for Pixar to utilize the Reels functionality and ask questions of its followers. The Instagram Reel below rolls through about five or six funny pictures and videos of the characters from the film Coco. The responses to a post like this are either for playfulness and conversation or more useful feedback. Think about which videos and pictures you could take for your business and add a quick question to stir up user creativity. I can imagine real estate agents taking videos of bay windows and asking followers which they like the most. You might also want to post prototype videos of a product and ask which of them your customers are most likely to purchase. The options are endless!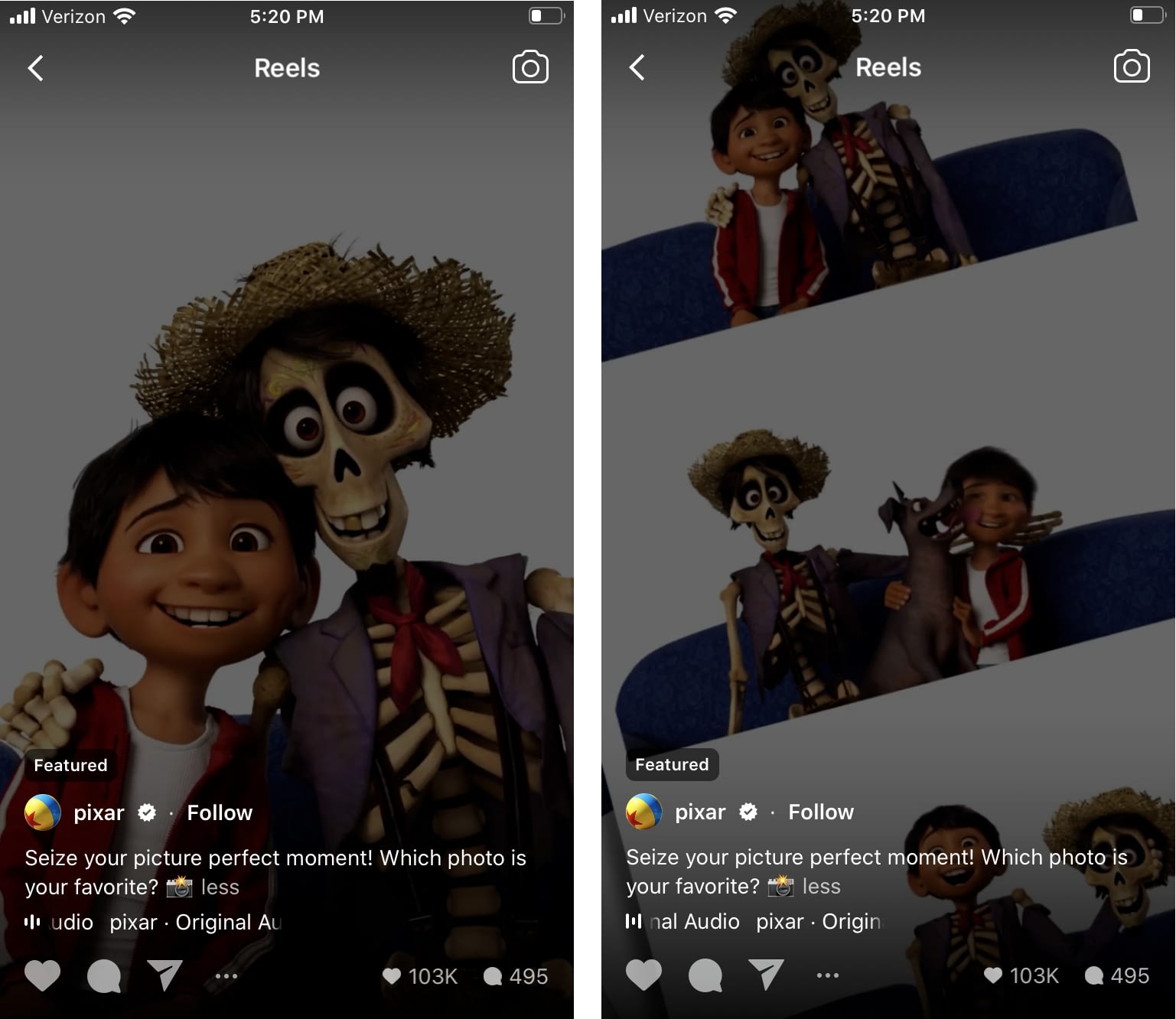 Make a rapid-fire tutorial with Instagram Reels
Tutorials make quite a bit of sense with the artillery of settings on Instagram Reels. You don't have to complete your tutorial in one take with the clip combination feature. In addition, you can speed up your clips to mash them into a 15-second video, then add overlaying text for more information and a description for a full step-by-step.
I find many recipes from the bloggers and food companies I follow on Instagram. The one below covers a quick tutorial on how to make pepperoni pizza mozzarella sticks. The guy covers every step with a few seconds of speedy video. He then takes a bite at the end to show his face and give his brand a personal feel. In addition, the full recipe gets outlined in the description, ensuring that everyone receives a fun overview video and the actual details to make the food.
Another example of a food tutorial is shown below, yet this time our host asks a simple question. You'll notice he also provided music to spice up the Instagram Reel. Many industries have the opportunity to develop tutorials with Instagram Reels, from hardware stores repairing toilets to real estate agents giving tours. Bloggers of all niches can take their phone and a small tripod to explain tactics and tips for users, creating something unique within a matter of minutes.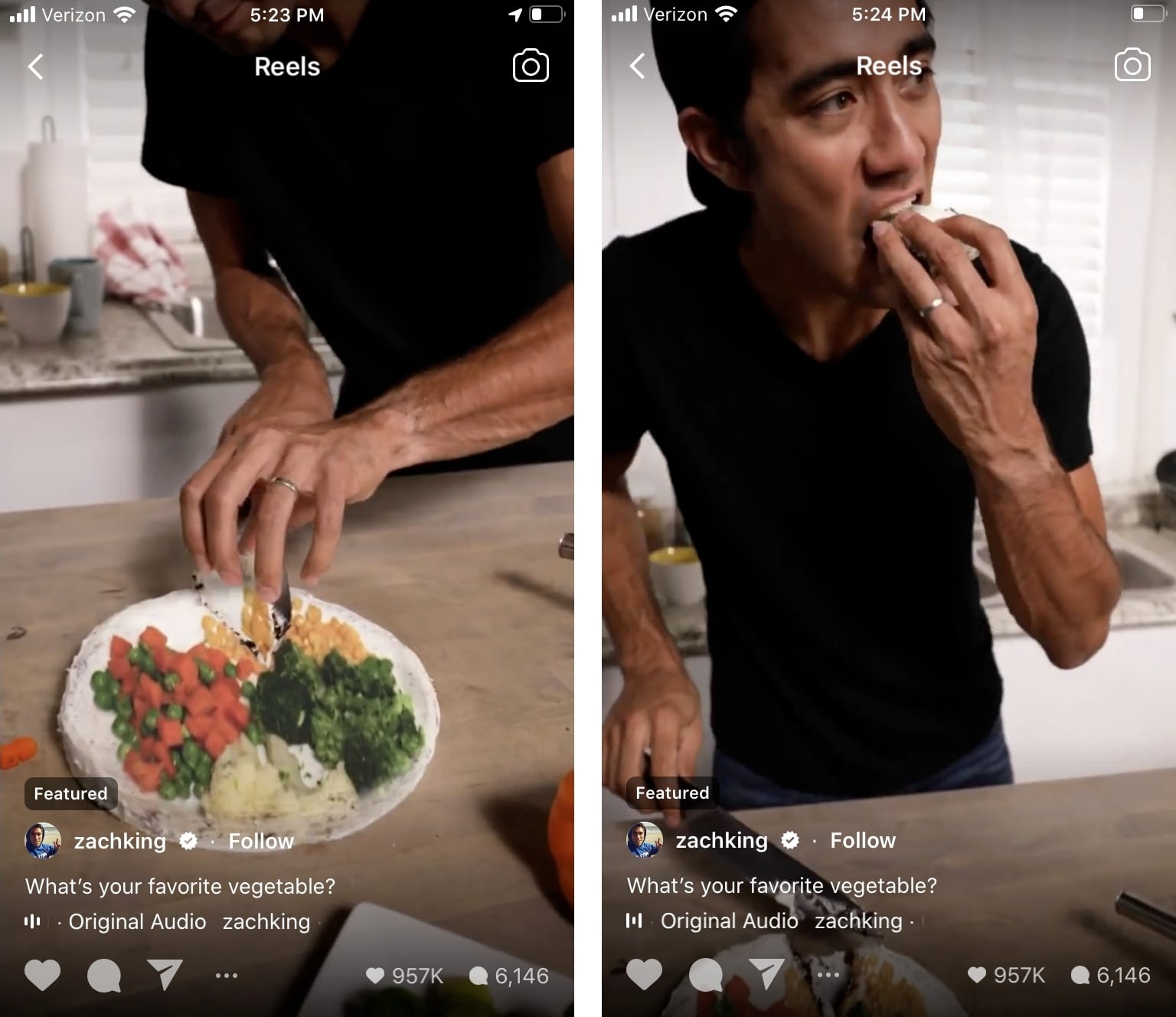 Highlight products in action
Many companies also need to highlight their products, whether these are new or currently stocked. The example below is actually a blogger sharing his experience on a new bike brand he likes, but it would look just as great for the actual bike company.
The same can be said for shoe or clothing brands, technology companies, and furniture retailers. Seeing as how video editing is somewhat tedious, and attention spans are decreasing on social media, Instagram Reels provides you the editing tools required, and you're making content that people can watch quickly.
Show your company out and about
The office isn't the only place to take out your camera. Yes, employee interviews and warehouse showcases are fun, but what about when you go to a conference or a company retreat?
This approach also comes in handy for travel companies and bloggers who are constantly on the road anyway. Again, social media isn't always great for longer videos, so the Instagram Reels tool helps with shrinking down those longer videos and posting more of a highlight segment of your experiences.
In addition, you don't have to worry about capturing the videos and editing them later on your computer or an app. It's all done on Instagram.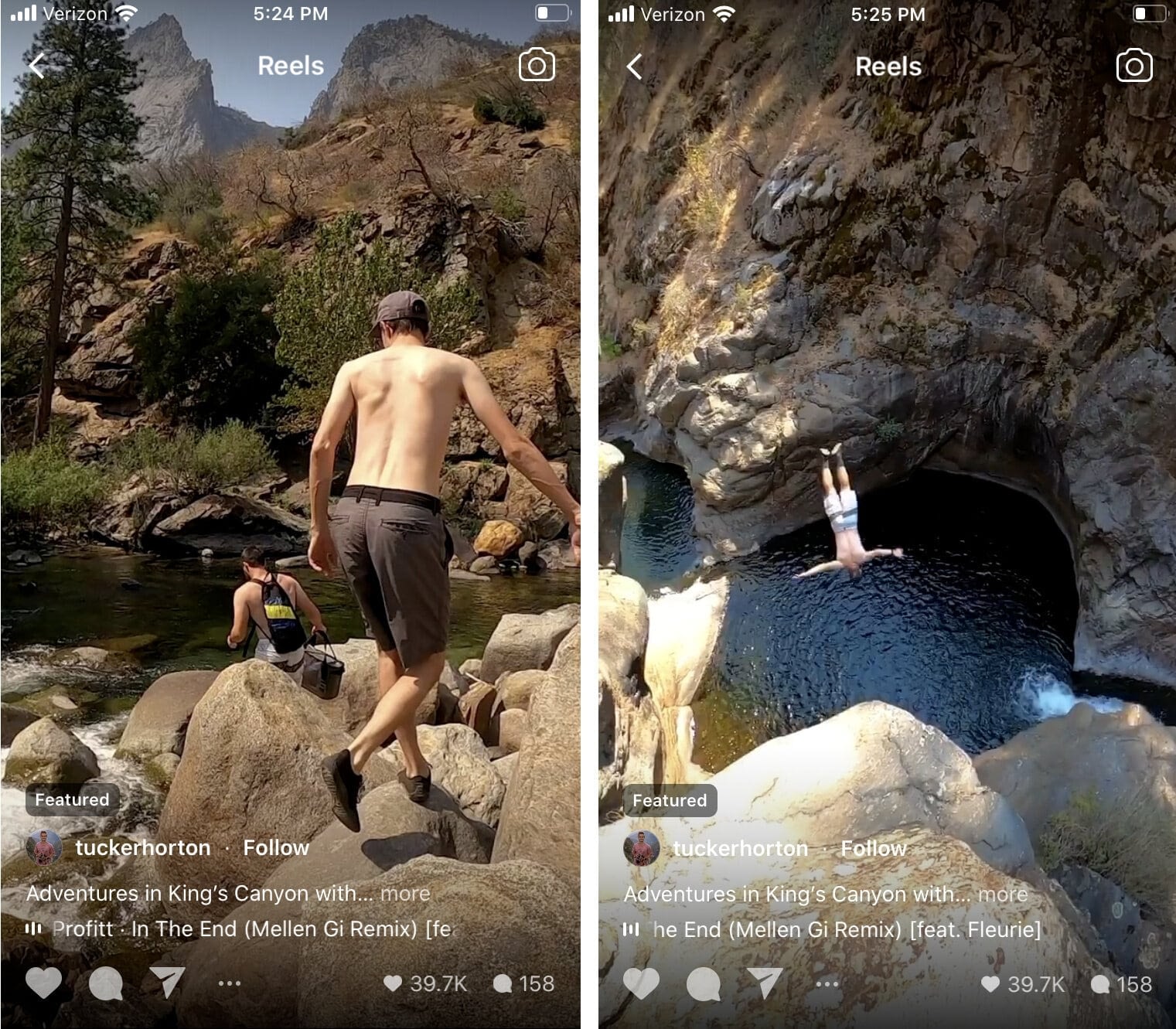 Any thoughts or suggestions?
Overall, Instagram Reels send users on an exciting new path for creating and distributing media, for video in particular. You can compose them wholly in Instagram in just a few minutes or compile clips for a reel over several days. And you can make them work with almost any type of content.
How do you plan to use Instagram Reels? Let us know in the comments section below!
The post How to Use Instagram Reels: A Step-by-Step Guide appeared first on Revive Social.