Branding your company or business may demand more than you ever envisaged. With the multitude of businesses starting up and rebranding every year, you'll need to be very creative to catch the attention of your prospective clients and partners. Having a well-developed LinkedIn showcase page can be a good way to go about this.
Just as the name implies, a LinkedIn showcase page is an ideal tool for putting your business' trump cards under the spotlight. Considering that more than 94% of B2B marketers use LinkedIn for content marketing, it only makes sense to learn important strategies for making the best of the platform.
In this article, we'll talk about why your company needs a LinkedIn showcase page and how best to make them work with your existing pages.
Let's get started!
What is a LinkedIn showcase page (and why does your company need one)?
LinkedIn showcase pages are used to promote a certain niche or department of a company. Showcase pages differ from company pages in the sense that they are more audience-specific. For example, a consumer electronics store or business may create a showcase page to highlight or promote the refrigerators they sell.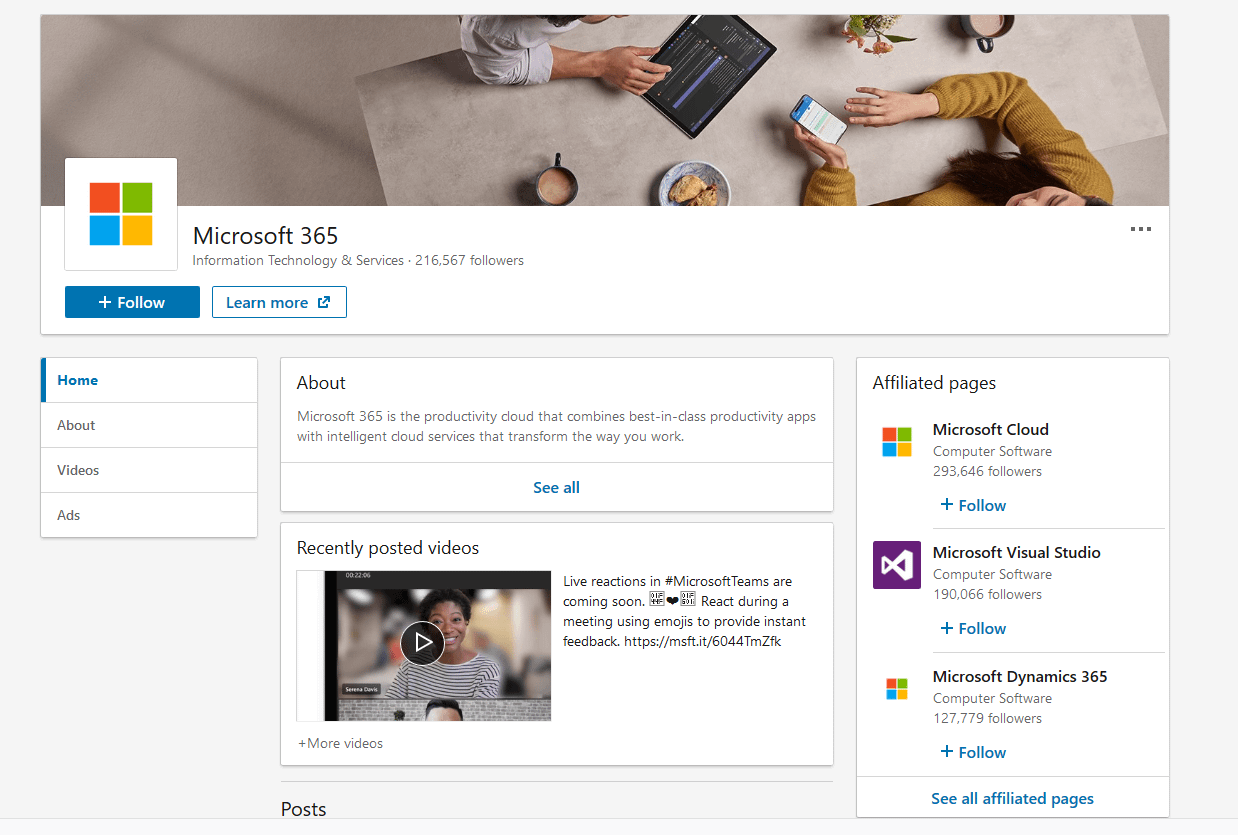 As such, a prospective consumer or retailer interested in refrigerators can follow this showcase page without having to follow the company's main page. Showcase pages let companies fine-tune their marketing by deliberately focusing on well-defined buyer personas. Large corporations that offer varying products and services can find this LinkedIn feature very useful for marketing purposes.
The benefits of using a LinkedIn showcase page
A LinkedIn showcase page provides a number of advantages. For example, you are able to engage with a specific audience. Large companies often can't cater to their entire market on a consistent basis. Showcase pages are an escape route, by showing highly-relevant content to keep specific audiences more engaged and loyal to your brand. For example, IKEA has a showcase page specifically for its Italian audience.
In addition, you can build a community based on professional qualifications. Ernst & Young (EY) has a showcase page that specifically promotes women in the workplace, for example. This page provides a space for female professionals to interact and benefit from collaboration.
Finally, much like with a company blog, you can provide updates about your company projects and achievements. LinkedIn does something like this with one of its showcase pages highlighting its social projects. This type of project can be a very strategic means of developing a strong sense of loyalty among your followers.
In general, while it's up to you to decide how to use your LinkedIn showcase pages, there are different goals you can achieve with them. However, the examples above give some insight into how other companies are using them.
How to enhance your branding on LinkedIn using a showcase page (8 great practices)
Now, let's examine some tips you can use to achieve your goals. Here are eight strategies that have proven efficient in enhancing brands through LinkedIn showcase pages.
1. Use a unique descriptive name for your showcase page
The first thing to get right about your showcase page is the name. If your prospective and existing followers are confused about the name of your showcase page, there's almost no point in creating one. The best practice is to name your page directly after the product you're promoting or the purpose of the page.
This is clearly the trend with big brands such as Google. It gives very descriptive names to all of its showcase pages – such as Google Analytics, Google Ads, and Google Cloud. There are several other brands that incorporate these same technique when naming their showcase pages. Smaller brands need to be even more descriptive with their page names to help boost brand recognition.
2. Fill out all information fields
This may seem obvious, but it's important to fill out all the information fields your showcase pages provide as clearly as possible. Apart from making your page look more professional, LinkedIn reports that profiles with complete information generally receive 30% more views from users. This applies to showcase pages as well.
Filling out your showcase page shouldn't take too long, and there aren't any complex fields not found on your average social media page.
As we mentioned earlier, it's very important to make your page title as unique as possible. You can also choose to go creative with your description, especially if it aligns with your brand, but always make sure to retain as much relevant information as possible.
3. Create up to a maximum of 10 pages if necessary
LinkedIn is quite generous with its offering here. The platform lets you create as many as ten showcase pages at a time. In other words, you can target ten different personas simultaneously. Most small businesses won't need this many. However, regardless of your size, make sure you analyze the different audiences you target and create pages accordingly based on their needs.
In cases where you need more than ten pages, look to prioritize the audiences most valuable to your business. Whichever way you go, always remember that every showcase page is an opportunity to reach a specific audience.
4. Incorporate videos to drive engagement
Just like every other social media platform, the magic of videos extends to LinkedIn. Videos can start and drive conversations more effectively than any other type of content. Your showcase pages can use them as well. In fact, LinkedIn videos attract more than 300 million impressions annually (on average).
LinkedIn posts with videos outperform those with only text in many ways. For one, they earn three times more engagement. If you want to get the best out of your LinkedIn videos, try native videos – that is, videos uploaded directly to the platform.
In a nutshell, they deliver even better results than those shared via YouTube or Vimeo. LinkedIn says they start five times more conversations than simple text posts do.
5. Make sure your showcase pages are SEO-friendly
Search Engine Optimization (SEO) is also relevant when it comes to LinkedIn showcase pages. Similar to any of your website pages, your LinkedIn showcase pages can also be indexed by search engines. As such, optimizing them for better visibility is a good idea.
Optimized pages have a better chance of gaining traffic organically. Organic traffic remains one of the most reliable means of attracting publicity for your brand. Considering LinkedIn's high Domain Authority (DA), maximizing your visibility on the platform could pay literal dividends.
Fortunately, the same advice applies here as to web pages. You can include SEO keywords in your profile, create backlinks to your showcase page, name your images with SEO keywords, and share your posts and articles.
6. Post quality page-specific content regularly
As is fashionable with other social media outlets, quality content is king on LinkedIn. Although showcase pages are an offshoot of main company pages, they shouldn't be treated any less seriously. For the best results, it is ideal to have a content strategy for your showcase page.
As you develop quality content for your page, make sure the content is relevant to that page, and that you post regularly. As you may imagine, posting irrelevant content on a showcase page defeats the whole idea of creating the page.
You also want to take note of your followers' behavior, and look to balance your posting schedule. As a rule of thumb, LinkedIn reveals that posting weekly may be the sweet spot. You can also try sharing posts from your main page if you seem to be running out of content. Either way, the golden rule remains — your posts must be relevant to the topic of the showcase page you post it on.
7. Promote your showcase pages
Another strategy you can try is to advertise your showcase pages. Within the default LinkedIn Campaign Manager, you can associate your showcase page and promote it just like any other company page. Each time you promote your page using the Manager, it generates a report on a wide range of performance metrics:
Some of these include clicks, impressions, Click-Through Rates (CTRs), and more. These figures can help you judge and improve the quality of your campaigns. It's crucial that you're able to assess these metrics and employ them to the benefit of your page. Creating an ad on LinkedIn is quite an easy process too, and takes around six minutes.
8. Track your page's performance with analytics
Finally, analytics are a vital part of your showcase page that you cannot afford to neglect. LinkedIn showcase page analytics also work based on metrics. These metrics are broken down into categories such as traffic, visitors, followers, and engagement:
Each of these groups is equally important for understanding the demographics of your followers and visitors, determining the effectiveness of your posts, and evaluating the productivity of your talent search.
Conclusion
Incorporating the right strategies when creating and managing your showcase pages can be a very important tool for branding your company on LinkedIn. Apart from highlighting your brand's strongest points, you can also use these pages to build a strong following.
Enhancing your branding on LinkedIn using showcase pages always begins with choosing a unique, descriptive name. Likewise, it's important to post videos and quality page-specific content regularly, in order to keep your followers engaged. This can have a significant positive impact on your marketing results and branding as a whole.
How important do you think showcase pages are to branding on LinkedIn? Share your thoughts with us in the comments section below!
The post How to Use LinkedIn Showcase Pages to Market Your Brand appeared first on Revive Social.