We know what you're thinking. LinkedIn is only for when you need to find a job. Yes, this is somewhat true, but take a look at how big brands are using LinkedIn and you'll realize just how important it is for finding new talent and making sales. Not only that, but LinkedIn videos are becoming the go-to format for engaging potential customers and employees.
Why start using LinkedIn videos to build your brand?
LinkedIn beats out networks like Facebook and Twitter for lead generation.
LinkedIn users spend far more time on videos than other media types.
Video is quickly becoming the most used media format on LinkedIn.
Hashtags are highly useful on LinkedIn, meaning that you can gain traction with people other than your followers.
Much of LinkedIn is filled with highly active influencers and industry professionals, making it essential for finding new talent and promoting your brand.
It's easy to optimize and upload videos to LinkedIn, with multiple file-formats supported and options for embedding and uploading your own videos.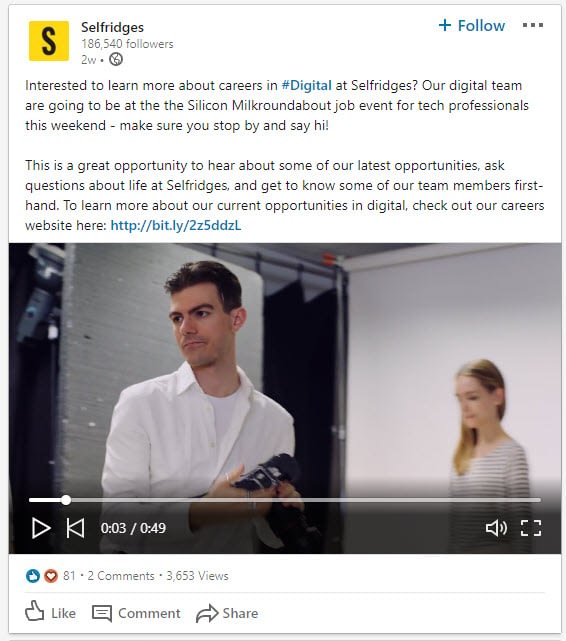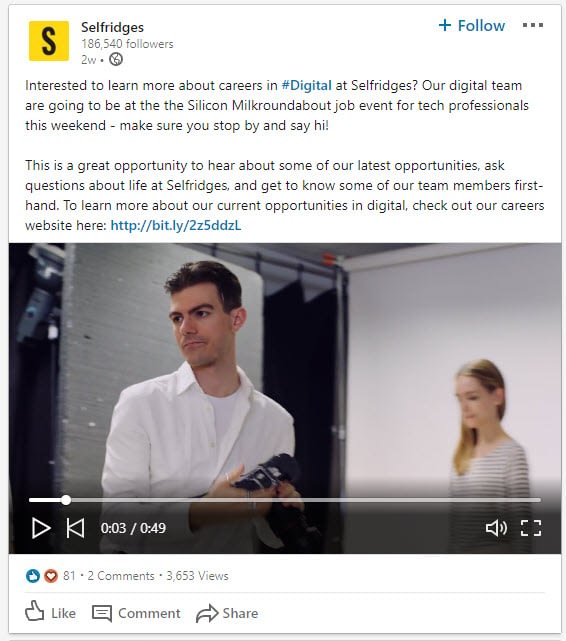 Overall, LinkedIn is already configured for you to start making an impact on customers and workers with your videos. From sharing information about your company benefits to explaining your new products, LinkedIn videos get the word out really well.
Choosing the right video types for your LinkedIn
The first step to approach after building a marketing plan is to think about the types of videos needed for capturing customer attention and getting sales or acquiring more customers in general.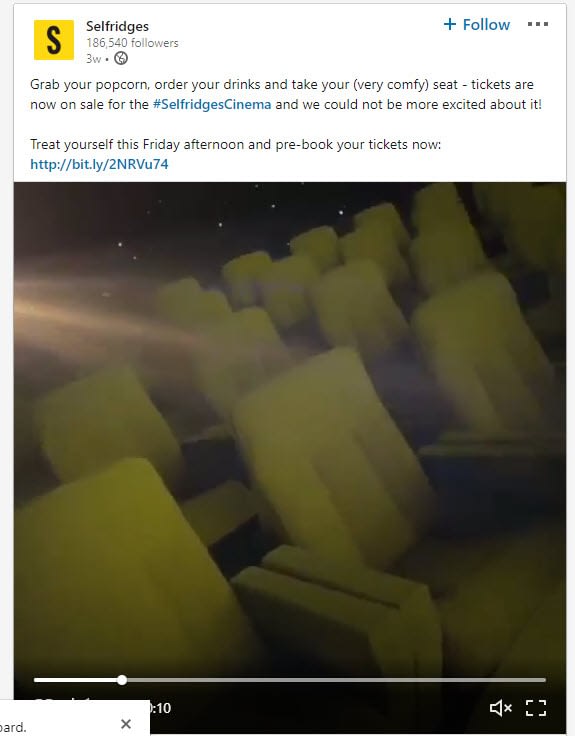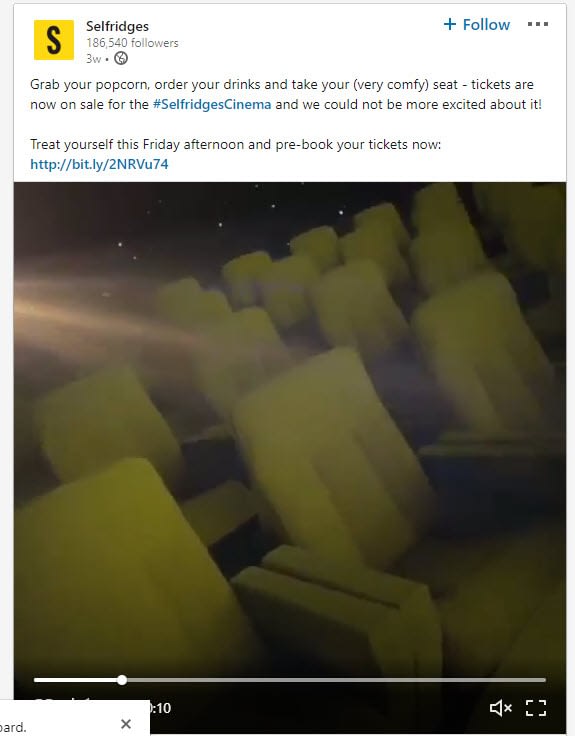 As for the types of videos you can post on LinkedIn, here are your two options:
Video advertisements – Similar to Facebook, LinkedIn sells ad placement that shows up on targeted user feeds. You may use these ads for things like product and brand awareness, lead generation, or email list building. Video ads can be up to 30 minutes long.
Native LinkedIn videos – Again, similar to other social networks, LinkedIn provides a feed for all users, so the native videos would autoplay in the feeds of people who connected to you on LinkedIn. Native videos can be up to 10 minutes long.
There are also two types of video formats:
Embedded – These are hosted from other sources, like embedding a video from your own website host or from YouTube in a LinkedIn post.
Uploaded – These are directly uploaded to LinkedIn, so the video is stored on the LinkedIn servers. Native uploaded videos typically perform better than embedded ones from other sources.
Enough about the technical video types…what about video style?
Now that you know about how long to keep the video and whether or not you should upload to YouTube or straight to LinkedIn, it's time to consider which video styles are best for boosting engagement.
Here are some styles that have done well in the past.
LinkedIn videos made for getting the word out
The first step for acquiring new leads and increasing conversions is to let the world know about your product, service, or brand in general.
This can be done well with the use of a video, where your main objective is to encourage users to seek out more information about your company, or at least to get your brand in their minds.
Some excellent LinkedIn video styles for this step include:
Brief introductory videos explaining what your company does.
Intro videos for new products or services as they enter the world.
Patagonia, for instance, is a well-known brand, but it's also done a wonderful job of introducing its recycling efforts to both customers, stakeholders, and potential employees.
The following video post asks the question of what Patagonia does with old items that it can't repair. Then it shows a quick video and ties it in with a link to more information.
The Bose Corporation is known for its headphones and speakers, but not many people know that Bose speakers are inside some Infinity cars. The industry announcement made sense for all social networks, but especially on LinkedIn.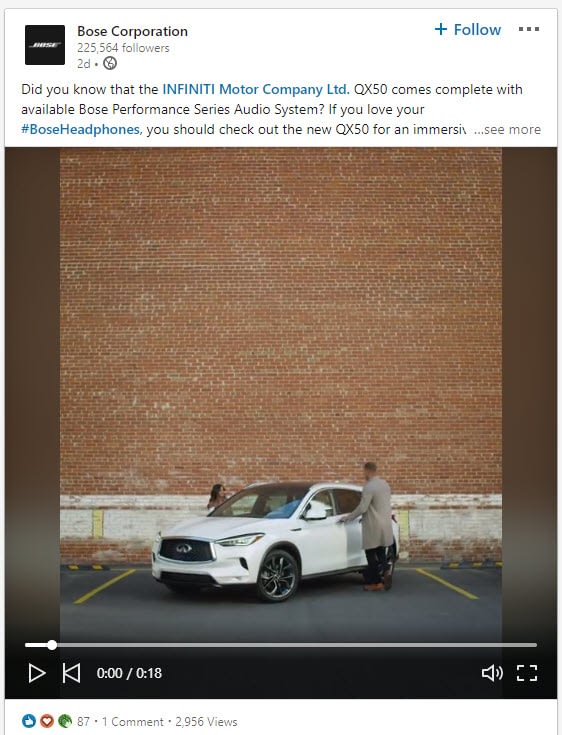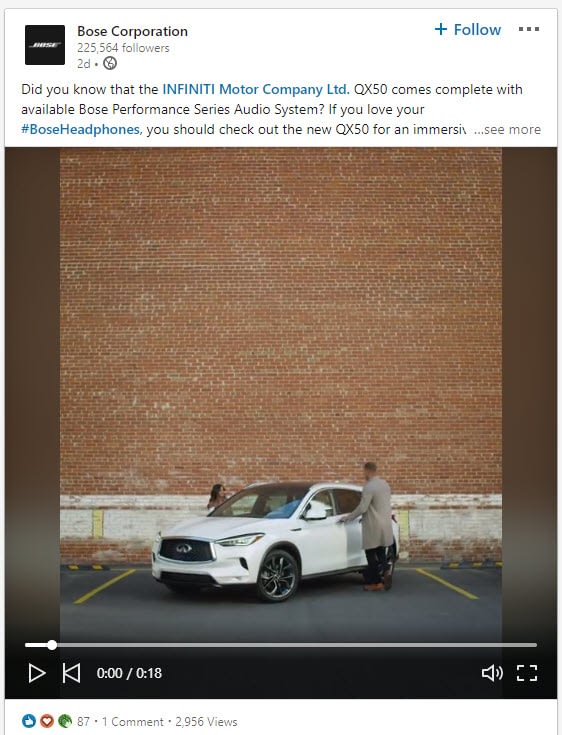 LinkedIn videos made for piquing interest
User acquisition isn't always about gaining sales or customers. Sometimes it's more about bringing in the best talent or engaging shareholders.
Regardless, the next step in the acquisition process is to convince users to pay attention, piquing their interest with something of value.
Anheuser-Busch piqued interest by making a video about its MBA program. The benefits of going into this program are sure to get qualified applicants excited about potentially working for the brand.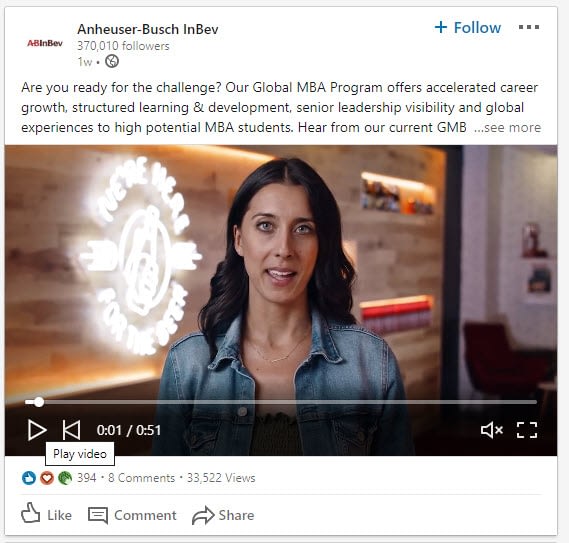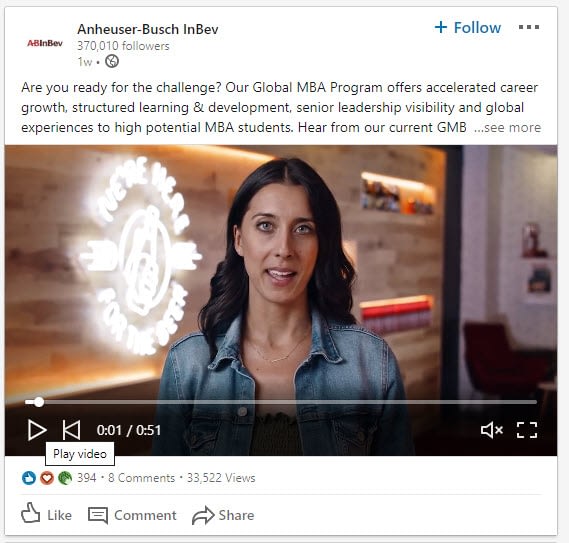 This stage can also warrant product announcements or exciting new features.
Rolex utilizes sleek videos to give sneak peeks of its new product lines. This is not only a visual means of engaging customers, but it allows employees to learn about what's coming up in the future.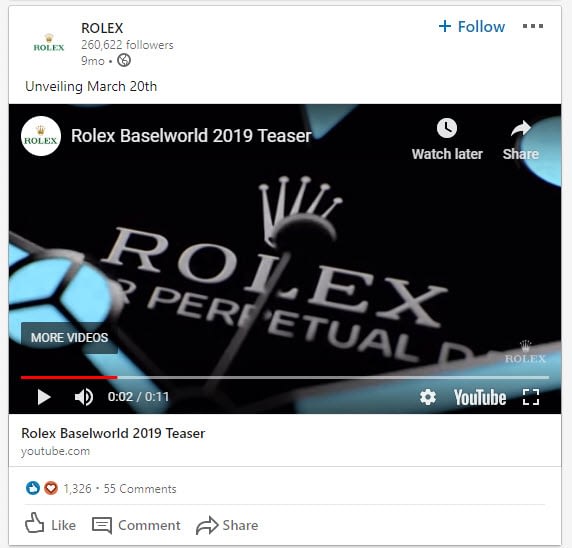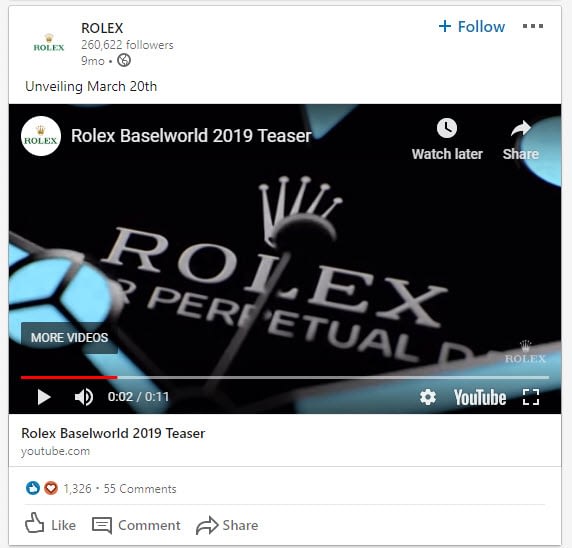 LinkedIn videos made to boost conversions
Finally, some LinkedIn videos are meant to create a conversion, whether it's to land top talent, convince people to participate in a cause, or buy products.
Emirates NBD has a movement called The Nations Account, which people can talk about, engage with, and contribute to. The following video and post shows how.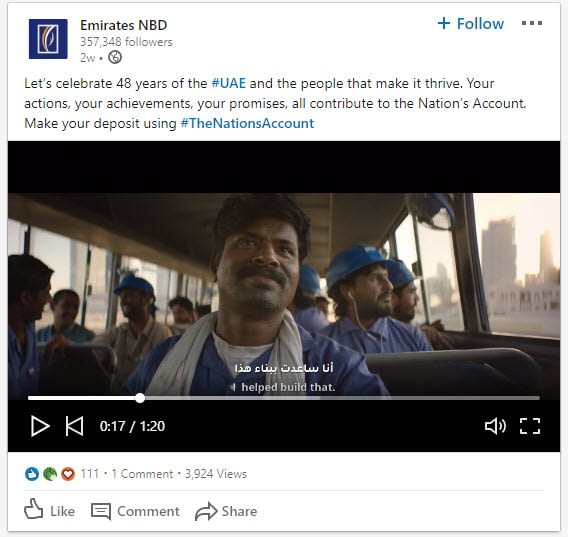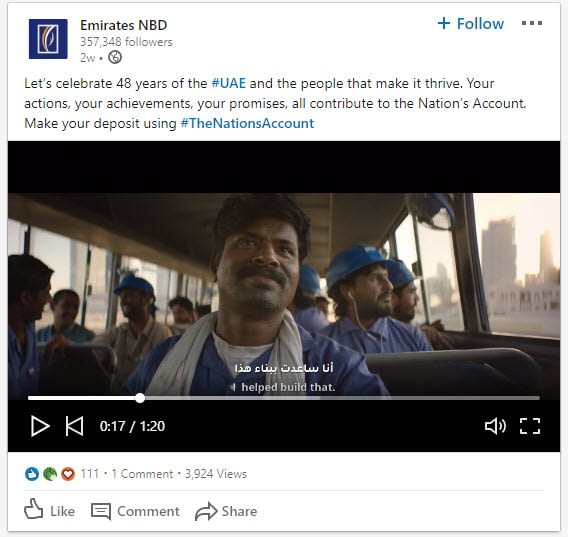 Going back to the Bose Corporation, this video details the release of a project that had already been announced with other videos.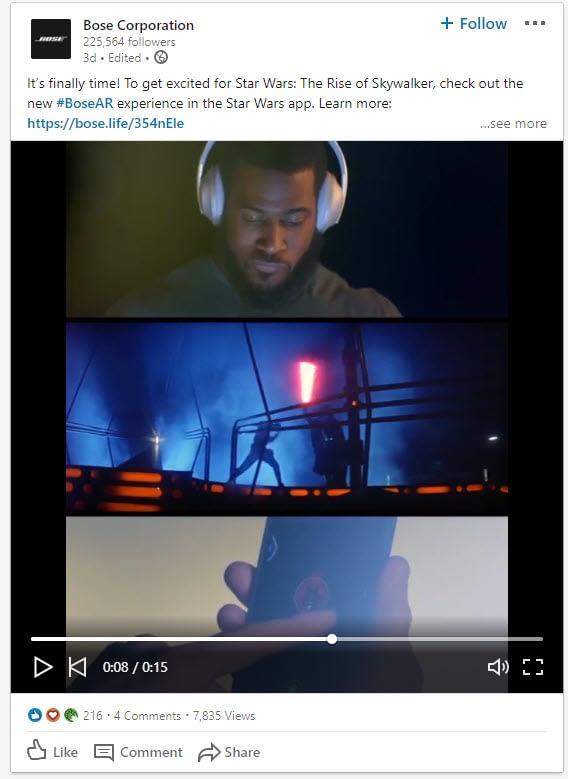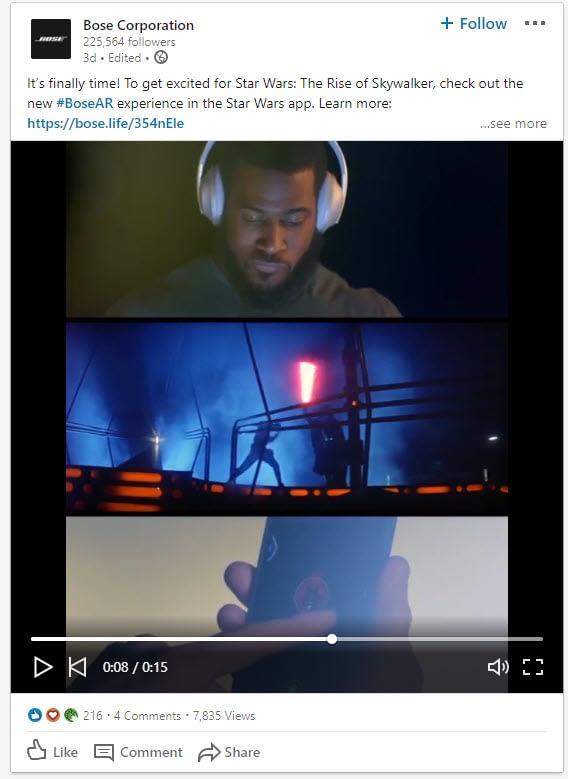 Essentially, this is somewhat like a landing page for the Star Wars/Bose partnership, showing a call to action, a link, and a video of what it's all about.
Video optimization for LinkedIn videos
We now know the rules set forth by LinkedIn for placing videos on the network, such as how long the videos can run and where they're hosted.
We've also taken a look at some style and formatting examples to get an idea of what your brand can post.
Yet, it's not quite as easy as grabbing your phone and filming a 10-minute video of you or your employees talking about new products.
First of all, you'll want to optimize your video so that it actually gets uploaded on LinkedIn and looks good. The last thing you need is to spend hours making and uploading a video only to find out it's not the right file format or somewhat distorted when being viewed.
As mentioned before, two types of videos are allowed on LinkedIn, native and ads.
Guidelines for uploading a native video to LinkedIn
In order to get the best effect, keep this list of requirements when making your videos:
Accepted file formats: WebM, .ASF, .AVI, .MOV, .FLV, .MP4, and .MKV.
Required frame rate for LinkedIn videos: 60 frames per second. Less is acceptable as well.
Length of your video: You're allowed anywhere from three seconds to 10 minutes.
Acceptable aspect ratio: 2:4:1 or 1:2:4.
Maximum file size for your LinkedIn native videos: 5GB
To make things a little confusing, the LinkedIn video advertisements have different specifications:
Accepted file formats: .MP4.
Required frame rate for LinkedIn videos: 30 frames per second. Less is acceptable as well.
Length of your video: You're allowed up to 30 minutes.
Acceptable aspect ratio: 2:4:1 to 1:1. Horizontal aspect ratios only.
Maximum file size for your LinkedIn native videos: 200MB
These requirements mean that many videos suitable for posting on the platform cannot be repurposed as ads.
The LinkedIn video post itself
After generating a video and editing it down to an acceptable format and time, the final step is to post it on LinkedIn.
Sharing this type of media usually takes a bit longer than posting a video (due to file size,) but that's okay, because you have some time to think about the post optimization!
Follow these tips to ensure that your video ad or native video is getting the most exposure possible. In short, the goal is to get it in front of the eyes of people who don't follow our brand, while also engaging those who follow your company.
Video post optimization step 1: select the type of video you plan on hosting
If you'd like to share a native video to LinkedIn, go to the Create a Post area on your LinkedIn Business feed.
One option is to paste a video link from a place like YouTube. All supported links automatically generate an embedded video on the post.
The next option is to upload a video to LinkedIn's servers. This works by starting a post and clicking on the little video icon towards the bottom.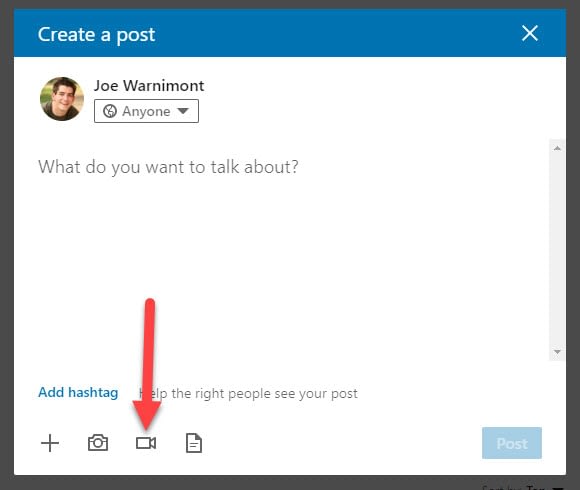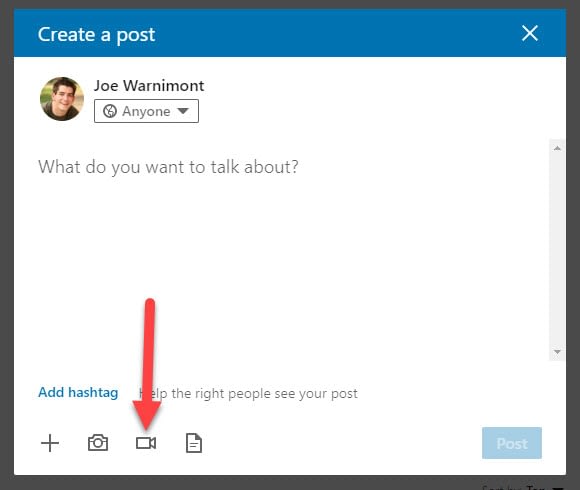 After that, a window appears to select any videos you have on your computer. Choose the one you want to upload.
Video post optimization step 2: upload your video and test it out
The cool part about LinkedIn videos is that the videos are given to you in a preview prior to publishing them.
Whether you embed a link or upload the video yourself, it allows you to click on the video and preview it.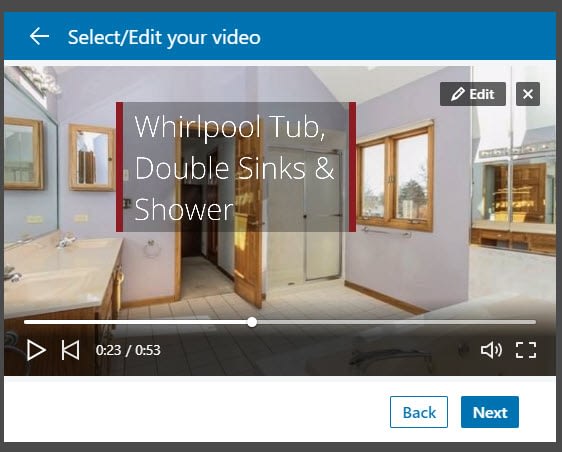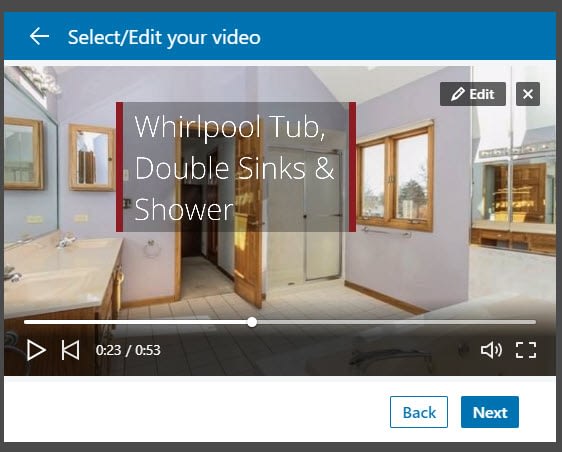 You can even click on the Edit button to upload a video caption (SRT) file prior to sharing the video. After testing out the video to ensure that it runs smoothly on LinkedIn, click on the Next button to proceed with the process.
Video post optimization step 3: create a killer description
We could spend hours on creating headlines for videos, but overall it's important to think back to what step you are in for the customer acquisition process. Also, remember that this could be more about employee acquisition.
Is the description meant to…
Inform?
Pique interest?
Capture leads/get sales/improve conversions?
After you decide on the purpose of the video, you can then use some of the following tips to make a killer description:
Think about your user pain points. Talk about those in the description.
Keep the description short enough to engage skimmers.
Consider a call-to-action to move them to complete a sale or sign up for an email list or do something else.
Think about adding questions to peak interest.
Include information that complements what's shown in the video–or anything you may have missed but is still important.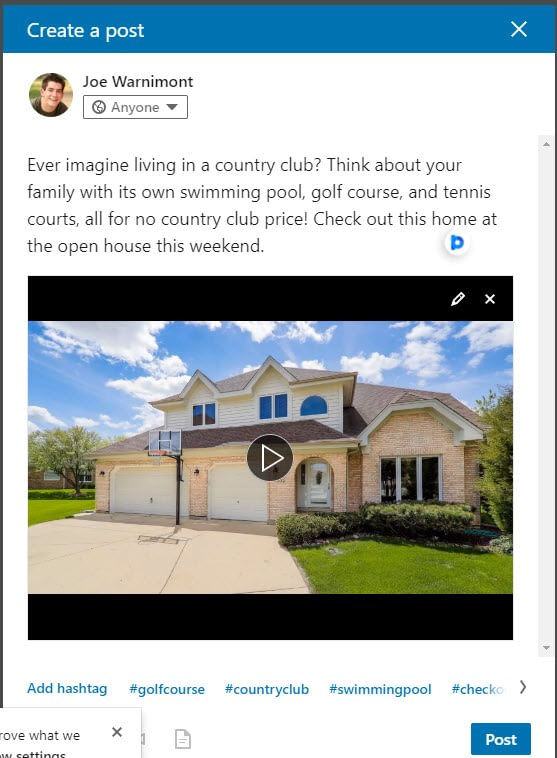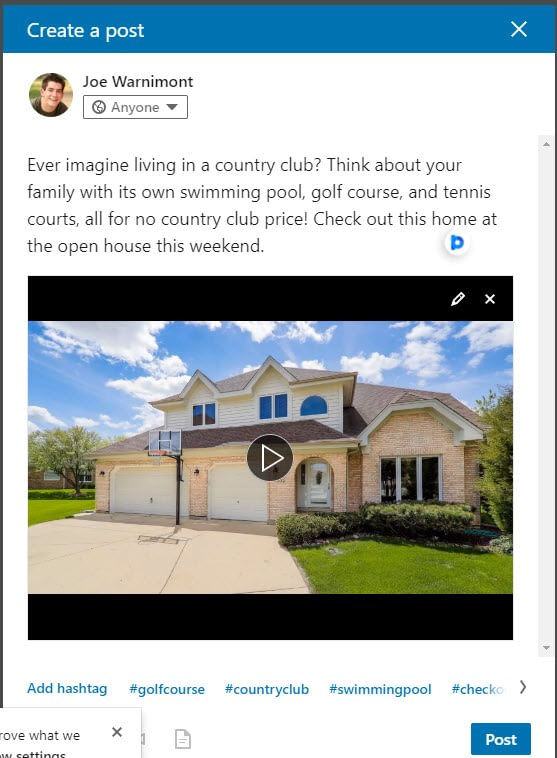 Video post optimization step 4: include relevant hashtags to reach a wider audience
At the bottom of each post, you'll find an area to research hashtags for your post.
These don't improve how current followers engage with your post. Rather, they open up the post to LinkedIn users who search for these terms. In short, you're opening up your video to new people.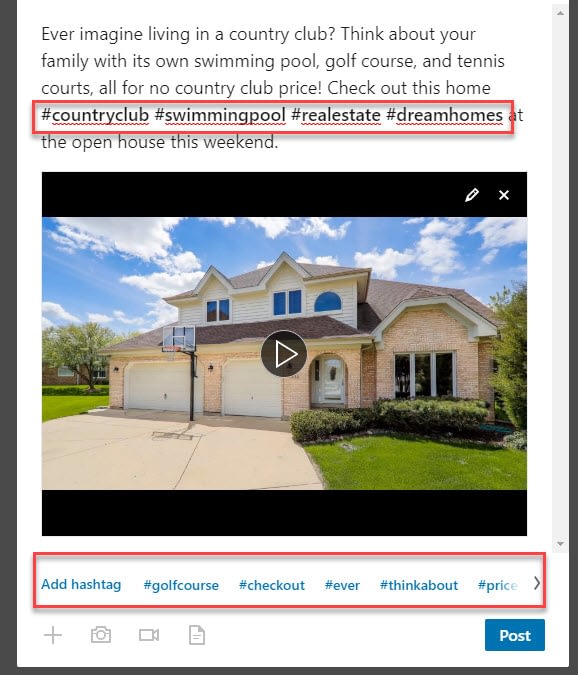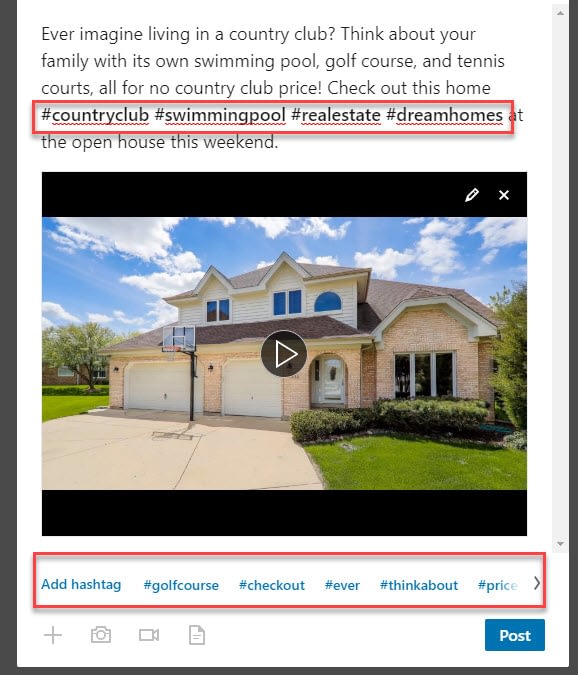 Several hashtags are suggested based on your description content. Feel free to include any of those that make sense. Also, try out new hashtags that you feel may be searched by potential clients, customers, and workers.
Hashtag research is an entirely different subject, so feel free to search on the LinkedIn search bar for certain hashtags that relate to your post and get some solid engagement.
You're not looking for the most popular ones–since it's hard to stand out. Yet, it's a good idea to find ones that have a good amount of activity.
Video post optimization step 5: embed the LinkedIn video to other platforms
This isn't a necessary step unless you'd like more people to see the video on LinkedIn.
And why wouldn't you? LinkedIn provides an embed code for all of your uploaded videos to place on the following:
Email marketing
Website
Other social networks
This consolidates items such as likes, comments, and the video itself. You're able to push more people to your LinkedIn page and generate a social effect with the sharing tools provided through LinkedIn.
Posting LinkedIn video ads is a whole different ballgame
A video ad is limited in some ways on LinkedIn, but it also gives you many targeting tools to work with.
The first step is to go to the Campaign Manager on LinkedIn.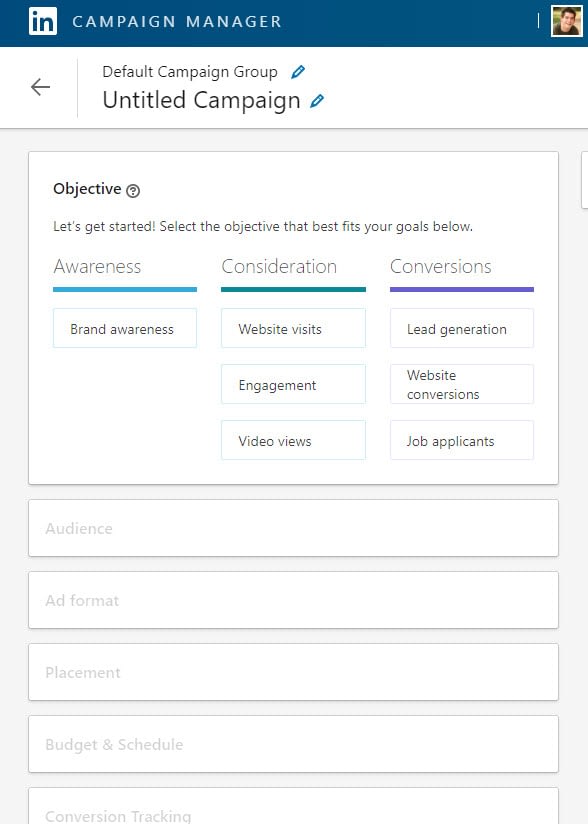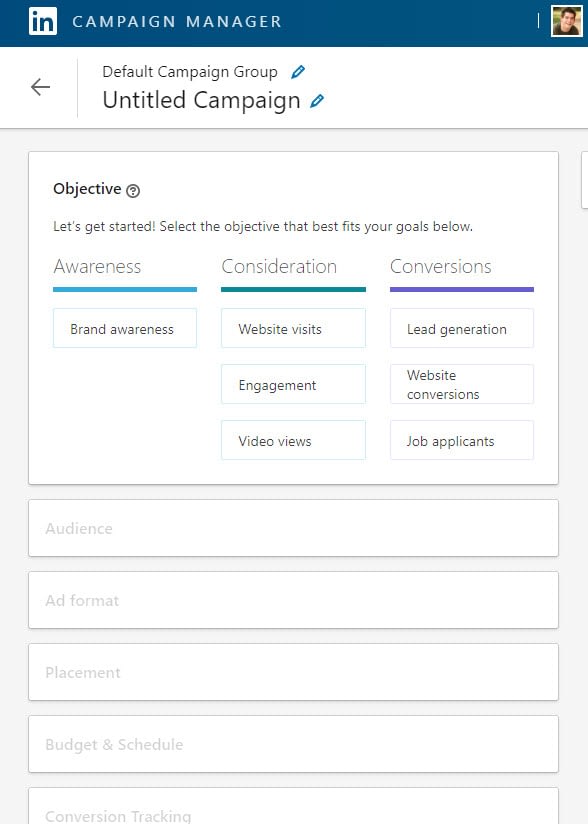 All video ads are created and managed here. Uploading the videos is similar, but you'll also want to walk through the following areas to ensure that your videos get the best reception:
Choose your objectives, such as brand awareness, engagement, video views, and website conversions.
Select your audience.
Decide on an ad format, such as a video or carousel image ad.
Consider the placement of your ad on the LinkedIn Audience Network.
Choose a budget and schedule.
Configure your conversion tracking.
Are you ready to create incredible LinkedIn videos?
There's never been a better time to dive into creating LinkedIn video content. You can start posting videos and improving engagement on your LinkedIn profile in a few simple steps:
Choose the type of video you want to create
Script a video with the necessary information
Record and edit your video, making sure to keep it in the optimal format for LinkedIn
Upload your videos to the LinkedIn site
Attach suitable hashtags to your post.
Publish your post and share it with the world!
Let us know your thoughts about LinkedIn videos in the comments below!
The post How to Use LinkedIn Videos to Excite Potential Leads and Employees appeared first on Revive Social.