Are you looking to increase your social media engagement? Sometimes sharing posts doesn't generate enough click-throughs, comments, or reactions. Users can easily miss your content while scrolling through their busy social media feeds. One effective way of encouraging user participation is by creating quizzes. In this guide, we'll look at how to use quizzes to boost engagement on both social media and your own site.
Before that, let's take a look at the social media benefits of publishing quizzes.
How quizzes can increase engagement on social media
Interactive content can help boost your engagement. In fact, 81 percent[1] of marketers agree that such content is more effective at capturing people's attention than static posts. This includes quizzes, which are very popular on social media.
According to research by BuzzSumo, the average online quiz gets shared around 2,000 times[2], with the majority of people sharing their results on Facebook. Therefore, quizzes can not only encourage people to engage with your content, but they can also help increase your brand visibility.
If you're active on social media, you may already be familiar with the types of quizzes that tend to do the rounds. Some test your knowledge about a particular topic. For instance, you may be asked to spot common grammar mistakes or identify flags of the world:
Another popular type of quiz is one that reveals something about your personality. For example, you may take a quiz to find out what type of tourist you are or which book character you are most like:
When the outcome of a quiz is positive, such as a high grade or a funny personality match, many users will be tempted to share their results on social media. For some, it's a way of showing off their knowledge about a subject or exhibiting their cultural interests.
When people see their friends participating in quizzes, many want to join in on the fun. Thus, the more shares a quiz gets, the more likely people will want to take it.
For social media users, quizzes are simply a way to pass the time or have a laugh. However, for many businesses, they can be a powerful marketing tool for driving engagement and generating leads.
How to use quizzes to boost engagement (5 key tips)
Let's take a look at five practical tips to help you create quizzes that your followers will want to take – and share with their friends!
1. Set your goal and Call To Action (CTA)
Before getting started with your first quiz, you may want to reflect on your campaign goal. Having a clear purpose for your quiz will help you plan its content more efficiently. For instance, you might want to use quizzes to grow your social media following and increase your engagement.
This goal should be reflected in your quiz's main CTA. For example, if you want to prompt users to follow your page or share your content, you can include CTAs such as "Follow us on Facebook for more fun quizzes" or "Tag a friend who needs to take this quiz".
You can also ask people to share their results in the comments section of your Facebook post so that the quiz comes up on their friends' feeds: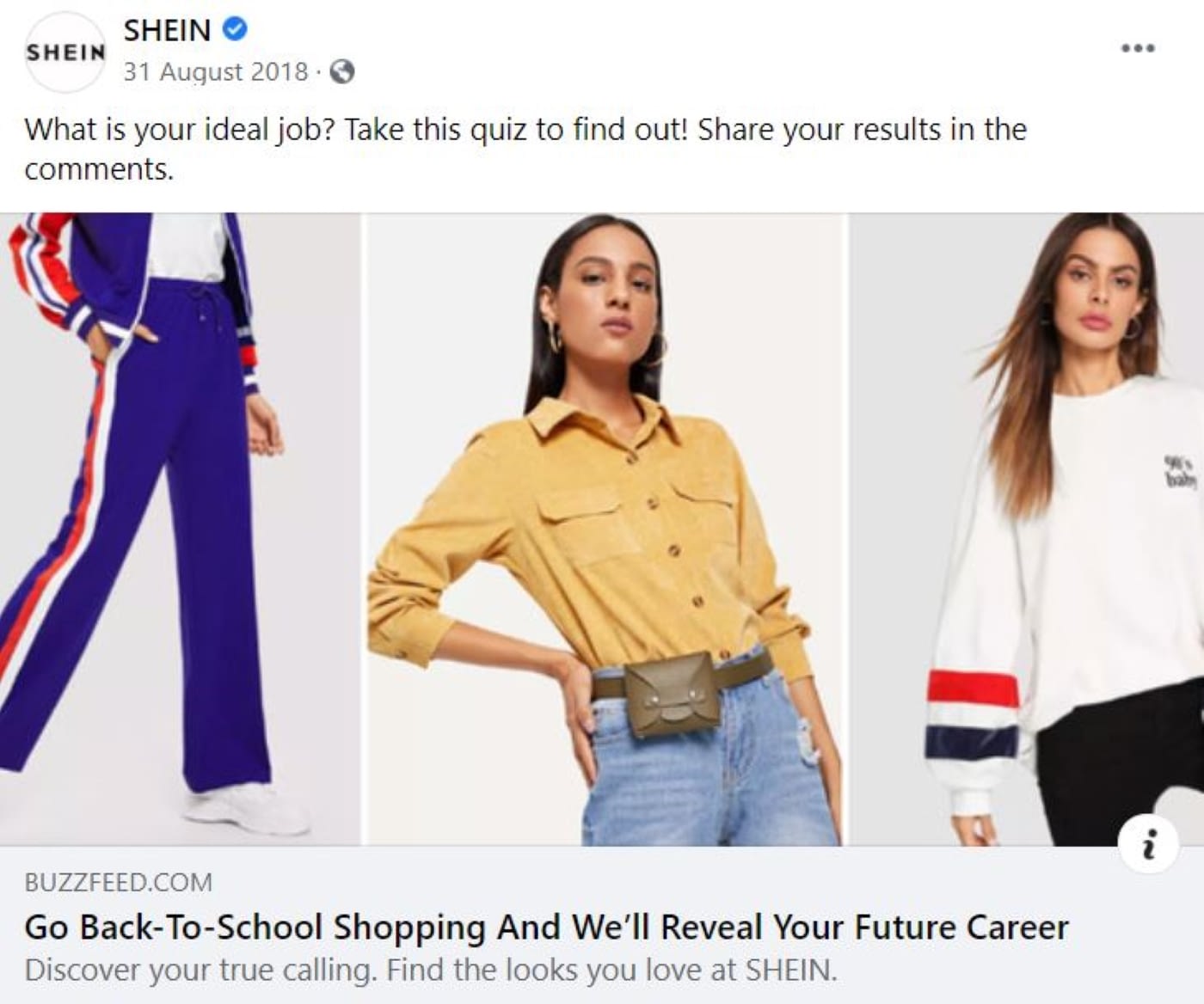 You can also use quizzes to drive brand awareness or boost conversions on your site. Perhaps you want people to subscribe to your newsletter or check out particular products or articles. You can achieve this by adding a secondary CTA to your quiz.
Let's say your personality quiz helps users find out which country they should visit next. Besides encouraging social media shares, you can also include a CTA that invites people to browse through your collection of travel guidebooks.
Additionally, you may want to re-purpose the same quiz to achieve different goals. You can use our Revive Old Posts plugin to craft and schedule social posts for your quizzes and use a different CTA for each post. The plugin also enables you to publish your content on rotation, so you can make sure your quizzes keep getting shared on your social media accounts.
2. Choose a relevant quiz topic
Once you've settled on a goal and CTA, you can start thinking about potential topics for your quiz. It's important to ensure that your chosen subjects appeal to your target audience. Otherwise, your quizzes might fail to generate interest. For this reason, you may want to use Google Analytics to learn more about the demographics of your site users.
If you're stuck for ideas, you can get some inspiration from trending topics in your industry. For example, if you have a travel brand, you can discover what destinations are hot right now and design your content around those trends.
Another great source of inspiration is pop culture: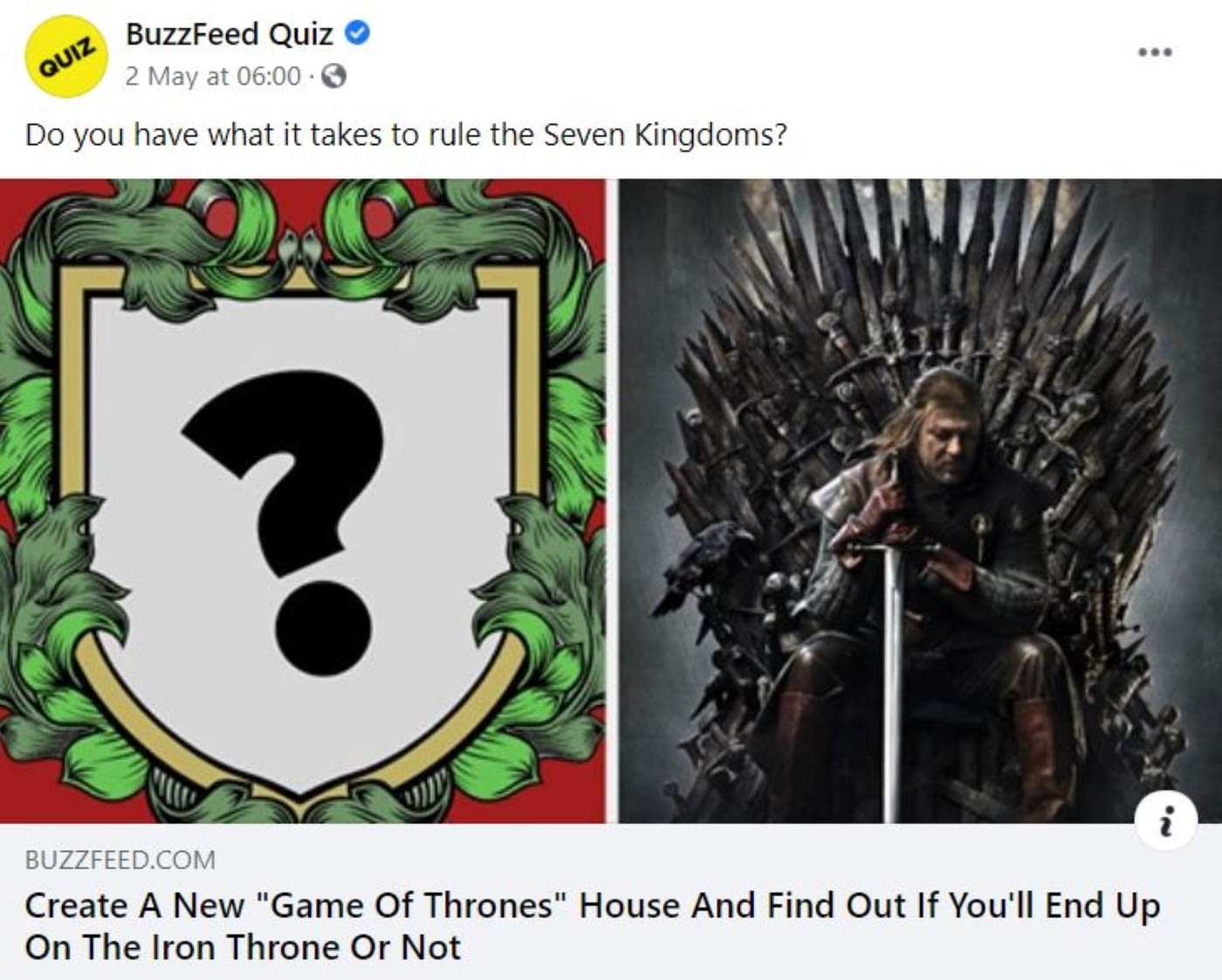 If the majority of your audience is made up of millennials, you can find out what type of TV shows or films are currently popular among that generation and create a relevant personality quiz.
3. Keep the quiz simple
Quizzes should be kept short and simple. If they are too long or complicated, participants will likely abandon them halfway through and may not even bother sharing them with others. Thus, it's important to create content that keeps participants hooked till the end.
Many quizzes ask one question per page, inviting users to move on to the next one once they've supplied an answer. This format can pique people's curiosity, and many will want to keep clicking on that Next button to see the rest of the questions.
Another important tip is to keep multiple answer options to a minimum. Having too many possible answers can overwhelm users, so you may want to keep the list to three or five options:

You might also want to ensure that your content is neither too easy nor too difficult. Your audience might feel insulted or patronized if the quiz looks like it was designed for children. Meanwhile, if the questions are hard or confusing, people might score poorly and be too embarrassed to share their results with their followers.
Finally, it's smart to ensure that your quiz is responsive on all devices. If you set up your quiz using your laptop, for example, we recommend testing it on your mobile phone as well.
4. Make the content fun and interesting
Now that you've set your topic and questions, it's time to spice up your quiz with some visual cues. This will help you draw more people to your content and hold their attention throughout the quiz.
The first step is to create a headline that will immediately hook readers. Ideally, the title of your quiz should be posed as a question, especially when inviting people to a challenge (e.g., "How many of these famous paintings can you name?").
Along with a snappy headline, remember to include an eye-catching image for your social media posts: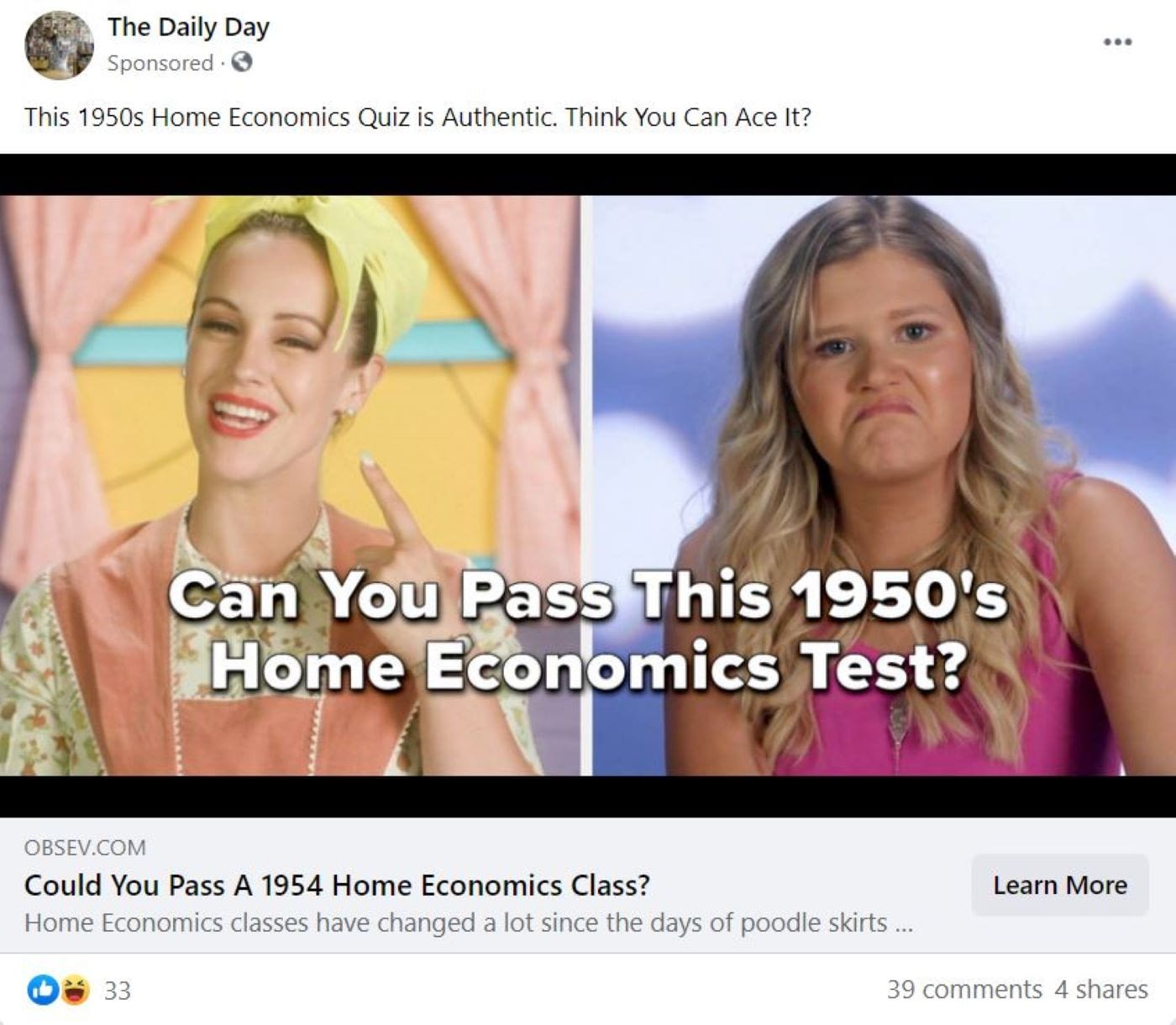 Next, consider using images to make your content more interesting and digestible. You might insert a few animated stickers or GIFs to add a bit of humor.
You can also incorporate images as answers, asking users to pick one: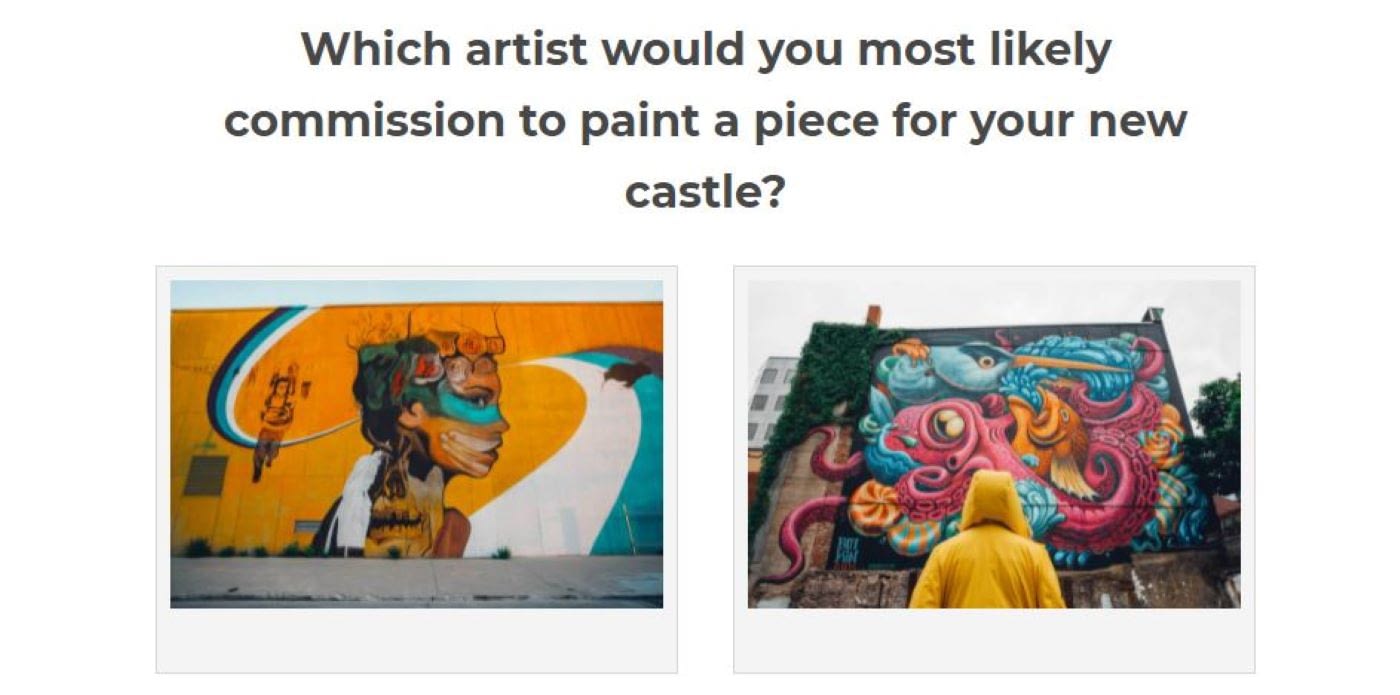 The content of your quiz results should also be entertaining. More importantly, the results should offer users a sense of satisfaction.
If they're too bland or uninspiring, people might feel that the quiz was a waste of time. On the other hand, if the outcome offers some interesting information, users will be more inclined to participate in other quizzes on your page or share the results with friends.
5. Collect data about your participants
Once your quizzes start gaining traction, it might be a good idea to collect some data about them. You can use Google Analytics to find out if your content is reaching the right audience, or which social media platform drives traffic to your quizzes.
Moreover, you can examine the most common outcomes of your quizzes to obtain information that isn't offered by analytics tools, such as your audience's personality traits and educational background. This personalized data can help you tailor your future content more effectively. You can also use it in your marketing campaigns and product development.
Finally, analyzing data about participants is essential if you want to continue publishing quizzes that boost engagement. This will help you optimize your content according to the behavior and interests of your main audience, so you can ensure that future quizzes generate greater participation and higher conversions.
There are several WordPress plugins you can use to host effective quizzes on your site. A popular option is Formidable Forms:
This plugin comes with a drag-and-drop builder that enables you to put together responsive quizzes and surveys in no time. It also lets you view your quiz entries from your WordPress dashboard, so you can easily access valuable information about your participants.
Conclusion
People enjoy taking quizzes, whether it's because they want to test their knowledge about a topic or learn something new about themselves. Creating quizzes for your audience can help boost engagement on social media and drive more traffic to your website. Many users will share their results with their friends, prompting them to visit your page and take the quiz.
If you are thinking about creating quizzes, here are five tips to help you get started:
Set your goal and CTA.
Choose a relevant quiz topic.
Keep the quiz simple.
Make the content fun and interesting.
Collect data about your participants.
Are you planning a quiz? Let us know about it in the comments section below!
The post How to Use Quizzes to Attract More Attention on Social Media appeared first on Revive Social.