Video is a very effective tool for you to incorporate into your business' marketing strategy. Until recently, YouTube video advertising required you to choose between various video ad formats for each campaign. Deciding which to use could be challenging, and in some cases, costly.
However, Google recently announced its new YouTube Video Reach campaigns. The purpose is to simplify how marketers reach customers throughout their journeys, which are becoming increasingly complicated. This solution lets businesses combine multiple ad formats into a single campaign to connect with consumers more efficiently.
In this post, we'll discuss the benefits of YouTube video advertising. Then, we'll introduce you to YouTube's new Video Reach campaign platform, explain how it works, and what it means for online marketing. Let's jump in!
The benefits of YouTube video advertising
YouTube video advertising has gained traction over the years. With over one billion users, YouTube has the second-highest number of active users globally, second only to Facebook, and is the third most visited website (after Google and Facebook).
One of the benefits of YouTube video advertising is the variety of video ad categories you can choose from. Among the most common formats are non-skippable ad streams, TrueView ads, and bumper ads.
Non-skippable ad streams play during a YouTube video and can range anywhere from a few seconds to three minutes. These let you include a display ad in the top right that points directly to your website.
TrueView ads are the skippable ads that appear at the start of YouTube videos. They're cost-effective and versatile, letting you add a Call To Action (CTA) as an overlay or card: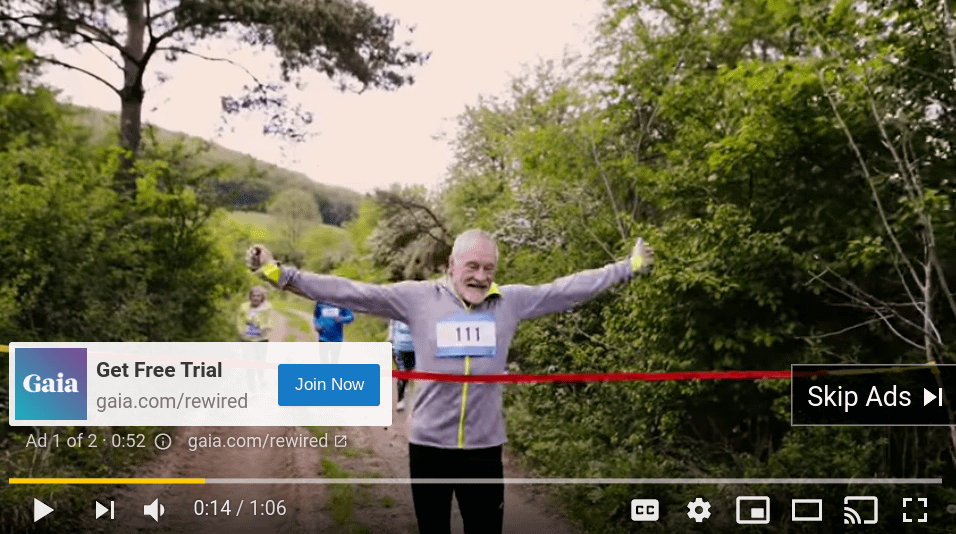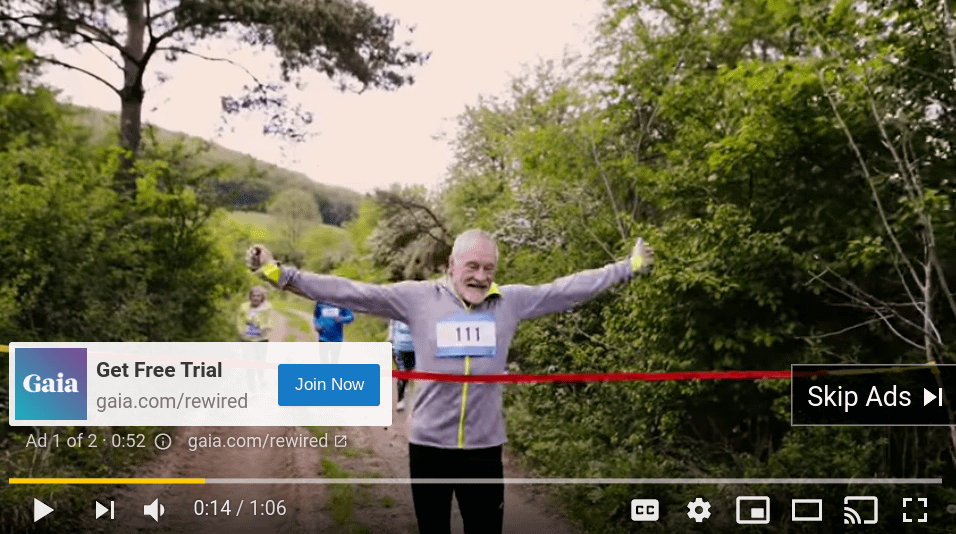 Bumper ads tend to be shorter (about six seconds) and are, therefore, less disruptive and irritating for viewers. They're also ideal for targeting mobile users. These ads use Cost Per Thousand (CPM) impression payment systems, meaning you pay based on the number of times your ad is shown.
YouTube advertising essentially has something for everyone. The range of ad formats allows you to choose one based on the specific goals of your marketing campaign and audience preferences.
Another benefit of YouTube advertising is that the video platform can be used as its own search engine. In fact, it's the second-largest search engine after Google. Therefore, you can optimize your video content to target specific viewers.
An introduction to YouTube's Video Reach campaign platform
YouTube recently introduced its new Video Reach campaign that will take video advertising to the next level. In a nutshell, Video Reach campaigns promise to deliver "a simpler, more efficient way for marketers to achieve their brand awareness goals with YouTube."
With these campaigns, you'll be able to upload three different types of ad assets (non-skippable in-stream ads, skippable in-stream ads, and six-second bumper ads) into one campaign. Then, using machine learning, Google will identify the most effective combination of these assets to maximize and scale your audience reach.
Any advertisers can utilize this platform and purchase the ads on a CPM-basis. If you use a series of ads, this new campaign type eliminates much of the guesswork involved in the management of YouTube video advertising.
Five ways YouTube's Video Reach can benefit online marketers
If video is part of your marketing strategy, it's a smart idea to consider how this new reach campaign could help improve your efforts. Let's take a look at five ways YouTube's Video Reach can benefit online marketers.
1. Connect with customers throughout their journey more efficiently
You can use YouTube video advertising to target consumers based on where they are in their journey. Of course, your campaign goals influence the YouTube video advertising format you choose.
For example, if your goal is to generate leads and drive website traffic, you may want skippable in-stream ads. On the other hand, if the goal is to expand your reach and boost brand awareness, you might opt for bumper ads.
In the past, you would have to create a separate campaign based on specific goals and ad types. However, the main draw of the new Video Reach campaigns is their ability to harness machine learning technology to distribute an optimized combination of ad formats automatically.
This means you can use Video Reach to connect with customers throughout 'touchpoints' in their journey more efficiently and effectively. It simplifies how you reach your customers through video ads, and lets you reach customers where they're most active (which we'll discuss later).
2. Save time so you can focus on other business initiatives
In the past, YouTube's system for managing various types of ad campaigns, as well as their placement, could be complicated and even a bit time-consuming. All in all, you were responsible for nearly every element and aspect of YouTube video advertising campaigns.
Having to manage multiple video campaigns can be intimidating. It may even be a reason you've neglected or shied away from YouTube video advertising in the past.
However, this video ad update aims to eradicate such concerns by minimizing the amount of time you would need to dedicate to the campaign variants. Google's machine learning processes help eliminate the burden by automating video ad placement.
When you take out some of the guesswork involved in the management of campaigns, you'll have to spend less time picking, creating, and managing separate campaigns for each goal and ad type. The time saved gives you more freedom and flexibility to focus your attention on other marketing strategies and initiatives.
3. Lower your video advertising and campaigns costs
In addition to alleviating the time commitments traditionally involved in YouTube video advertising, the new reach platform also helps reduce financial investment. The more efficient ad choice and placement are, the less likely your campaigns are to result in wasted money.
One way YouTube video advertising can help with campaign costs is that you only pay when someone watches the entire 30-second duration of your ad or when they interact with it. With the way YouTube video advertising pricing is structured, you can determine how much you pay and make adjustments on an as-needed basis: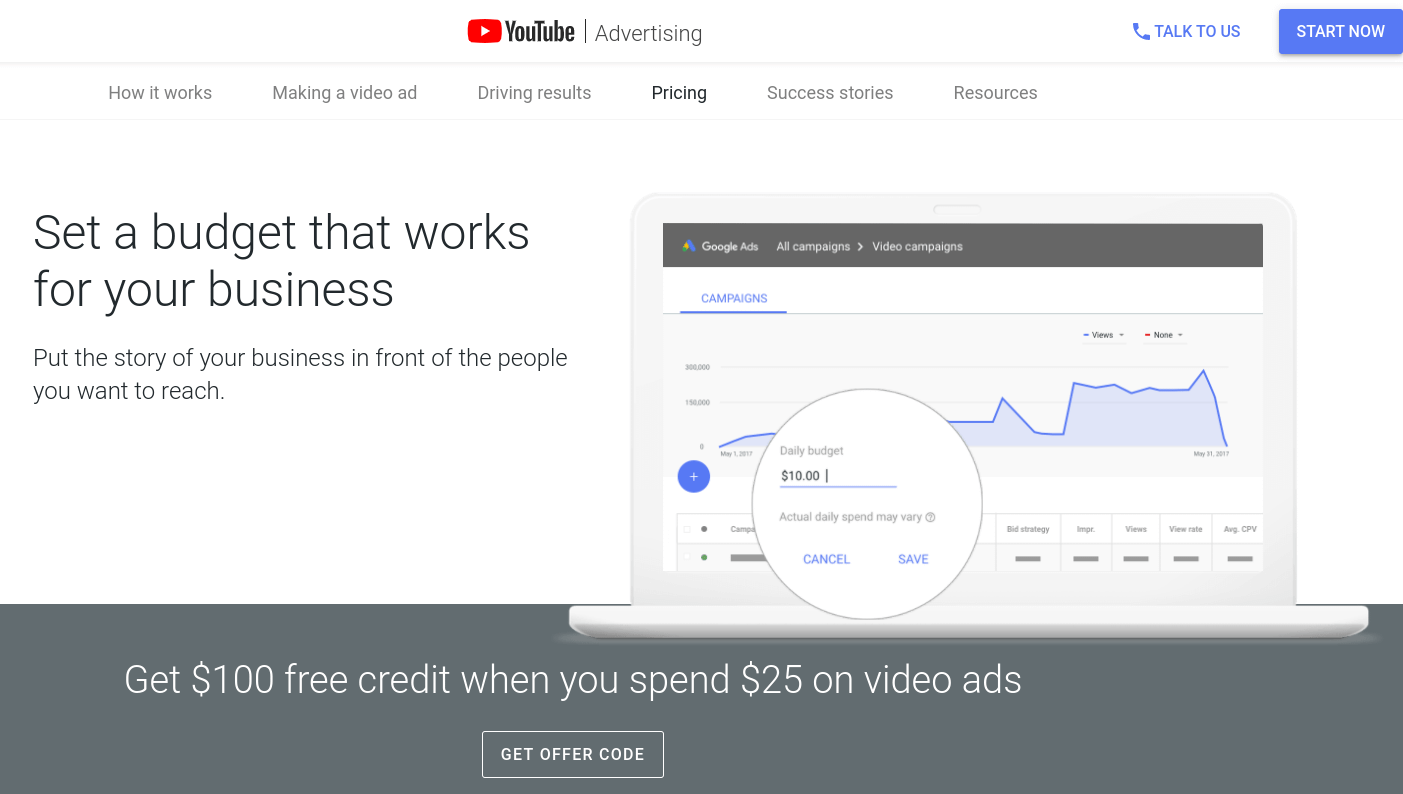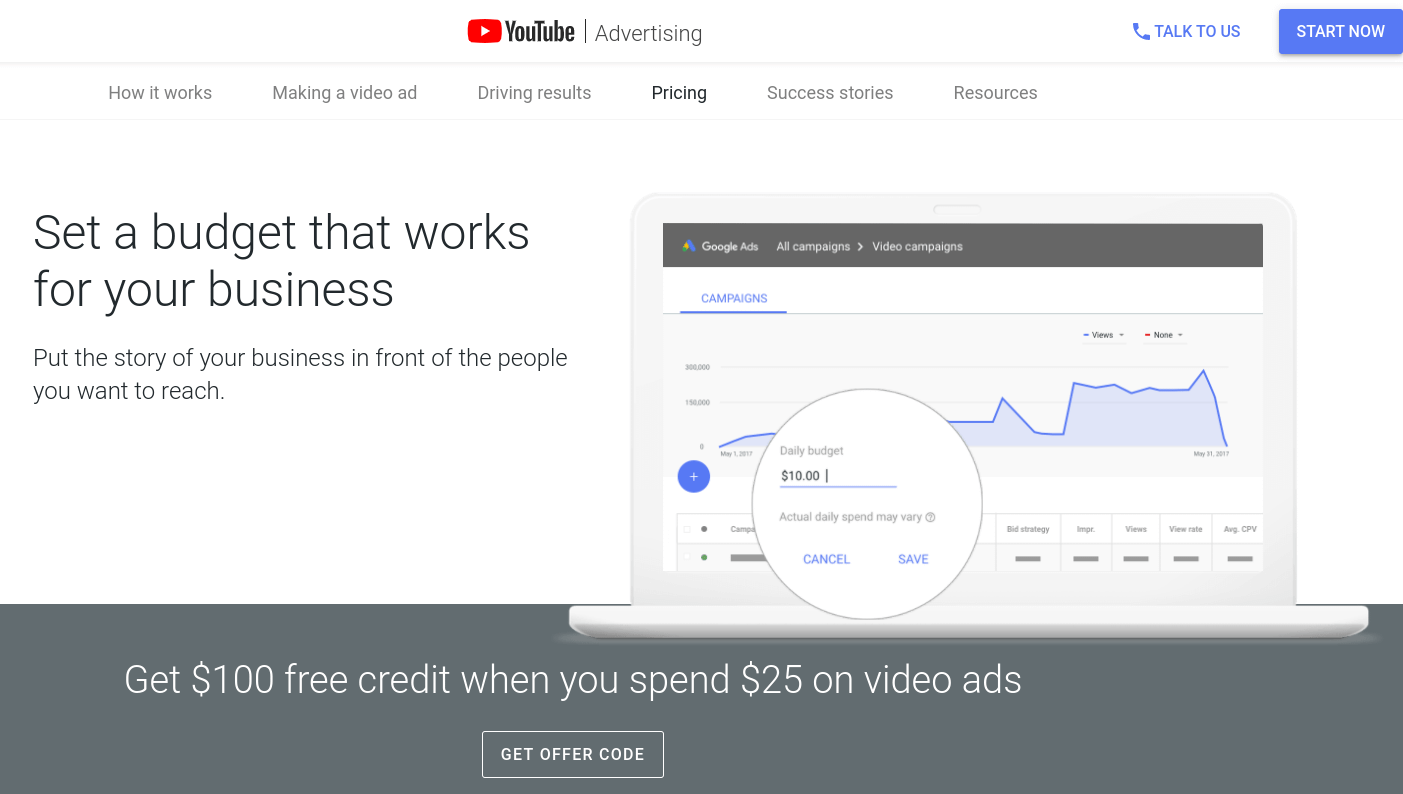 In its announcement, YouTube explained that its early adaptors of the Video Reach campaign are already seeing cost benefits. One of the brands to experiment in the alpha tests was Ford.
Using the new campaign, the automaker saw more than 20 percent lower campaign costs than previous YouTube benchmarks. Ford Head of U.S. Media Lisa Schoder explained that the positive results "not only provided cost efficiencies while maintaining effectiveness but also the confidence to implement this tactic across additional campaigns."
4. Use in combination with TrueView Ads to drive action
As we briefly touched on earlier, TrueView Ads can help generate leads and conversions through the use of prominently displayed CTAs and text overlays. They are a valuable YouTube video advertising subtype when you're looking to drive consumer action. You can include links to your products and services or ask for contact information from viewers.
Until recently, TrueView ads would only run as skippable in-stream ads. However, now YouTube will be bringing the TrueView for action ad format to the YouTube Home screens where they will display with video recommendations: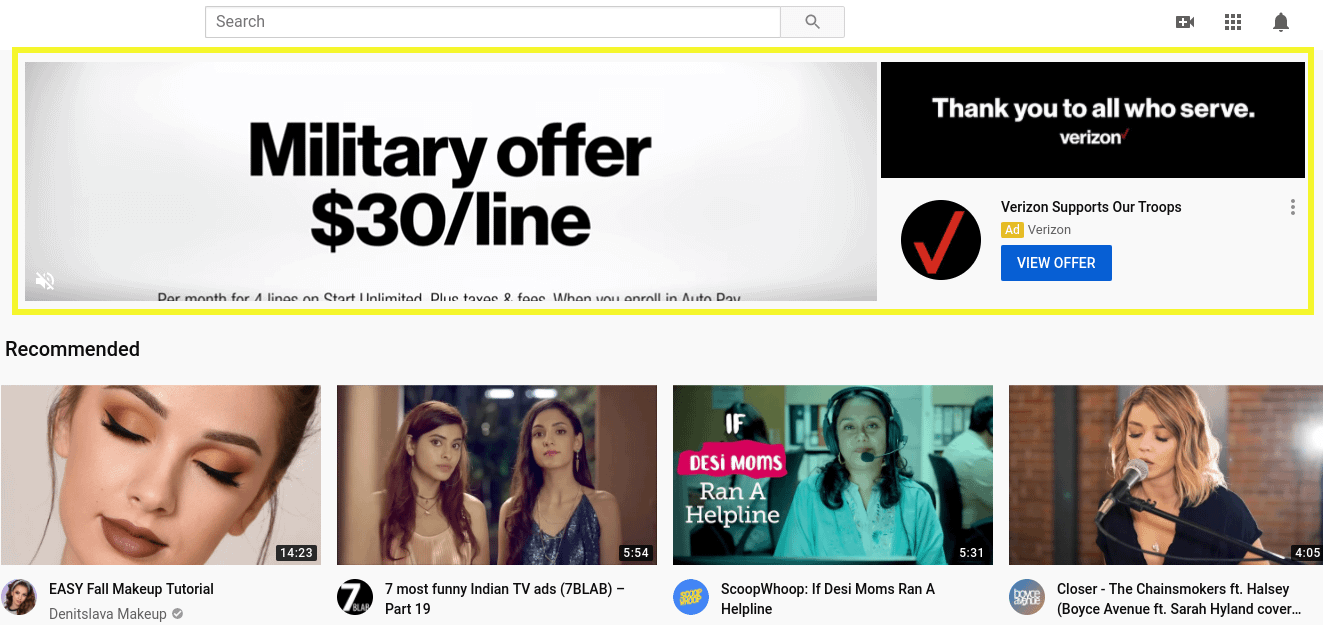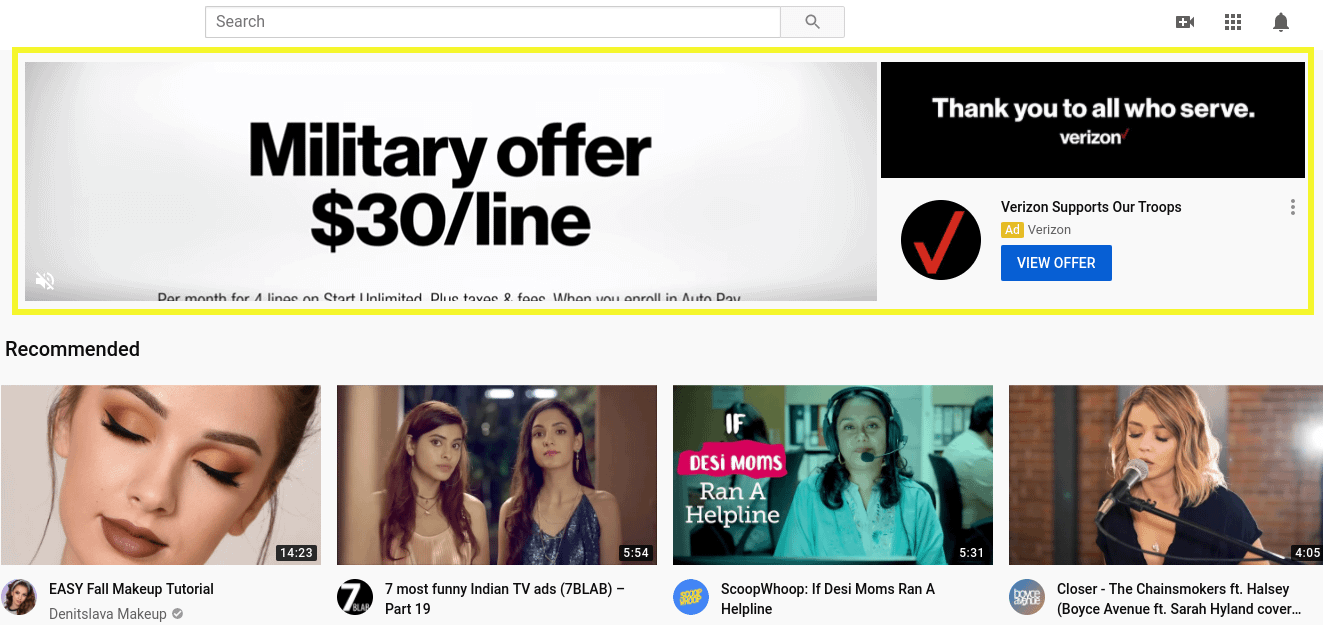 Put simply, this added functionality presents the opportunity to drive high-value conversions by targeting customers when they're most active. YouTube also explained that using the combination of Video Reach campaigns and TrueView for action ads can help you "build a full-funnel video strategy."
Whether on a desktop or YouTube's mobile app, the TrueView ads will display on the Home feeds, so it's the first thing users see when they sign in. This prominent positioning, paired with the ability to add clickable CTAs, headline text overlays, and end screens, provide actionable campaigns that you can optimize to drive conversions.
5. Reach audiences on TV screens with YouTube Masthead
YouTube Masthead is a format of YouTube video advertising that was previously only available for mobile and desktop. However, a 2018 report discovered that YouTube has seen a 70 percent year-over-year increase in living room viewing.
With a daily watch time topping 250 million hours per day, it's clear that an increasing number of people are watching YouTube from their smart TVs. So it makes sense that YouTube recently announced its decision to extend the YouTube Masthead format to TV screens as well.
You can use this ad format to drive awareness for a new product or service or reach a wider audience for a short period of time. When viewers launch the YouTube app on their TV screen, the prominent ad will automatically begin playing within seconds.
The YouTube Masthead ad format can be purchased as part of a single-screen or cross-screen buy and can be personalized for specific audiences. You can be charged on either a CPM or a Cost Per Day (CPD) basis. However, they are only available as reserved media placement.
Conclusion
YouTube video advertising is an effective way to promote your brand and reach your target audience. However, choosing between ad formats can be difficult. To maximize ad spend and effort, Google aims to harness the power of machine learning through its new YouTube Video Reach campaigns.
As we discussed, there are five benefits of online marketers using YouTube's Video Reach campaign platform. You can:
Connect with customers more efficiently along their customer journey.
Save time so you can focus on other business initiatives.
Lower your video advertising and campaign costs.
Use it in combination with TrueView Ads for actionable campaigns.
Reach audiences on TV screens with YouTube Masthead.
Do you have any questions about using YouTube's new Video Reach campaigns? Let us know in the comments section below!
The post How "Video Reach" Campaigns Simplify YouTube Video Advertising appeared first on Revive Social.