Here at Revive.Social, we believe in the power of data. We know automation works, and we know our Revive Old Post plugin is an effective way to automate your social media presence and boost high-quality content on your WordPress site.
However, while there's a ton of data on the effectiveness of marketing automation, there isn't an enormous amount of data on how Revive Old Post will improve your marketing. In the spirit of full transparency, we decided to run an experiment using ROP on our own Twitter account for a comprehensive Revive Old Post review. Today we're going to explore how the first three months of using Revive Old Post has improved our engagement on Twitter.
---
Revive Old Post #PluginReview: how 3 months of ROP transformed our Twitter account
Click To Tweet
---
The theory
We hoped that using Revive Old Post to automate publishing on Twitter would achieve the following goals:
Improve our overall visibility
Increase overall engagement
Get more link clicks to our most valuable content
Our stats before using Revive Old Post


The Revive Social Twitter account had a solid 32.2K impressions in December 2018. Most of our engagements were detail expansions or retweets, with only four link clicks leading people back to the Revive.Social blog in the entire month.
These numbers are all right because we only posted 20 tweets throughout the entire month, but we can definitely do better, especially with all the high-quality content we've published in the past year.
The structure of the Revive Old Post review
We chose to schedule two ROP posts to Twitter every day from Monday to Friday. Revive Old Post allows you to create variations on the tweets you send out, but for the first few weeks, we chose to stick with using article titles as our captions.
At the beginning of March, we added 2-3 content variations for all of our old articles. This feature of Revive Old Post is great because a) different headlines catch different people's attention and b) Twitter actively persecutes accounts that repeat identical content too often.
Setup
My one major stumbling block during this Revive Old Post review was the fairly complex application set-up process to connect Revive Old Post to the Revive.Social Twitter account. This process required me to create an "app" for Revive Old Post and submit it for Twitter's approval. I'm not a developer, so it took me a couple of tries to figure out the Twitter developer system and get my app approved. This pushed the official starting date of the case study to January 18th.
Once the Twitter account was connected, the rest of the setup ran smoothly. The Revive Old Post interface was straightforward and allowed me to customize several aspects of our posts, such as maximum character length, inclusion of the post link, and the usage of ROP's built-in URL shortener.
The interface also allowed me to specify hashtags for sharing with our scheduled posts in a few different ways:


I chose the "Common hashtags for all shares" option and specified the hashtags #SocialMediaMarketing and #MarketingTips.
With the post parameters were all set, I created a custom schedule for our Twitter posts. I chose a fixed schedule to ensure more consistent results. This was the easiest part of the entire process.


What happened during our Revive Old Post review
Right away, I noticed that Revive.Social tweets were showing up in my personal Twitter feed for the first time. This was exciting but also somewhat frustrating because I wanted to retweet them for my audience, but I knew that would skew the statistics in an unethical way.
Despite my restraint and the fact that Revive Old Post didn't start publishing to our page until January 18th, we managed to boost our January impressions to 33.7K. We also got 12 link clicks, which is a full eight more than we got in December. Of those extra link clicks, four went to articles shared by ROP.
We also saw some interesting results in February:
31.4K impressions – This number is technically smaller than the number of impressions we got in December and January, but since February is a short month this is still a win.
8 out of 14 link clicks were on ROP posts – This shows that we are definitely driving traffic back to the blog. Four of the link clicks went directly to one of our most in-depth guides, How to Make an Infographic with Canva.
These results aren't miraculous, but they are a solid step in the right direction.
For the next part of the experiment, I added 2-3 content variations to each blog post. This is a pretty simple process, with the "content variations" box visible directly below the main article.


Unfortunately, I made a rookie mistake the first time I entered these content variations: I assumed the post link would automatically be included, along with the hashtags I specified during the setup process.
I quickly discovered that the content variation completely overwrites any existing rules about your posts. This meant our first few tweets with the content variations didn't include any links or hashtags. Oops!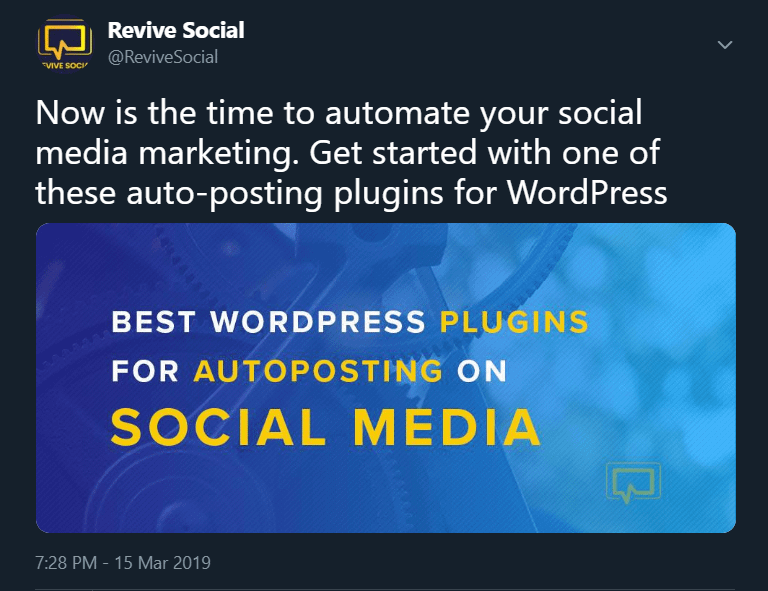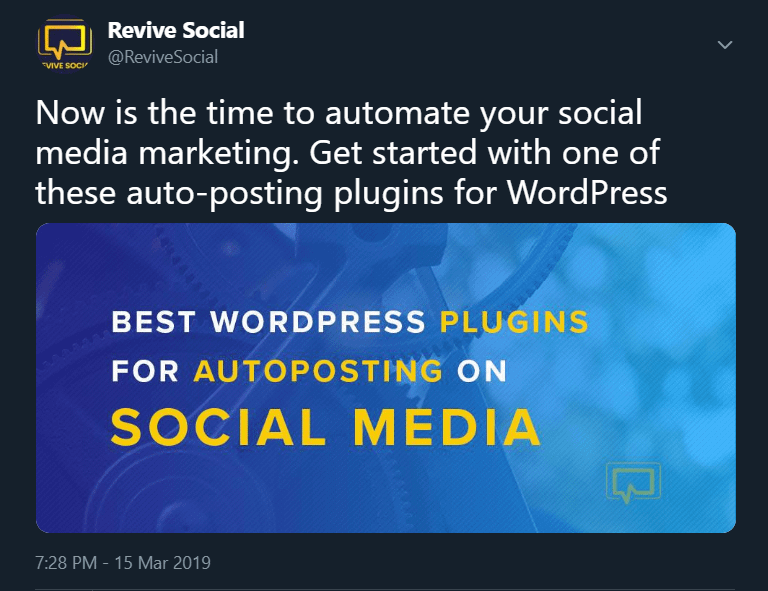 I hastily went through all of our posts and updated our content variations with links and appropriate hashtags. Creating variations for each post individually also allowed me to use more specific hashtags, with the hope of making those tweets more successful.


With these variations in place, our impressions rose to 45.5K for the month of March. We got 10 link clicks, with five of them going to articles shared by ROP. This shows that ROP consistently boosts your account's visibility, but the actual engagement rates vary based on the articles you're sharing.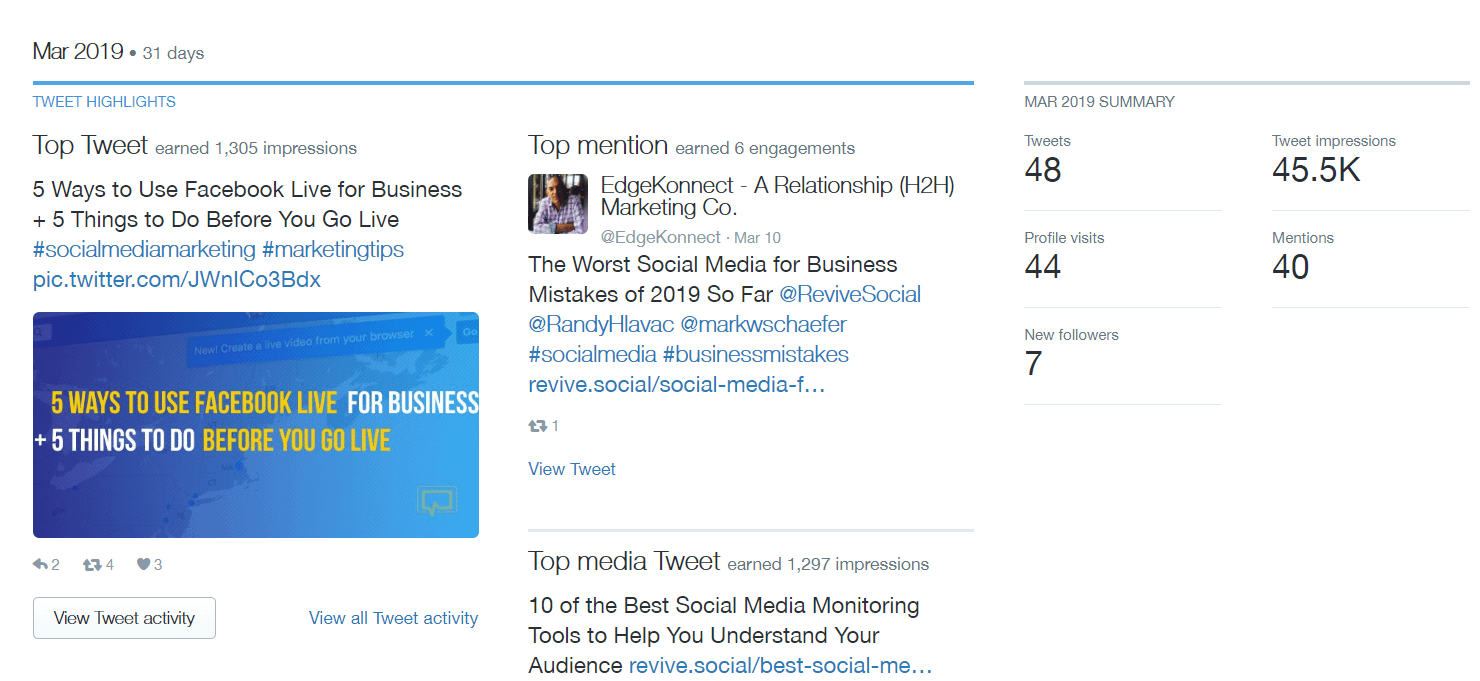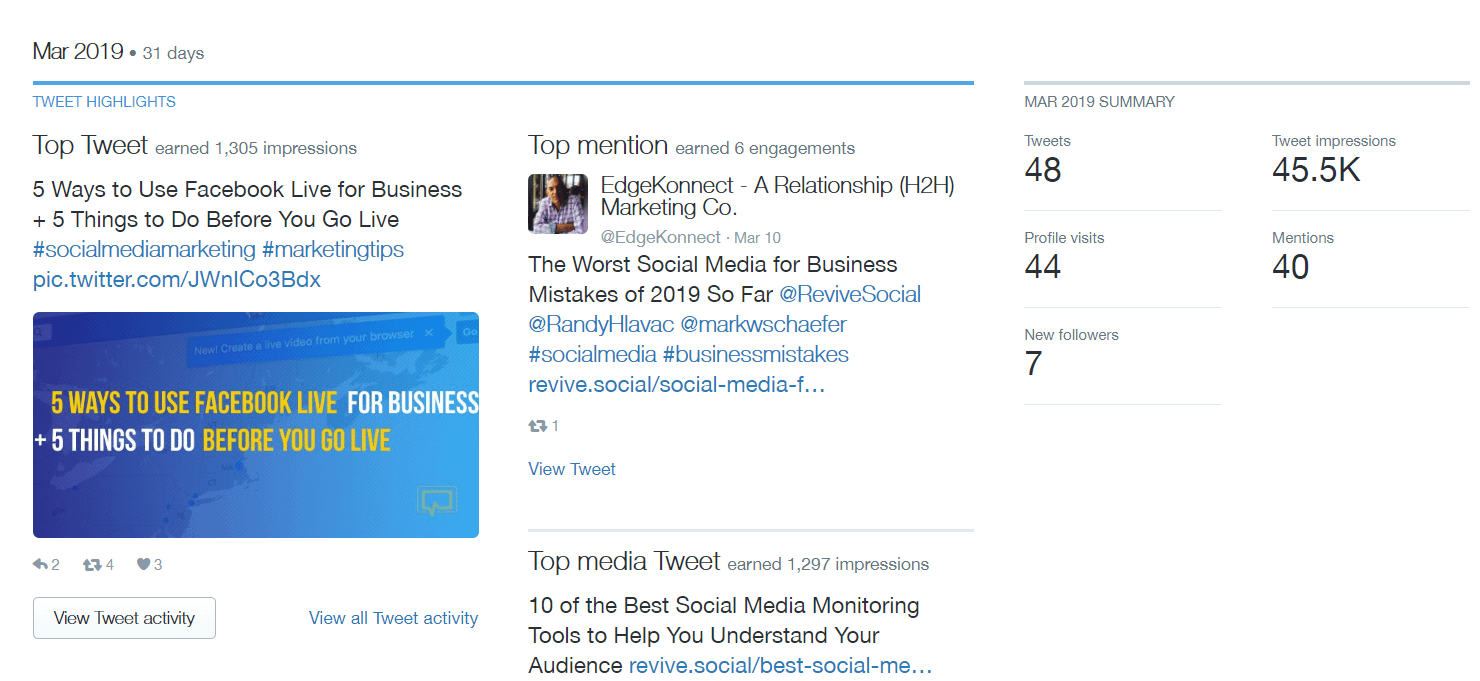 Our engagement rate dropped by a full percentage in March, but I still consider this a win because a) that engagement rate is based on a higher number of users seeing our work and b) right now our Twitter posts are almost exclusively scheduled ROP posts. These posts encourage clicks, but once a person has clicked through to our site, they're less likely to interact with Twitter features like retweets and likes. If we added a few more interactive posts to the mix, that engagement rate would probably go back up.
In month three, Revive Old Post underwent some major updates to help the system run more smoothly and efficiently. This forced our developers to disconnect the plugin from all social media accounts, and we were unable to run ROP for the second half of the month. In spite of this, we retained some of our gains from the previous months, with a total of 38.5K impressions.
Still, you can see the clear drop on most of the days when we had no scheduled posts:


Lessons from the data
There are three things we can learn from these results:
ROP really does work – Even using ROP on its own, with no other marketing strategies in place, can boost your brand visibility and drive more people to your site.
Content variations are key – Content variations help you follow Twitter's anti-spam rules and can often be more effective than simply sharing post titles.
Consistency over time will improve your results – The improvement we gained in February and March was derailed by the days in April when we had no scheduled tweets. This suggests that the best way to maximize growth is to keep Revive Old Post running consistently on your blog (which will be easy thanks to the new update).
What's next in our Revive Old Post review
We are so impressed with this Revive Old Post review that we've decided to run the plugin on our sister sites ThemeIsle and CodeInWP. We'll also continue to run it on the Revive.Social Twitter account. You can look forward to a second Revive Old Post review with our long-term results in September.
---
Does Revive Old Post actually work? This #review dives deep into the raw, unfiltered data
Click To Tweet
---
The post Revive Old Post Review: How 3 Months of ROP Transformed Our Twitter Account appeared first on Revive Social.