Cross-posting across all of your social media might be easy, but it's not the best approach. Every platform is different, so you'll need to use different strategies on each one. In this post, we'll discuss how social media best practices vary by platform. Then we'll provide you with five tips you can use for tailoring posts for each social channel.
Let's get started!
How social media best practices differ by platform (and why it's important)
Cross-posting refers to posting the same content across multiple social media networks. The reasoning behind this practice often makes sense. It can save you time by eliminating the need to craft a new message for each channel. Plus, it's a quick way to ensure you're staying active on social media.
However, while easy, cross-posting can be detrimental to your social media marketing success. Each network has its own features and specifications that, in turn, produce different social media best practices.
For example, the character count limit for Facebook posts is 63,206 characters (though the ideal length is 40 characters or fewer). Instagram has a character limit of 2,200. On Twitter, it's even less, with a 280-character limit. Those are big discrepancies.
There are other factors to consider, including:
Image formatting and sizing
Terminology and vocabulary
Usernames and handles
Sharing the same content you use on one may not translate well on another. When you cross-post, you run the risk of looking unprofessional, annoying, or even spammy. For example, you might use the wrong verbiage like asking your followers to 'retweet' your Facebook post.
Taking the time to customize your content specifically for the network you're posting to can go a long way. It gives you the reassurance that each post is appropriately suited for the particular channel as well as its audience.
How to meet the social media best practices of different platforms
If you're accustomed to cross-posting on social media, you might be concerned that adopting a new approach means committing to a more tedious and time-consuming process. However, even minor tweaks can make a major difference. Let's take a look at five tips for tailoring your social posts for each platform.
1. Learn the specific features of each social network you're posting to
For your social media strategy to be effective, it's important to learn the specifics of how each network operates. Doing so will make it easier to ensure you're crafting posts suited for both the platform and your audience on it.
It's helpful to narrow down the channels you use so you're able to focus only on ones that are advantageous to your brand. For example, if you conduct a social media analysis and realize your Pinterest posts receive next to zero interactions, your time and attention are probably better spent elsewhere.
Once you have your preferred channels pinned down, you can start researching the social media best practices of each one. This includes learning the specifications for image sizes and link sharing as well as the unique capabilities and functions.
If you're among the 80 percent of marketers who include visual assets in their social media marketing strategy, it's important to make sure they are the right dimensions. Otherwise, they won't have the intended effect.
To make image resizing quicker, you might consider using a photo editing tool such as Canva: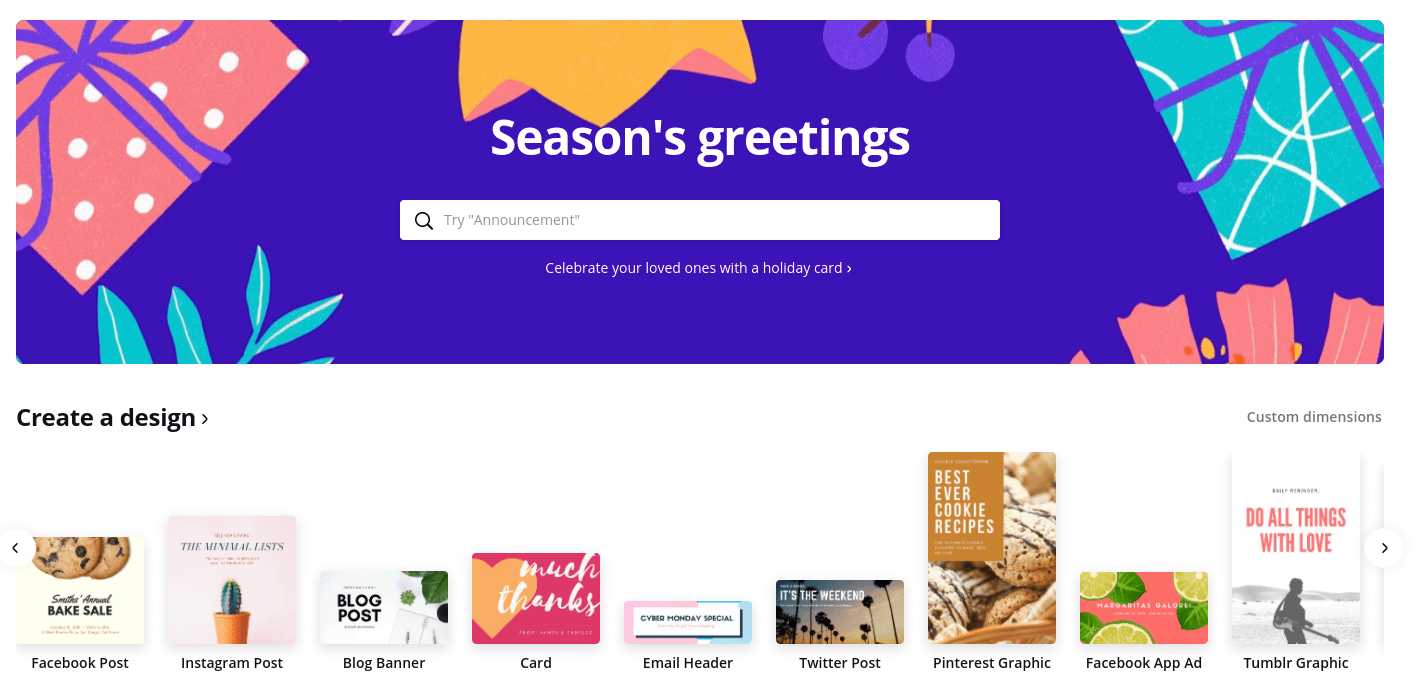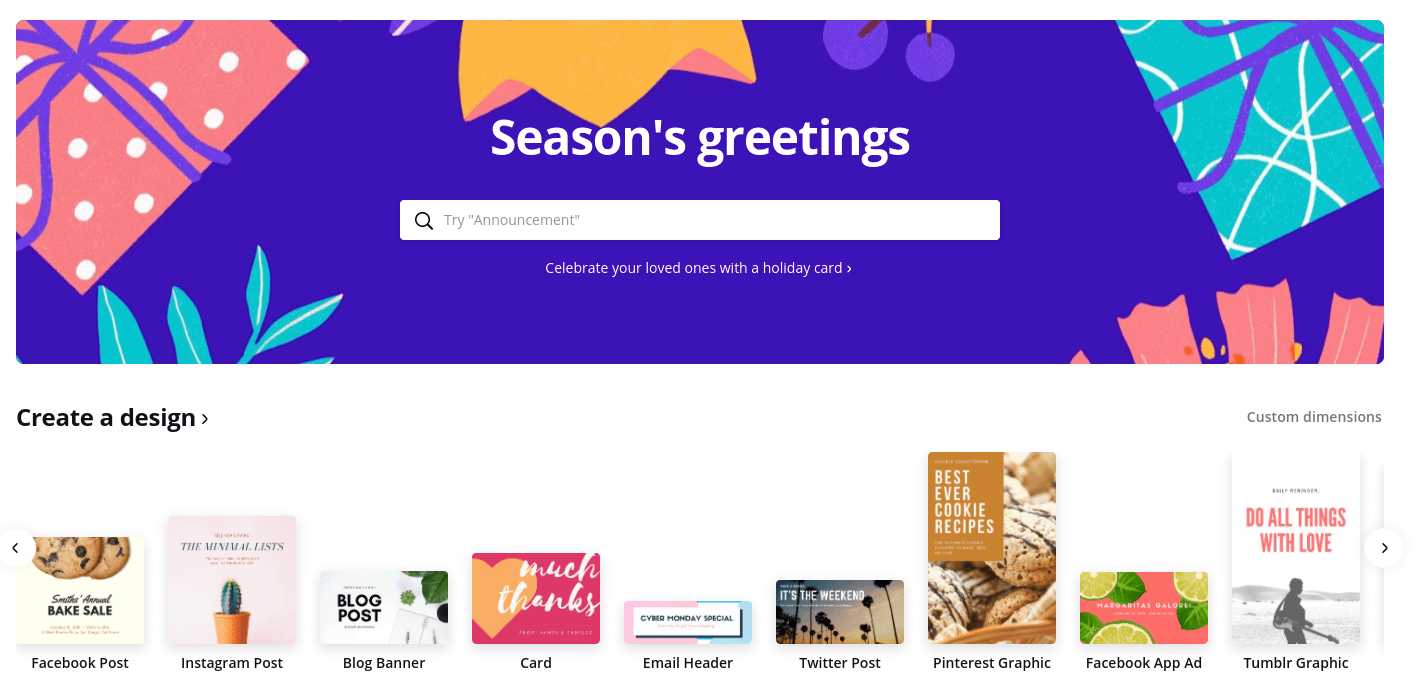 This website, also available as an app, makes it easy to resize and crop your images. You can also choose from a collection of templates that are pre-formatted for the appropriate social media image sizes.
You might also consider researching the trending hashtags and topics on each network. Doing so will help keep your content relevant.
2. Tweak content formats based on the channel and user preferences
There are certain types of content that are better suited for specific channels. The format, length, topic, tone, etc. of posts are all important. These factors can influence whether your audience finds it irrelevant (and whether they unfollow you).
For example, LinkedIn is often used to share professional and informative posts. In contrast, Instagram can be for fun, entertaining, and behind-the-scenes type content.
In the same vein, video often works well on Facebook. In fact, Facebook videos have 135 percent more organic reach than images. Static images, on the other hand, are best suited for Twitter. Research shows Tweets with images are 150 percent more likely to be retweeted.
Gaining an understanding of how different age groups and demographics use each platform can also provide helpful insight for deciding what type of content you post on each platform. Some groups use channels more than others.
For example, research has found that among teens, Facebook usage is declining, with about 51 percent saying they use it. On the other hand, approximately 72 percent use Instagram.
It's a good idea to check analytics on each platform to see which of your posts perform the best. You can also use tools such as Instagram Insights to learn about your audience demographics:
Keep in mind that your demographics may be different for each network. While the majority of your followers on Instagram may be women, on Facebook it could be the opposite. The more you know about your audience, the easier it will be to tailor messages toward them.
3. Consider the peak posting time on every channel
When it comes to social engagement, timing is everything. To maximize the impact of your posts, it's useful to know what the peak posting times are for each channel. Typically, they are not the same, which is why cross-posting isn't ideal.
Posting during peak engagement times will increase the likelihood of your post being seen by your audience. This, in turn, boosts the chances of those people interacting with the content.
As we covered in a previous post about the best times to post on social media, there are certain times of day research shows are ideal for each platform: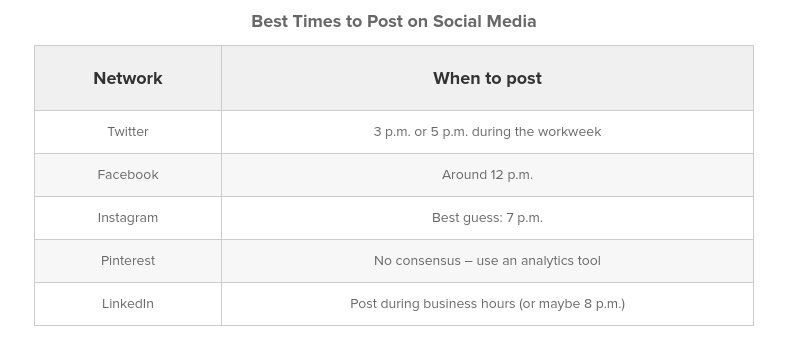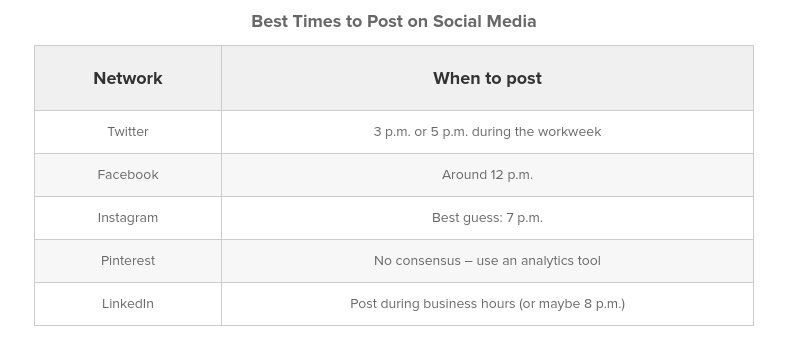 It's worth mentioning, though, that much of the research and information you'll find about the best times to post is based on aggregated data. It incorporates businesses in different locations and timezones.
So, while this information provides a good starting point, it's also essential to consider the specifics of your unique audience. For example, you can use Instagram Insights and other analytics tools to discover when your posts, in particular, get the most engagement.
This will let you determine what times, and on which days, your posts seem to perform the best. Again, it probably won't be the same for every platform.
4. Focus on cross-promotion rather than cross-posting
As we discussed, cross-posting refers to posting the same content on multiple social channels. However, this is different than cross-promoting.
Cross-promotion is the practice of using content on one channel to promote another: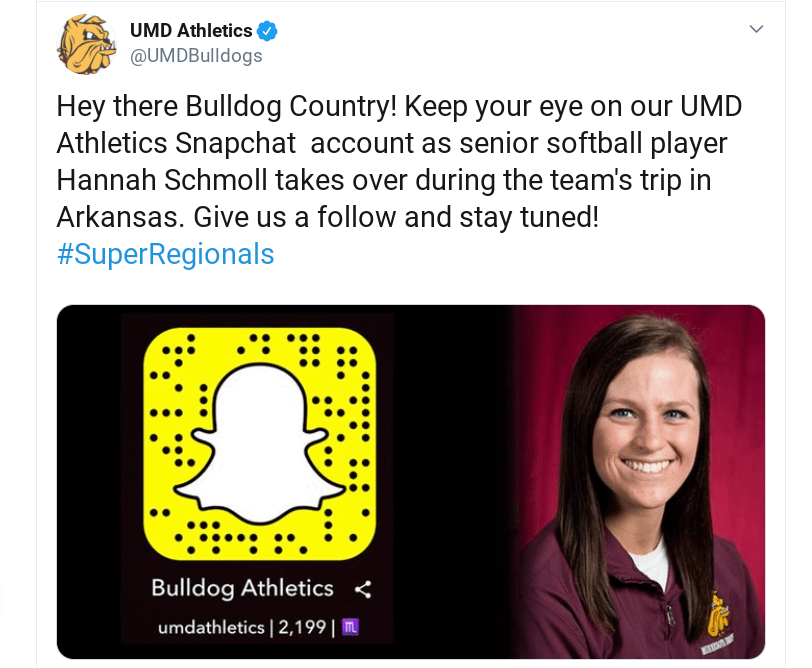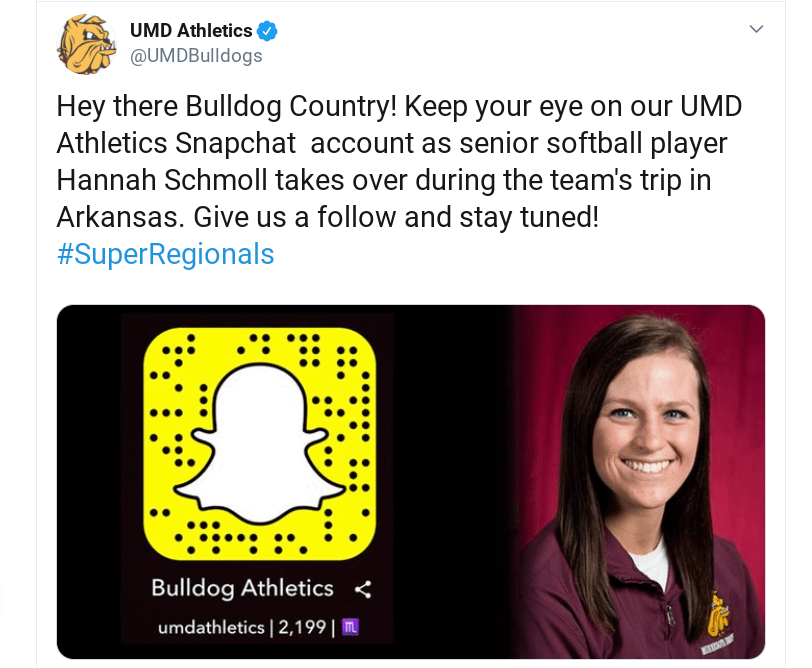 When done correctly, it can help you grow your followers, boost engagement, and expand your reach across networks. It can be done for your entire account or a specific post.
Let's say you have a piece of content, such as an e-book, that you're trying to promote. You could craft a post about it on one social media network and use the link to promote it on other networks. As such, you're taking a customized approach and delivering the same message, but in a way that's specific for the platform.
5. Use a tool to make strategically scheduling posts easier
We dedicated a good chunk of this post explaining how cross-posting can be detrimental. However, it's important to acknowledge that it is possible to automate social posting without hurting engagement.
One of the ways you can do this is by appreciating that different platforms have different amounts of ideal posting frequencies. For example, research shows that the ideal amount of times to post is:
Twice per day for Facebook
Six times per day for Twitter
Three times per day for Instagram
You can create a custom posting schedule that matches content with the appropriate platform as well as adheres to ideal posting times. To do this, we recommend using our Revive Old Posts plugin:
Our tool makes it easy to create a posting schedule for optimal viewing. You can quickly integrate your WordPress site with all major social networks, including Facebook, Twitter, LinkedIn, and Instagram.
Final thoughts on social media best practices
Cross-posting on social media can be tempting. It can save you time and energy. However, the drawbacks of it tend to outweigh the benefits.
Instead, it's more effective to customize your social content for each post and platform.
In this post, we discussed social media best practices you can use to tailor social content for individual platforms:
Learn the specific features of each social network you're posting to.
Tweak content formats based on the channel and user preferences.
Consider the peak posting time for each platform.
Focus on cross-promotion rather than cross-posting.
Use a tool to make strategically scheduling posts easier.
Do you have any questions about diversifying your social content for different platforms? Let us know in the comments section below!
The post Social Media Best Practices – How to Customize Your Content for Each Platform appeared first on Revive Social.