As a marketer, you probably already know that social media engagement is crucial to the success of many, if not most, businesses today. What's less obvious is how it works, let alone how to measure or improve it.
Social media engagement refers to more than just how many 'likes' your posts get. Once you understand the relevant metrics and how social engagement can benefit your business, you can utilize it to grow your audience, expand your reach, and drive conversions.
In this post, we'll explain what social media engagement is and its benefits. Then we'll provide five key tips you can use to encourage it on your networks. Let's jump in!
An introduction to social media engagement
According to Global Web Index, about 30 percent of the time spent online is attributed to social media usage. Engagement refers to the ways in which users interact with your business' social accounts including through:
Likes
Comments
Shares
Subscriptions
Views
Mentions
These key metrics can be used to evaluate and measure the performance of your social posts. Actions such as those listed above indicate that a user or follower viewed your content. More than that, though, they show that visitors were interested or impressed enough to engage with it.
Therefore, it makes sense that social media engagement is important to pay attention to. Related analytics can provide meaningful and informative insights into how your content is performing and the effectiveness of your strategy, as well as where you need to improve.
It's worth noting that social media engagement is just as much about quality as quantity. For example, research shows that nearly 60 percent of links shared on platforms including Facebook and Twitter aren't actually clicked on. Users often share content based on the headline but don't actually read the article.
A large volume of likes or shares doesn't necessarily translate to quality engagement. Similarly, a high number of mentions doesn't always mean that they're positive ones. On the other hand, a lot of reviews or comments can signify followers are invested and genuinely interested, which can help build trust and loyalty in your brand.
The benefits of social media engagement
Every business uses social media differently. Knowing which platforms your audience prefers as well as which metrics are of most importance informs your marketing strategy.
There are many different ways that engagement on social media can benefit your business. For example, it can:
Help drive traffic to your website. One study found a correlation between the number of interactions on a business' social media posts and their website traffic levels. If a post averaged between 100 to 1,000 likes, the average number of site visitors was about 42,000. If likes and shares were over 1,000, the visitor count was closer to 90,000. Put simply, a high engagement rate translates to an increase in page views.
Boost brand visibility and awareness. The more interactions and engagement your social content receives, the more likely it is to be exposed to people outside your existing audience, ultimately expanding brand awareness. For example, if someone retweets or shares one of your posts, their hundreds or perhaps thousands of followers will also see it.
Build loyalty and trust. The way you interact with your followers and engage with them online can help promote better experiences and build stronger consumer relationships. This is why many businesses use social media as a customer service and support tool.
Plus, the way users engage with you on social media can influence how others perceive your brand. A high follower count, for example, can act as social proof for consumers, sending them the message that you're worth following.
How to encourage social media engagement (5 key tips)
With the right approach, you can use social media engagement to improve your reputation, reach a wider audience, and grow your business. Let's take a look at five tips you can implement to encourage interactions on your accounts.
1. Post regularly and consistently
When it comes to content marketing, consistency is key. Posting regularly to social media can help keep your brand visible and at the top of your followers' newsfeeds.
Additionally, being consistent on social media helps establish your followers' expectations. If you stick to a schedule, they know when they're most likely to see new content, which can help increase their trust in your brand.
There is no definitive answer to how often you should post to encourage engagement. However, two or three times per day is the norm for popular platforms like Twitter and Facebook.
One way to make scheduling your social content easier is by using a plugin such as Revive Old Posts:


Our plugin syncs your WordPress site with your social media accounts and shares previously published posts on a regular schedule. This way, you don't have to worry about your marketing calendar accidentally falling to the wayside.
You can use this plugin to boost engagement by scheduling posts during times when your followers are most active. It's also a simple method for promoting older content that's had a drop in traffic.
2. Use social media as a customer care platform
Understanding how – or why – people follow and interact with brands online can help you promote engagement. These days, an increasing number of consumers are using social media as a customer service platform.
According to research:
Almost 90 percent of social messages go unanswered.
The average response time on social media for brands is 10 hours.
One-third of consumers will go to a competitor if they're ignored on social media.
Therefore, using social media as a customer care platform can be an effective way to improve consumers' experiences while also boosting engagement. There are a few ways to go about this.
First, it's a good idea to respond to your followers quickly. This includes answering any direct messages you get on your social networks: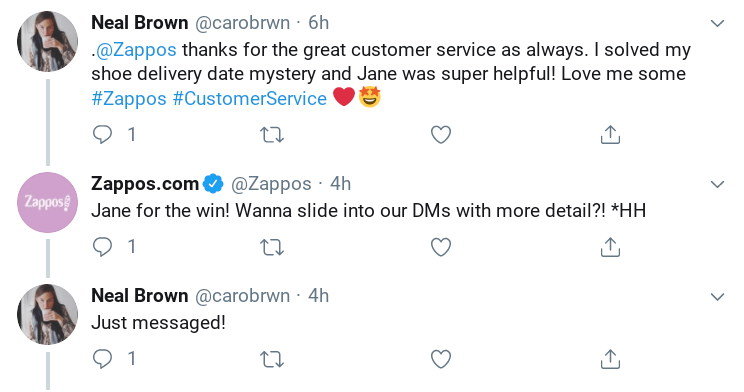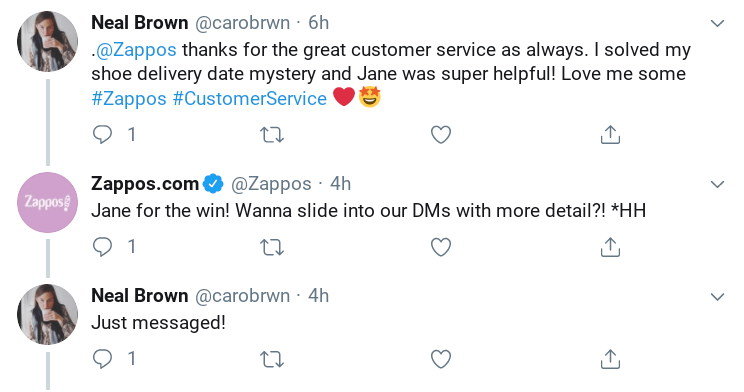 In addition, look for any mentions of your brand name. You'll get notifications if customers tag you in posts, but it's worth searching the platform for anyone who referenced your products but didn't formally acknowledge you. This can help you discover more people who are talking about your business and address their concerns.
3. Initiate conversations and ask for feedback
Social media is not a one-way street. If you want to boost engagement, it's wise to join in or even initiate the conversation.
Responding to your followers and participating in discussions on social media shows that you care enough to listen. This can be as simple as thanking someone for leaving a positive review.
You can also spark engagement by directly asking for feedback. People generally like and appreciate the opportunity to share their input and opinions. Encouraging them to do so also lets you collect helpful responses to make more informed marketing decisions.
There are different methods you can use depending on the social platforms you're using. For example, consider posting a poll, survey, or question in your Instagram story:
You can also start a group on Facebook to facilitate discussions. Another option is to host a real-time Q&A session on Twitter or Instagram Live.
4. Offer meaningful content
Providing meaningful content may seem like an obvious tip for boosting engagement. However, the importance of sharing quality, relevant posts is a point worth repeating.
There is a wide range of ways you can provide valuable content to your audience to increase engagement. For example, you can share helpful how-to guides or tutorials. Another common method is promoting limited offers, discounts, and coupons for your business: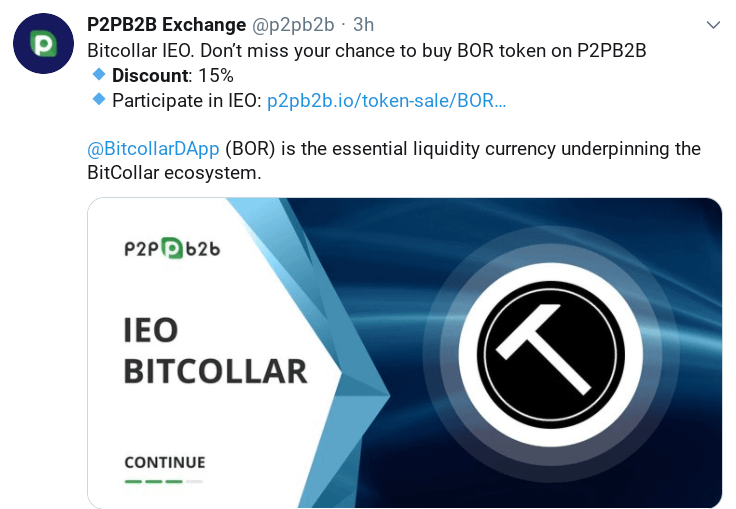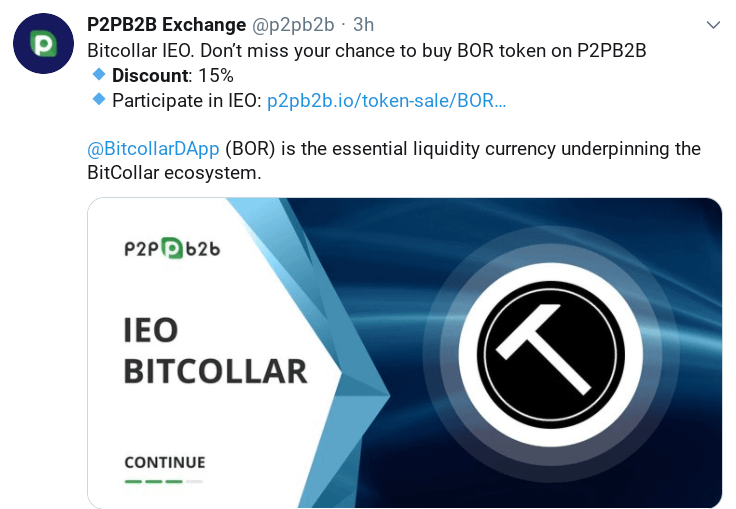 The key is knowing what your audience is interested in and what they want from you. This also brings us back to the importance of maintaining a consistent posting schedule. If your followers know you regularly share interesting insights or discounts, they'll be more likely to follow your account so as not to miss out.
5. Jump on trends and topical events
Riding the wave of topical events and trendy, viral subjects can be a quick way to boost social media engagement. Incorporating timely content such as a popular meme into your posts can grab people's attention. Plus, using relevant hashtags and keywords helps you reach new audiences: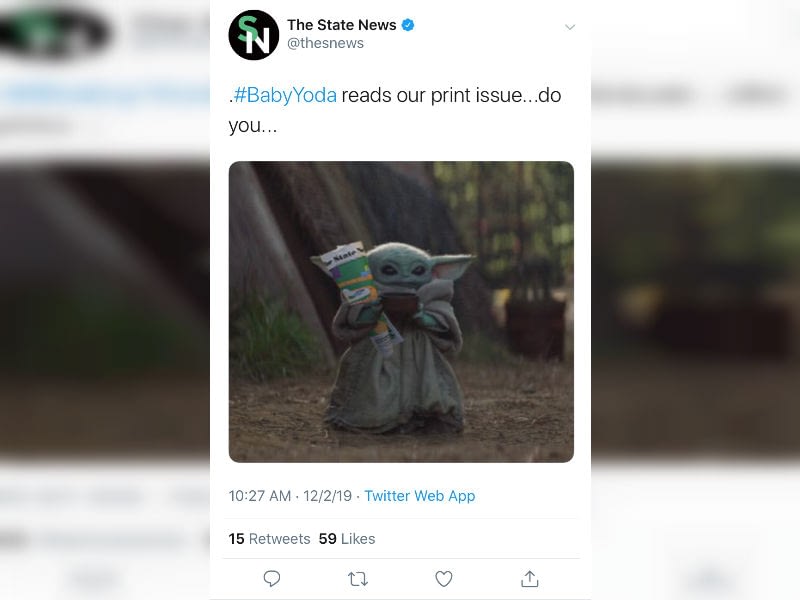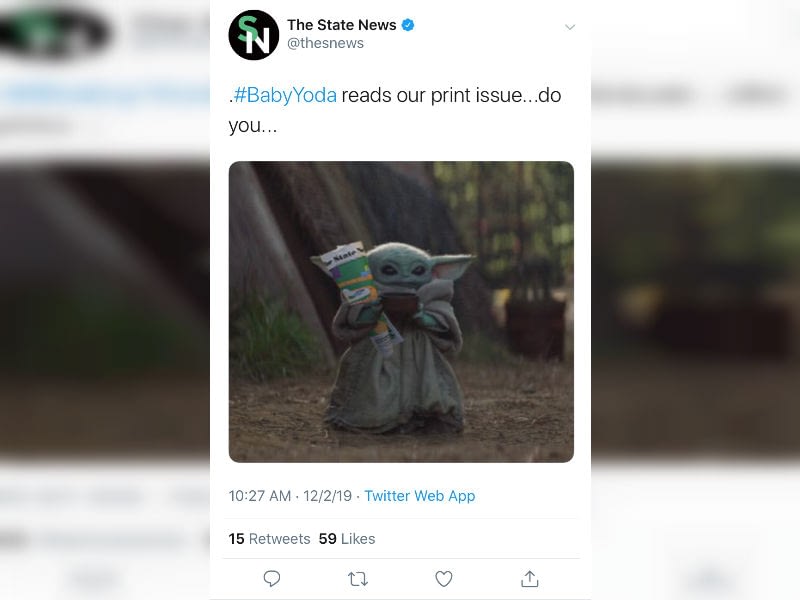 Of course, if there's a meme or hashtag going viral that is completely unrelated to your brand or audience, it may not make sense to post about it. Also, it's best to keep in mind that more than 70 percent of consumers agree that businesses engaging in politics on social media is annoying.
However, you can make your content more relevant and timely simply by considering the season. For example, using hashtags such as #holidayshopping or #BlackFriday in posts that comment on these subjects can help expand your reach.
In addition, you may consider referring to a 'national day' calendar. This can be a useful tool for anticipating upcoming observations and brainstorming relevant content to boost engagement.
Conclusion
Social media can be a powerful marketing tool for your business. However, for it to have any real benefit, it's important to know how to utilize it properly. This includes finding a way to spark engagement to drive action and boost awareness.
As we discussed in this article, there are several strategies you can use to encourage more engagement on your social media channels, including:
Posting regularly and consistently.
Using social media as a customer care platform.
Initiating conversations and asking for feedback.
Offering meaningful content.
Jumping on trends and topical events.
Most of all, be patient. You can't depend on your content to go viral and make you famous overnight, but you can rely on consistent strategy and hard work to build an engaged social media audience over time.
The post Social Media Engagement: A Beginner's Guide for 2020 appeared first on Revive Social.