It's no secret that people love winning free things. That's why raffles and sweepstakes have been around for so long. In today's world, running a contest of this sort is often done on a social media platform, like Facebook, Twitter, or Instagram. Today we're going to focus on what makes some Instagram sweepstakes better than others.
Why just Instagram?
Because Instagram has the perfect design for sweepstakes:
You can provide a beautiful visual.
You can be to-the-point with your post but you still have enough room for details.
The commenting is a great way to quickly ask for entries.
Instagram hashtags are extremely effective at finding certain types of users.
---
The ultimate guide to running successful sponsored #Instagram sweepstakes
Click To Tweet
---
Overall, an Instagram sweepstakes is an effective way to find new followers, locate new partners, and get the word out about your brand.
Table of Contents:
Elements behind a successful Instagram sweepstakes
Finding a cool product and posting about a giveaway isn't always enough to get traction.
There are a few key elements that make some Instagram sweepstakes far more successful than others.
Finding the perfect co-sponsors
Co-sponsors must be companies with relevancy to your own brand. In addition, they need to have a solid Instagram presence, unified vision, and some great user interactions.
We'll talk more about this later, but most of all, you want co-sponsors who communicate well.
Giving away the perfect items
People are surprisingly willing to go through a lot of work to win an item that's worth $5 or $10. I've seen it at conferences and local events I've run with clients.
Therefore, you shouldn't worry too much about how much the item is going to be.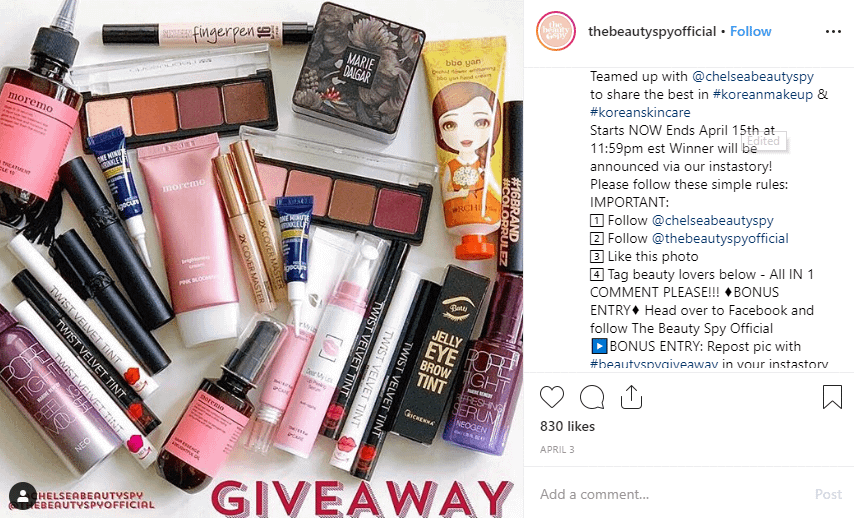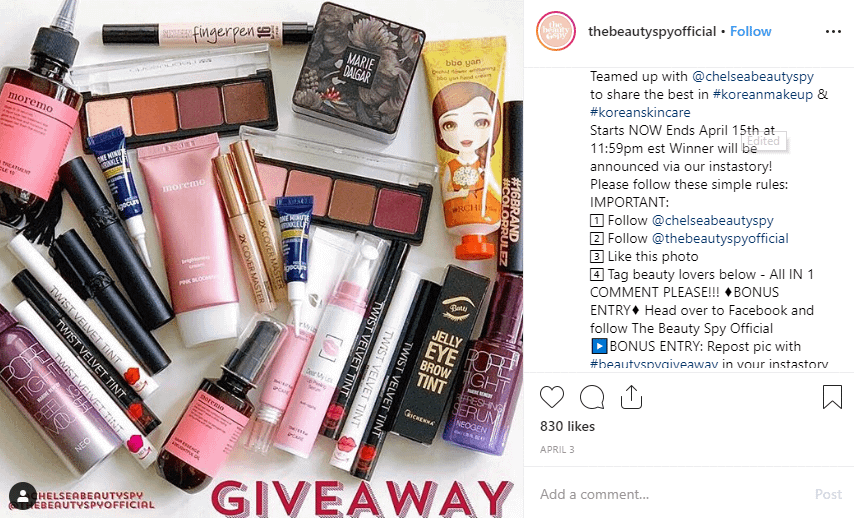 Rather, make sure it's really cool and really unique; something that all of your customers will want and be jealous about if they don't win. Your co-sponsors should be thinking the same way when they choose their products to give away. This isn't a chance to get rid of items that don't sell.
A great product is advantageous for a few reasons. First of all, people are more likely to spread the word. Secondly, customers who lose might end up buying the products after.
Again, knowing your audience is key. I know a backpack would be suitable for an outfitting company's customers, but beauty supply customers would love to have a collection of free makeup items.
Writing the perfect posts
We'll outline the specific details for a sweepstakes post below. However, it's important to not underestimate how easy it is to mess up small details for sweepstakes.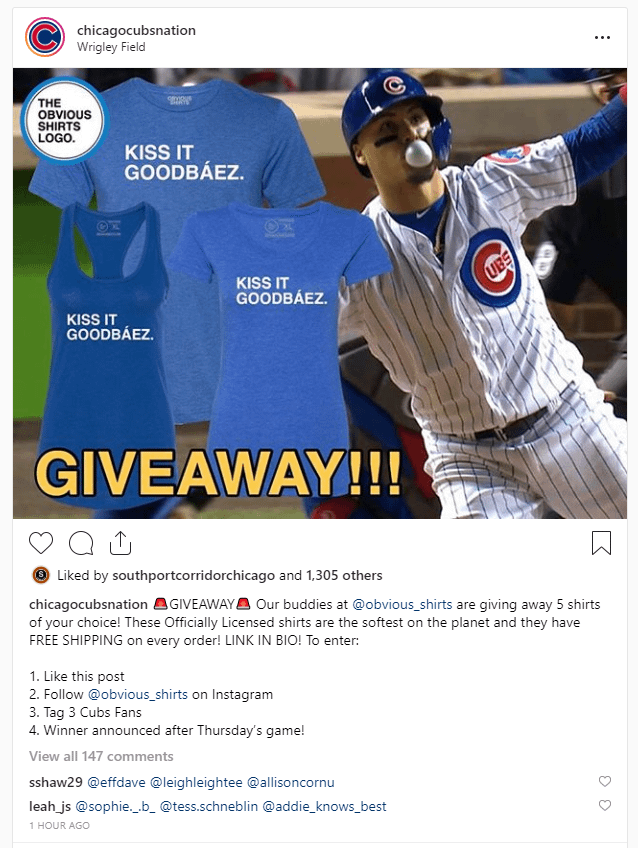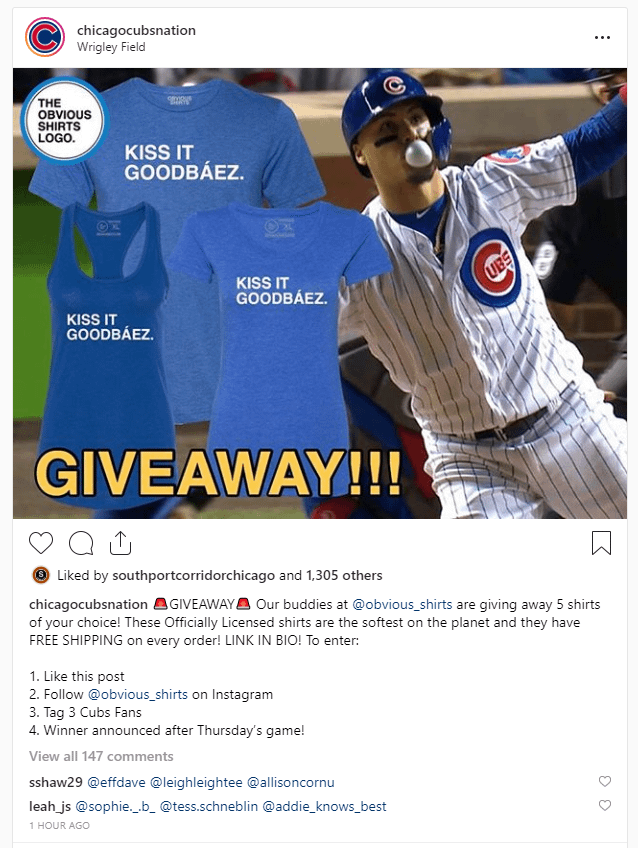 You want the most beautiful picture you can take, all the fine print, details on how to enter, and some fun caption before all of that.
Oh yeah, and tagging your co-sponsors (and vice versa) is essential.
Following up with the results
Yes, a final post thanking all entrees and announcing the winner is important. But it's not only because you pretty much have to share the results.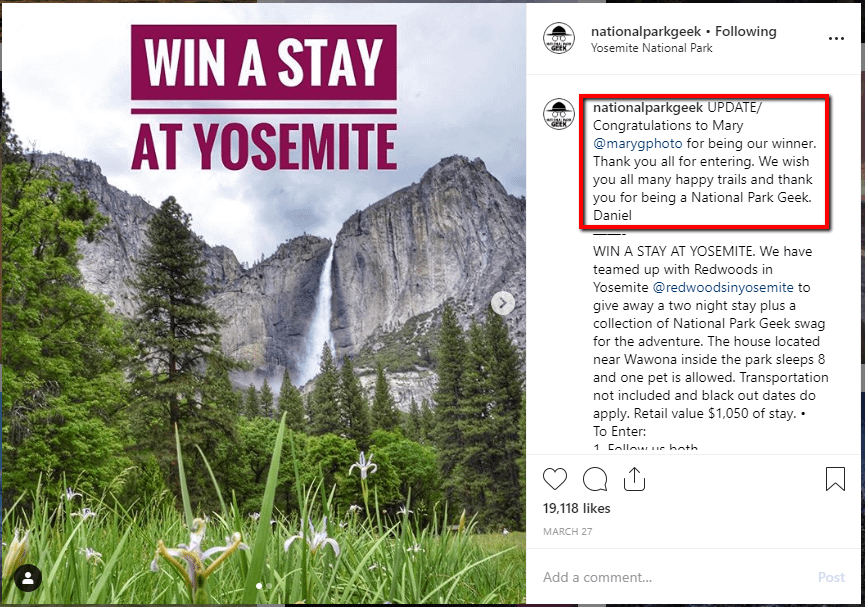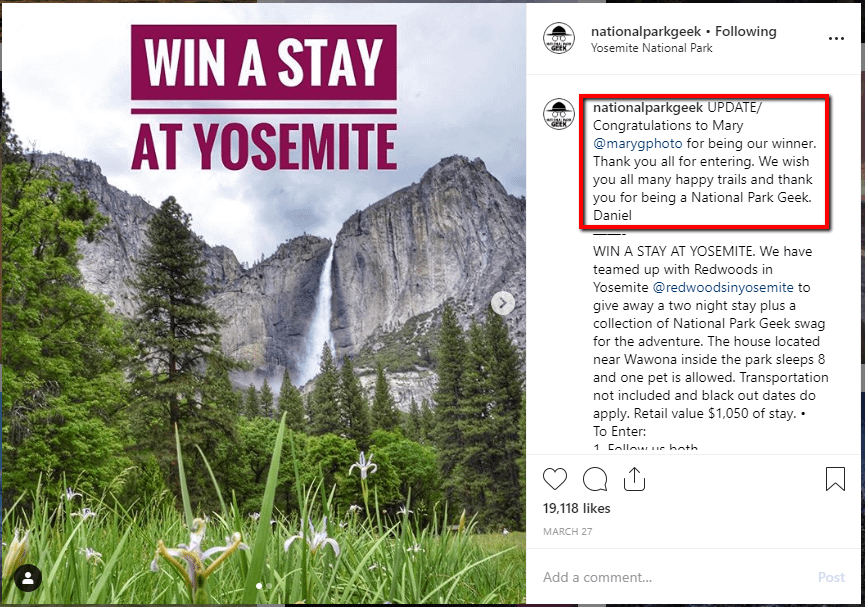 The end of your sweepstakes leaves your customers in one of two positions: they can buy that awesome product they wanted to win, or they can just forget about it.
We'll bet that some people are willing to pay full price, so you can remind them a few days later on where to buy.
In addition, you can contact the winner and ask for a picture to be shared on Instagram, or maybe even an unboxing video!
How to find and contact sponsors for an Instagram sweepstakes
Surprisingly, this is actually the easy part of running sweepstakes.
There are three main rules:
1. Know your market/niche
Companies should be partnering with similar brands. Someone famous can market any irrelevant product (think athletes promoting fast food) but companies typically need to stick to their own markets.
2. Know your value
Just because you only have 100 followers on Instagram doesn't mean you can't run sweepstakes. However, you might have trouble getting in contact with a company with a million followers.
Start with companies your size or a bit larger. Figure out what they can contribute to the giveaway, and think about what you can provide to make it worthwhile for everyone.
3. Know how to follow through.
The more value you can offer, the better off you'll be. This ties directly into the previous rule, but now it's time to execute your plan. If you screw up some information on the Instagram post or confuse people by changing the prizes, it reflects poorly on you and your sponsors.
If you plan on working together again, over-deliver with the execution.
Better yet, offer to run the entire sweepstakes so sponsors just sit back and collect more followers and exposure.
How to find and contact sponsors
Now that you know how to wow your co-sponsors, let's go into detail about finding and contacting them.
Begin by making a list of ten potential sponsors. For research, simply use Google or search for relevant hashtags on Instagram.
Which brands should you think about partnering with?
Here's a checklist:
The brand should have an Instagram presence – This doesn't mean thousands or millions of followers. It means they should be active, with a completed profile, and some solid user engagement.
Does the company share a similar social vision as your company? – I once tried to partner a hunting client with a non-nicotine chewing tobacco company (hunters like to chew,) but the alternative tobacco brand had a tendency to post stock images of skateboarders on Instagram using the product. The posts weren't any good or relevant, so the social partnership didn't make sense.
You should sense quality communication between you and sponsors – Let's say your point of contact takes three weeks to reply to your first email. Can you imagine trying to run a multi-week Instagram sweepstakes with them?
Does the company have other social pages? – Running a promotion on Instagram doesn't mean the marketing has to be limited to that. Your sponsors are bound to share the sweepstakes on other platforms as well, including email lists and blogs.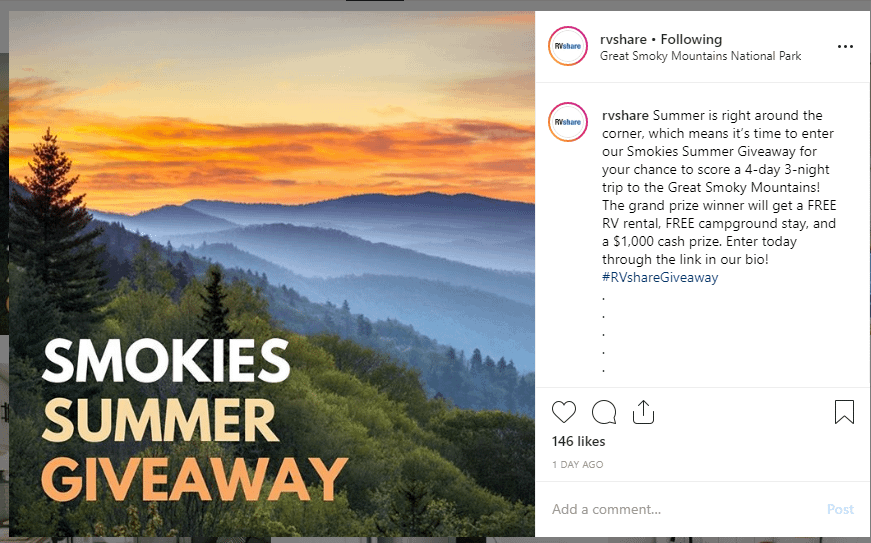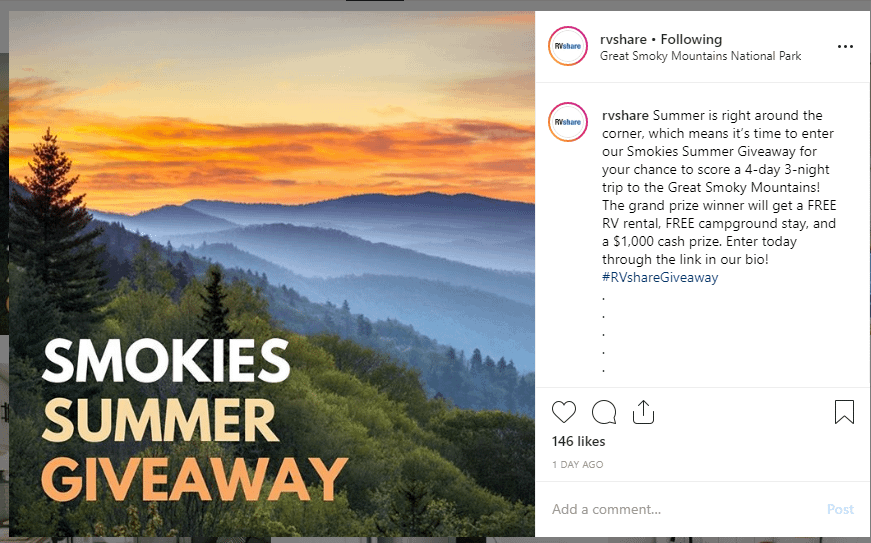 Let's say I wanted to partner with this RV company. It's relevant to my (made up) outfitting brand. The company already has some experience with giveaways.
They have over 21k followers, and the posts get some great engagement through likes and comments.
For contacting, you have three options:
Tag them on social media – This could be a great solution if they have a solid social media person, but it could get lost in comments.
Message them on social media – Messages are often seen as more important than comments, and they may be more appropriate for a business transaction.
Call/email/live chat – If you can find their website, this is typically the best route. Emails and contact form messages are checked frequently, and you'd make an even better impression if the person running the show could hear your voice.
Great, you decided on the contact method. What do you say?
This type of pitch doesn't require as much finesse as contacting an "influencer" who thinks they're hot stuff. Being casual is great, but lean more towards the professional side.
Here's a suggested message that can be tweaked for social media, email, or calling the company.
Hi Jon,
I'm Joe from Taylor Outfitters. We've followed Mark's Photography Supplies on Instagram for a bit (don't lie, just follow them,) and we think it might be a good idea for both of our brands if we partnered up for a raffle/sweepstakes that caters to photographers and outdoorsy people since our audiences have significant overlap.
Our thought is to ask for social shares and email addresses for entry. Then, both Taylor Outfitters and Mark's Photo will contribute an item(s) worth up to $100.
Let me know what you think!
Joe
This is fairly short, but I could still probably cut it down without removing essential details. Anything longer gets the business relationship started with you forcing them to read too much.
Finding the right Instagram sweepstakes tools
Your method of collecting contest entries depends entirely on your objective.
Would you like to increase traffic to your eCommerce site? Are you trying to get more Instagram followers? Would you like to get several things done by asking people to follow you on other social sites AND sign up for your email list?
Once you establish that objective you can decide on the format of your Instagram sweepstakes.
Many brands would like to get more Instagram followers while also boosting the potential for more website visits. Exposure is nice too.
For a situation like that, there's no need to use any other tools besides good old Instagram.
Simply utilize some of the tips we mentioned for making successful Instagram sweepstakes and leave the link in your bio to your regular website.
Since Instagram is technically serving as your landing page, all of the information must be included in the post. It's also important to monitor the comments to answer questions.
For instance, this Instagram sweepstakes for National Park Geek asks people to tag friends for an entry. It's a simple request and it gets more users looking at your page.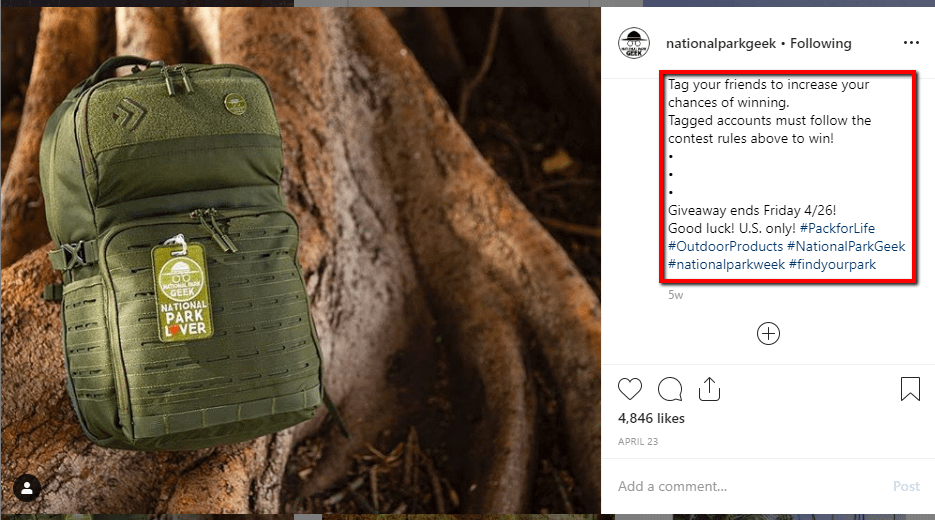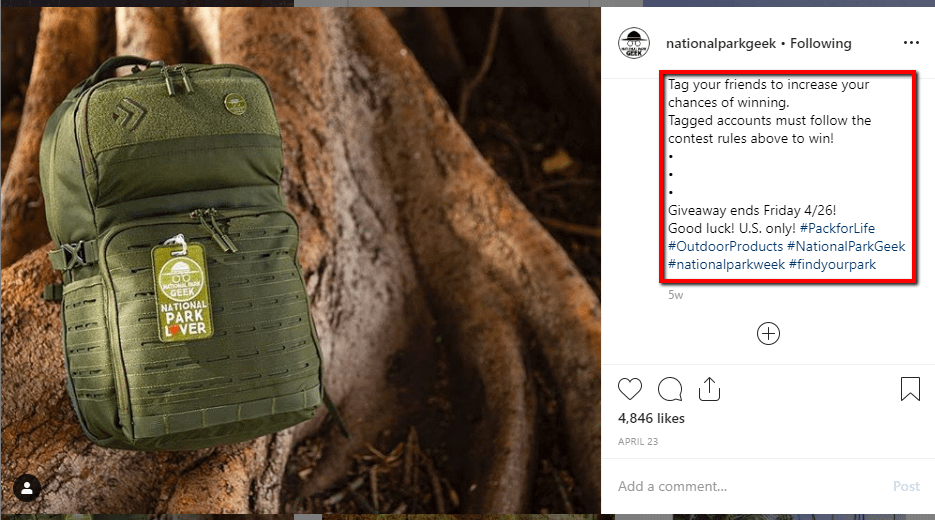 But what if you want more out of your Instagram sweepstakes?
Wouldn't it be nice to acquire email addresses or get your Instagram users to follow your Facebook page or YouTube channel?
That's where sweepstake and raffle software comes into play.
These are separate platforms that you'd link to from your Instagram bio. It's a few more clicks for your users, but you can make it enjoyable with some fun questions and pictures on the landing page.
For example, the promotion below (developed with KingSumo) has plenty of flare and lots of information. It also has a creative quiz so the users have fun with the process. In the end, this company asks for email addresses.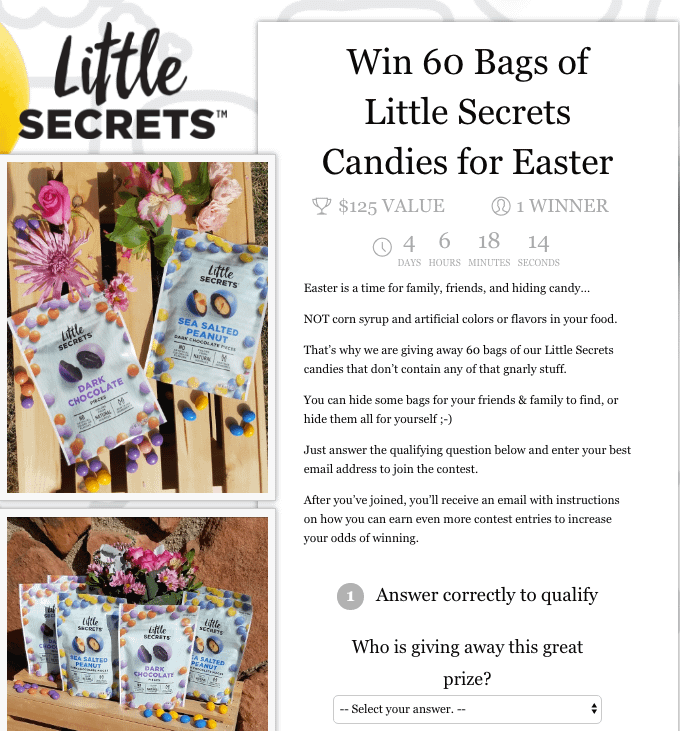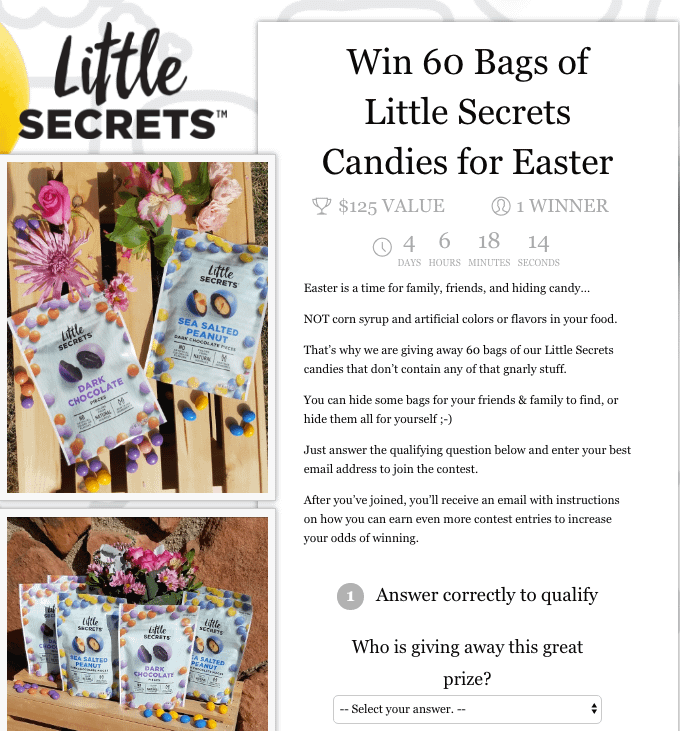 Which third-party tools are right for your Instagram sweepstakes?
Complete a quick Google search and you find dozens of solutions for running sweepstakes and raffles. Even a few WordPress plugins exist, but I tend to prefer third-party apps with much better features.
Here are my top recommendations:
Feel free to test some of the tools to see which of them feels the most comfortable for you. My favorite is Rafflecopter, since it has a free pricing plan and the raffle sharing tools are excellent.
Overall, your goal is to construct an appealing module that can be embedded anywhere. You link that page from your Instagram profile to lead users to something like this: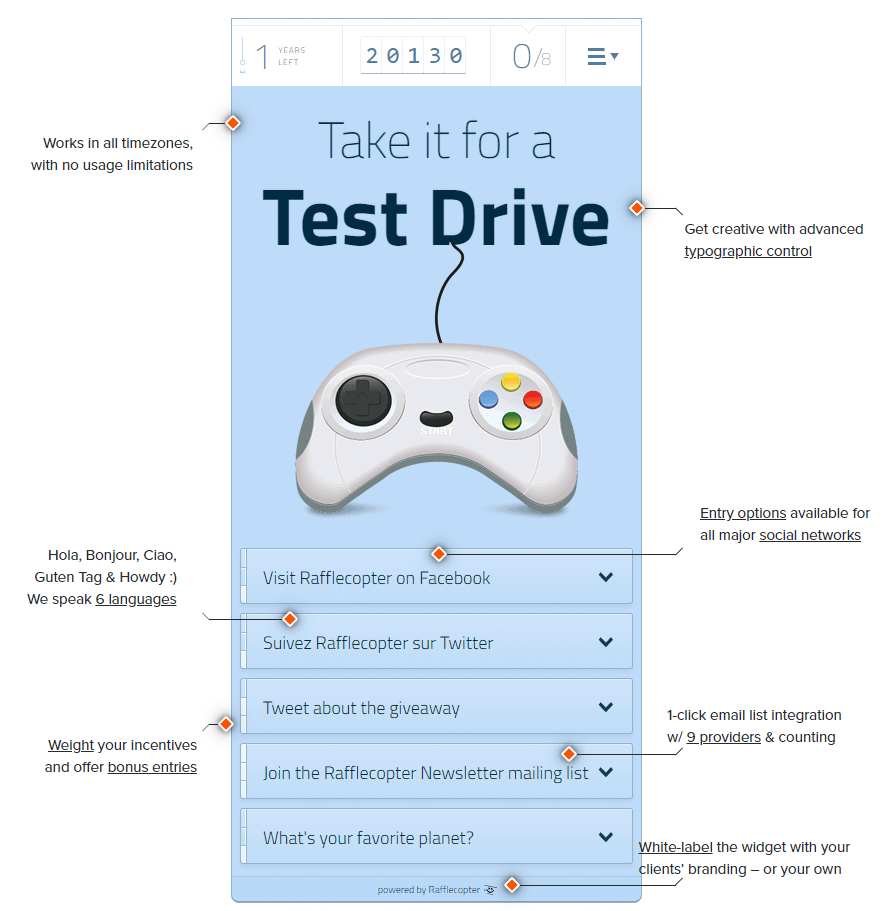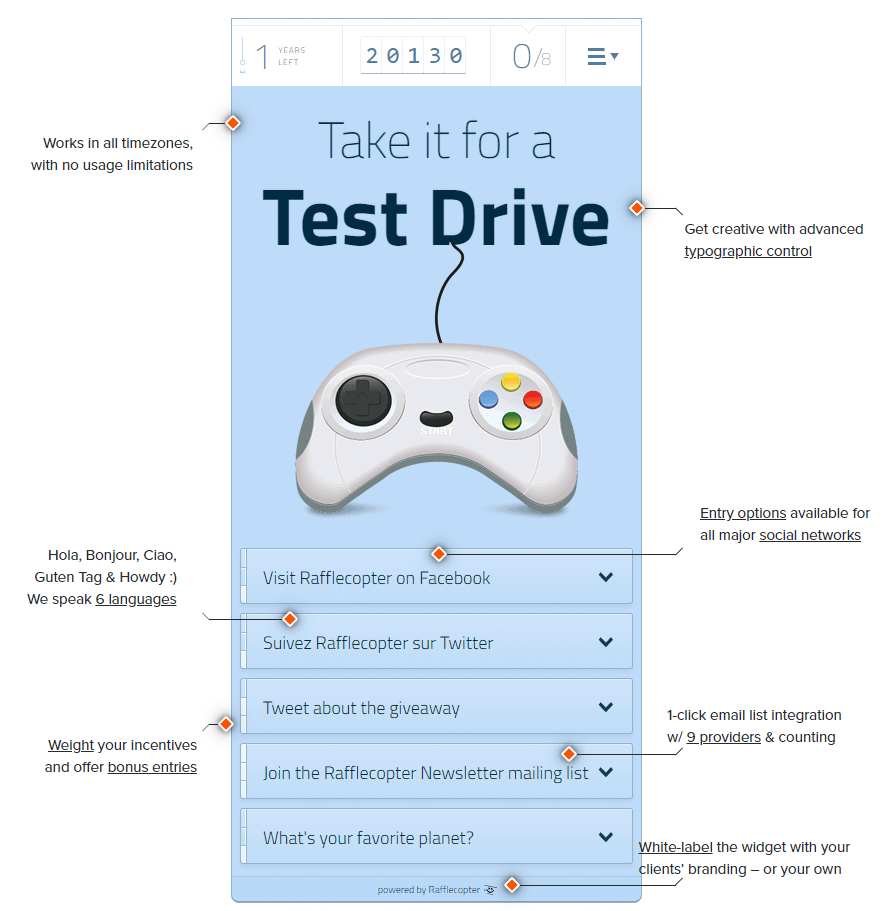 As you can see, the options for promotion are far stronger than Instagram by itself.
You can give out more sweepstakes entries for actions like tweeting, following accounts, entering emails, and more.
You could also keep it simple and only ask for an email address: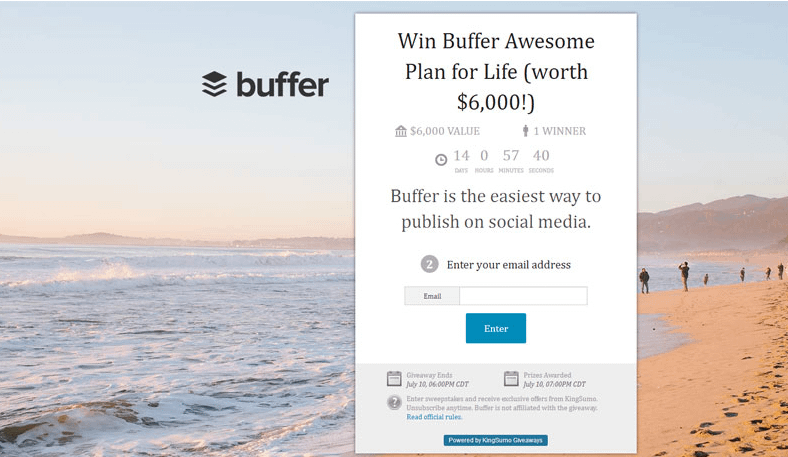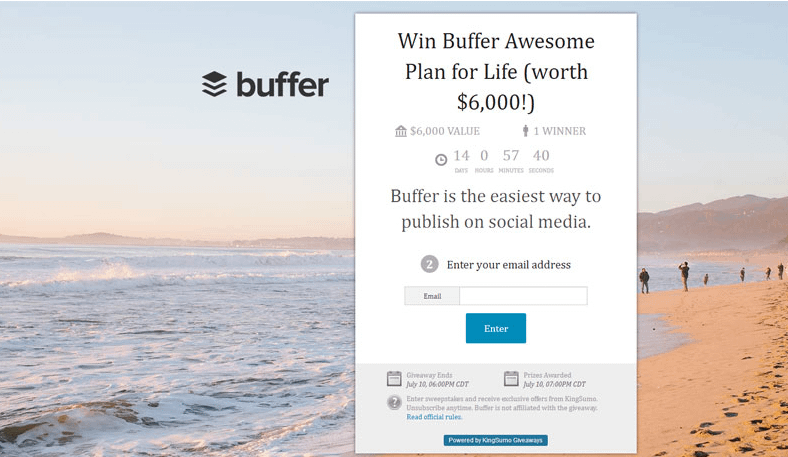 How to market and run your Instagram sweepstakes
Promoting a giveaway takes some precision and communication, but it shouldn't make you too stressed out. Here's how to go about doing it.
Run the show yourself
I mentioned above that you can show your sponsors value by doing all the work. This may end up helping you as well, since some sponsors are hard to get in contact with or simply want to focus on other things.
Hit all social platforms with the big announcement
Here's the schedule for posting about an Instagram sweepstakes:
Build buzz – Share an announcement about the sweepstakes 48 hours in advance. This gets people excited and talking about it.
Launch – The launch lasts about 24 hours to 48 hours after the start. It involves posting to all platforms, fielding comments, and prepping reminders.
Reminders – Again, Instagram can be utilized the most, but several reminders should be scheduled. None of them should have the same design or message. Instagram Stories are great for reminders as well.
The ending – This includes thanking everyone, announcing the winner, and speaking to the winner about potentially taking pictures or making a quick video.
It's important to get a list of all marketing platforms from each co-sponsor. Keep in touch with the people who run those accounts, and try to keep any other people (like micromanaging CEOs) out of the conversation with their social media person.
What should the post say?
You can examine what your favorite brands do for sweepstakes, but I feel the screenshot below from Parks Project has all of the right elements.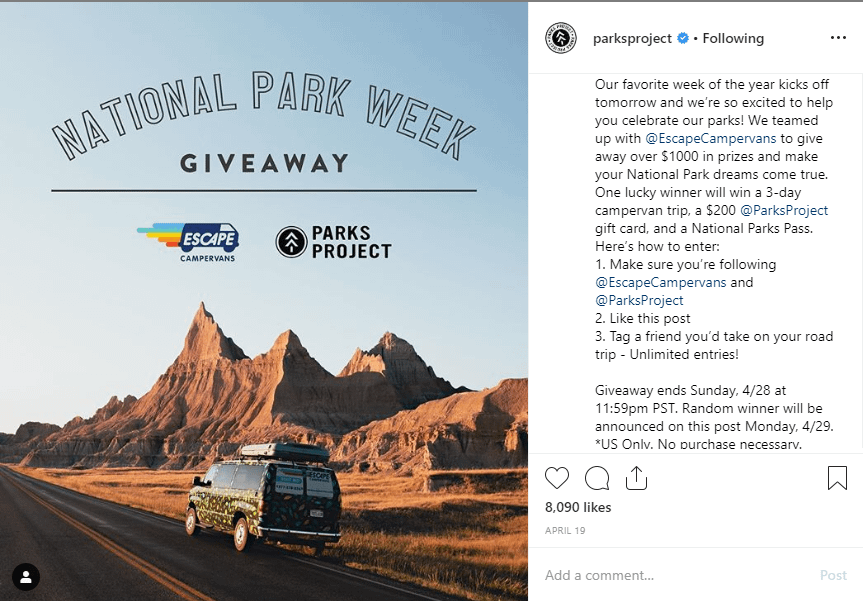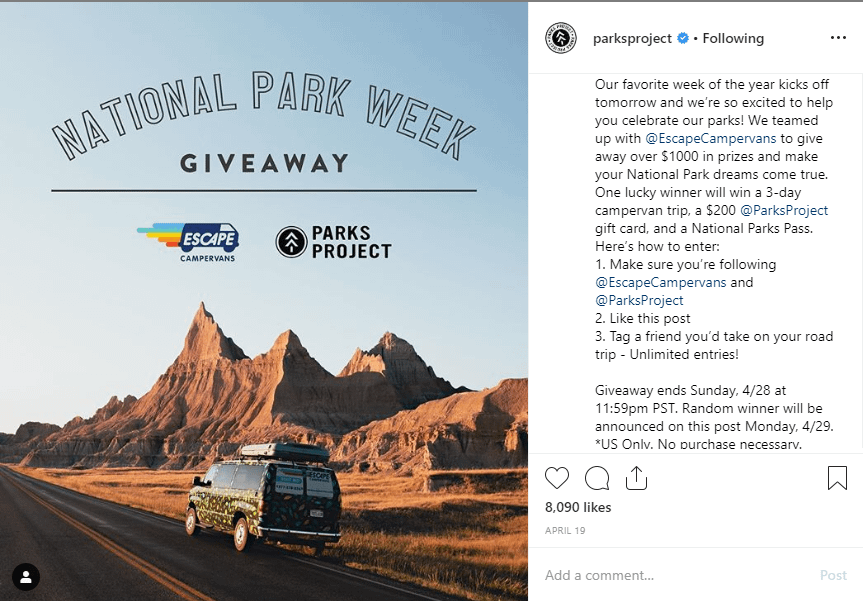 A personalized message towards their customers. So, each co-sponsor should write their own messages for their own social media accounts. The Parks Project tied the message into National Parks Week, so it worked perfectly.
An announcement of the sweepstakes and who the co-sponsors are (with tagging).
A mention of what people could win, and how many people will win.
A list of steps on how to enter. For instance, tagging friends, following Instagram accounts, and/or liking the post.
Fine print details such as when the giveaway ends and if there are limitations to who can enter.
Running a sweepstake with a platform like Rafflecopter would look pretty similar. The only difference is that you wouldn't ask people to comment. Rather, you'd tell them to click the link in your bio.
Share on all relevant blogs and email lists
This should be discussed when talking with your potential sponsors for the first time. Are they willing to share the sweepstakes information on their newsletters and social accounts?
If not, they're gaining and you're not.
Therefore, make a list of all co-sponsors. Then list each marketing option from all sponsors.
These might include social accounts, email newsletters, a snail mail list, or a blog.
Create a post for all of these outlets and have them scheduled or ready to be shared over the course of 24 hours during the launch.
Give your sponsors some love
It doesn't matter whether you run the contest completely on Instagram or use a tool like Rafflecopter; your sponsors will want some credit as well.
This process not only gets more people entered, but those new users followers/users from the sponsors should help you out as well.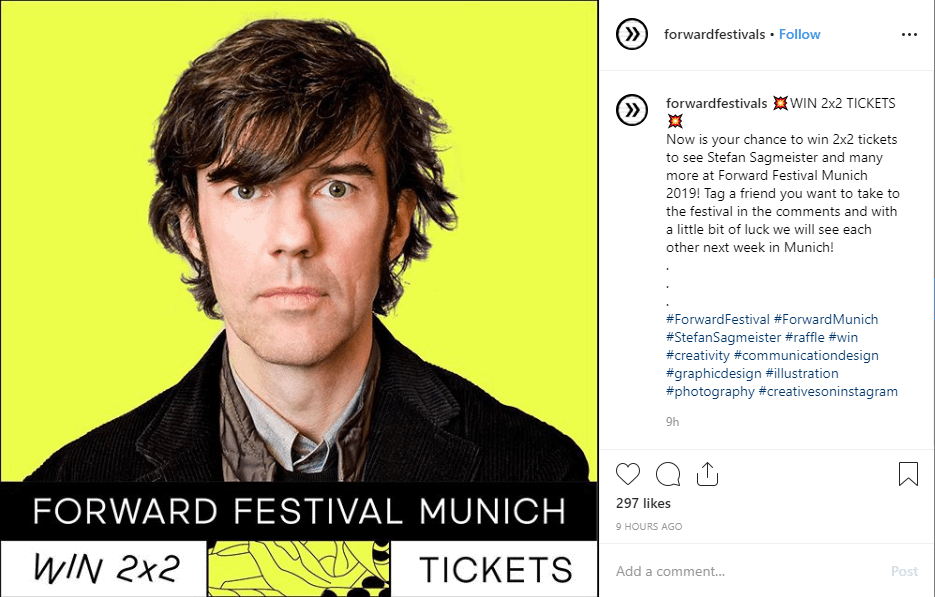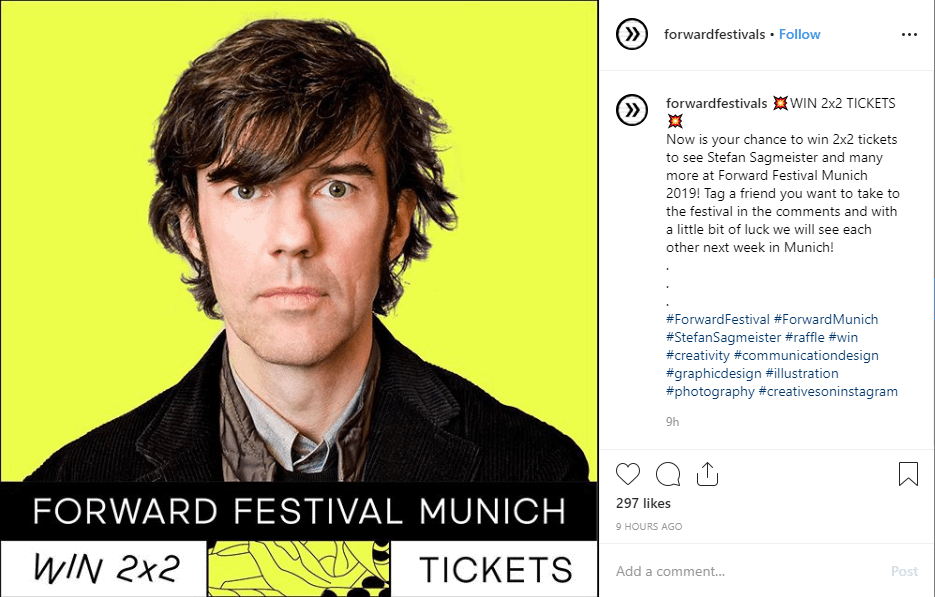 Therefore, tag all sponsors in the Instagram post. You should also state that each entry must tag a friend and follow the sponsor pages.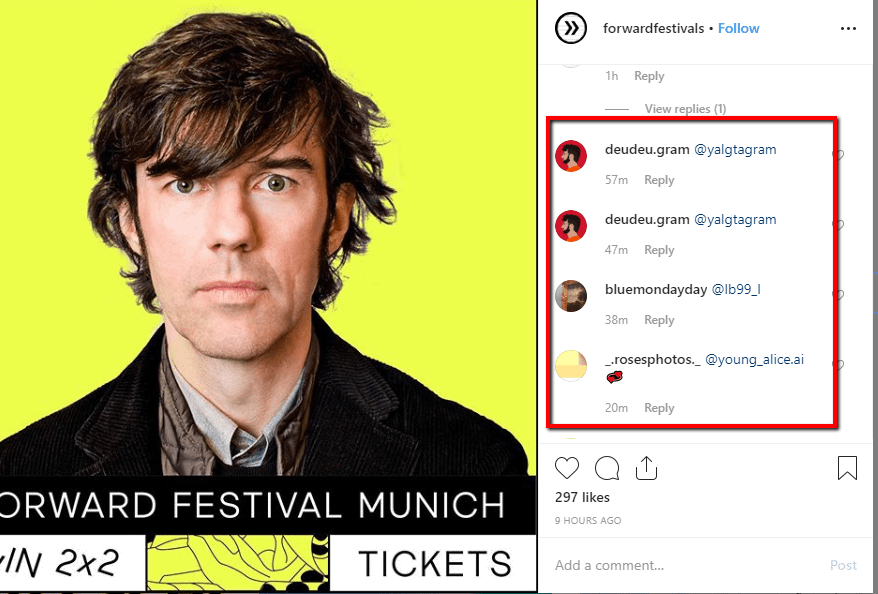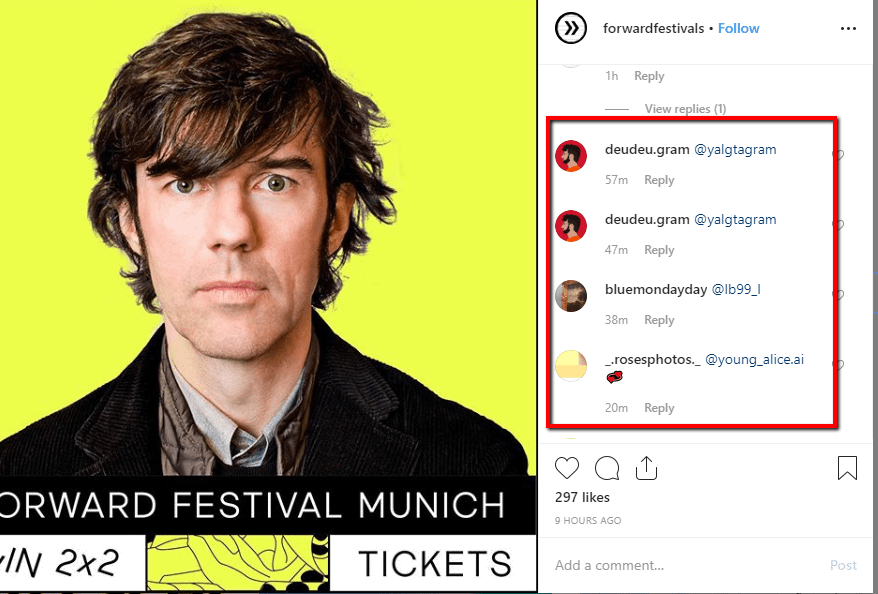 For the Rafflecopter route, show sponsors love by giving out extra entries for following their social accounts.
How do you keep your new followers around?
Many people come for the prize and nothing else. In fact, plenty of folks do this as a hobby, entering as many raffles, contests, and sweepstakes as they can.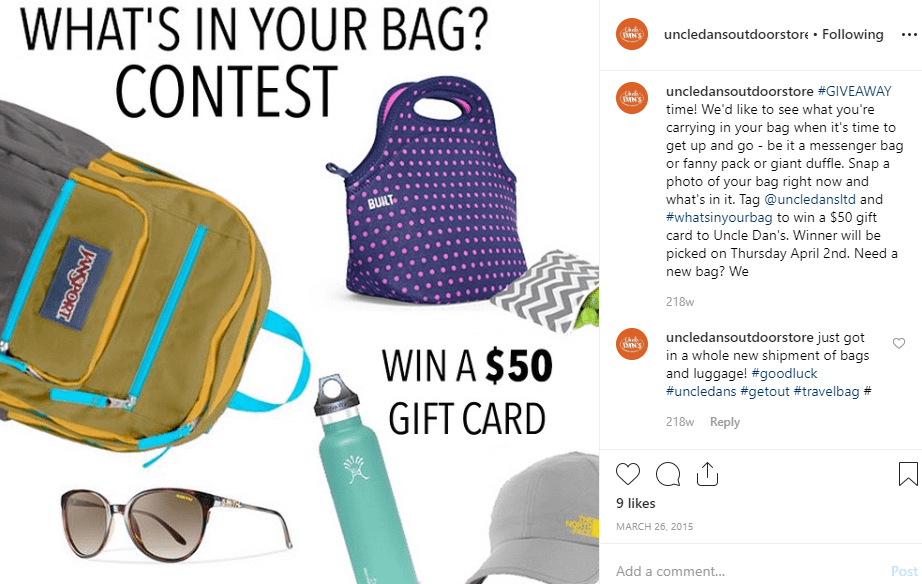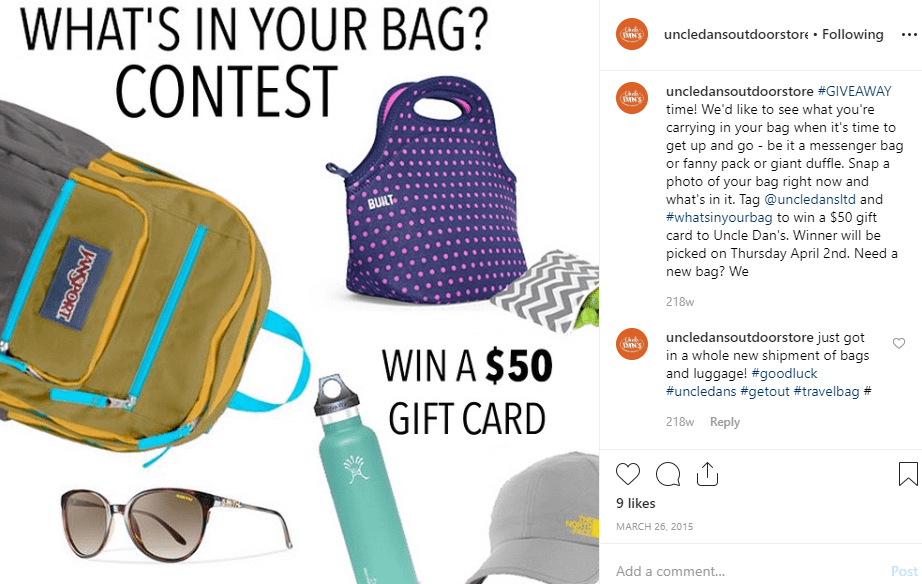 The majority of the hardcore "raffle hobbyists" will unfollow you as soon as the sweepstakes are over. It's up to you to convince users who are on the fence to stick around.
Here's how to achieve the most success:
Market your sweepstakes in the right places
It's ever so tempting to think that all press is good press. Unfortunately, that's not necessarily the case.
Early in my career, I managed marketing for golf courses around the US and Canada. My company began recommending sweepstakes and raffles as methods to boost email list sign-ups.
Much of this process involved us account managers getting the sweepstakes listed on as many sites as possible. This included generic "deals" or "raffle" blogs where they basically had a running feed of sweepstakes from around the world.
After getting some of our clients listed on those sites, the sweepstakes sign-ups began to increase quite a bit.
Unfortunately, the large number of Unsubscribe notifications after the deadline felt a bit embarrassing.
In short, those broad sweepstakes sites are a waste of time and resources. You're better off spending that time locating a niche Instagram account or blog that could promote to a relevant audience.
Retarget to those who didn't win
Those people obviously thought the prize was cool, so why not retarget everyone else on your marketing lists? For instance, imagine sending out a 15% off coupon for that product (or your entire store) but only for the people who didn't win. This gives them a chance to still get a deal, and you could do this on platforms like Instagram and your email list.
Ideally, you'd have collected emails in the raffle, but that's not always an option.
Are you ready to launch your next Instagram sweepstakes?
Instagram sweepstakes can be excellent promotional tools if you take the time to organize everything properly.
To do so, make sure you remember the following steps:
---
Thinking about running #Instagram sweepstakes? Learn how to do it the right way today
Click To Tweet
---
Choose relevant co-sponsors
Give away unique, memorable items people will want enough to take action
Write your copy carefully, with specific instructions for how to enter the contest
Use a third party tool to run your sweepstakes effectively
Market your sweepstakes to relevant niche sites, not generic sweepstakes sites
Follow up on your Instagram sweepstakes with a thank-you post
Post great content to Instagram and follow best practices to keep new followers around after your sweepstakes
Are you thinking about running sponsored Instagram sweepstakes? Did you find this guide helpful? Have any more questions for us? Let us know in the comments section below!
The post The Ultimate Guide to Running Successful Sponsored Instagram Sweepstakes appeared first on Revive Social.