As a marketer, part of your job is staying on top of the latest online and social media trends to help your brand stay relevant. One platform becoming impossible to ignore is the video-sharing app, TikTok. However, you may be wondering whether TikTok marketing is actually a 'thing.'
Although it may have started as a platform for younger generations to post irreverent videos, it's quickly evolving to much more. As one of the fastest-growing social channels, TikTok marketing offers you an opportunity to reach and advertise to new audiences.
In this post, we'll explain what TikTok is, how it works, and the benefits of incorporating TikTok marketing into your social strategy. Then we'll provide you with three key tips for getting started. Let's jump in!
An introduction to TikTok
The rise of video content on social channels is nothing new. Over the years, consumers have demonstrated an interest and even preference for video content on social media, as we've seen with the growing popularity of Instagram Stories, Snapchat, and YouTube campaigns.
TikTok is a free video-sharing app. Users can create, view, and share videos for a variety of purposes, and TikTok refers to itself as the "destination for short-form mobile videos":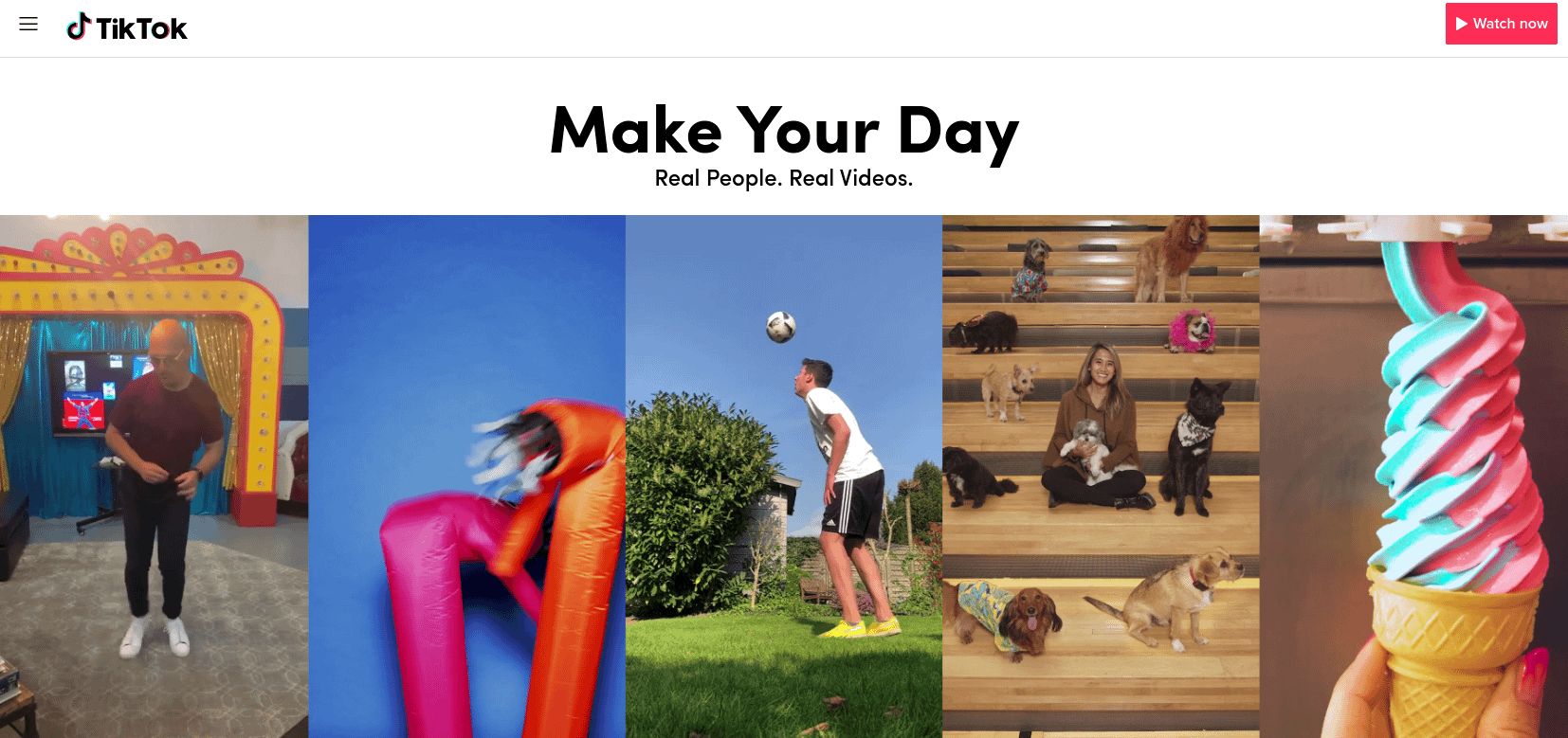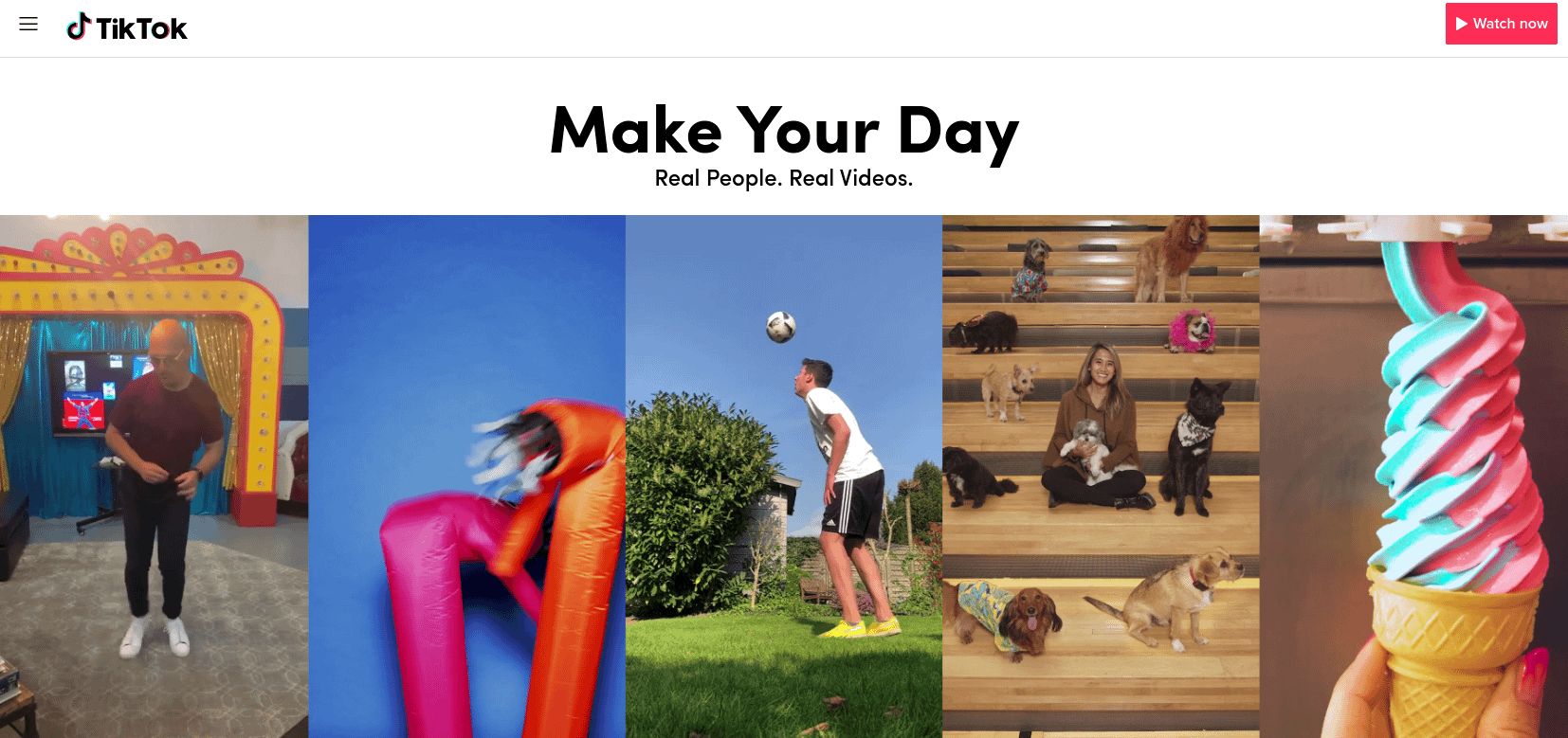 ByteDance started the video app in China, where it's called Douyin. However, global growth began after TikTok acquired Musical.ly in 2018. Musical.ly was an app where users, mostly from a young demographic, recorded and shared lip-syncing videos.
Research by SensorTower revealed that TikTok saw more than 738 million installations in 2019 alone. In fact, between January 2018 and March 2019, it was the most downloaded app on the iOS App Store.
How TikTok works
Once you download the TikTok app, you can view videos from the Discover page. This is where you can search, find, and view videos based on hashtags, users, keywords, and more: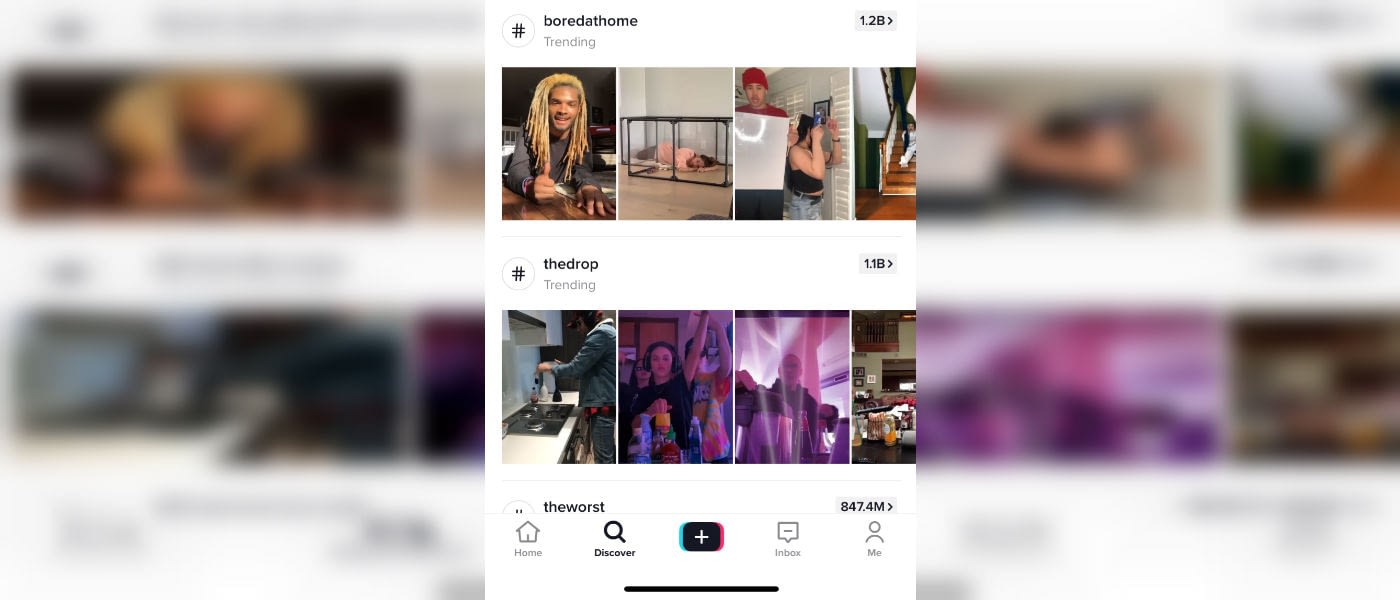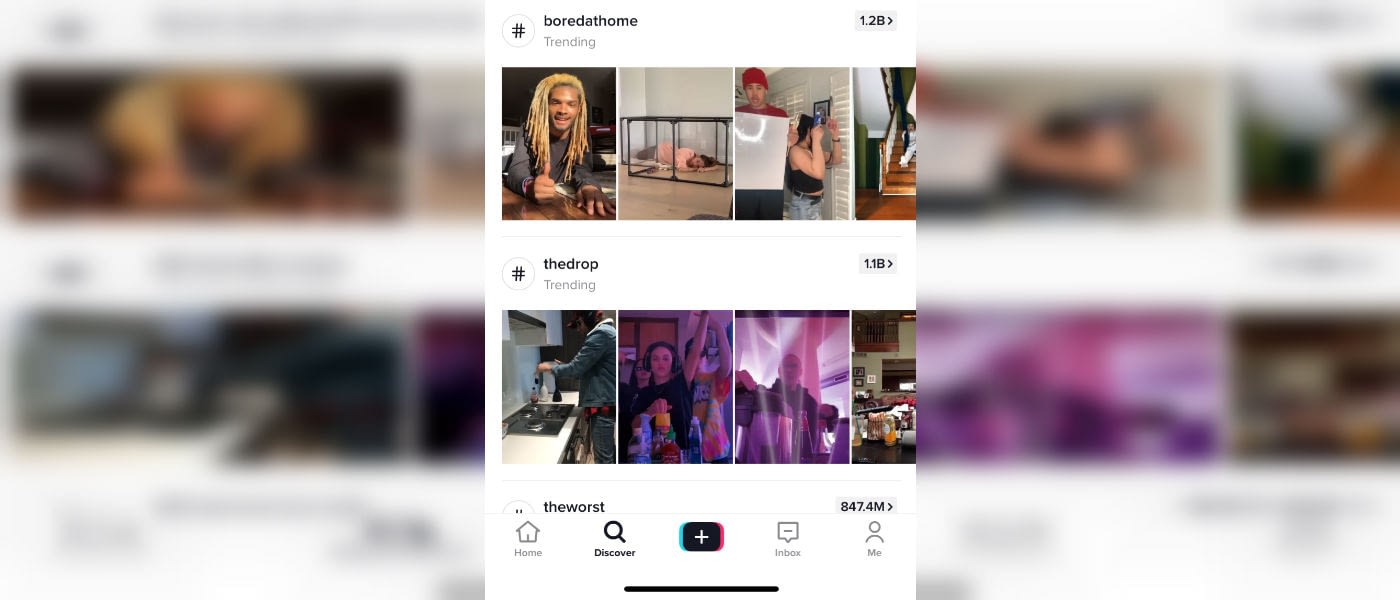 After you open the app, the screen has two main tabs: Following and For You: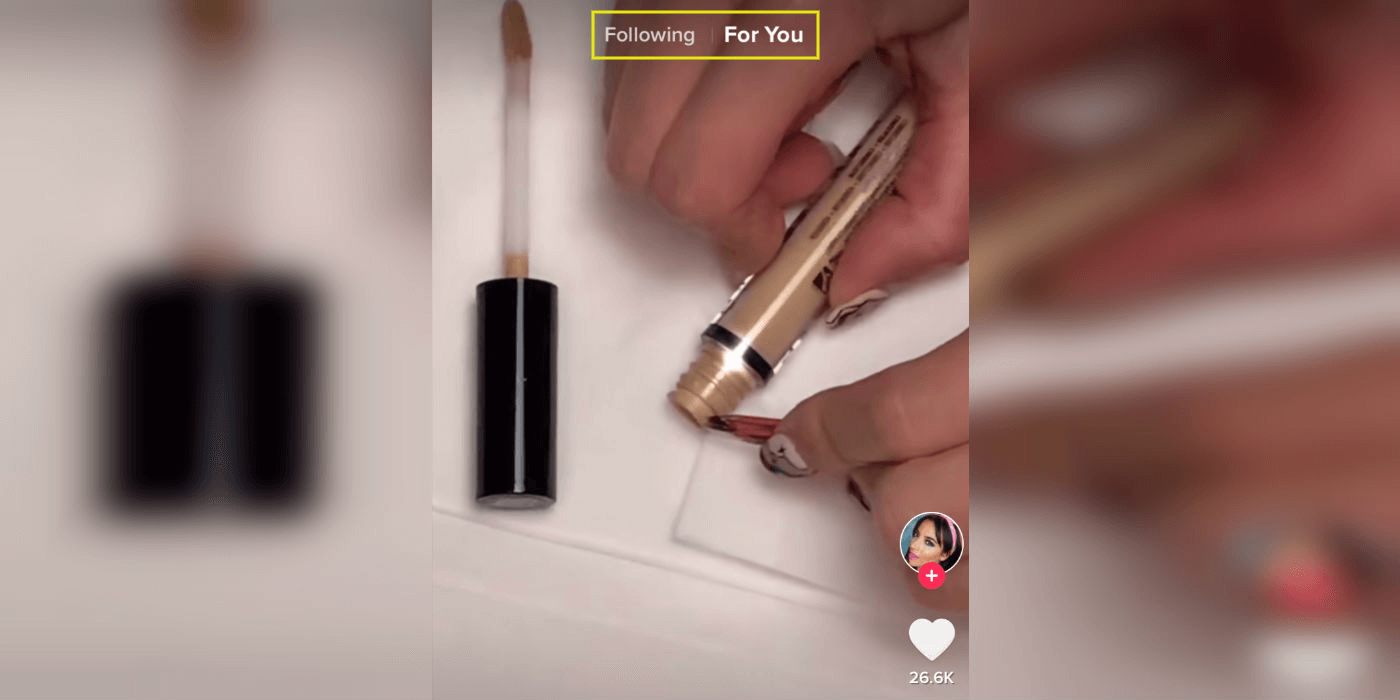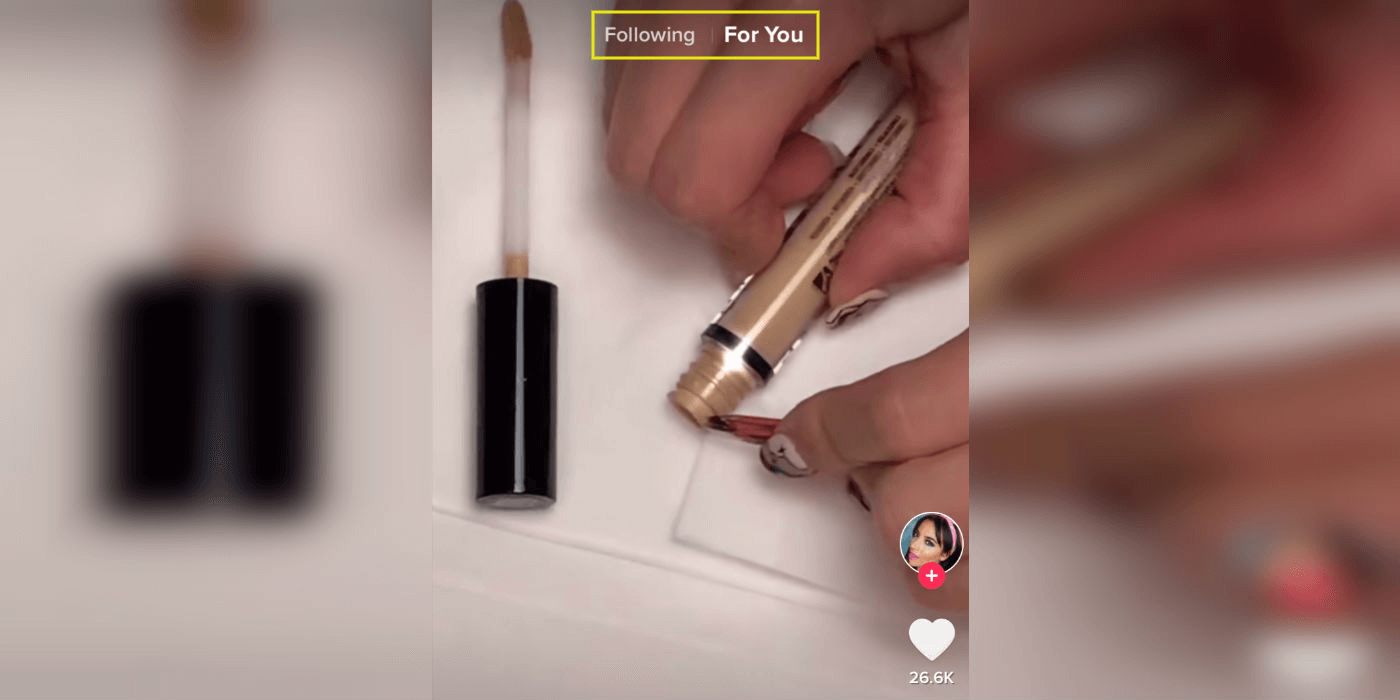 Following is the feed with videos posted by users you subscribe to or follow. The For You page is a feed of videos curated by TikTok based on your interests and viewing behavior.
TikTok videos can be anywhere between five to 60 seconds long. There is also a live streaming option. You can upload existing videos or create them within the app, there's a wide range of visual and sound effects, transitions, and filters.
You can follow accounts, 'like' videos, leave comments, and share videos. Additionally, you can add specific videos, sounds, hashtags, and effects to your 'favorites' section, which the app uses to present relevant videos to you.
What TikTok is used for
According to the company, TikTok has over 300 million monthly active users in the U.S. alone. Those users spend an average of 46 minutes per day on the app. As a creative social platform, TikTok gives its users a place to record, create, and share a wide variety of videos. While singing and dancing once accounted for the majority of videos, content material is now expanding. Some of the most popular content includes:
Comedy sketches and pranks
Cooking and crafting tutorials
Exercise and health tips
Beauty and skincare routines, reviews, and tutorials
Lifestyle hacks
Not all TikTok users are 'creators'. Many are simply viewers who download the app to consume or share content, but not post their own. According to research by GlobalWebIndex on how TikTok users engage with the platform:
68 percent of users watch other peoples' videos
63 percent liked someone else's' video
Nearly 60 percent logged in without doing anything
50 percent shared someone else's video on another social network
Of course, TikTok isn't only used by consumers. As we saw with other social channels such as Instagram Stories, brands are now beginning to use TikTok as a marketing platform to advertise their brand and connect with audiences.
How brands use TikTok marketing
To understand the the value of TikTok marketing, it helps to take a closer look at some of the ways major brands are using it. One example is the NBA. With an impressive 10.1 million fans, the NBA TikTok account uses the platform to share aspects such as game highlights, interview clips, inspirational montages, and heartwarming fan videos: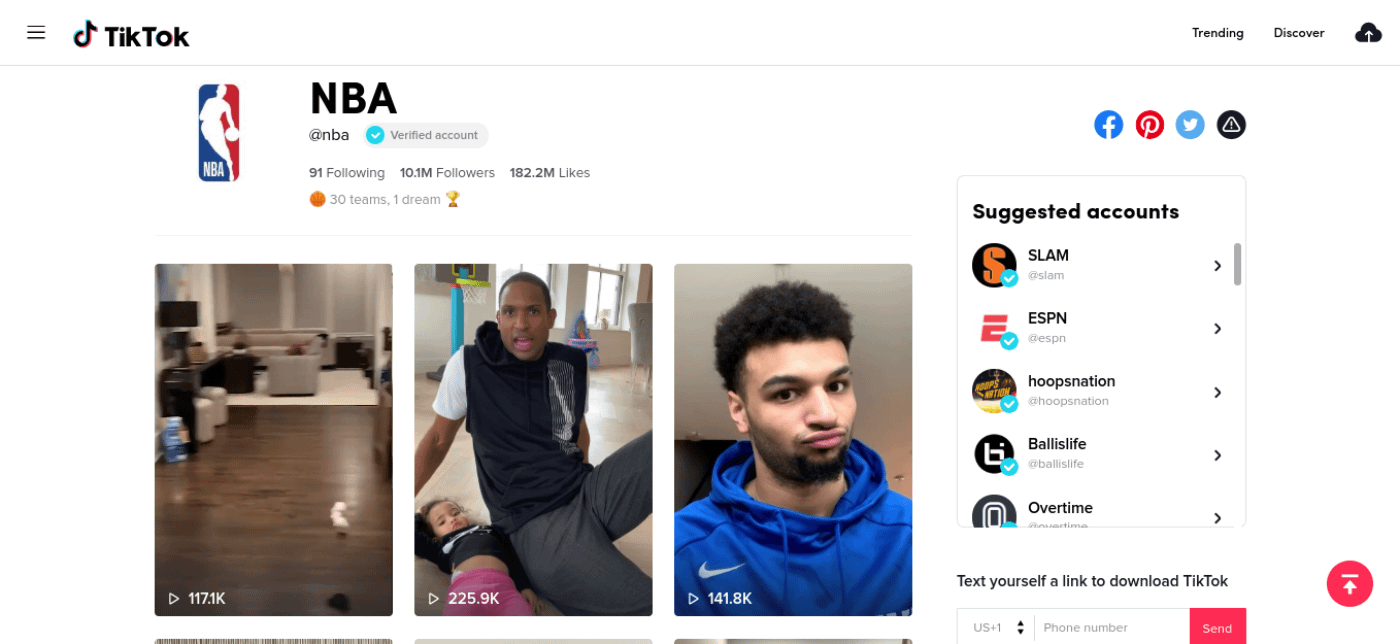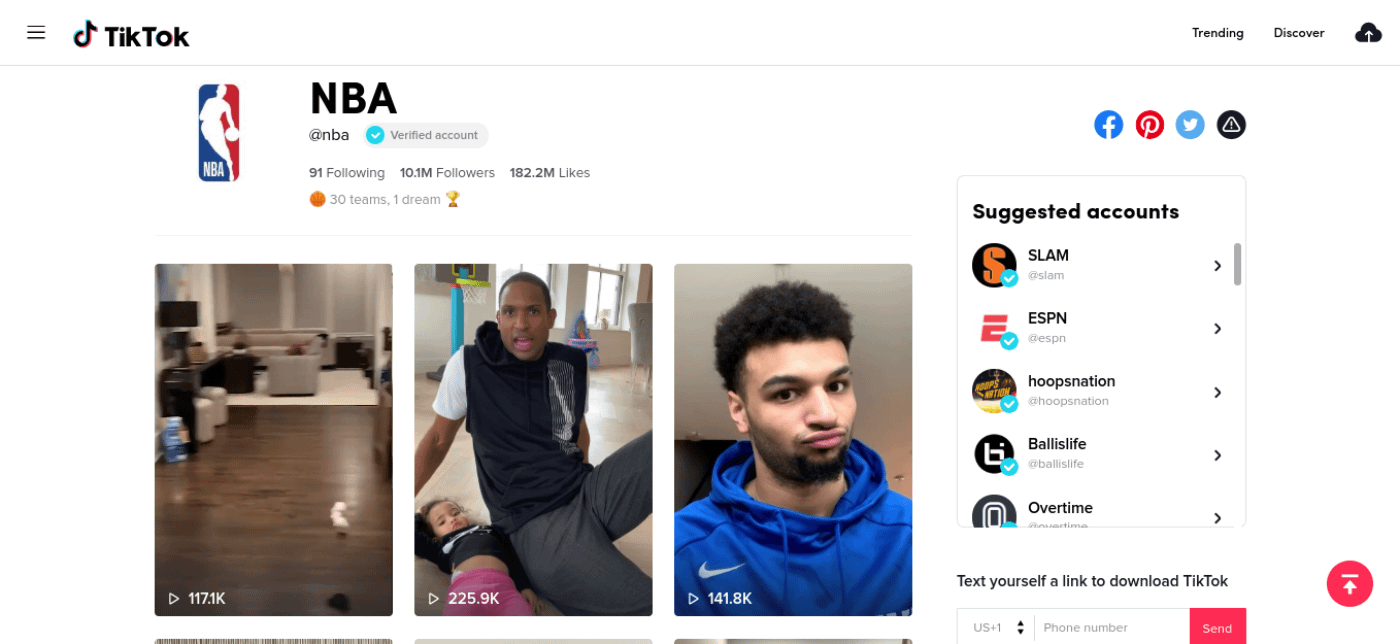 The Washington Post is another popular TikTok account that highlights how a brand can use the creative platform to connect with audiences and demonstrate their personality. Typically, you might expect a news organization to be serious. However, they do an excellent job of using TikTok videos to offer a behind-the-scenes glimpse into the company culture of their newsroom: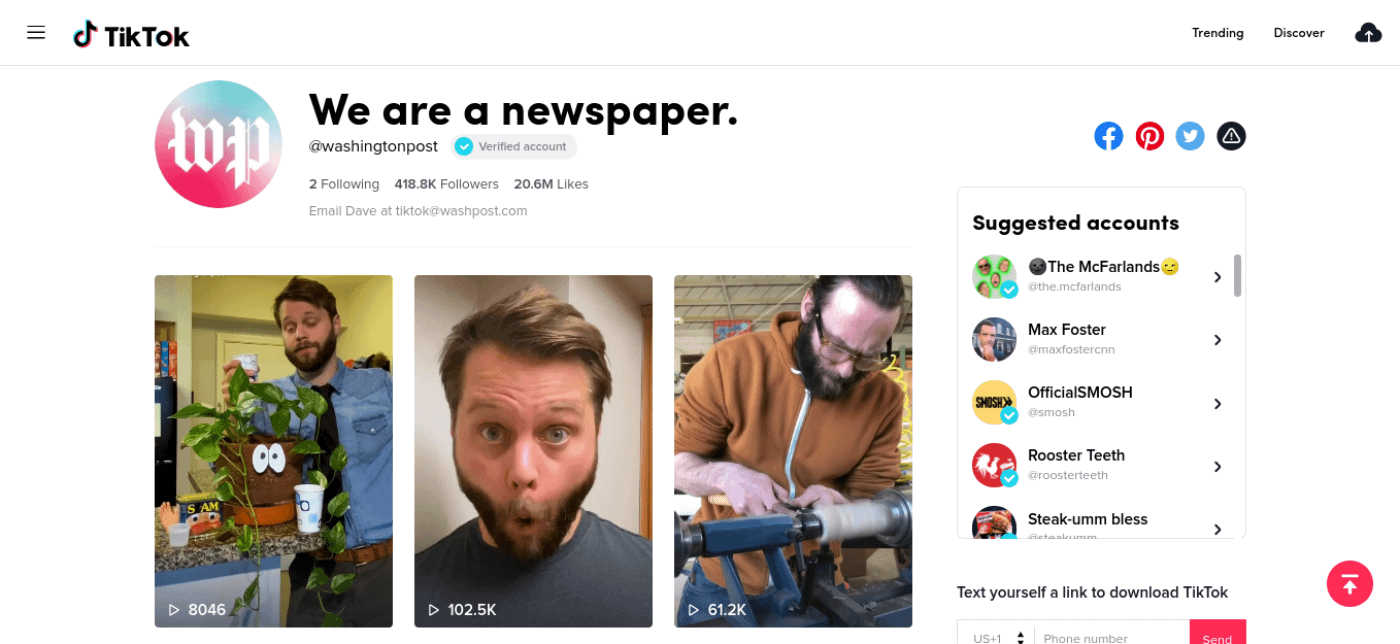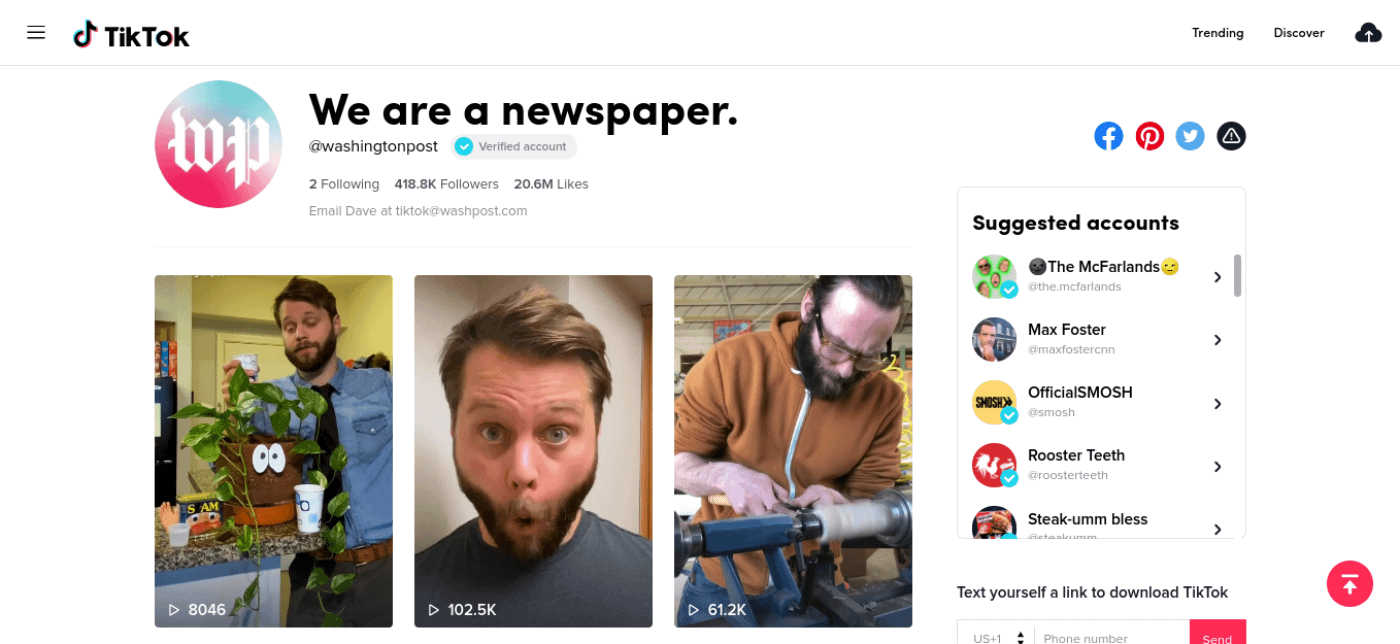 They often share funny newsroom skits that appeal to younger audiences and align with the fun, witty nature of the platform. This is a powerful example of how brands can use the platform to create and share content for a specific audience.
Another popular way brands use TikTok is for tips and tutorials. For example, dermatologists use it to provide their audiences with helpful advice on how to properly care for their skin.
These are just a few examples of how brands today are using TikTok to reach and connect with their audiences. However, aside from creating and posting videos, there are other ways you can leverage TikTok marketing. Before we get into this specifically, let's take a look at why you would want to.
The benefits of TikTok marketing
One of the benefits of using TikTok as a marketer is that it has an extremely diverse and global audience. You might assume TikTok marketing is only relevant if your brand is targeting younger generations.
However, although 41 percent of TikTok users are between the ages of 16 and 24, the platform is quickly becoming more popular among older age groups. For example, based on data gathered by Comscore and published by MarketingCharts.com, the number of U.S. adults using TikTok is on the incline.
Another benefit of TikTok (and reason to consider adding TikTok marketing into your digital advertising mix) is that the content is highly shareable. People can download and save the videos directly, then share them via email, text, and other social platforms: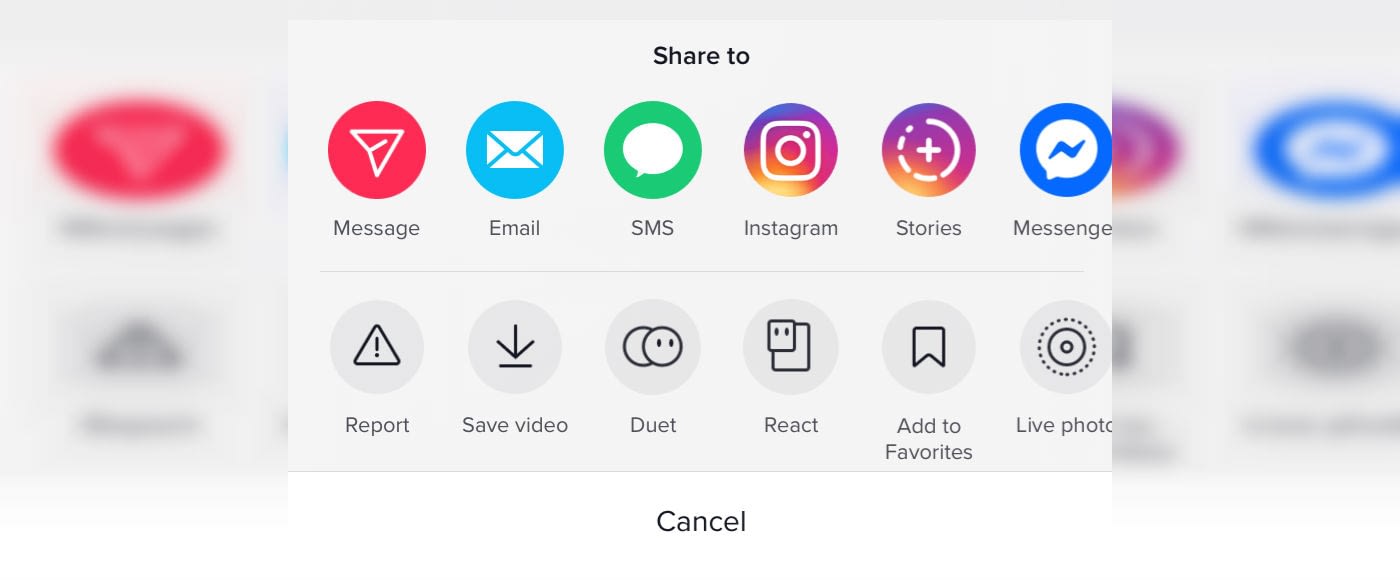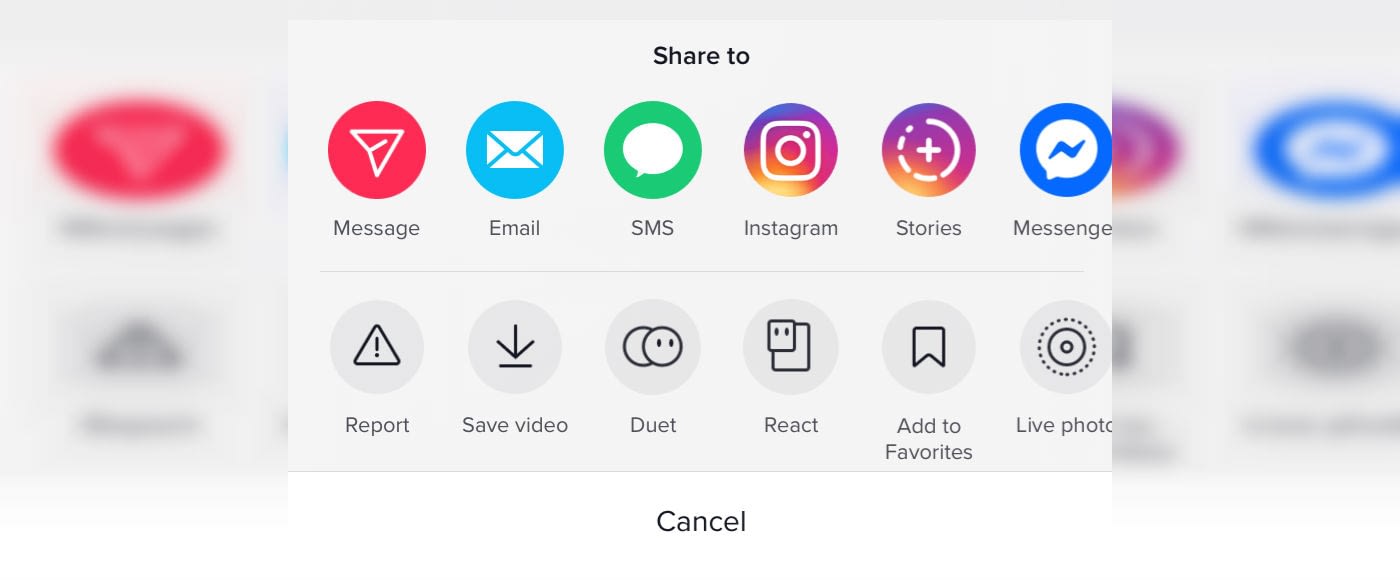 The videos are watermarked with the TikTok logo, but also include your TikTok username, which can help with cross-channel promotions.
Additionally, as we touched on with other brands, TikTok is an effective platform for showing a different brand image than you might with other channels. For example, it can be particularly useful for targeting Generation Z and Millennial consumers.
How to get started with TikTok marketing (four key tips)
Between sharing your own videos and utilizing TikTok's paid advertising options, there are a variety of ways to go about TikTok marketing. Let's take a look at four tips for getting started.
1. Create a TikTok account to start sharing original videos
If you're ready to get started with the world of TikTok marketing, the obvious first step is to create a TikTok account (if you haven't already). To do this, download the app, then signup with your email, phone number or Google, Twitter, or Facebook account.
When you're ready to share your first video, you can do so by clicking on the + icon at the bottom of the screen: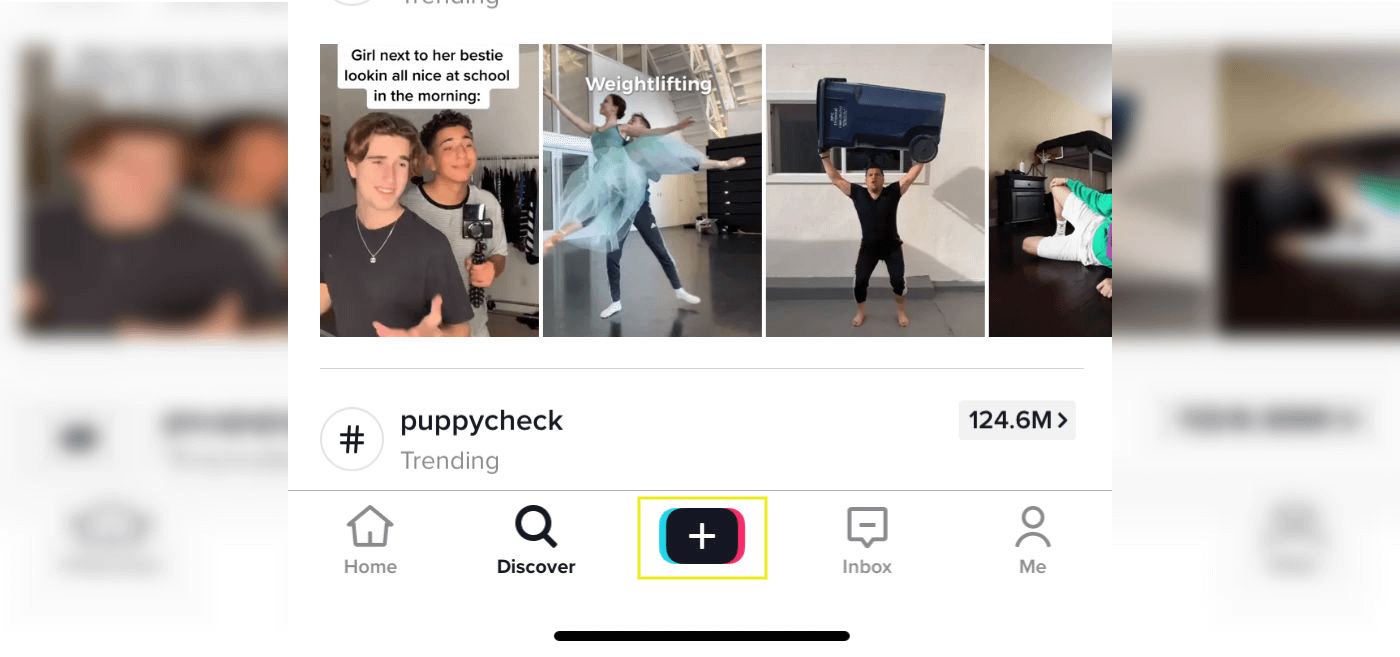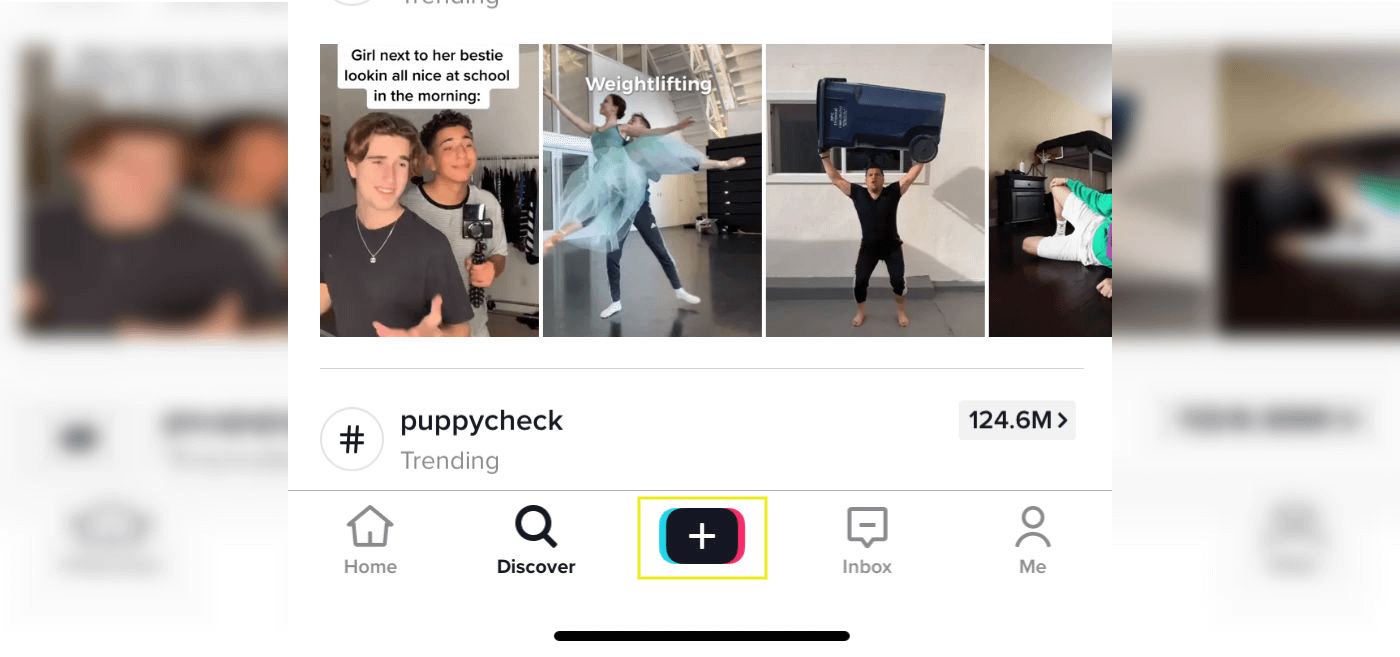 You can then choose to record your video (using either the front or back facing camera) or upload one from your phone. You can make it 15 or 60 seconds, as well as apply different filters and templates.
When you're done, click on the checkmark. Next, you can add effects, texts, and sounds: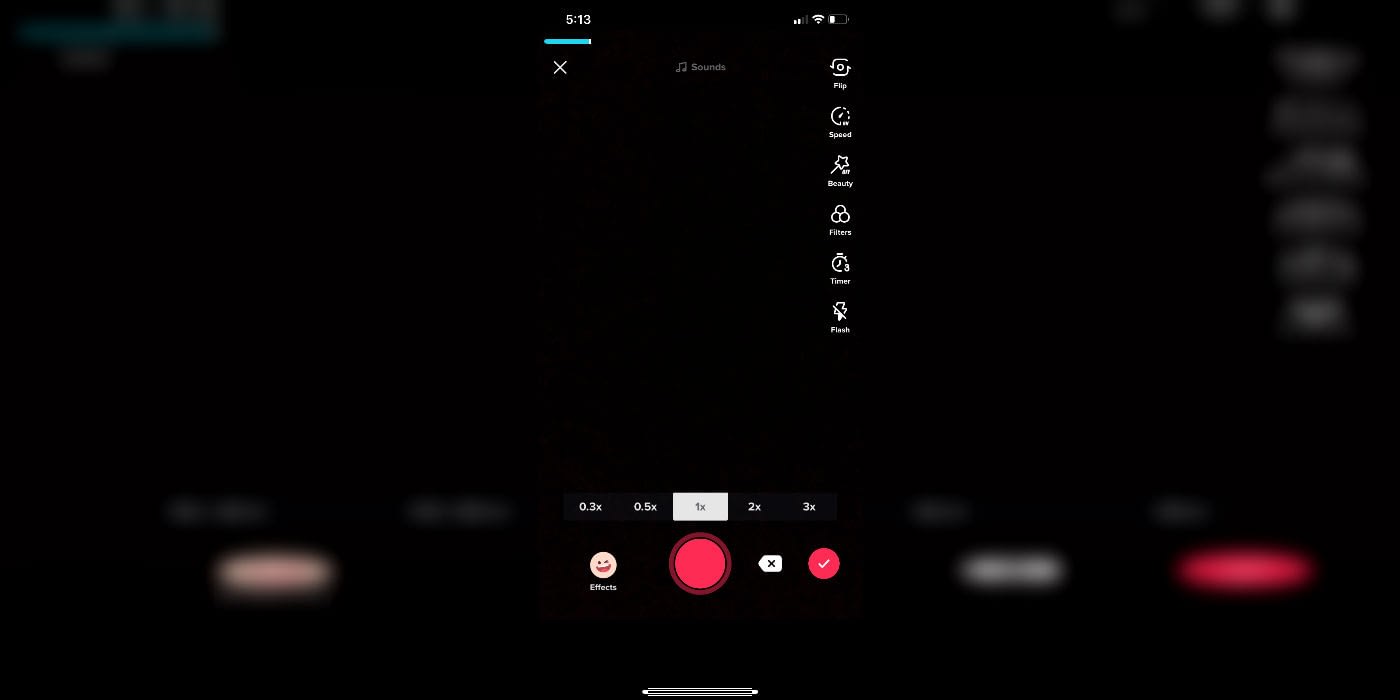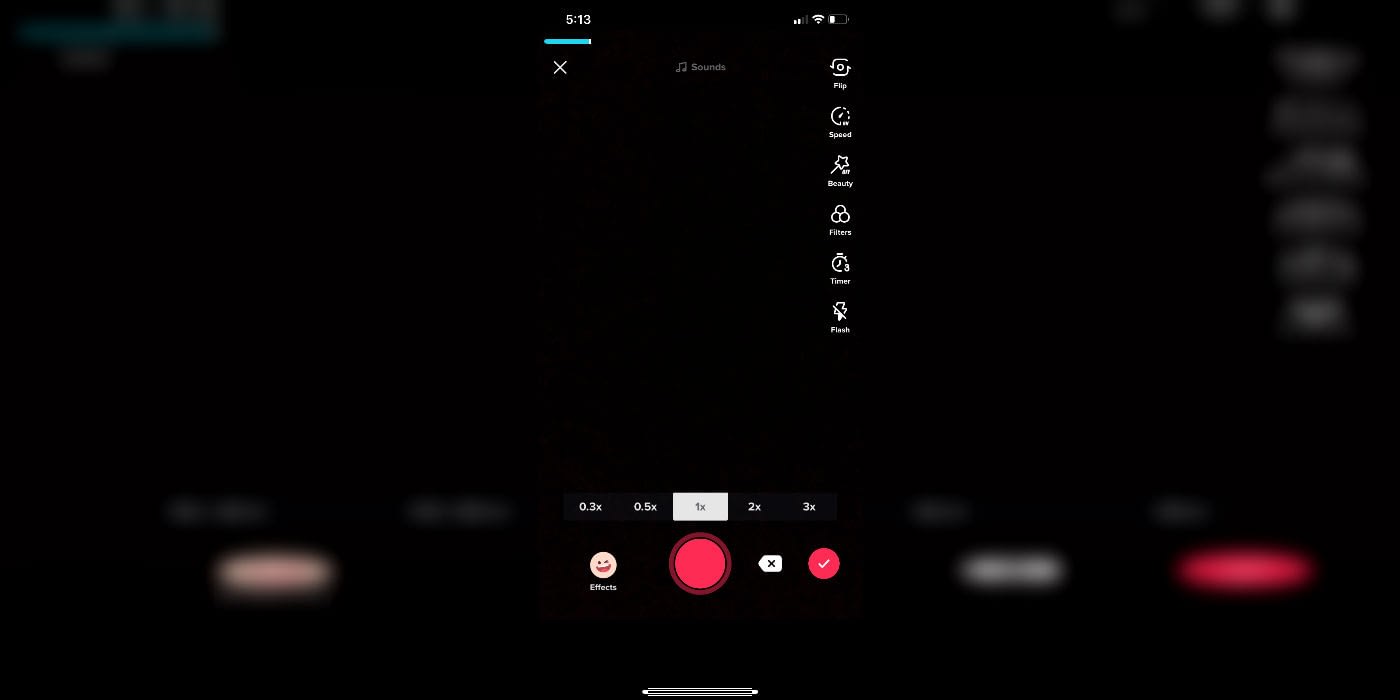 Once you've added features to your video, click the Next button. On the final screen, you can add a description (or caption), set hashtags, tag other users, and configure your sharing settings: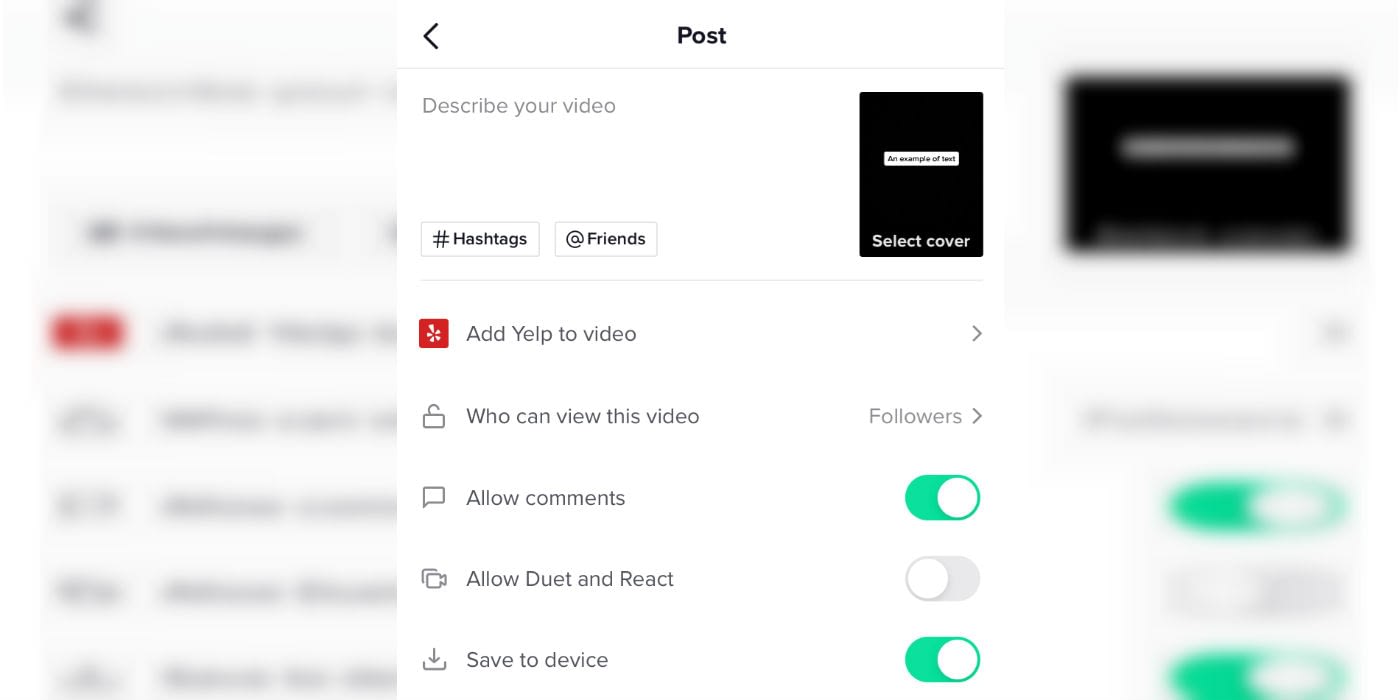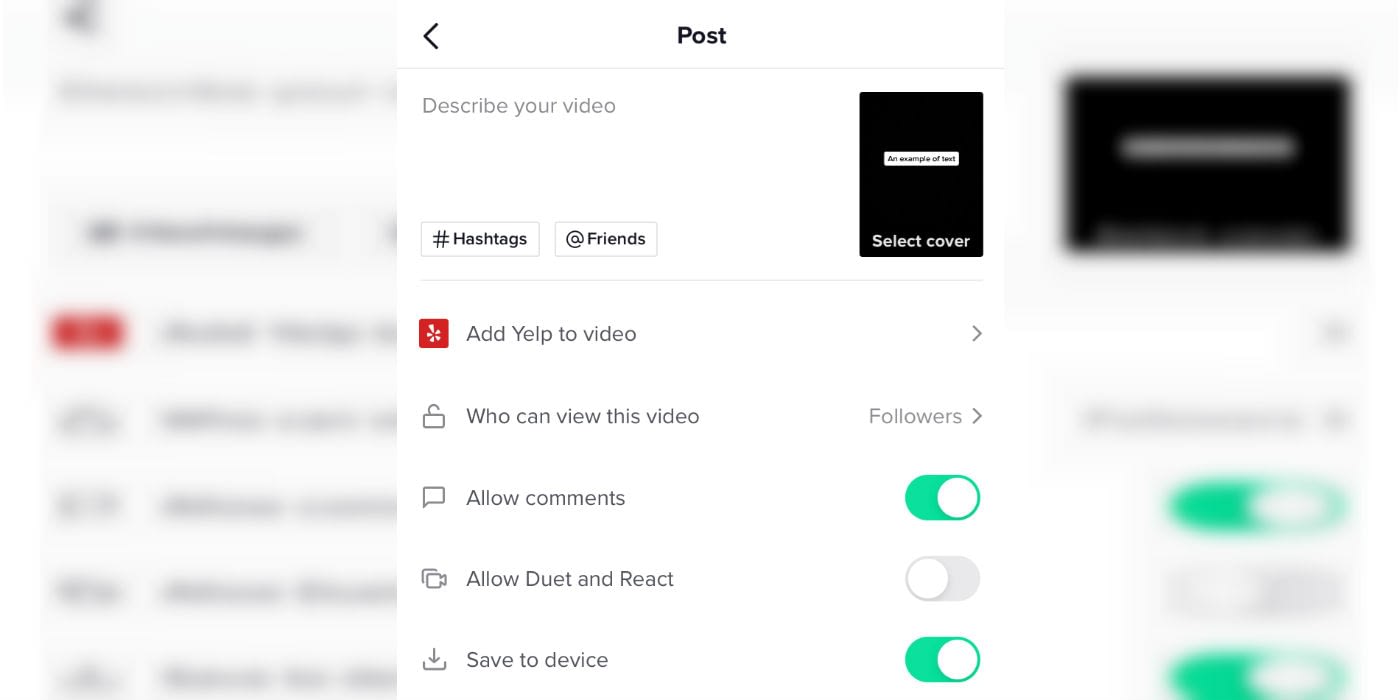 When you're done, click Post to share it. If you need help posting a specific type of video or using another TikTok feature, you can refer to the TikTok Help documentation.
2. Leverage influencer marketing to promote your products on TikTok
Influencer marketing has become a staple for many brands. If you're unfamiliar, this is when you partner with a social influencer who has an established audience in your niche to promote your products.
As we've discussed before, this has become a common practice for Instagram marketing. However, it's also an effective way to get started with TikTok marketing. For example, brands like FabFitFun often partner with influencers to have them incorporate natural promotions into their videos: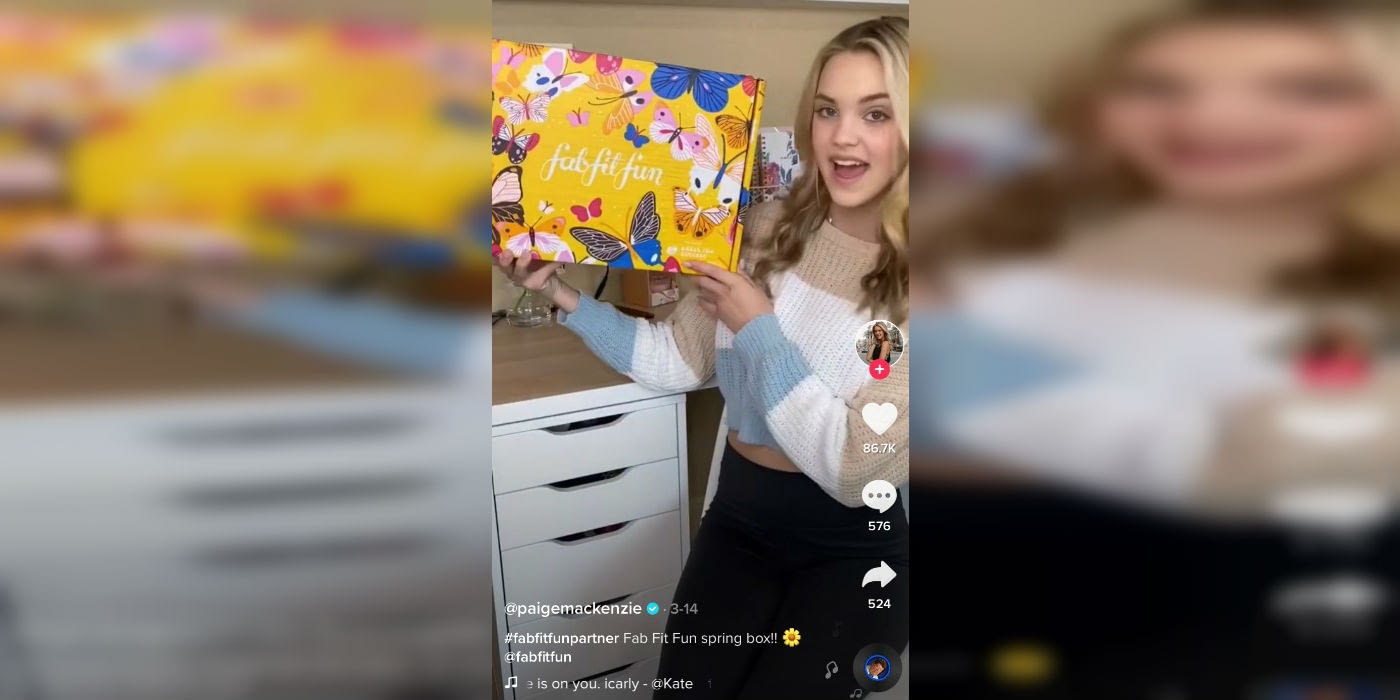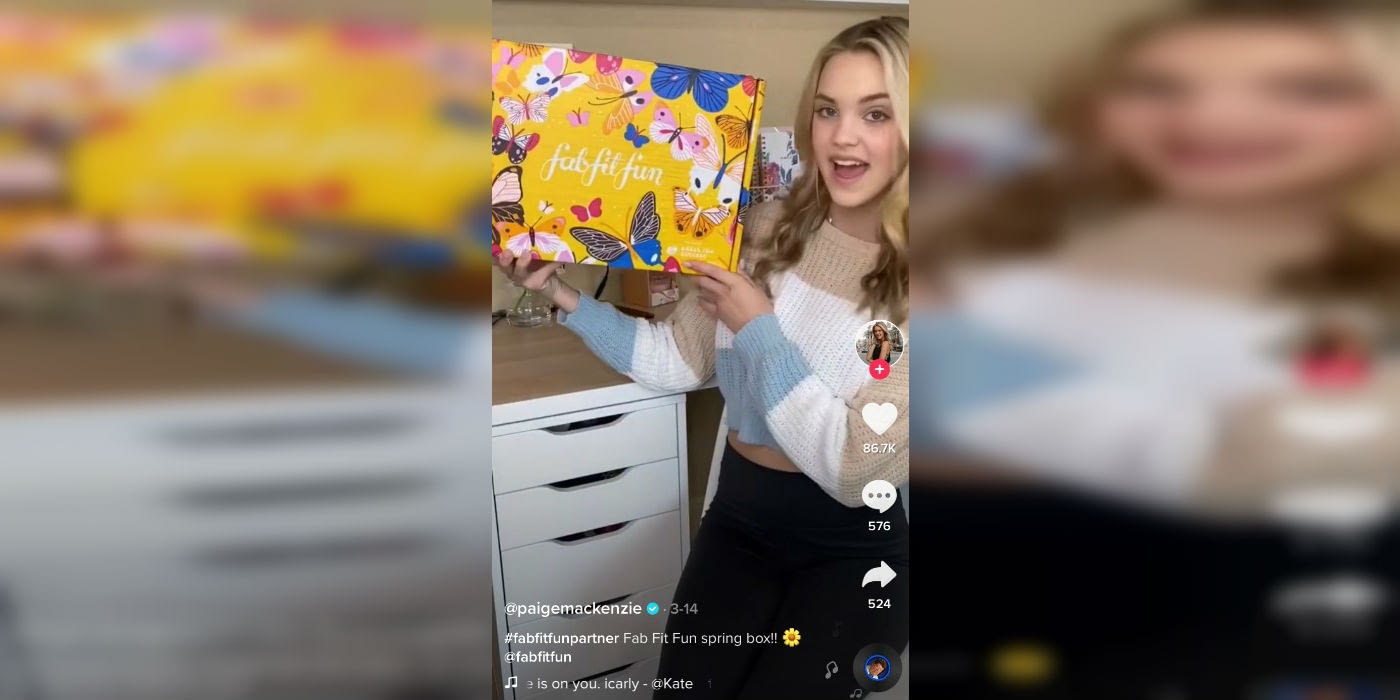 To find influencers in your niche, you can start by using the Discover page on TikTok. After opening the app, click on the Discover tab along the bottom menu. In the search bar, enter a relevant keyword relating to your industry – for example, if you're an online shoe store, you can search "shoes" then click on the Users tab: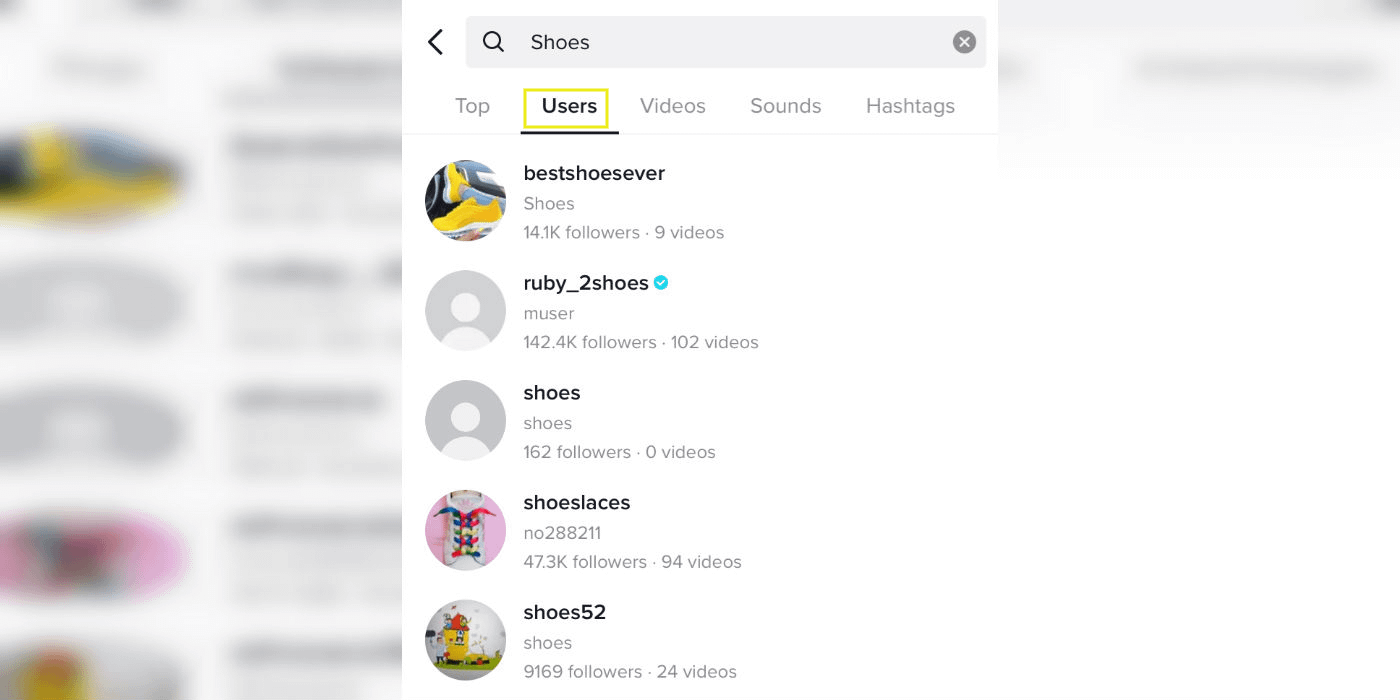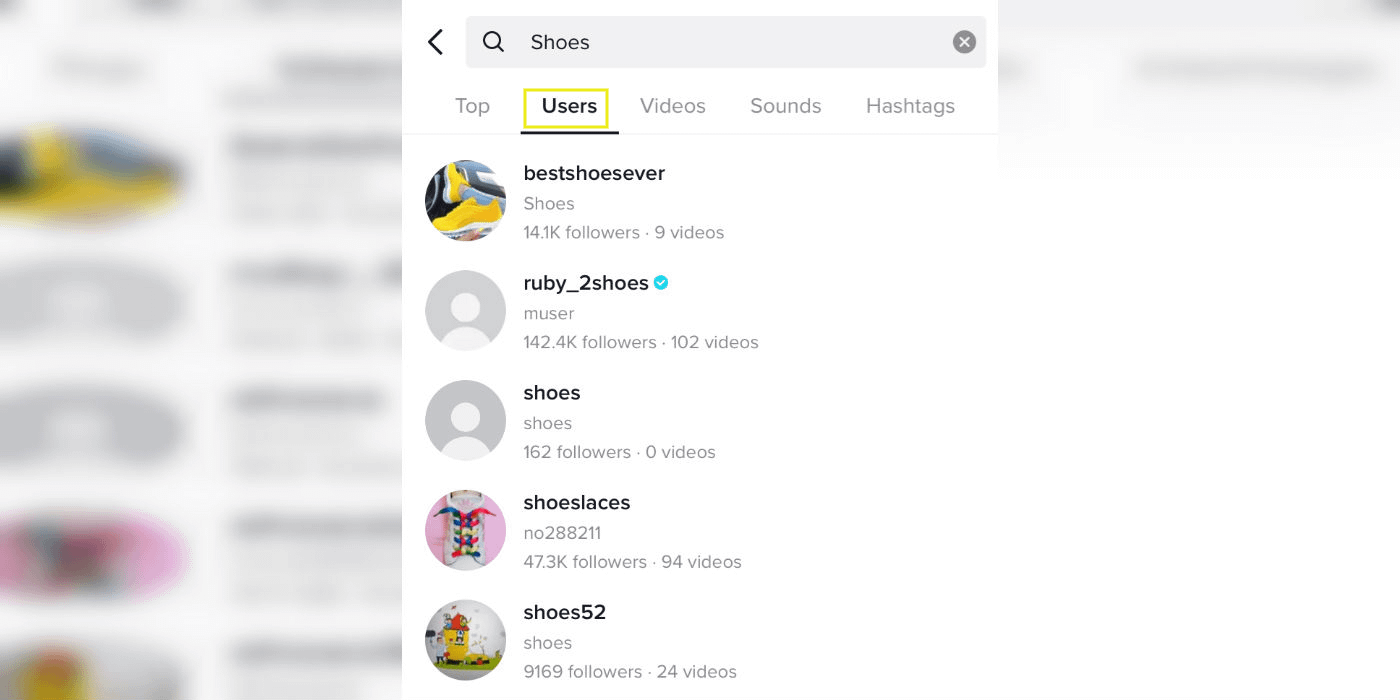 You can scroll to see the username, look at how many followers they have, as well as see videos. This is a good place to start finding influencers you can reach out to about brand partnership opportunities. While verified users (those with a blue checkmark) are ideal, unverified accounts with high engagement are also worth considering.
3. Create a TikTok Ad account to use the official ad features
TikTok also offers official ad features, which you can learn more about on the TikTok Ads website. Two popular options are Brand Takeover Ads, which is when your promotion displays as a full-screen page upon opening the app, and In-Video Feed Ads that display on the For You page.
If you want to get started with TikTok Ads, you'll need to create a TikTok Ad Account. To do this, you can visit the TikTok Ads website and click on the Create an Ad button in the top right-hand corner:


You'll be asked to select a billing country, as well as choose between a personal or business account: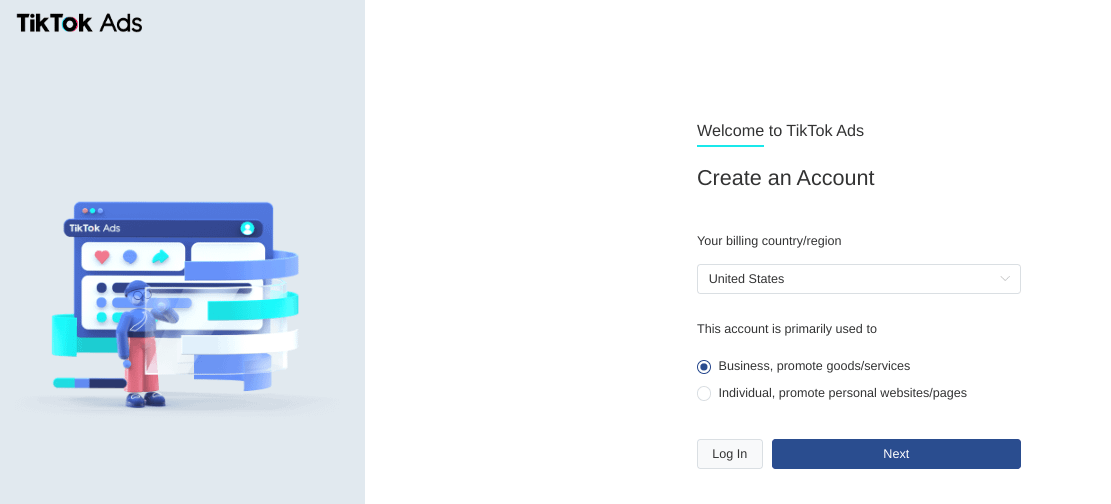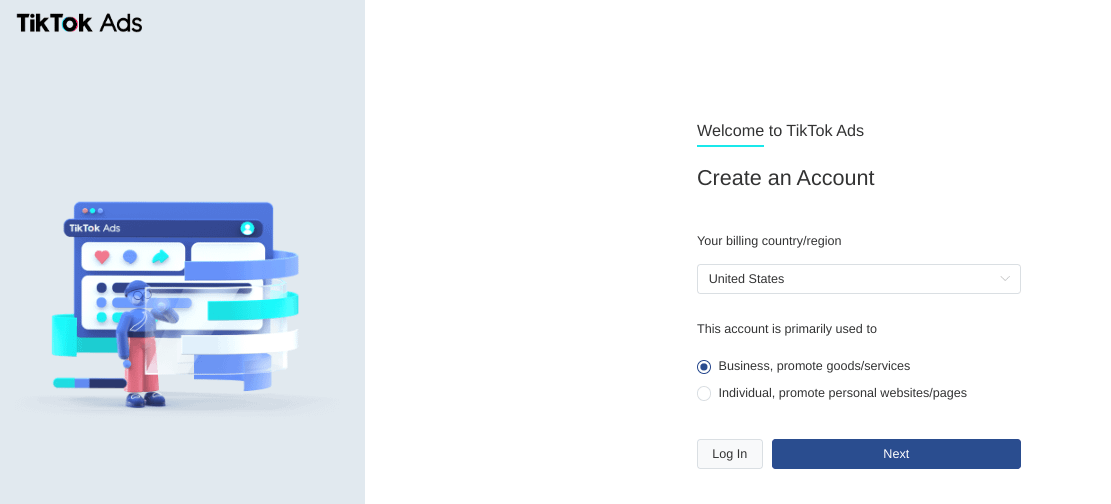 After you click on the Next button, you'll see a screen where you can enter your contact information: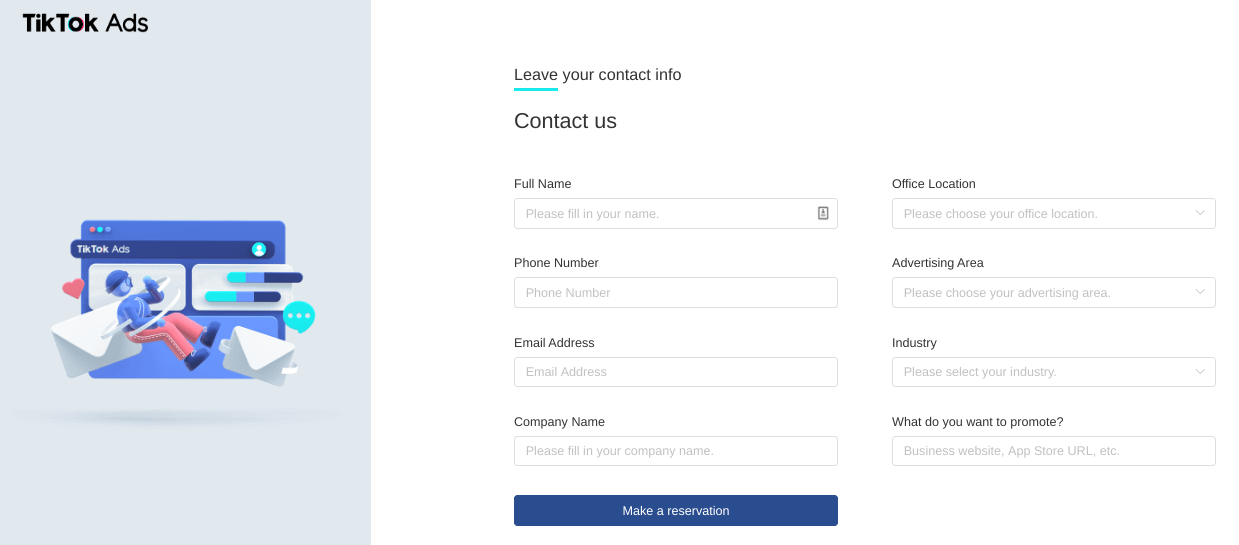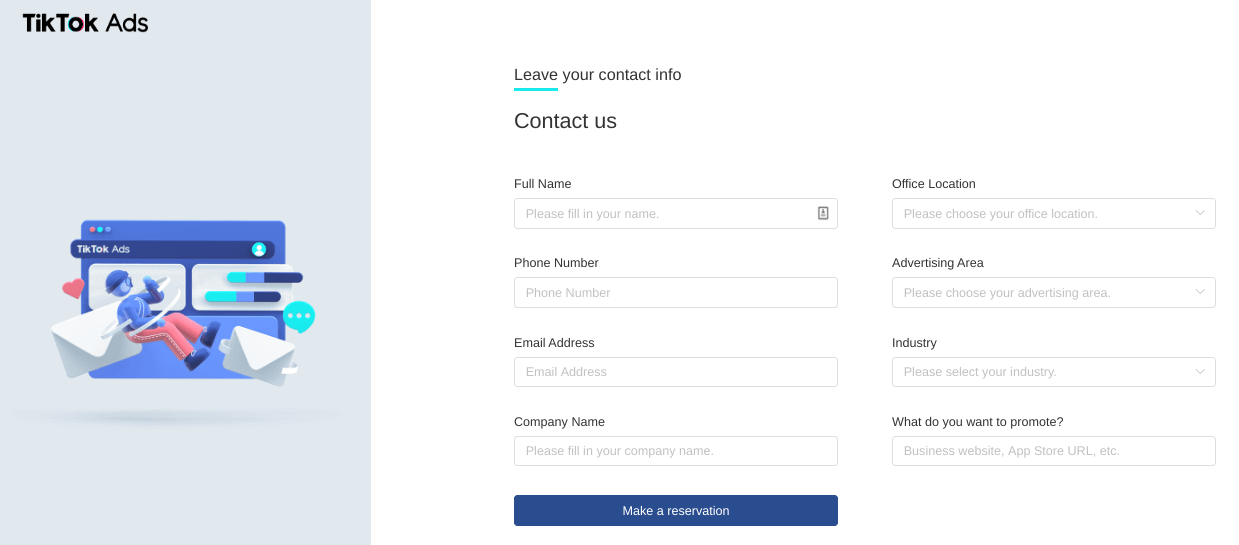 When you're done, select Make a reservation. A TikTok representative will review your information, then contact you with the next steps for setting up your advertising account.
4. Research and use relevant hashtags
As with most popular social networking platforms, hashtags are a powerful way to increase the visibility of your content and connect with your target audience. Therefore, incorporating relevant hashtags into your TikTok videos can help you expand your reach.
There are a handful of ways you can use hashtags to improve your TikTok marketing efforts. One is to use the popular hashtags designed to get your videos on the For You page. These include #foryou, #foryoupage, and #fyp.
Another option is to participate in hashtag challenges. Sticking with the shoe example from before, you can search "shoes" under the Hashtags tab of the Discover page to find relevant challenges, as well as other hashtag ideas: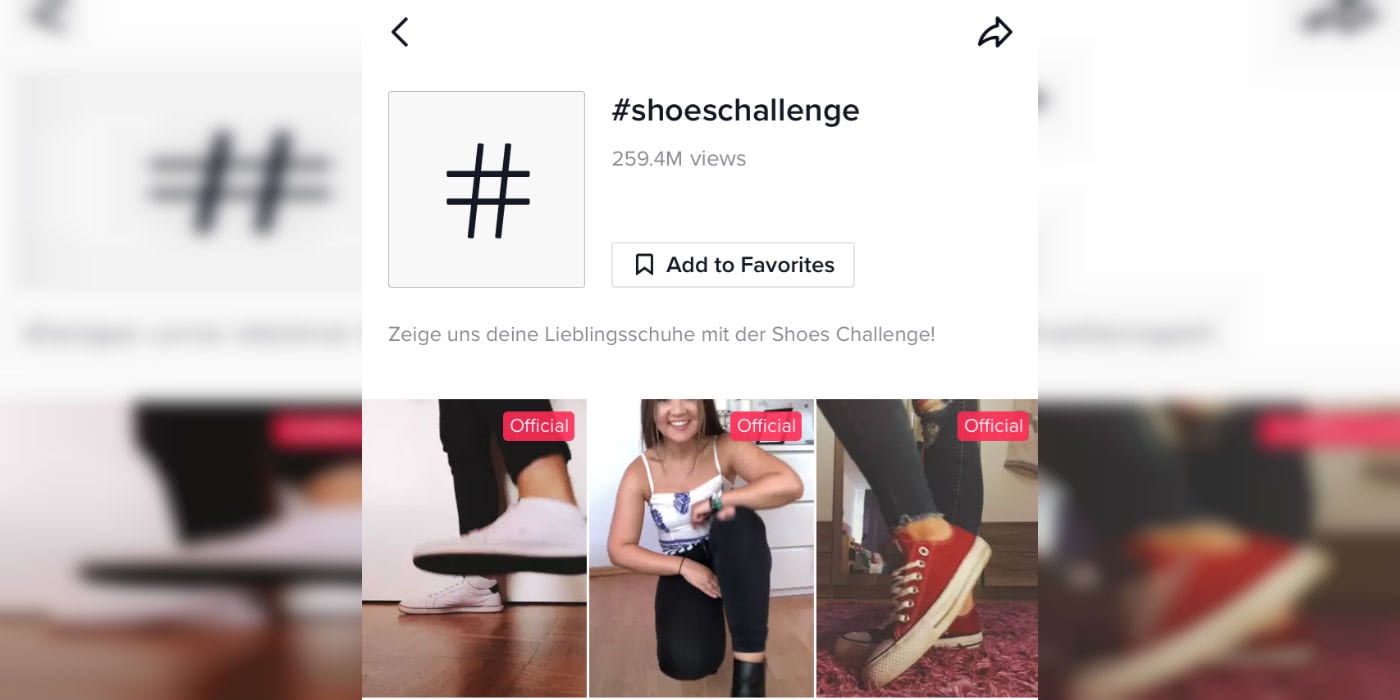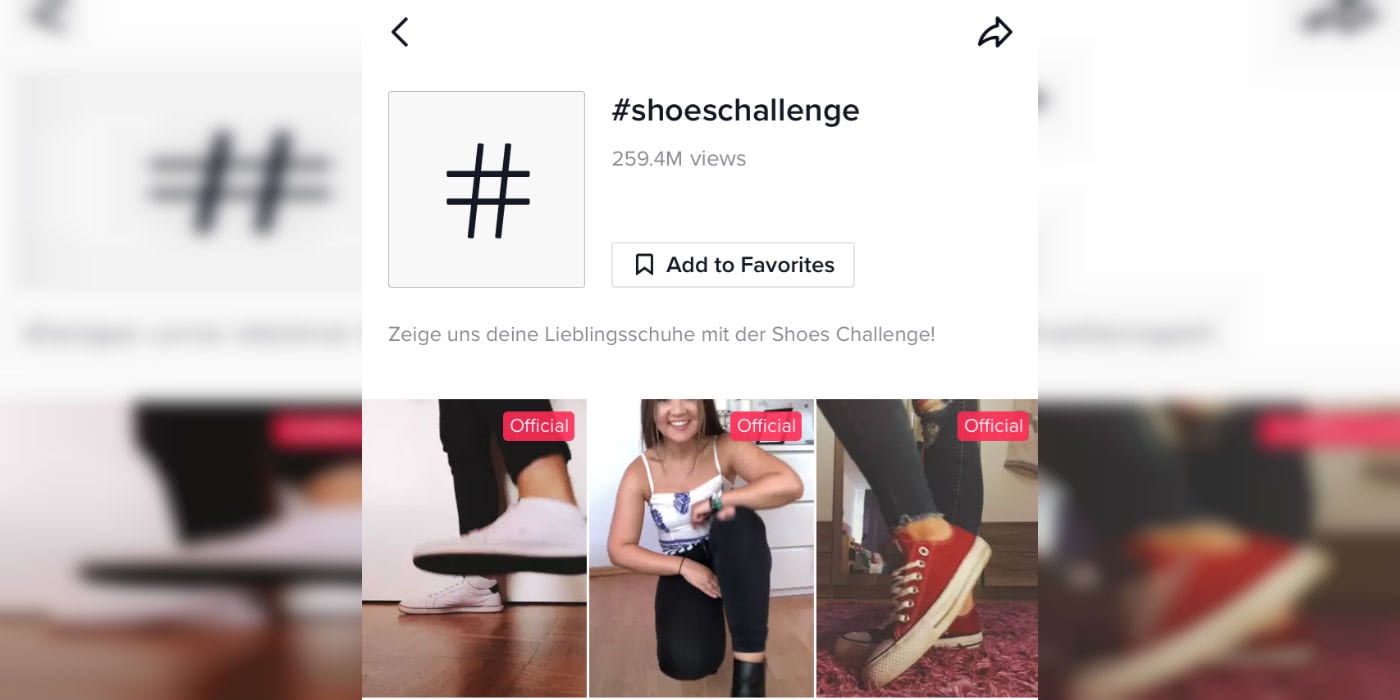 Finally, on the Discover page, explore the trending hashtags and identify any that would make sense to use in your own videos. TikTok algorithms favor these hashtags, so videos using them are more likely to be shown on the For You pages.
Conclusion
Many people assume that TikTok is a platform designed specifically for Generation Z. However, as it rapidly gains traction among all age groups, the free video-sharing app present increasing opportunities for you to reach new audiences, build brand awareness, and improve your social marketing strategy.
In this post, we discussed four key tips you can use for getting started with TikTok marketing, which are:
Create a TikTok account and start sharing original videos.
Leverage influencer marketing to help promote your products.
Create a TikTok Ad account to use their official ad features, such as Banner Takeover and In-Video Feed ads.
Research and use relevant hashtags in your videos, including those relating to the For You page and participate in hashtag challenges.
Do you have any questions about getting started with TikTok? Let us know in the comments section below!
The post TikTok Marketing Guide: Everything You Need to Know to Get Started appeared first on Revive Social.