Small to medium-sized businesses are often strapped for two prime resources – time and money. Hiring a social media manager can save you both, but only if you know when and how to find the right one for you.
What is social media for business?
Social media is a vital marketing and communication tool that is making the world much smaller for business. 70% (about 2.46 billion) of the world's 3.5 billion internet users interact on one or more social platforms, which connect hundreds of thousands of users over global-reaching communities daily.
81% of small to medium-sized businesses report a social media presence, making participation on social media a requirement – not an option – in establishing a brand's authenticity and integrity and keeping up with competitors.
This is especially true if your target audience is Millennials, as this generation prefers to engage brands and businesses through social media. 84% follow their favored brands on Facebook and 50% on Twitter. Establishing and maintaining brand social media profiles on relevant platforms is instrumental in reaching this demographic.
What can social media (and a social media manager) do for my business?
Social media can provide access to massive target audiences on a level previously only available to big brands with massive marketing budgets. 50 million businesses advertise on Facebook and 4 million of these also pay for site advertising, which reaches a potential audience of 2.23 billion monthly active users.
This amazing outreach ability makes social media an ideal place for small and medium-sized companies to establish your brand's reputation and build a loyal community of supporters.
Since 54% of Millennials use social media to research brands and their products or services before making a purchase, effectively establishing your business online directly impacts sales. Providing additional reviews or content related to your product or a contact platform for customer inquiry and feedback can increase satisfaction and customer retention rates.
Social media is also useful for inbound marketing and lead generation. For example, 93% of Pinterest users report they use the social media platform to plan purchases, and Pinterest drives 33% more retail referral traffic than Facebook. E-commerce sites, in particular, have great success leveraging Pinterest for business.
Social media is also revolutionizing how businesses approach customer service. 59% of Americans with social media accounts believe social media has improved customer service. Communities, forums and instant web messaging allow businesses to more quickly and efficiently resolve customer issues and address inquiries.
Hiring a social media manager who can expertly navigate the ever-shifting line between "trending" and "trailing" to optimize your outreach and social marketing efforts can give small and medium-sized brands an advantage in leveraging social media for business.
The cost of hiring a social media manager
Hiring a social media manager has clear benefits and advantages for small and medium-sized businesses, however, all good things do come at a price. Do a cost-benefit analysis to assess the practicality of making this investment, particularly with respect to your marketing budget. Across a sliding scale of compensation rates, there is a wide range of candidates with varying levels of skill proficiencies and experience.
For small and medium-sized businesses, being able to offer a competitive salary can open up a more elite talent pool. LinkedIn puts the average salary for a social media manager at $55,000/year. Glassdoor reports a figure of $54,238/year and Indeed, $50,000/year. PayScale gives the lowest average salary for this role at $48,614, but they work out to an approximate hourly rate of $25-28/hour. Whether you decide to hire on a full time or part time basis, this range should inform your compensation rates.
Reducing education and experience requirements or hiring part-time can be ways to lower hiring costs, but they risk attracting less qualified talent. You can also add non-monetary value to your compensation offer to tempt candidates who would fit best with your brand. Perks or benefits unique to your company like flexible hours, telecommuting options, or access to exclusive groups or personal development programs can influence preferred candidates.
Goals and objectives
Before you begin your search for a social media manager, it is crucial to establish some clear goals for your business, and specifically for your social media efforts. Goal setting is dependent on an honest evaluation of your current needs and your social media marketing strategy.
Evaluate your current social media presence and ask questions such as:
What platforms and profiles do you maintain?
Do you have a publishing schedule, and if so what tools do you use to manage it? How do you source your content?
What social networks does your social media strategy utilize? And how does that strategy fit into your overall business plan?
What types of promotional content or social marketing, advertising or listening tools are important to your brand?
Once you have a clear picture of your current efforts, identify precise target objectives that you can build on. Goals should be specific, measurable and achievable – such as increase website traffic by 15% this quarter or generate 30 new leads this month. Your social media goals should align with your marketing strategy and work in concert with your larger, overall business plan.
Selection criteria for the social media manager position
Selection criteria detail the skills and experience your ideal social media manager candidate will possess. Whatever recruitment method you pursue, this criteria will frame your search.
Build or adapt a job description to organize your selection criteria in a useful format. Include a job title and role definition, duties and responsibilities, and required experience and qualifications. Use industry terminology and keywords to optimize search results on job boards and highlight important skills.
You can see some examples of the criteria in Social Media Manager job postings on Indeed and Glassdoor below: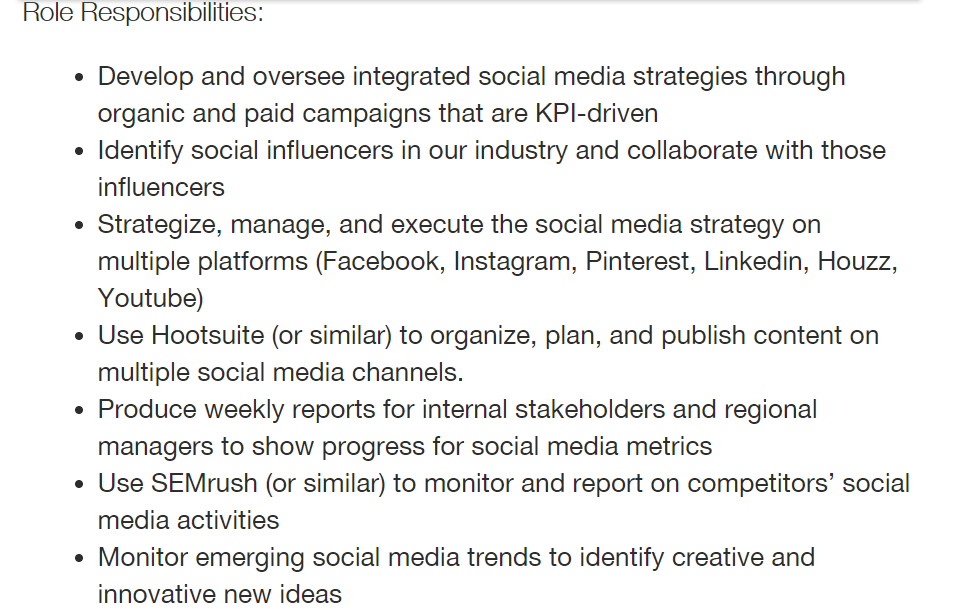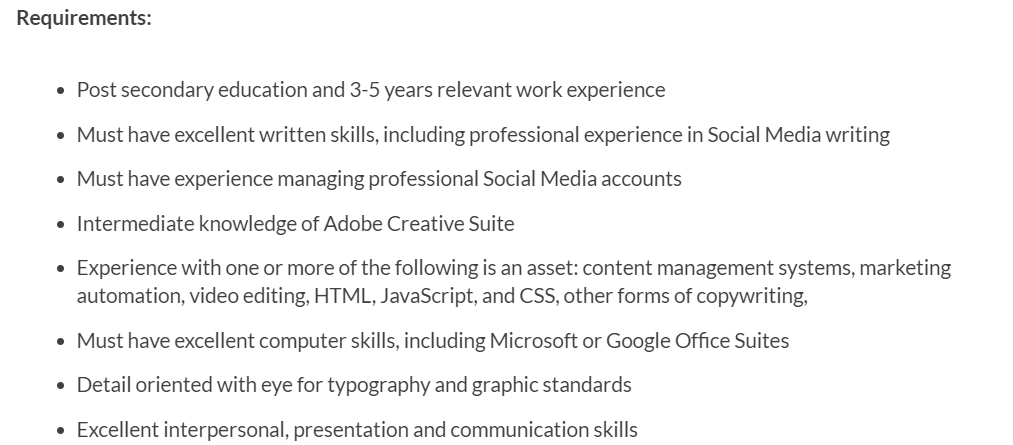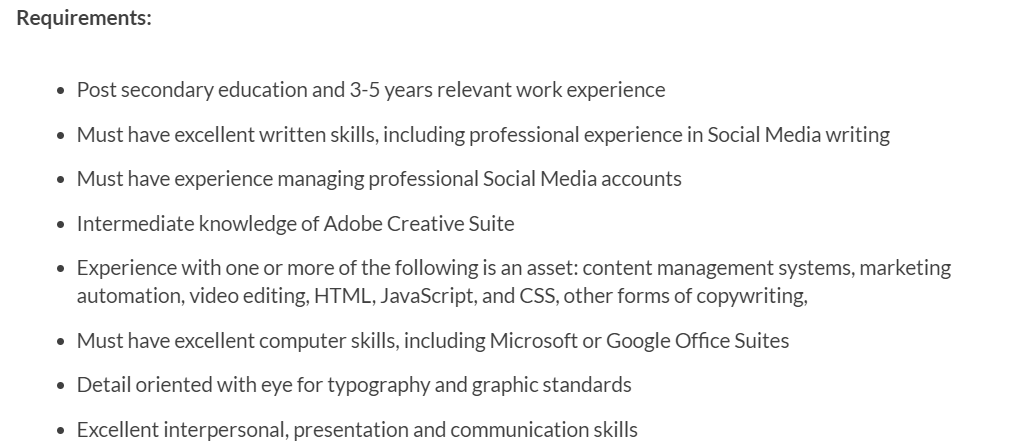 Job title and role definition
Your job title and role description should be clear and straightforward. Make your position stand out to applicants by clearly defining the scope of your social media manager's position within your company vision and business plan.
List job particulars such as location, compensation rate, and working hours. Include introductory and purpose statements that demonstrate how this position will work within your company. Outline who your social media manager will report to or collaborate with, as well as the scope of their position within the company's overall business plan.
This is also a good place to mention core company values or fun quirks and perks of your work culture. Be honest and positive – highlight the best parts of working for your company to attract a candidate committed to your brand and vision. Recognizing your perfect social media manager will depend on clearly defining their job description and honestly communicating your expectations for the position.
Duties and responsibilities
Use this section to list or summarize what your social media manager will do in their new position. All duties and responsibilities should be pursuant to established role goals and designed to complement and integrate with your larger marketing plan.
While social media managers are tasked with a range of responsibilities, they generally include the following and are centered around executing a company's social media strategy:
Maintaining a schedule of regular social media updates, often across multiple cross linked channels
Creating or sourcing high quality content
Target audience identification and monitoring through social listening
Increasing engagement and building community
Implementing social outreach efforts as part of a larger marketing plan
Using social advertising for promotion
Measuring and analyzing metrics to optimize growth
You might also want to take a look at the following example of responsibilities for a social media manager position from Indeed.com:

It is important to note that the role of Social Media Manager overlaps with several other positions. It's important to be familiar with the differences between similar roles, especially with respect to expected duties and responsibilities.
Related roles
Social Media Strategist, Community Manager, and Digital Marketing Manager are a few examples of roles with duties and responsibilities that intersect those of a social media manager. Other, smaller specialist roles focus on producing or utilizing a specific type of content.
Although social media managers should be familiar with implementing and optimizing social marketing strategies, they are not necessarily experienced with developing them. If you are looking for an expert to design your social marketing plan, you require a Social Media Strategist.
While social media managers focus on first contact and generating leads, community managers are concerned with social media-based customer service efforts and building relationships within established communities of supporters.
Digital marketing managers are experts at developing and implementing social marketing campaigns, focused on driving web traffic, acquiring leads and converting them to revenue. Social media managers are also concerned with leads and sales, but have a broader scope of responsibility and are more concerned with executing marketing campaigns than planning them.
Other intersecting specialist roles include Copywriter, Video Editor/Producer, and Platform experts like Twitter Marketer, Brand Influencer, or YouTube Specialist. A social media manager's core function is based on publishing and distributing content. Be clear in the role definition if you expect your candidate to produce original material, particularly for a specific platform.
Skills and experience
Where the duties and responsibilities listed the broad strokes of what your social media manager will do, skills focus on how those tasks are accomplished. Previous experience showcases a candidate's successes at leveraging their skills to accomplish goals. Keywords are important in your skills section as many job boards use these terms to optimize search results.
Common desired skills are listed below with keywords italicized for emphasis.
Content creation and curation skills such as copywriter, editor, photographer, and visual storyteller
Excellent communication skills
Exceptional organizational and multitasking abilities
Familiarity with common tools or programs used in content creation like WordPress, Canva and Photoshop and management tools like Hootsuite, and Meet Edgar
Specific platform familiarity – some important industry giants to look for include: Facebook, Twitter, Instagram, Pinterest, LinkedIn, Snapchat, and YouTube
Customer service skills, particularly in the areas of teamwork and networking, as well as an ability to build and maintain relationships
Experience with social media marketing campaigns and familiarity with social marketing ads and ad platforms such as Facebook Ads or Google AdWords
Experience with SEO, metrics and metrics tools like Google Analytics.
Finding your social media manager
Whether you plan to use traditional job boards to look for your Social Media Manager or other methods of recruitment, let your selection criteria guide your search. Your best brand champions can often be recruited in-house, but sometimes your social media goals are best tackled by someone with outside talent and a fresh perspective. Here are three places to begin your quest:
1. Employees and trusted freelancers
Your ideal candidate may be right under your nose. Recruiting from your current pool of employees is a great idea if intimacy with your brand is a priority. Current employees require less training and onboarding as they are already familiar with your working environment, expectations and business direction. Cultivate an in-house candidate by transitioning a temporary or freelance employee to a more permanent position.
2. Job boards
Job boards like Glassdoor and Indeed are one of the most common places to forge connections and recruit outside talent. Traditionally, employers post advertisements based on job descriptions for positions they are looking to fill. However, many also keep banks of job seekers' resumes available for employers to search. Keyword optimization and clear, concise descriptions are vital for good results from this source.
3. Networking
Networks – including social media groups! – and communities like LinkedIn and Shapr are specifically designed to showcase member profiles and make them searchable to employers and business connections. You can also tap non-digital contacts and seek recommendations from friends or business associates.
Refining your shortlist
Once you have collected a pool of qualified applicants, choose the best candidate from among them by narrowing your shortlist. Conduct interviews either in person or via phone or Skype to get a feel for interacting with your top candidate selections and clarify any questions about their qualifications or experience.
Investigate your candidates' personal social media profiles or accounts they have managed on behalf of others. How do they present and engage online? What achievements have they earned and campaigns have they executed?
Ideal matches will know their platforms inside and out and have a proven campaign track record with references from previous clients. You can also institute a probationary period for your new hire to evaluate their performance before finalizing your decision.
Assessing your new social media manager
Track relevant metrics and use analytics and target objectives to map progress toward social media goals and evaluate the success of your new hire!
The post When and How to Hire a Social Media Manager for Your Business appeared first on Revive Social.